Hiking in the Rain: How to Stay Dry & Have Fun (+ 15 Wet-Weather Tips)
There's no reason to let rainy days put a damper on your fun or keep you from leaving the house. Hiking in the rain can be a lot of fun. There are even benefits.
For one, the hiking trails will be less crowded. You may even have them to yourself. Waterfalls will also be flowing more intensely than usual on a rainy hike.
As an Amazon Associate I earn from qualifying purchases. If you click and purchase, I receive a commission at no cost to you.
The smell of the rain in the woods is incredible, too. The whole experience can be peaceful and serene. However, a rainy day hike does require extra planning.
In this article, we're covering how to stay safe, dry and warm while hiking in the rain. You'll also learn what to wear, how to select a trail and how to stay safe.
Is it Safe to Hike in the Rain?
Hiking in a little rain can be safe if you take extra care and caution. There are more precautions to take in order to stay safe on rainy day hikes.
Obviously, everything is wet when it's raining. This also means that everything is slippery. Not just moss-covered rocks, but everything on the hiking trail.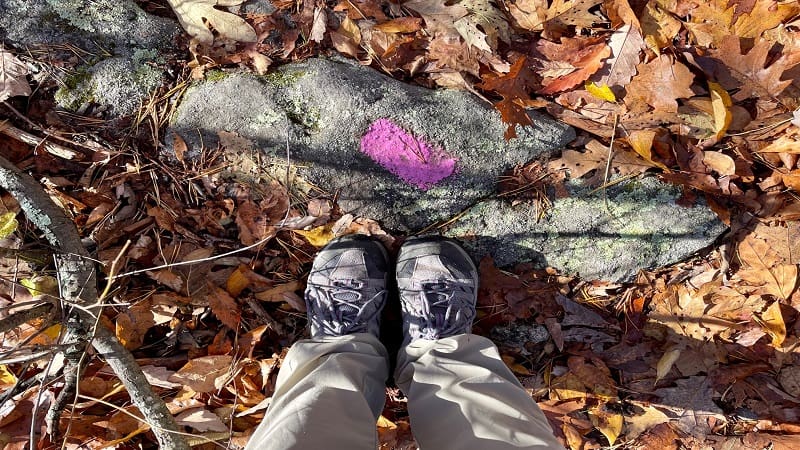 The mud on the trail is slippery, the grass is slippery, the rocks and roots are slippery. Dead leaves that have fallen onto the trail can be especially slippery.
Trails adjacent to normally tranquil streams can become rather dangerous during a heavy rain. In some cases, low river crossings can become impassable.
Is Hiking in the Rain Fun?
Hiking in the rain can definitely be fun! However, much like anything else, a positive attitude and preparedness are key in wet conditions.
When you hike in rainy weather, you're more likely to have the trail all to yourself. This can be a more fun and intimate experience with nature.
Additionally, tranquil streams and waterfalls may be roaring, depending on how much it is raining. Roaring waterfalls make for a thrilling adventure.
You won't soon forget hiking in the rain. It's a more challenging outdoor adventure, but that's what makes it truly memorable.
How Should I Dress for Hiking in the Rain?
The key to staying happy when hiking in the rain is staying dry. Layers, waterproof gear and extra clothes (as in, dry clothes) are essential for wet days.
If there's a chill in the air, you'll want to start with an insulating base layer. This layer should help keep you warm and also help keep you dry.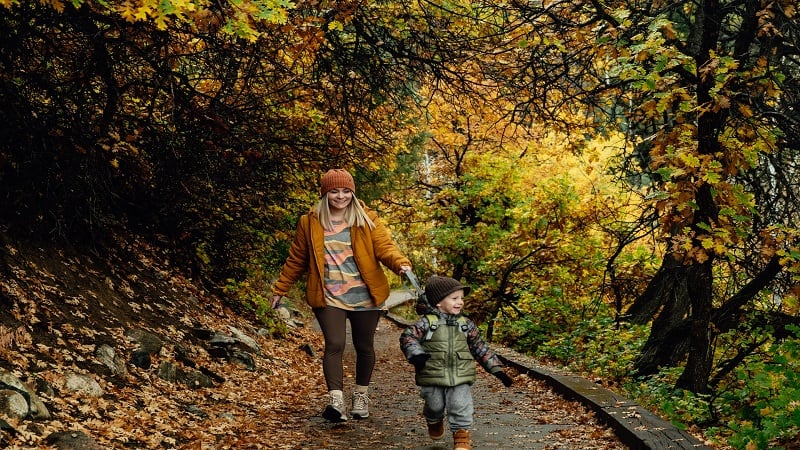 A good insulating base layer should be made of a moisture-wicking, breathable material like merino wool or polyester to keep in body heat.
Cotton should never be worn when hiking on any layer – especially not in the rain. Cotton holds moisture. It's heavy, causes chafing, and worse, it makes you cold.
Your outer layer should be composed of a waterproof or water-resistant shell. Staying dry while hiking in the rain is possible with the right materials.
You should also wear waterproof hiking shoes – typically boots. Waterproof boots with ankle support will help you on slippery trails.
Wear moisture-wicking wool hiking socks. Also, throw an extra pair or two in your (waterproof) backpack to change into if and when your feet get wet.
Hiking Rain Gear
By now you know how to dress and what materials are good for hiking in the rain. But wait, there's more to know for a good hike in the rain.
To stay dry and safe, you will need extra rain gear, like rain pants and rain jackets. These go a long way toward keeping you dry, safe and happy.
Trekking poles are essential while hiking in the rain. While they might be optional for you otherwise, you'll need them on wet and slippery trails.
Trekking poles help you keep your balance. This is key when hiking on a muddy trail, over wet leaves and across slippery rocks and roots.
TheFitLife Nordic Trekking Poles are great for hiking in the rain for many reasons. They have interchangeable feet for all types of terrain and weather.
They're super lightweight so your arms won't tire out from using them. They collapse for storage in their own bag so they won't get your other gear wet or dirty.
If you don't yet have trekking poles, I highly recommend these.
A waterproof shell is an essential part of your rainy day hiking outfit. You should have a waterproof rain jacket to keep you both dry and warm.
Even if it's not cold, a good waterproof jacket is essential. You can still catch a chill (or hypothermia) from being wet in seemingly warm weather.
This lightweight water-resistant jacket comes in many colors and sizes. It has a slim fit and a hood to keep water out, even in windy rainy conditions.
The lightweight mesh lining helps keep you dry on the inside by wicking away sweat while you're hiking.
This women's hiking jacket is great for wet and windy weather. There are drawcords on the sleeves, waist, and hood for a watertight seal and custom fit.
In addition to a waterproof jacket, you need waterproof pants, too. A pair of rain pants can be worn alone or over your favorite wool leggings.
Rain pants can be both breathable and waterproof at the same time. Look for synthetic materials coated with a waterproof sealant or membrane.
These Mapamyumco lightweight rain pants are perfect for hiking in the rain. They protect from both wind and water, yet they're still breathable.
These waterproof hiking pants are really comfortable, too. With an elastic waistband and drawstring closure, you'll feel comfy, warm and dry.
Waterproof hiking boots are next on your rainy day hiking essentials list. Personally, I think boots are the best option for muddy trails.
The additional ankle support of a hiking boot will help protect your ankle if you slip on mud or a slippery root or rock.
Also, the durable, waterproof material will keep your feet dry and warm, even when hiking through puddles.
These Columbia mid-height waterproof hiking boots are a top-rated choice. They're comfortable and provide all the protection you need.
The tough sole is perfect for slippery and muddy trails, and the mid-height fit is perfect to support your ankles on the trails.
Even with the best waterproof hiking boots or shoes, may still wind up with wet feet. This is why an extra pair of socks is essential.
Even if your feet don't get wet from water, they may become wet from sweat. This can make you cold and cause hiking blisters, but this is avoidable.
I recommend always packing extra socks when hiking – but especially when hiking in the rain. Wool socks are the best for all weather.
Wool hiking socks, like Darn Tough hiking socks, are perfect for cool and warm weather hiking. Wool is moisture wicking and naturally deodorizing.
15 Tips for Hiking in the Rain
You know the essential gear for hiking in the rain. Here are the 15 best tips for hiking in the rain to stay dry, warm, safe, and importantly, happy.
#1: Avoid Cotton
You should never wear cotton when hiking, and this is especially true in wet weather. Cotton holds moisture which can cause many issues.
Cotton becomes heavy when wet and doesn't dry fast. Staying wet can cause hypothermia, and wet clothes also cause chafing and blisters.
#2: Bring Extra Socks
Extra socks are a must, of course. Bring along extra socks in your backpack, and pack them in a waterproof bag like a dry bag or gallon-size Ziploc bag.
Having dry socks is essential for comfort, warmth, and avoiding chafing and blisters on your feet. Blisters are a surefire way to make a miserable hiker.
#3: Wear an Insulating Layer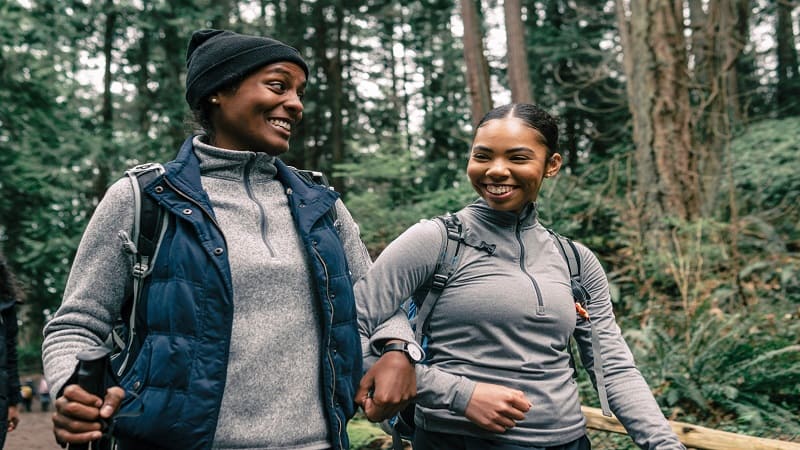 Even if it doesn't feel chilly out, an insulating layer is a good idea for many reasons. Wearing a lightweight layer wicks sweat from your skin.
Consider wearing a lightweight pair of wool leggings and undershirt to help keep you both warm and dry while hiking in the rain.
#4: Bring a Waterproof Pack Cover
Your backpack should be waterproof in order to keep your gear dry. Additionally, get a waterproof pack cover if you don't already have one.
In a pinch, a trash bag will work. Pack some extra trash bags, dry bags, and/or Ziploc bags – you never know when you'll need them.
#5: Waterproof Your Pack Contents
Even if your pack is waterproof and covered with a waterproof membrane or tarp, you should take extra care to pack the contents safely, too.
If you plan to bring along sensitive electronics, make sure they're stored in waterproof bags. Additionally, pack your dry clothes in waterproof bags, too.
#6: Be Smart About Flash Flooding
A slow, meandering stream can turn deadly in a flash flood. Stay away from trails in areas prone to flash floods.
Also, stay away from trails that put you along a stream or river up against a bluff. If you hike near water, you need an escape route in case of a flood.
#7: Choose the Right Trails
Stay away from trails with several water crossings after periods of rain. If the water is over your ankles, do not try to cross. Moving water is stronger than it looks.
Keep in mind that if your trail has overlooks, you might not be able to see anything in fog or pouring rain. Opt for waterfall hikes instead.
#8: Wear the Right Gear
Staying dry is of utmost importance when hiking in the rain. You can catch hypothermia even in 70+ degree weather if your body is wet for a long time.
Wear a well-fitting, waterproof exterior layer. On your outer layers, be sure all zippers, buttons, snaps and drawstrings work properly, too.
#9: Take it Slow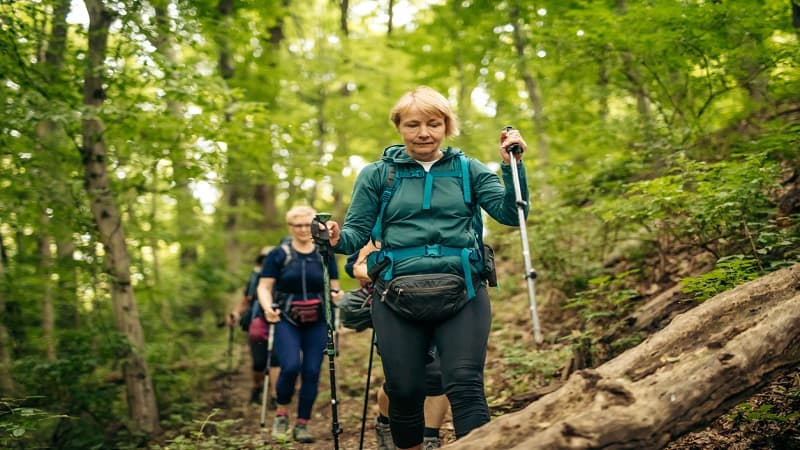 As mentioned earlier, a wet trail is a slippery trail. Hike slowly to avoid slips and falls, and always use trekking poles.
Trekking poles will help you keep your balance and avoid injuries like sprained or broken ankles, as well as muscle tears from slipping on the trail.
#10: Pack Easy Snacks
Nobody wants to cook food or make a sandwich while it's raining. Soggy bread? Ew. Pack easy snacks instead.
Consider packing snacks like trail mix that you can easily keep in your pocket. Protein bars and beef jerky are also good ideas.
#11: Keep Your Sense of Humor
Attitude is everything when hiking. Hiking in the rain is more of a challenge than a regular hike – so keep your sense of humor on a rainy-day hike.
You might slip and fall. You might not be able to see your favorite overlook. If you keep your sense of humor, you'll still enjoy your hike.
#12: Check the Forecast
If you plan to hike in the rain, you must have an idea of what the weather will be like. But check it anyway, all the way up until you leave.
Wet weather can change in an instant. The last thing you want is to be out on the trail during severe weather, like high winds or lightning.
#13: Leave Electronics at Home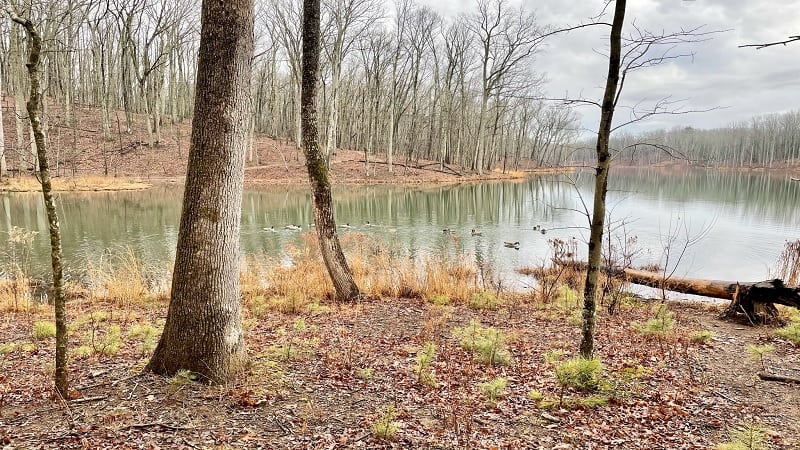 Even with waterproof bags, you run the risk of getting your phone wet when hiking in the rain. Especially if you take it out for photos or messages.
Consider leaving sensitive electronics behind. Alternatively, you can get a protective Otterbox case or a waterproof phone case for peace of mind.
#14: Bring Towels
Do yourself a favor and throw a few towels in the car. You can use these towels to dry off when you return to the trailhead.
Another great use for your towels is to wipe down and dry off your hiking gear before you put it in the car to prevent getting your seats or trunk wet.
#15: Have Dry Clothes in the Car
Last but not least, after a long hike in the rain, dry clothes feel like a luxury. Bringing along a set of dry, comfy clothes is a lovely thing to do for yourself.
After you dry off, change before you drive home. This is especially wonderful if you have a long drive.
Wrap-Up: Hiking in the Rain
Day hikes in the rain can be so much fun and yes, you can do it safely. Just be sure to do your research first.
Avoid areas prone to flash flooding and trails with water crossings. Additionally, avoid slippery rock scrambles or steep trails when hiking in bad weather.
Wear the right clothing and pay special attention to waterproofing your gear and backpack. And don't forget the trekking poles!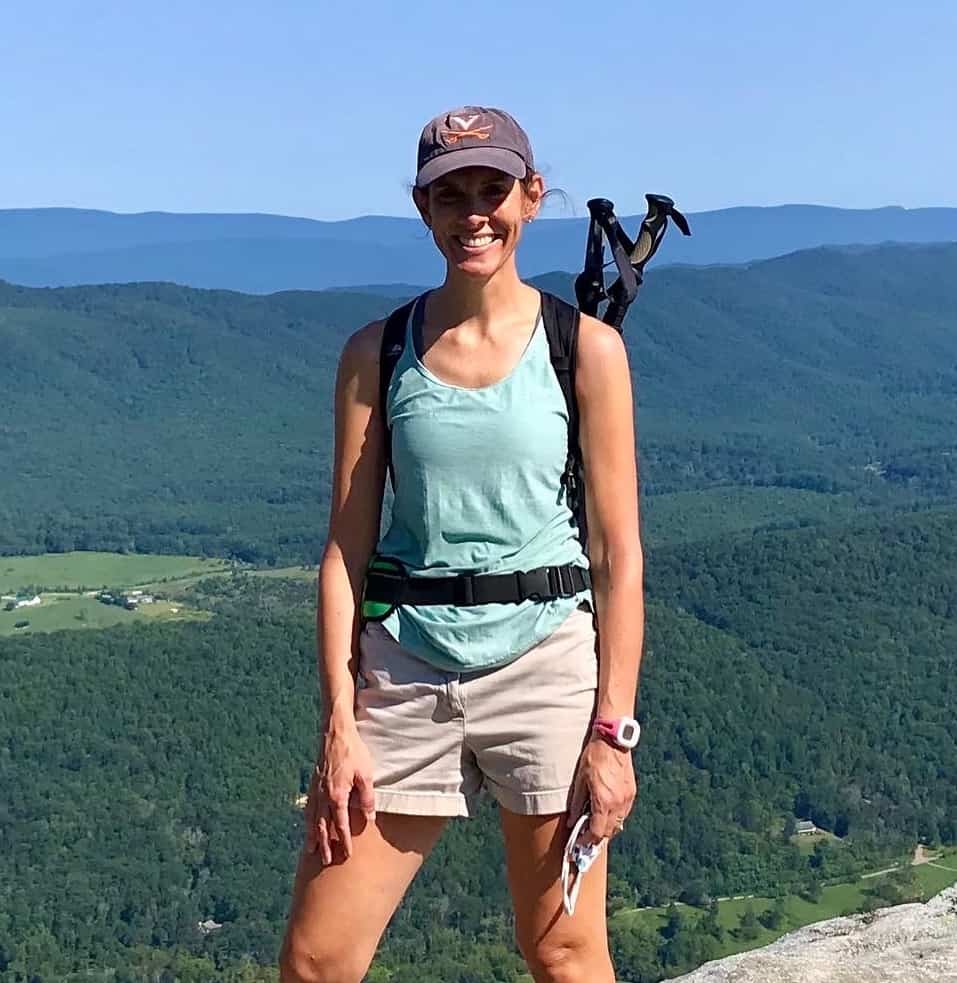 Erin Gifford is the editor of Go Hike Virginia. She has completed more than 300 hikes in Virginia. She is also the author of three hiking guidebooks from Falcon Guides. Need help finding a hike? Check out the Trail Finder feature or send Erin a message.