Veach Gap: Hike to Big Views Across the South Fork of the Shenandoah River
Since Monday was due to be a beautiful spring day, I set my sights on Veach Gap in Virginia's George Washington National Forest for a 7+ mile hike.
This rocky hike in Shenandoah County had it all – water crossings, cascading falls, big views, several camp sites and a lean-to hiker shelter.
* Before I go on, watch a short video I made when I hiked at Veach Gap. *
It's also one of those hikes where you just have to know that the trail is there. There are no signs at the trailhead. Just a closed iron gate to keep out vehicles.
Thankfully, after a few steps, you'll begin to see the yellow blazes that mark the Veach Gap Trail.
| Trail Stats | |
| --- | --- |
| Length | 7.4 miles |
| Difficulty | Moderate |
| Trail Type | Out-and-Back |
| Elevation Gain | 1,112 feet |
| Duration | 3.5-4.5 hours |
| Terrain | A mix of dirt, gravel, grass & rocks |
| Dog-Friendly | Yes |
| Fee | Free |
| Driving Directions | Click Here |
Veach Gap Hike
The parking area is located at the end of Veach Gap Road, a narrow gravel road that runs .7 miles from Fort Valley Road.
There are no dedicated parking spaces, but the area will fit at least 6 to 8 cars. The Veach Gap Trail begins on the north side of the lot at the closed iron gate.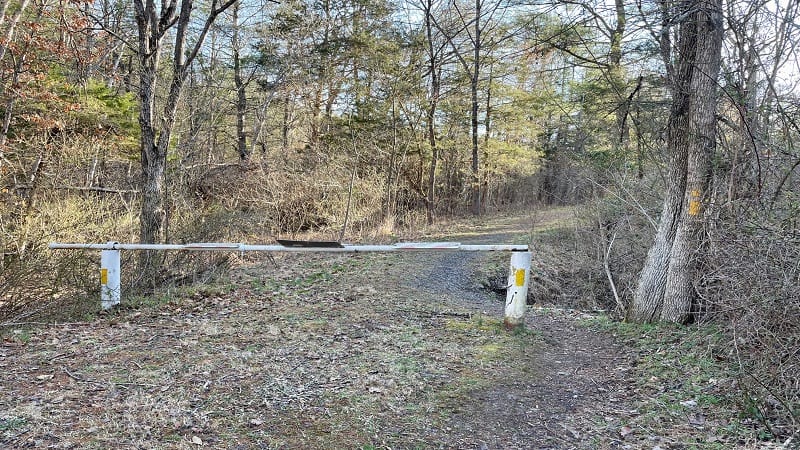 The terrain on this hike is a mix of gravel, dirt, rocks, grass and more rocks. The woods are quiet and serene, with the exception of the occasional squirrel.
Don't let the elevation gain of 1,100+ feet scare you away from this hike. The ascent is very moderate and gradual, and well worth your time.
Mill Run
As you hike along the Veach Gap Trail, you'll hear the burbles of Mill Run. There are several spots where you can step close for views of the cascades.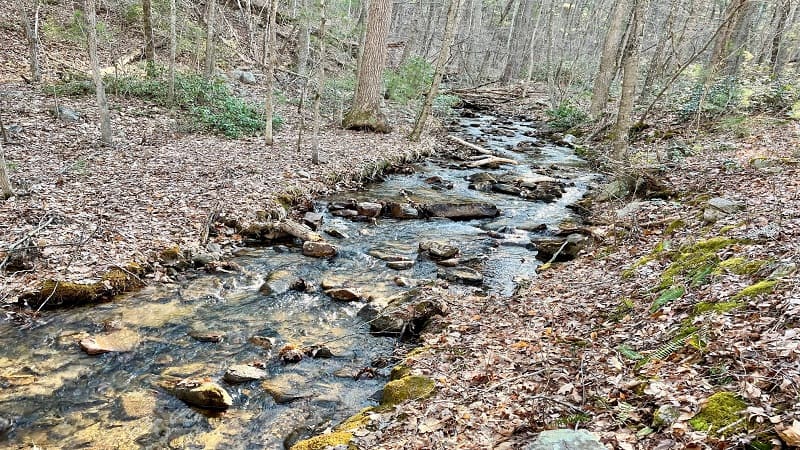 At the .9-mile mark, you'll need to cross over Mill Run. You may feel perplexed since there doesn't appear to be an obvious route across the flowing waters.
However, look to your right, and you'll see a path that goes up, then down and back alongside Mill Run. This leads you to a more manageable crossing.
Once you cross over, you'll walk along a rocky path that looks much like stair steps (though sadly, it's not as easy to walk on as stair steps).
Little Crease Shelter
Continue on until you reach the end of the Veach Gap Trail at the 1.2-mile mark. From here, the Little Crease Shelter is a just .1 mile to the south.
Since the hiker shelter was so close to the trail, I set off to see what was there. But first, you'll encounter three water crossings on the way to the shelter.
The crossings are easy, but you really have to want to reach this shelter. It's a typical lean-to with two sleeping levels, a stone fire pit and a bear pole.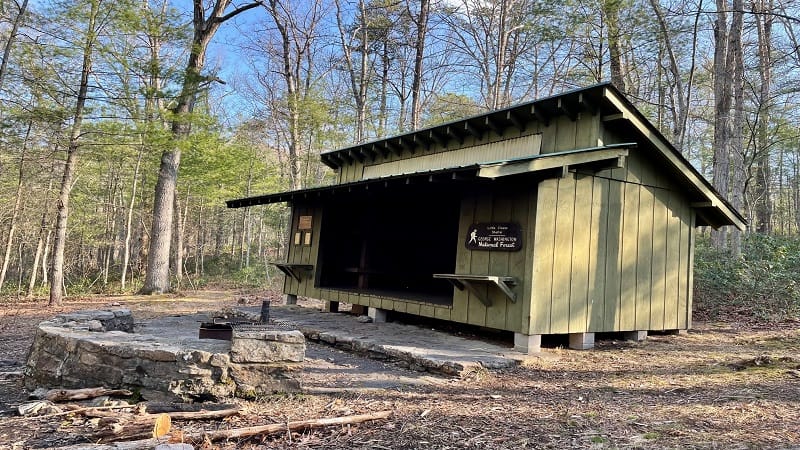 A privy is 50 to 100 yards beyond the Little Crease Shelter. Inside the shelter, there was firewood, a log book and a few comfort items, like bug spray.
From here, re-trace your steps to the trail junction. Begin to follow the orange blazes (Massanutten Trail) and blue blazes (Tuscarora Trail).
Little Crease Mountain
The shared trail continues to ascend in the direction of Little Crease Mountain. You'll notice the trail becomes more rocky and more muddy, too.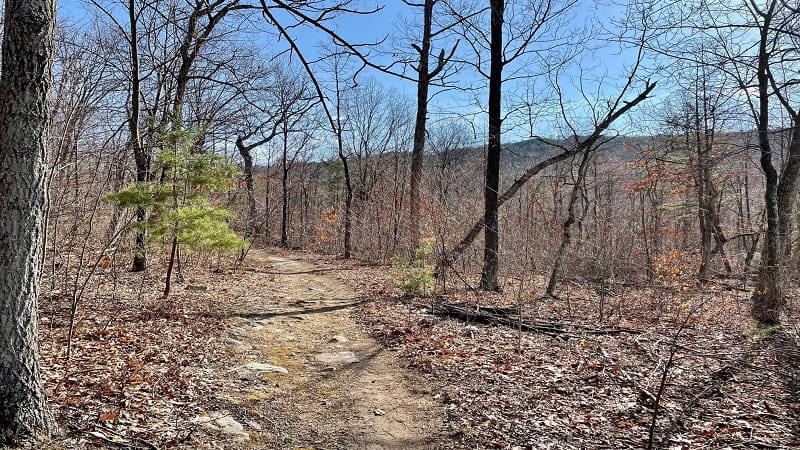 I encountered at least a dozen muddy patches on my ascent. They were easy to navigate, but maybe don't plan to wear white shoes on this hike.
At the 2.0-mile mark, you'll see a primitive camp site, tucked down off the trail to the right. There's a stone fire ring and a couple of logs as benches.
Re-trace your steps, then continue up the trail. At the 3.3-mile mark, the trail turns right and you'll begin to enjoy mountain views through the trees.
Mountain Vistas
While this hike is best done from late-fall to early-spring for views of Bentonville and Shenandoah National Park, there are some tree-free spots.
This section of trail is rather rocky, but the far-reaching mountain views are worth every step of the climb. The trail turns left at the 3.5-mile mark.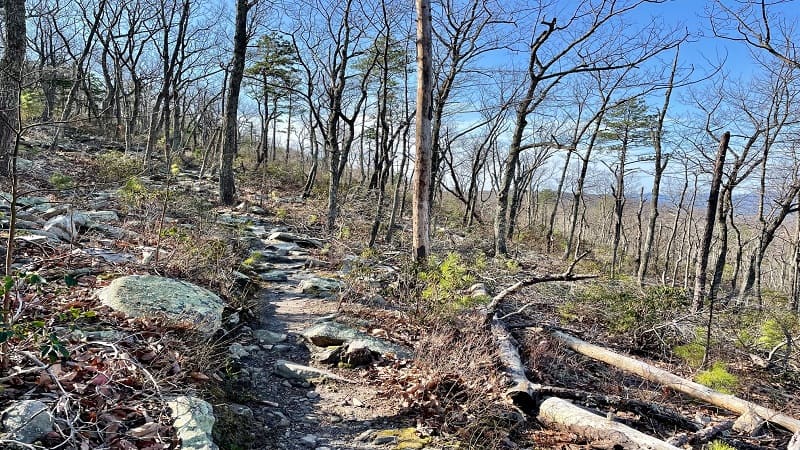 You're now in the final ascent to The Point, which is the main overlook with wide-open views across the South Fork of the Shenandoah River.
A the 3.8-mile mark, you'll begin to see views of the undulating Shenandoah River. You may think you need to work for the views. You can, if you want.
There are large rocks on the right and you can tell there are views on the other side. If you scramble the rocks, you will achieve big views.
The Point
However, if you keep walking, you'll reach The Point at the 3.9-mile mark. There is a gorgeous rocky outcrop with wide-open views of the flowing river.
There is also a very nice camp site just steps from The Point. Since the views are east-facing, this is a wonderful spot to savor a colorful sunrise.
Sit and stay awhile. Re-hydrate, enjoy lunch or a snack, take in all the views. However, a quick recommendation.
Unless you plan to enjoy this is a sunrise hike, your best bet is to go in the afternoon. At 10:30 am (when I was there), the sun was not great for photos.
From here, simply re-trace your steps to the parking area. Skipping the shelter and camp site, you'll reach your vehicle at the 7.4-mile mark.
Wrap-Up Notes
From the parking area, this hike took me nearly 3.5 hours, including time spent enjoying the views and chatting with a couple near the water crossing.
Given there are so few parking spaces, this is a good hike when you're looking for peace and solitude. You may not see anyone on your entire hike.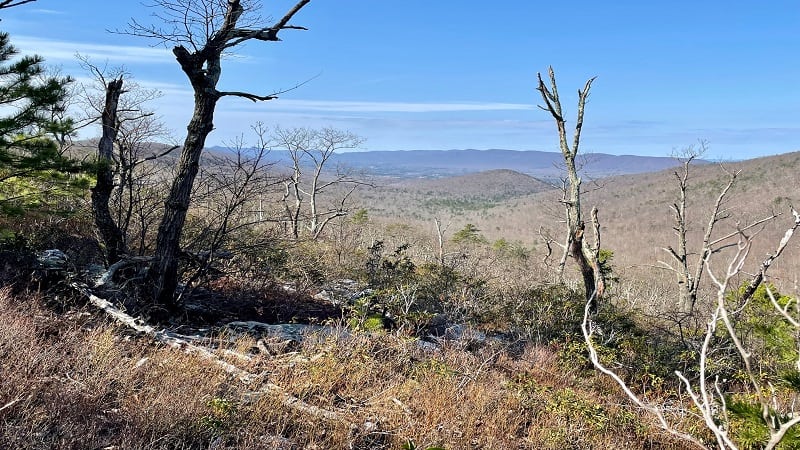 As for wildlife, I saw scampering squirrels (why do they always have to sound like bears?) and a few white-tailed deer on this early-spring day.
This hike is an easy 10-minute drive from the Elizabeth Furnace Recreation Area, which has a family campground and a group campground.
Within this recreation area, you'll also find the Signal Knob hike. The hike to Buzzard Rock (one of my favorites) is also very close to Veach Gap.