Ragged Island: Hike to Two Sandy Beaches at This Coastal Refuge Near Newport News
My quest to hike the best coastal trails in Virginia continued last week, leading me to Ragged Island Wildlife Management Area in Carrollton.
This 1,537-acre coastal refuge in Isle of Wight County is located just across the James River Bridge from Newport News. It sits right up against the lower James River.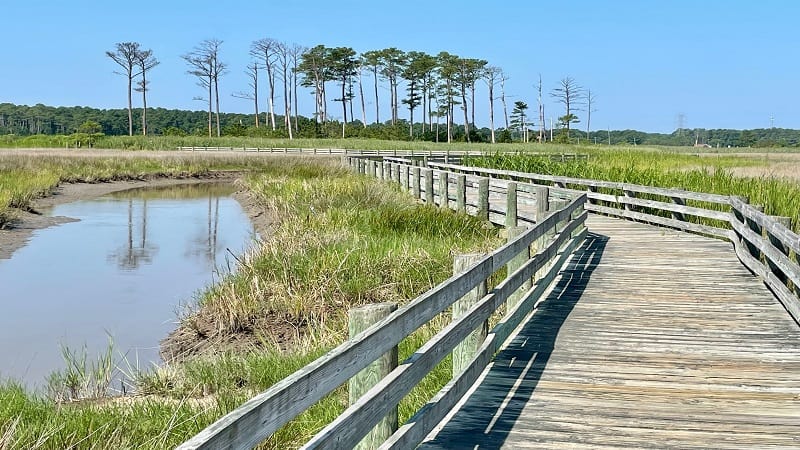 As an Amazon Associate I earn from qualifying purchases. If you click and purchase, I receive a commission at no cost to you.
You'll find unspoiled wetlands, wooden boardwalk, coastal pines and reeds, even small sandy beaches. It was not overly buggy (but I did use Sawyer's Picaridin Insect Repellent).
I found this hike on AllTrails, but it appears many hikers turned back before the two sandy beaches. Keep your eyes open for teeny-tiny crabs scurrying beside the trail.
| Trail Stats | |
| --- | --- |
| Length | 2.3 miles |
| Difficulty | Easy |
| Trail Type | Out-and-Back |
| Elevation Gain | 7 feet |
| Duration | 1.5-2 hours |
| Terrain | A mix of gravel, grass, sand & wooden boardwalk |
| Dog-Friendly | Yes |
| Fee | Free* |
| Driving Directions | Click Here |
Arriving at the Trailhead
The parking area for this hike is next to the James River Bridge on the Isle of Wight County side of the bridge. There's room for at least a dozen cars.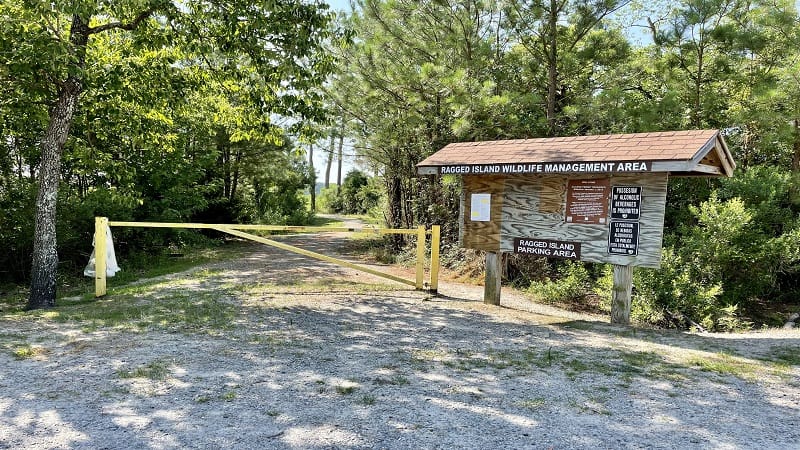 I was the only hiker this day and noticed several trash bags placed at the trailhead as well as a hand-written sign encouraging hikers to pick up their trash.
Since I'd noticed several comments on AllTrails about trash that had been washed ashore, I brought along gloves and a trash bag to do my part to keep the trail clean.
The First Steps
The trailhead is easy to find. It's just to the left of a large trail kiosk. The trail is neither marked nor named, but it's fairly simple to follow.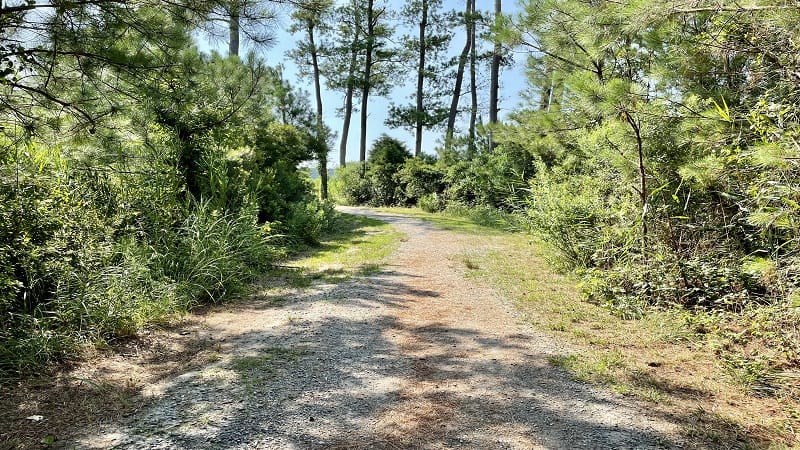 Your best bet is to go at low tide. From what I'd read, some sections of the trail closest to the water can become hard to traverse when the tide comes in.
The trail begins as a mostly gravel trail through some coastal pines. At the .2-mile mark, turn left onto a wooden boardwalk.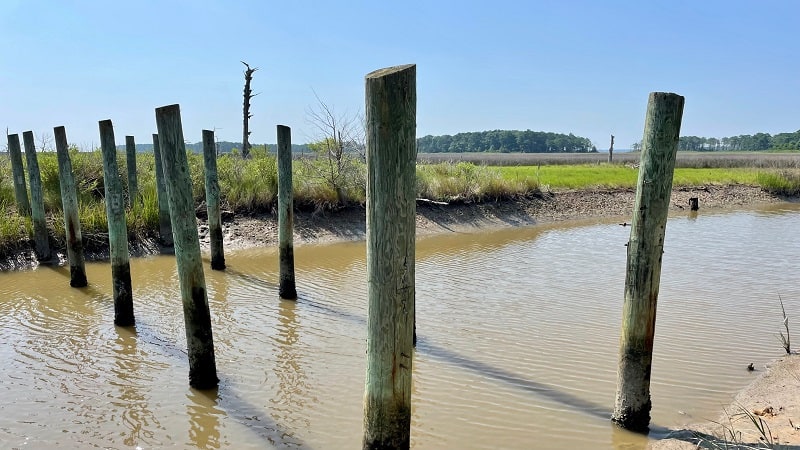 Before you go on, peer out into the brackish marsh. You will no doubt see hundreds of tiny crabs popping into and out of holes, hunting for low tide treasures.
Continue along the boardwalk that leads across the tidal marsh. At the .4-mile mark, you will reach a small fishing pier as the wooden boardwalk ends at the James River.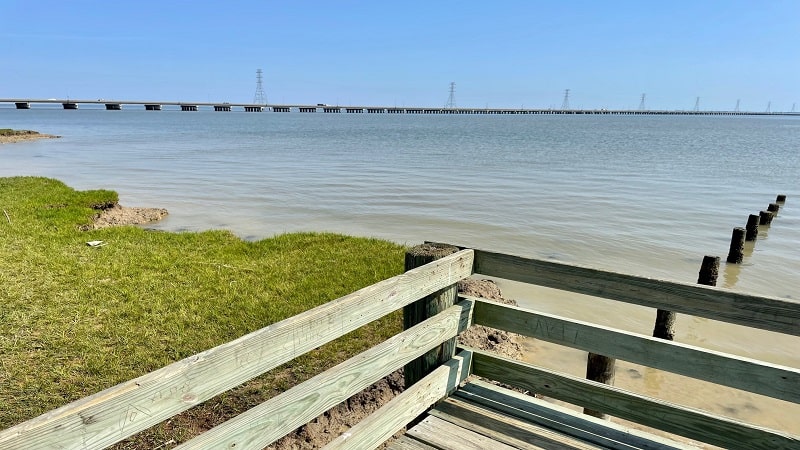 Step down onto the sand. You may need to carefully jump as the steps were broken on my visit. From here, you can walk along the water or on a reed-lined trail.
In some areas of the trail, the reeds can definitely be pared back. Thankfully, there are plenty of sections where you can step out closer to the water to continue on.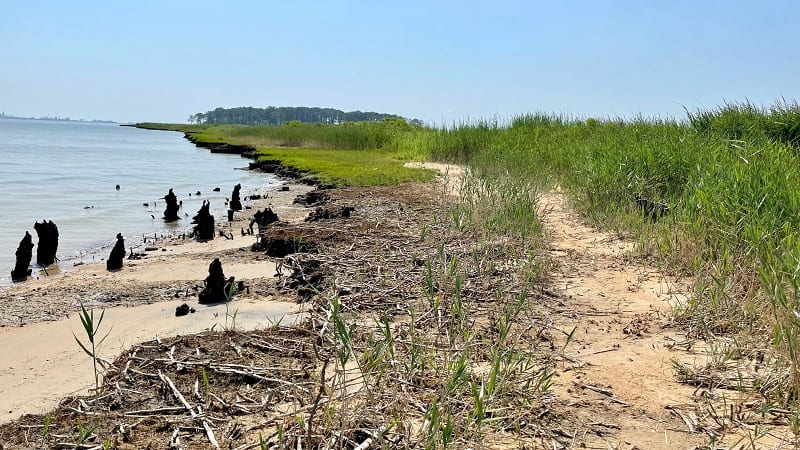 At the .8-mile mark, you'll reach the first of two sandy beaches. It's kind of oasis-like since it just seems to appear out of nowhere.
Feel free to sit down and enjoy a snack or a sip of water. From here, you may wonder whether to continue on through the reeds, but the second beach is waiting for you.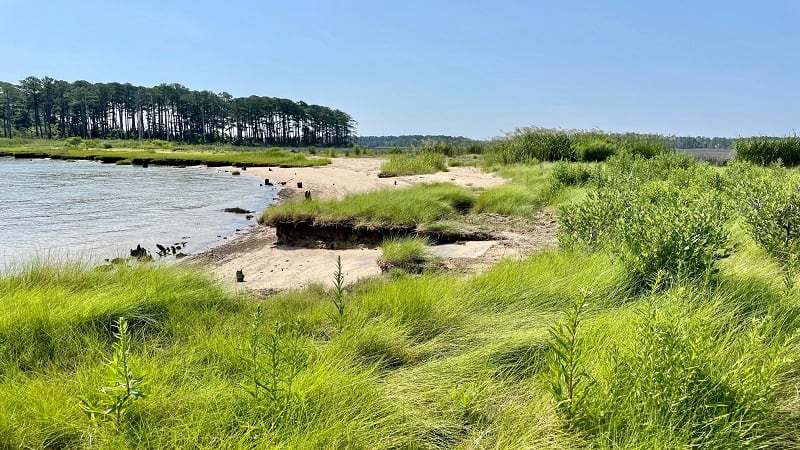 At the 1.0-mile mark, you will arrive at the second sandy beach, which wows with really cool dead trees with roots that appear to have grown out of the sand.
Here you'll also find the only shade on the entire hike. You can see Newport News off in the distance, as well as the James River Bridge. It's very relaxing.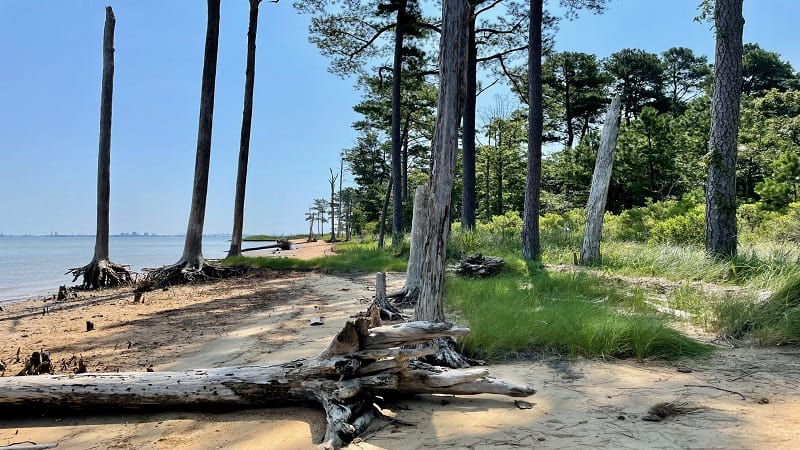 The trail ends at the end of the second beach, at around the 1.1-mile mark. Here the reeds are quite dense and you can tell that this is the end.
From here, I took my plastic gloves and trash bag out of my backpack. I picked up cans, glass bottles, plastic bottles and various other pieces of trash.
I filled an entire kitchen-size trash bag with trash, but I didn't think it was as bad as some of the comments made the situation out to be on AllTrails.
You could definitely tell that the trail is picked up from time to time, if only because of the comments on AllTrails. I was more than happy to haul some trash away.
Wrap-Up Notes
From the parking area, this hike took me nearly 90 minutes. However, it's worth noting that this includes time spent collecting and carrying away trash from the trail.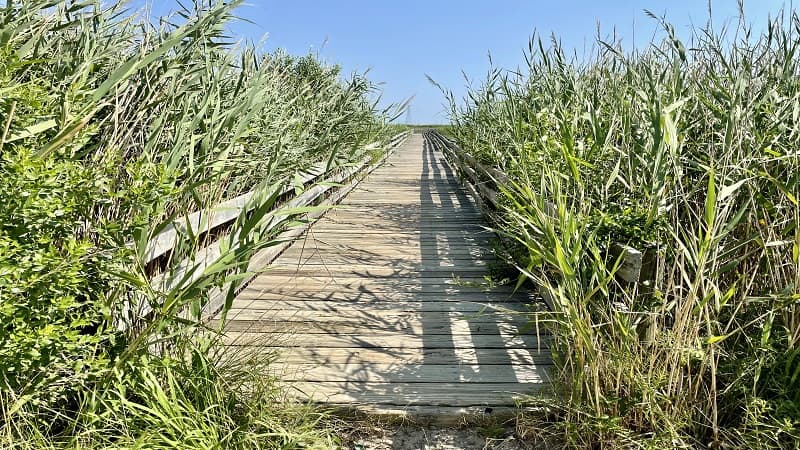 Access to all Wildlife Management Areas in Virginia requires visitors to have a $4 daily access permit. However, you cannot buy a permit on-site and it is not well-enforced.
There are exceptions. For example, if you have a valid hunting, fishing or trapping license, or a valid boat registration, you do not need to have a daily access permit.
You can buy an annual or vacation license online, but not a daily access permit. Daily permits are sold at select DMVs, grocery stores, sporting goods stores and gas stations.
I'm not saying you don't need a daily access permit, but I personally think the permits are intended for hunters, anglers and boaters. For this reason, I noted this hike is free.
Eager for more hiking trails? Check out my favorite hikes near Williamsburg, Virginia.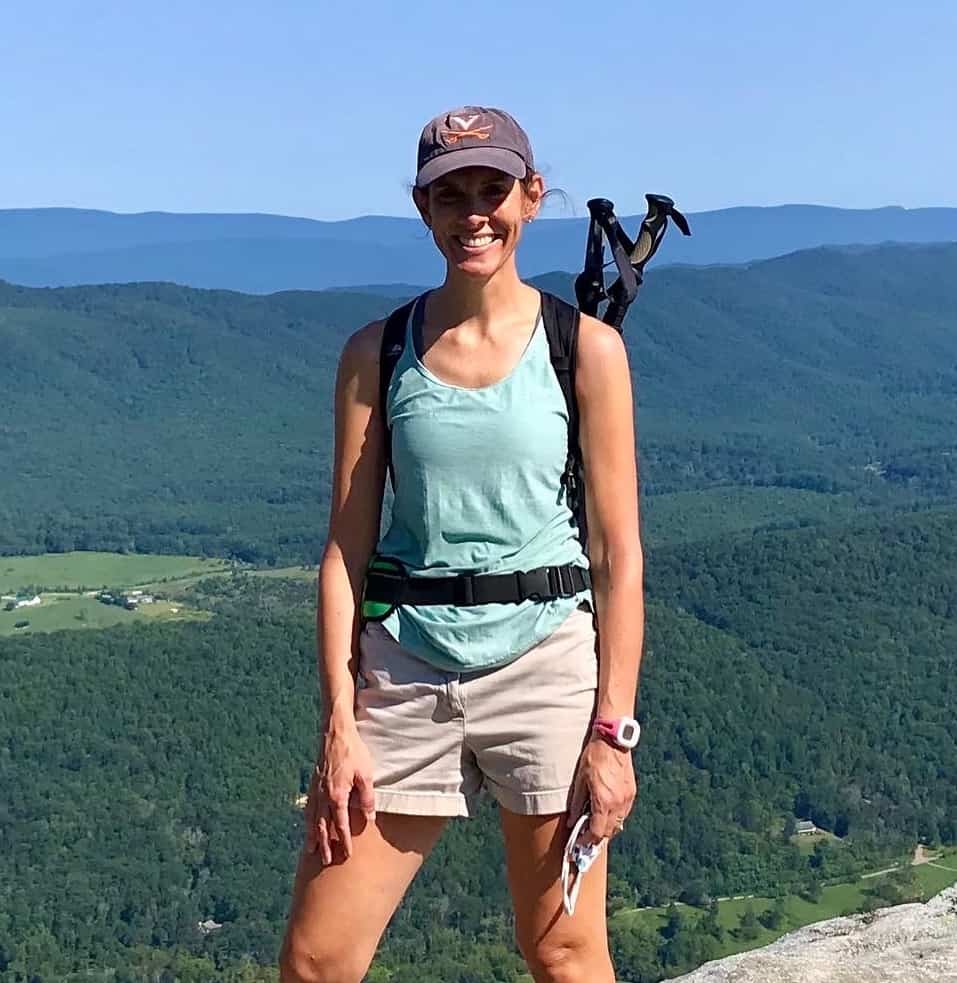 Erin Gifford is the editor of Go Hike Virginia. She has completed more than 300 hikes in Virginia. She is also the author of three hiking guidebooks from Falcon Guides. Need help finding a hike? Check out the Trail Finder feature or send Erin a message.