Pyrite Mine Loop: A Historic Hike at Prince William Forest Park
It's been a challenge to find hiking trails lately, thanks to sleet, ice and Skyline Drive closures. You never know when you'll be able to get into Shenandoah National Park.
So, I fell back on a new and old favorite, Prince William Forest Park. It's a new favorite because I only recently visited for the first time (despite living in the area for years).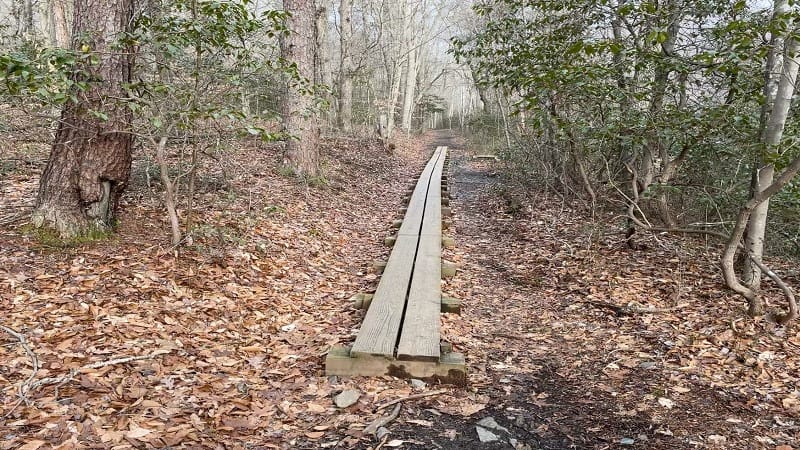 It feels like an old favorite, however, since I've now been there to hike three times in the last two months across the park's 37 miles of wooded hiking trails.
This time, I opted for the Pyrite Mine Loop. As it turns out, this hike included both new sections and sections I hiked on my first two visits. C'est la vie.
| Trail Stats | |
| --- | --- |
| Length | 7.6 miles |
| Difficulty | Moderate |
| Trail Type | Loop |
| Elevation Gain | 571 feet |
| Duration | 3-4 hours |
| Terrain | Mostly dirt & gravel trails, some boardwalk and foot bridges |
| Dog-Friendly | Yes |
| Fee | $20 per vehicle (good for seven days) |
| Driving Directions | Click Here |
Arriving at the Trailhead
The hike begins north of the Prince William Forest Visitor Center. Continue past the visitor center parking area to the end of the road by the picnic area and playground.
There's lots of parking. Certainly on a cold winter day there's lots of parking. I imagine it may be a different story on a sunny day in May or June.
Park, then walk to the drop-off circle at the end of the road. A short walk through a grassy clearing leads to the start (or end) of the Laurel Trail Loop.
The First Steps
The yellow-blazed Laurel Trail Loop begins with an immediate descent deep into the forest, which must be quite green and leafy in summer (I'm so dreaming of warm, sunny days).
At the .5-mile mark, the Laurel Trail Loop goes off to the right. Honestly, I was a bit confused at this point as it seemed there were three ways I could go.
You'll see a delightful dark wooden bridge. Cross this footbridge over South Fork Quantico Creek. You'll then reach the start of the loop, but which way to go?
Since it's a loop you can go either way, but I turned right to go north on the South Valley Trail to quickly reach the Pyrite Mine Overlook.
In a few more steps, tiptoe over a small boardwalk-style foot bridge. From here, you'll casually stroll alongside rolling Quantico Creek. Enjoy the refreshing water views.
At the 1.4-mile mark, you'll reach a dead-end. Turn right to cross over a sturdy wood and steel foot bridge with a "No Motor Vehicles" sign.
Then, turn left onto the North Valley Trail. It's a nicely forested trail with a few sections of wooden boardwalk. At the 1.7-mile mark, you'll reach the Pyrite Mine Overlook.
If you're expecting a scenic overlook of any kind (I can't lie, I was), you will be disappointed. Here, a short spur trail leads to a wooden platform.
A placard with a black-and-white photo encourages you to imagine what the hillside was like when the Cabin Branch Pyrite Mine operated at Quantico Creek in the 1900's.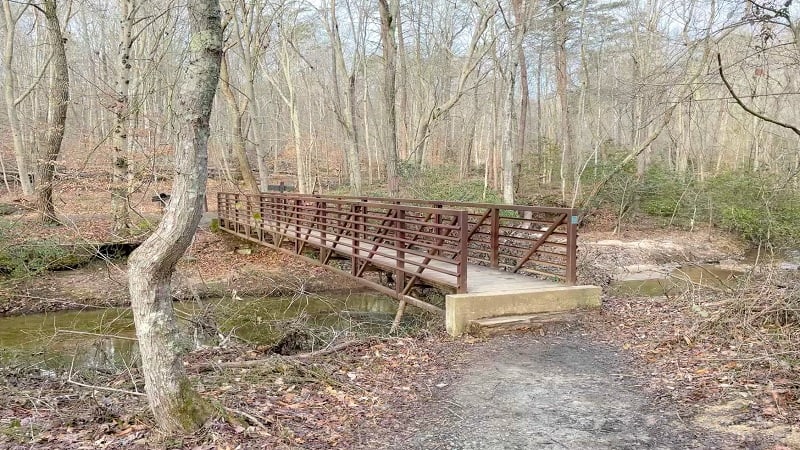 Continue on alongside Quantico Creek. You'll cross again on a wooden bridge at the 1.9-mile mark. A sign indicates a right turn to remain on the North Valley Trail.
Shortly after you cross over Quantico Creek you'll arrive at another placard on the Cabin Branch Pyrite Mine. This time, you can see the remains of a building foundation.
At the 2.8-mile mark, you'll reach my favorite section of this hike as you ascend above cascading Quantico Creek, then reach a spur trail that leads to the water's edge.
Honestly, this short trail is no longer maintained. There are built-in stairs, but the park has chosen not to continue with upkeep, so be careful if you choose to descend.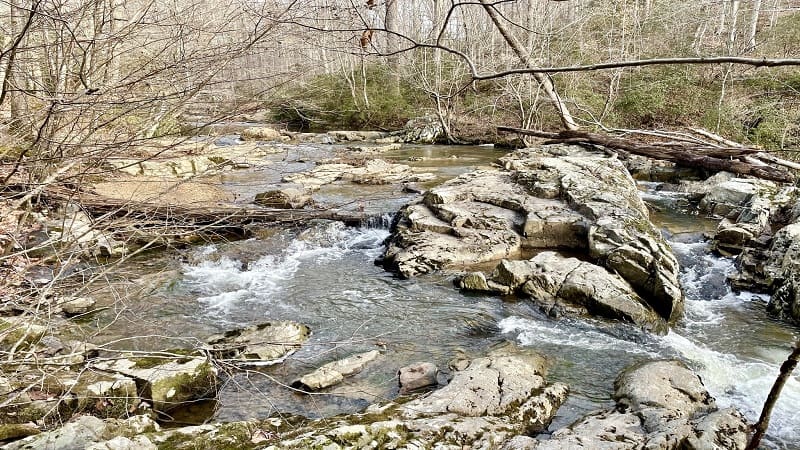 If you do, it is a treat to be so close to the rushing waters. However, I can tell you that in a few more steps, you'll have an easier opportunity to get close to the creek.
At the 3.0-mile mark, cross over a simple foot bridge. Stay right and begin to ascend what is now the yellow-blazed Quantico Cascades Trail.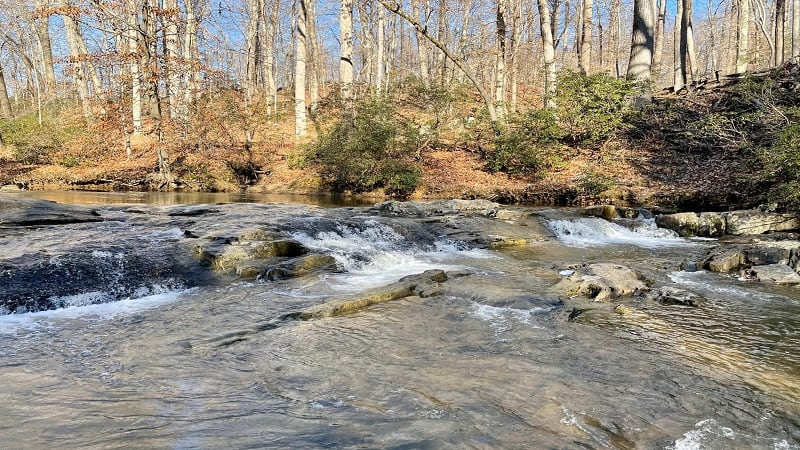 In a few short steps, arrive at Quantico Cascades. From here, backtrack a few steps to pick up the Quantico Cascades Trail to take this path up the hill to a parking area.
At the 3.8-mile mark, veer left to stay on the Quantico Cascades Trail, then make a right to continue on to the parking area. The signs also say Geology Trail.
From the parking area, cross over Scenic Drive to pick up the red-blazed Mary Bird Branch Trail. This was a lovely trail, but aside from a foot bridge, there wasn't much.
At the 4.5-mile mark, the trail dead-ends at Old Blacktop Road (essentially a wide gravel road). Turn left to walk through a parking area and reach paved road.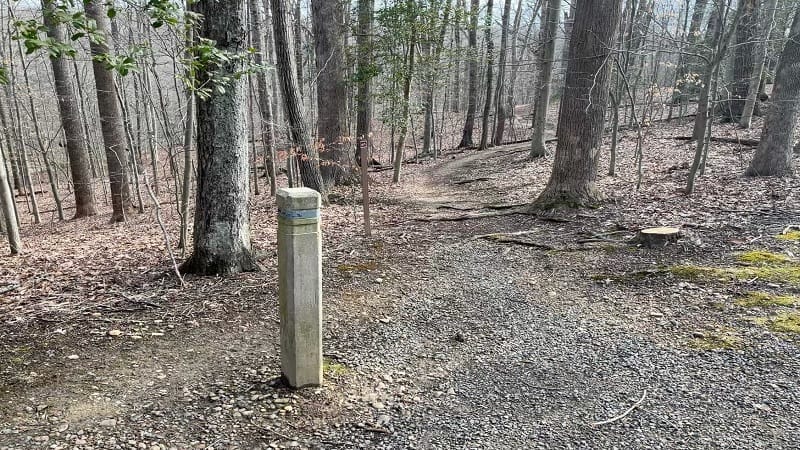 Walk along paved Turkey Run Road until you reach the trailhead for the Turkey Run Ridge Trail on the left at the 4.6-mile mark to re-enter the woods.
By this point, I was honestly beginning to feel restless with all the brown, leafless trees. I was eager to reach the end of the hike, yet still enjoying the outdoors.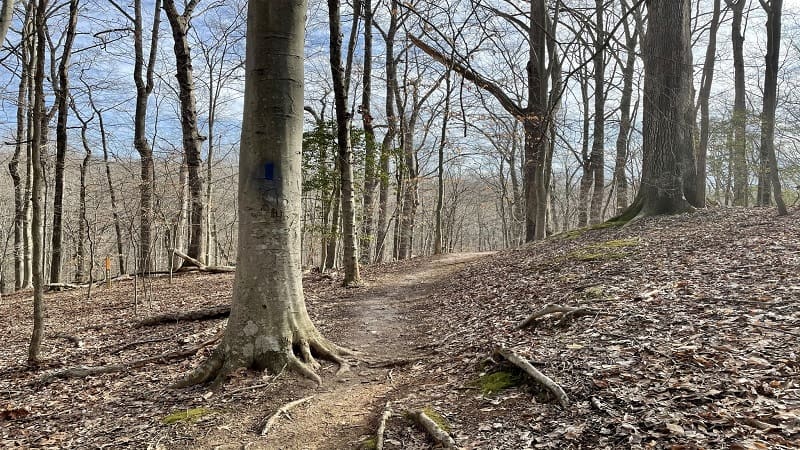 At the 6.0-mile mark, you'll reach South Fork Quantico Creek once more and re-connect with the South Valley Trail. Cross over Mary Bird Branch at the 6.4-mile mark.
The cascades here are quite lovely and it's easy to walk alongside the water for better photos. From here, walk uphill along the white-blazed trail.
Honestly, it looks as though the trail was re-routed, maybe fairly recently, as an alternate trail continues in the same direction, but closer to the water.
However, the markers seem so firm to go up the hill, so I decided to ascend the trail. In .1-mile, the two trails do thankfully re-connect as one unified South Valley Trail.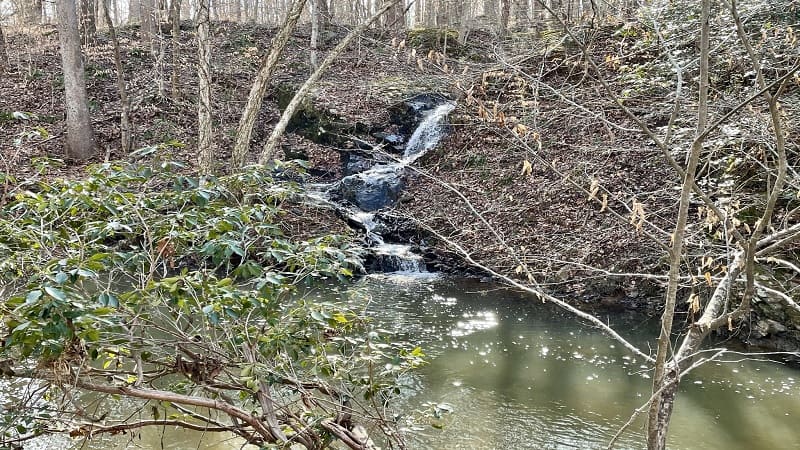 At the 6.8-mile mark, a delightful, cascading waterfall appears on the right. It was like a small reward for making it this far on the trails.
In a few more steps, the trail dead-ends. Turn right for the South Valley Trail, then turn right when you see the same dark wooden footbridge from early in the hike.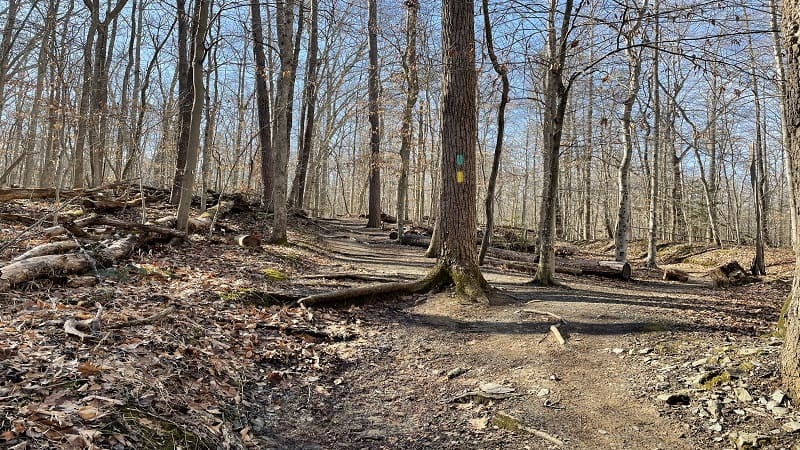 Follow the signs for the Laurel Trail Loop and re-trace your steps to the grassy field and parking area. Your hike is complete.
Wrap-Up Notes
From the parking area, this hike took me three hours to complete. It was a cold, leafless winter day, but it was still nice to be outside.
If you're interested, the other two hikes I completed at Prince William Forest Park are Quantico Falls (2.0 miles) and Birch Bluff-Laurel Trail Loop (2.2 miles).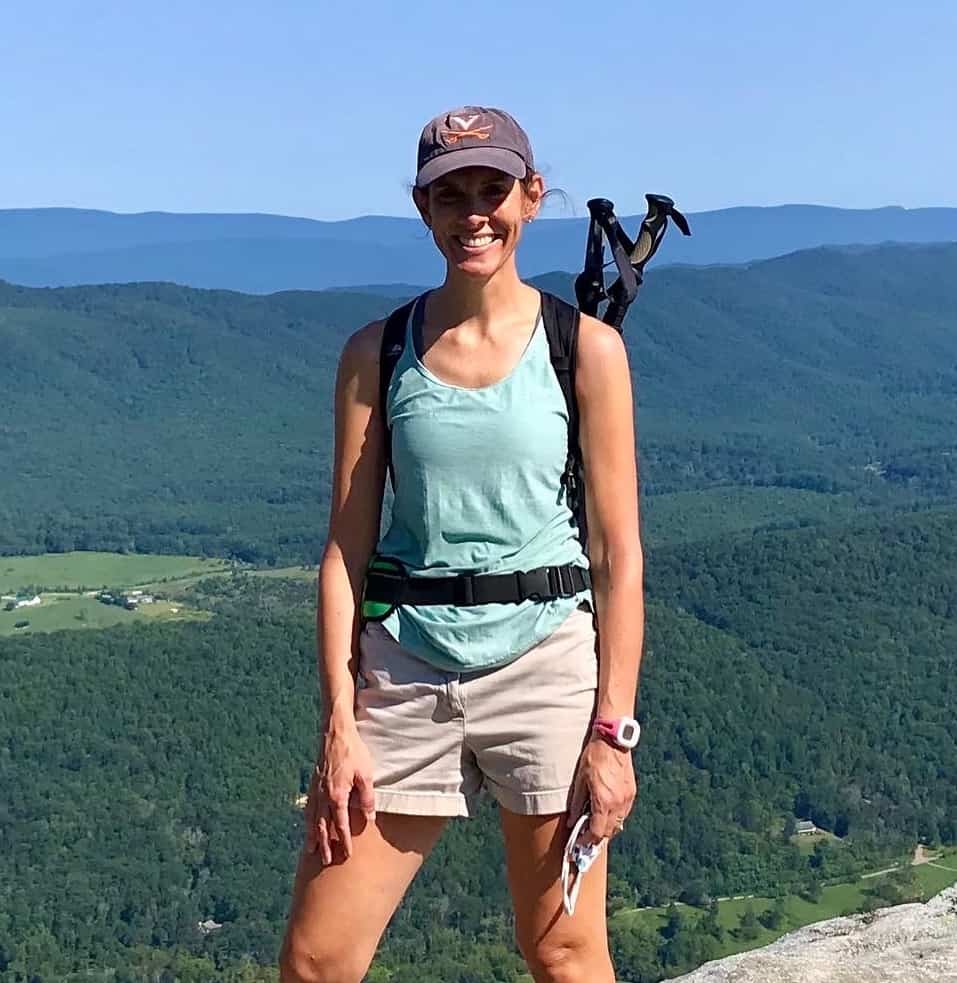 Erin Gifford is the editor of Go Hike Virginia. She has completed more than 300 hikes in Virginia. She is also the author of three hiking guidebooks from Falcon Guides. Need help finding a hike? Check out the Trail Finder feature or send Erin a message.