Shenandoah County: Hike the Sulphur Springs Gap Trail to Spectacular White Rocks Views
The Great North Mountain Trail system in Shenandoah County is largely a hidden gem. There are a couple of known hikes, but it's still rather quiet.
I've hiked here twice before, including Kepler Overlook and Little Schloss, but every time I set my GPS for these trails I think I'm going somewhere new.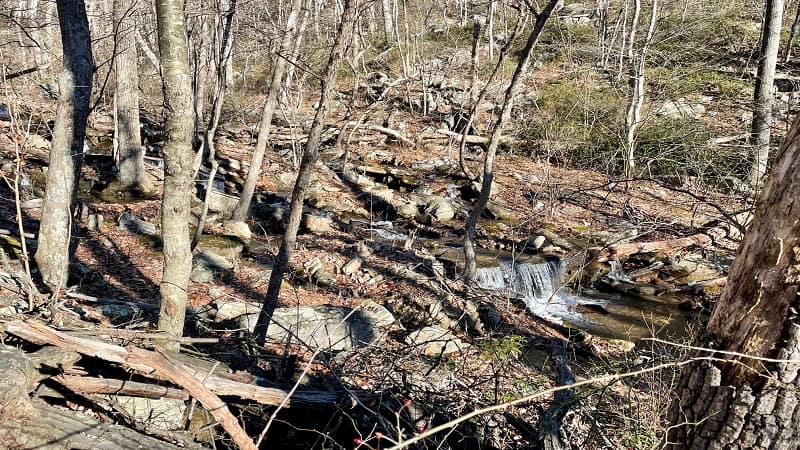 A couple of weeks ago, I set out once more, this time to start on the purple-blazed Sulphur Springs Gap Trail on the way to the White Rocks overlook.
It turned out to be a 7.0-mile hike that awed with cascading falls, rock scrambles, primitive camp sites and spectacular views. It was a serious wow.
| Trail Stats | |
| --- | --- |
| Length | 7.0 miles |
| Difficulty | Moderate |
| Trail Type | Loop |
| Elevation Gain | 1,568 feet |
| Duration | 3.5-4.5 hours |
| Terrain | Mostly dirt & gravel trails |
| Dog-Friendly | Yes |
| Fee | Free |
| Driving Directions | Click Here |
Arriving at the Trailhead
But first, let's talk about getting to the trailhead for the Sulphur Springs Gap Trail. AllTrails is generally good with directions, but not so much this time.
I used Apple Maps on my iPhone to map to the trailhead from this AllTrails hike. Unfortunately, AllTrails dumped me on a road for a private residence.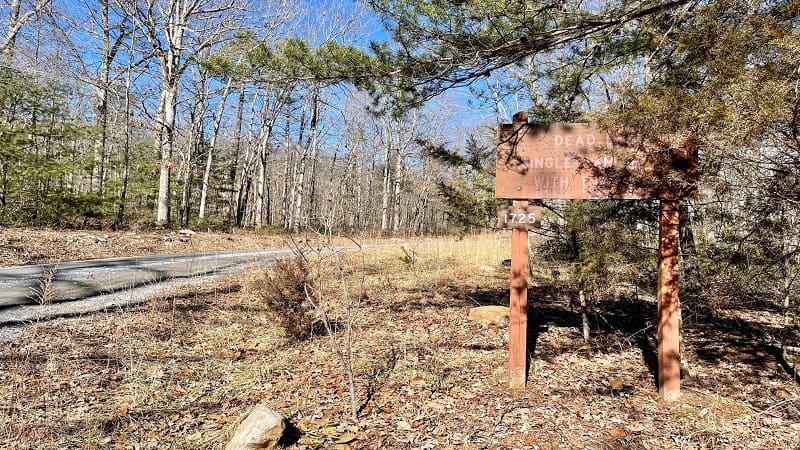 If you see a sign for "Capola House," you are in the wrong place. I just looked at Google Maps and Google Maps may lead you to the right place.
However, if you end up at Capola House, do not turn right onto the driveway. Continue driving on Van Buren Road. Shortly, drive through an open gate.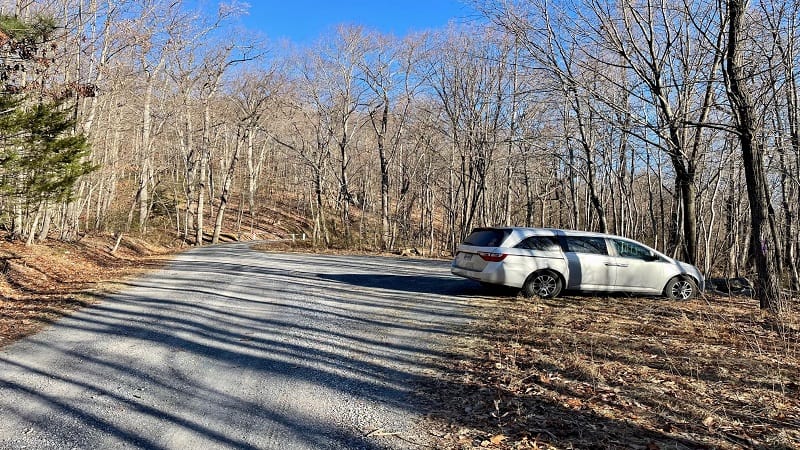 At the next T-intersection, turn right to drive up a hill. You will see a trail map and a small purple blaze. This road dead-ends at a small parking area.
You will see a gate across a gravel service road that is closed to keep out cars. You are in the right place. There is room for a half-dozen vehicles.
Sulphur Springs Gap Trail
This is basically a loop hike, so you can go in two directions, but you're really only going to see the purple-blazed service road leading off to the right.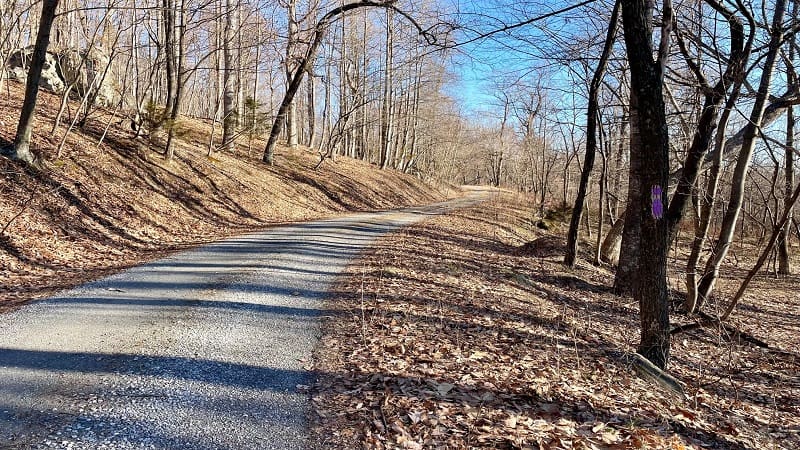 If you follow this path, you will complete a counter-clockwise hike. This is the better way to go (IMHO).
Some people don't love this stretch of trail. They say it's boring. I say it's a good warm up, this gradual ascent up the service road.
You will climb 1.4 miles before the Sulphur Springs Gap Trail turns left into the woods. There is a trail map and a sign for the Sulphur Springs Gap Trail.
The forested trail becomes rocky and guides you alongside a cascading stream. At the 1.6-mile mark, you will need to cross over the stream.
There is a log to walk across, but you may also find it easier to cross a bit further upstream. Continue on this wooded trail to the 3.0-mile mark.
Tuscarora Trail
At this point, you will reach a couple of trail signs. Just keep walking past the signs onto the blue-blazed Tuscarora Trail.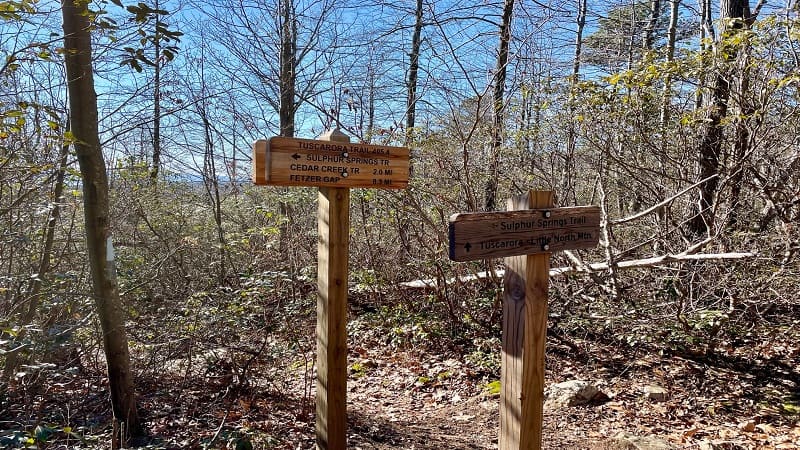 The section from the 3.0-mile mark to the 3.3-mile mark is also known as the Little North Mountain Trail.
At the 3.3-mile mark, you'll reach an intersection. Stay left for the Tuscarora Trail (also known as the Three Ponds Trail).
You'll soon see the first of a handful of primitive camp sites. At the 3.8-mile mark, stay left to continue on to "White Rocks View," according to the sign.
In a few steps, there's a really cool camp site with a view on the right. Then, a rock scramble. It was small, but very fun. Then, big views. Like, really big.
White Rocks View
The views across the Great North Mountains are incredible. The rocky outcrops go on and on and on, too. There are plenty of spots to sit and savor the views.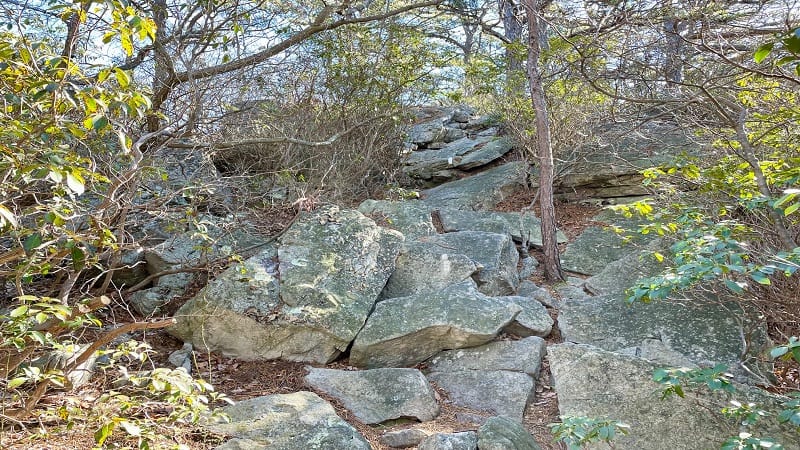 I took many, many photos of the views. They probably all look the same, but I was so awed by the mountain vistas. So beautiful.
It was pretty windy the day of my hike, but it didn't matter to me. I was the only person at the overlook and was more than content to just sit and stare.
Eventually, I re-traced my steps to the Tuscarora Trail. Turn right to re-connect with this trail at the 4.5-mile mark.
Turn right again at the 5.3-mile mark. At this point, you'll be back in the loop. You'll take the Tuscarora Trail / Little North Mountain Trail to the end.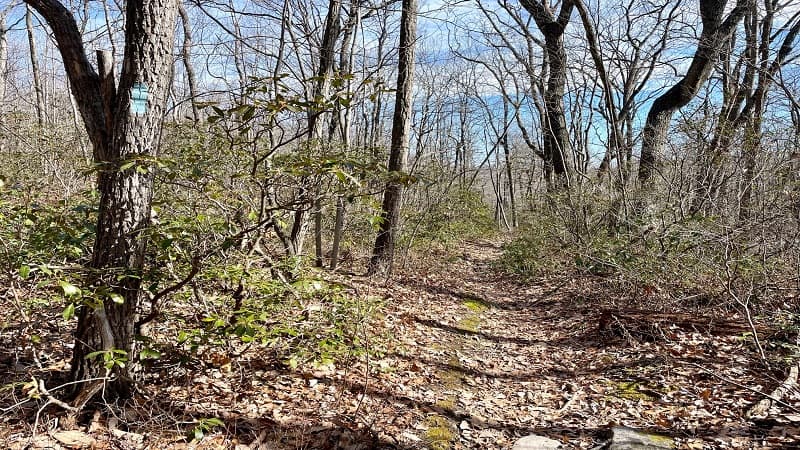 When you reach the parking area, you'll note the trail is not at all obvious from your vehicle and you'll be glad you started on the gravel fire road.
Wrap-Up Notes
From the parking area, this hike took me just over three hours, including time spent ogling the far-reaching views from the White Rocks overlook.
This 7.0-mile hike is definitely a new favorite of mine. I highly recommend this one for the views, the cascades, the rock scramble. So much fun.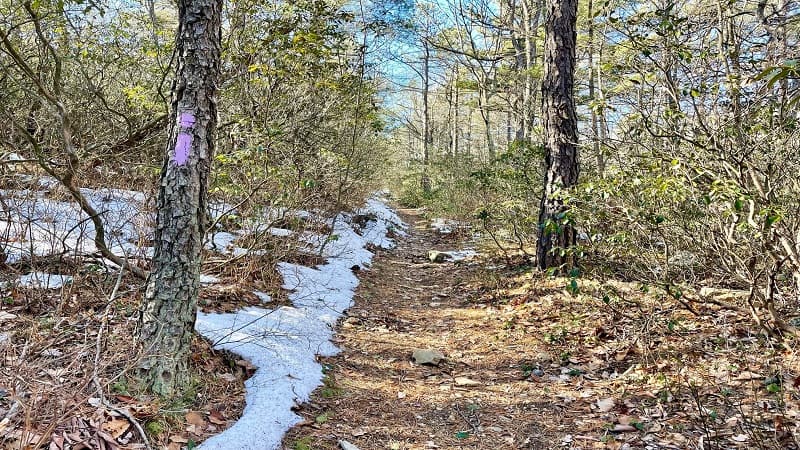 Interestingly, the trail map makes no mention of the overlook, but maybe that's to keep the views a little bit of a secret.
I'll be back another day to hike around the Great North Mountain Trails system. I'll probably forget I'd already been there, too (again).