Winter Car Camping: How to Stay Warm and Enjoy the Outdoors
I recently signed up for a virtual class with REI called Winter Camping Basics, a 90-minute Zoom session led by two REI camping experts.
Technically, Sarah and Laureen were "virtual outfitters" with knowledge about winter camping and what to sell you to encourage the outdoor experience.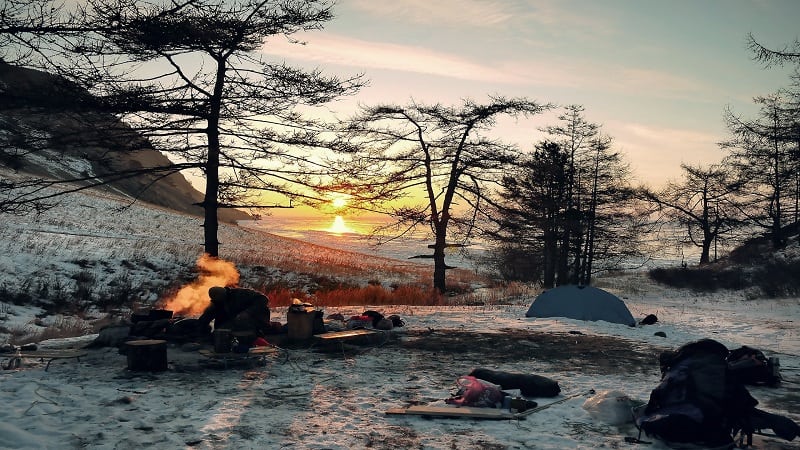 There may be affiliate links in this post. If you make a purchase, I earn a small commission at no extra cost to you. Thank you.
It was a great session, touching on topics ranging from where to go to what you need, even how to poop and pee outside in winter. All the must-knows.
I've been camping and backpacking, but never in freezing temps, so this online course encouraged me to dig deeper into camping outside in winter.
If you're thinking about getting outdoors to camp in the next couple of months, here's what to know about winter camping or winter car camping.
How Cold is Too Cold to Camp?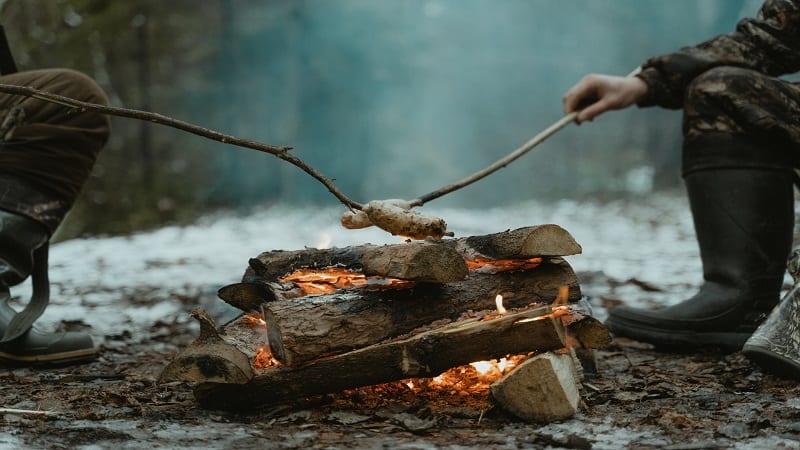 Everyone has a different tolerance for cold weather. Some may consider temps in the 40s to be too cold, while others can camp out when it's in the 30s.
Regardless, to achieve maximum comfort, you'll want to make sure your gear, including your sleeping bag and sleeping pad, are made for winter weather.
Pack warm blankets and clothes, like fleece lined hiking pants and winter hiking leggings. Dress for warmth, especially in late-night and early-morning hours.
Can You Sleep in Your Car in Winter?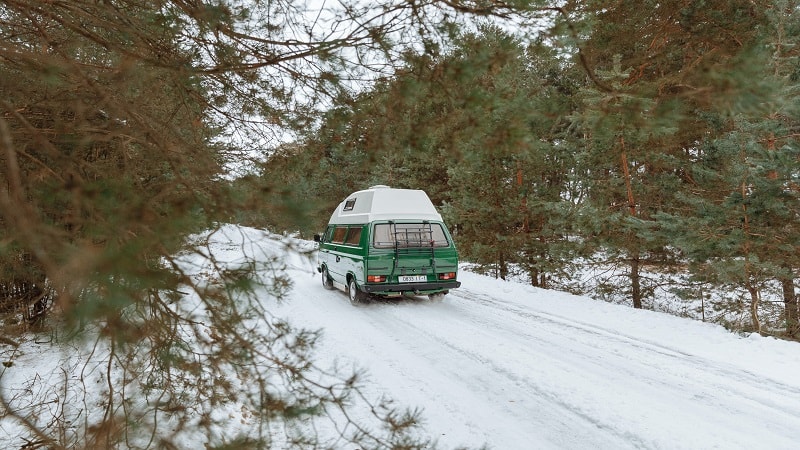 Yes, you can camp out in your car, though car camping can refer to a drive to a campground and an overnight in a tent at your tent site.
If you want to sleep in your car, you will need to prep your car for winter car camping. First, insulate your windows with a reflective sun shield.
Trap warmth in your car (and keep it from escaping) by placing a reflective sunshade on the inside of your windshield. This also helps ensure privacy.
Next, make window coverings with a reflective foil insulation wrap, like Reflectix. Insulating window coverings keep in heat and avoid condensation.
To sleep in your car, it's also key to select weather-appropriate sleeping gear. Look for a four-season sleeping bag and an insulated sleeping pad.
Your sleeping bag should be designed to keep you warm in temps as low as 20 degrees. Maybe even low as zero degrees, depending on your destination.
Personally, I also like to pair a sleeping bag with a sleeping bag liner for one extra layer of bonus warmth to help ensure a good night's sleep.
Is it Colder to Sleep in a Car or a Tent?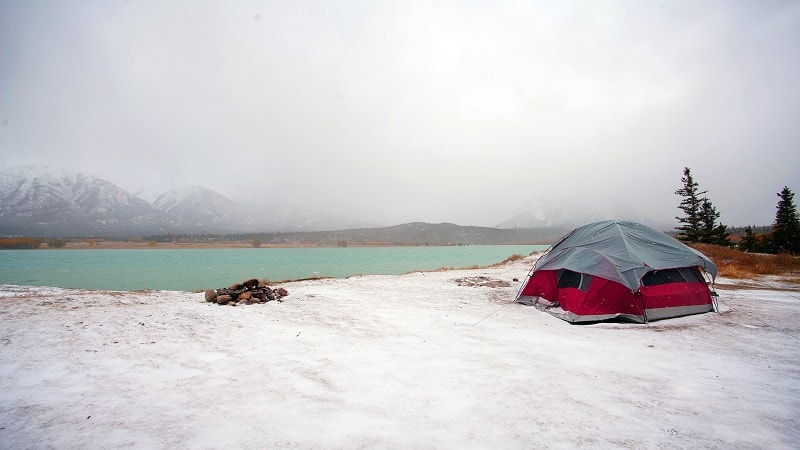 I think the jury is out on whether it's colder to sleep in a car or a tent. Some say a car is better, with the seats tucked away. Others say a tent is tops.
Cars have more insulation than tents. They can trap the heat from your body better than a tent does. A car can also protect from wind and windchill.
On the other hand, tents have less space to heat, so they can warm up more quickly. Tents are typically double layered too to enhance insulation.
Both a car and a tent will leak heat, though cars do have some built-insulation that naturally traps body heat inside a car to help keep you warm.
Whether you opt to sleep in your car or in a tent for a winter car camping adventure, the next section will address what to bring and how to stay warm.
Stay Warm: Winter Camping Essentials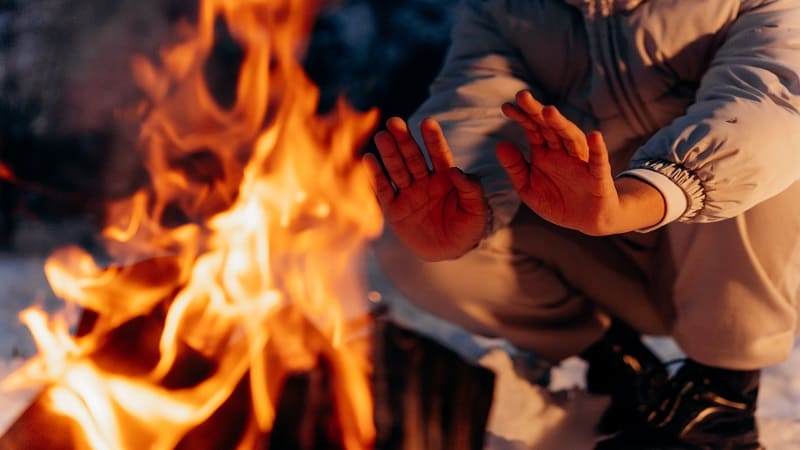 Of course, you'll want to bring typical camping gear, like a tent, sleeping bag, sleeping bag, lantern and tarp, but there's more to winter car camping.
Here's a winter camping checklist to help you stay warm, because let's be honest, an ice-cold camping experience is fairly miserable.
Four-Season Tent
Not all tents are created equal and there are some four-season tents that will keep you warmer when camping outside in the winter months.
First, go small. Or, smaller. A tent with less cubic space warms up more quickly, and a double layer tent holds heat in more efficiently.
If you plan to camp in snow, look for a tent with a skirt that goes around the perimeter of the tent. Scoop snow on the skirt to seal out wind-blown snow.
Winter Sleeping Bag
A four-season or winter sleeping bag is one that is specially designed to keep you warm in winter. It is the most important item to bring when winter camping.
Sleeping bags made for winter have extra insulation to keep you warm in cold weather months. They are typically snug fitting and good for low temps.
Look at a bag's temperature rating to make sure a puffy sleeping bag will keep you warm. Some are good for as low as 20 degrees, sometimes zero degrees.
Insulated Sleeping Pad
A sleeping pad is designed to keep you comfortable when sleeping on the ground. Insulated sleeping pads work to trap heat and minimize heat loss.
Sleeping pads typically have an R-value, which measure the pad's ability to insulate sleepers from cold surfaces. Higher R values are better in winter.
Look for a self-inflating pad or an air pad with an R-value in the 4 to 5.5 range (higher numbers are better) to stay warm when cold weather camping.
Sleeping Bag Liner
A sleeping bag liner is exactly what it sounds like. It lines your sleeping bag. It's essentially like a really big pillow case. It also helps keep you warm.
A warm bag liner can add an extra 25 degrees of warmth by adding a bonus layer to your sleep system to trap heat and keep it close to your body.
Get one that matches the shape of your sleeping bag if you can for added comfort. Liners can come shaped like a rectangular bag or mummy bag.
Electric Blanket
Consider a battery-powered electric blanket or one that can be plugged into a portable power station, like the Jackery Explorer 240.
An electric blanket will help ensure consistent, stable heat while you are inside your tent. There are two ways to use an electric blanket, too.
Of course, you can snuggle up with an electric blanket by laying it on top of your sleeping bag. Or, you can spread it out under your sleeping pad.
Portable Heater
Bring along a portable indoor-safe heat source, like the Little Buddy portable heater, to stay warm inside your car or in your tent while winter car camping.
A tent-safe heater is typically one that is labeled as indoor-safe. These heaters have safety features, like one that shuts off the heater if it tips over.
Properly ventilate your tent or car if you opt to bring along a portable car camping heater. These heaters typically require fresh air flow to operate properly.
Hot Water Bottle
For a toasty sleeping bag at bedtime, make sure to bring along a hot water bottle to place at the bottom of your bag.
These natural water bottles can come with knitted covers for added comfort in your sleeping bag. Just fill one up to keep your toes warm.
Warm water with a portable camping stove, like a Jetboil, then carefully fill the hot water bottle to two-thirds capacity and place in your sleeping bag.
Portable Stove
Speaking of Jetboil, it's a must to bring a portable stove, like a backpacking stove, to boil water both for cooking and for your hot water bottle(s).
A Jetboil can quickly boil at least one liter of water. The Jetboil Sumo can boil a whopping 1.8 liters in its well-insulated cooking pot.
Just don't forget to bring along the small propane canister designed to work with the Jetboil, as well as a multi-purpose wand-style lighter.
Hand & Toe Warmers
A must to bring along on any outdoor winter adventure, even hiking in winter, are hand and toe warmers to slip into hiking gloves and winter hiking socks.
You certainly don't want to be in a position where your hands are too cold to set up your tent or light your portable stove, so keep your hands warm.
Place hand warmers in your gloves while you hike and place toe warmers on your socks (never against bare skin) to stay toasty in your sleeping bag.
Warm Layers
Beyond your sleep system, it's crucial to be wearing warm layers to stay warm and comfortable outdoors in winter months.
Dressing in layers helps you regulate your body temperature. Choose layers and materials that will keep you warm and dry, including merino wool base layers.
This means using a moisture-wicking material for your base layer, like fleece or wool. Look to moisture-resistant outer layers in case of snow or rain.
Car Camping Checklist
Of course, beyond these essentials to keep you warm while camping in winter, you won't want to forget the basics, like:
– Headlamps (fully charged, or bring extra batteries)
– Lanterns
– Camp chairs
– Inflatable camping pillow
– Cooking & eating utensils
– Cooking supplies, like pots, bowls, can openers
– Multi-tool
– Solar charger
– Food & water
– Fire starters, as well as newspaper or dryer lint
– Toiletries, including a pee rag and cleansing wipes
– First aid kit
You may also want to check out my big list of gifts for hikers to see what else might be good to bring along when hiking or camping in winter months.
If you decide to make a go of winter car camping, have fun, stay warm and savor every moment outdoors in nature.