Pony Pasture Rapids Park: Easy Riverside Hiking Trails in Richmond, Virginia
I first set out to hike the trails at Pony Pasture Rapids Park in Richmond a few months ago, but that was a fail. I couldn't even get into the parking area.
Situated on the flowing James River, Pony Pasture Rapids Park is among the most popular public parks within the James River Park System in Virginia.
On warm weather weekends, this park is a go-to for water lovers thanks to river rapids and opportunities for tubing and kayaking to Reedy Creek.
There are also several short hiking trails, including the Riverside Trail, Center Trail and Pleasants Creek Trail. But first, let's talk about parking.
| Trail Stats | |
| --- | --- |
| Length | 2.3 miles |
| Difficulty | Easy |
| Trail Type | Double Loop |
| Elevation Gain | 26 feet |
| Duration | 60-90 minutes |
| Terrain | Mostly dirt & gravel trails |
| Dog-Friendly | Yes |
| Fee | Free |
| Driving Directions | Click Here |
Pony Pasture Parking Lot
There is a sizeable parking lot for Pony Pasture Rapids Park. It's just off Riverside Drive in the well-shaded Fairway Acres neighborhood.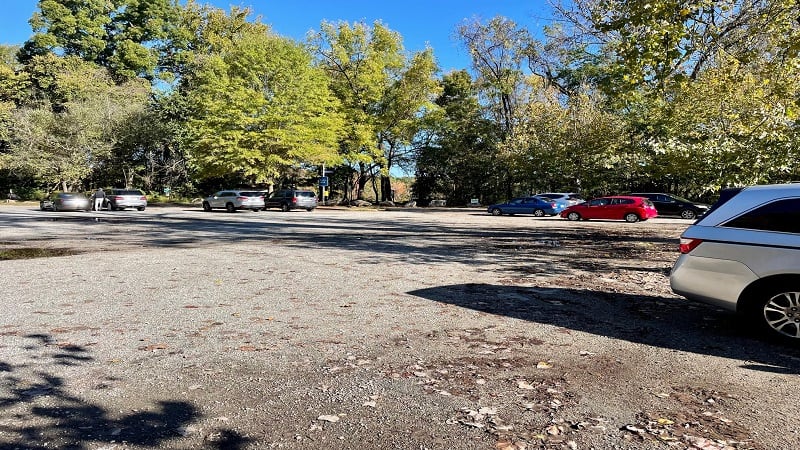 However, demand for parking can far exceed supply. Worse, there really aren't any nearby parking spaces if the gate is closed due to a capacity situation.
The lot can fill up quickly, too. So if your heart is set on a day at Pony Pasture Rapids Park, arrive early for a parking space and a spot on the river rocks.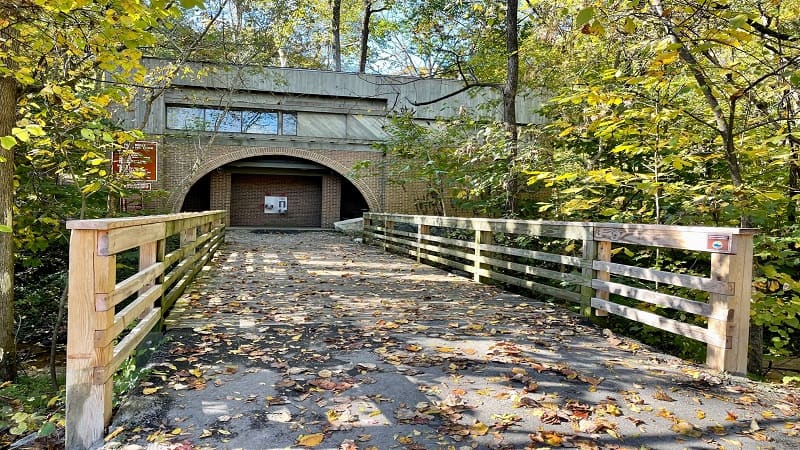 There are a handful of picnic tables adjacent to the Pony Pasture parking area. You'll also find nice restrooms (flush toilets) and a water bottle filling station.
Pony Pasture Trails
There are a couple of different spots to begin an easy dog-friendly hike at Pony Pasture Rapids, but your best bet is to begin from the large trail kiosk.
The trail kiosk is in the northwest corner of the lot. A large map identifies the trails, as well as scenic views and put-in points for kayaks and tubes.
From here, you can also step out on river rocks for outstanding views across the James River, even over to Williams Island.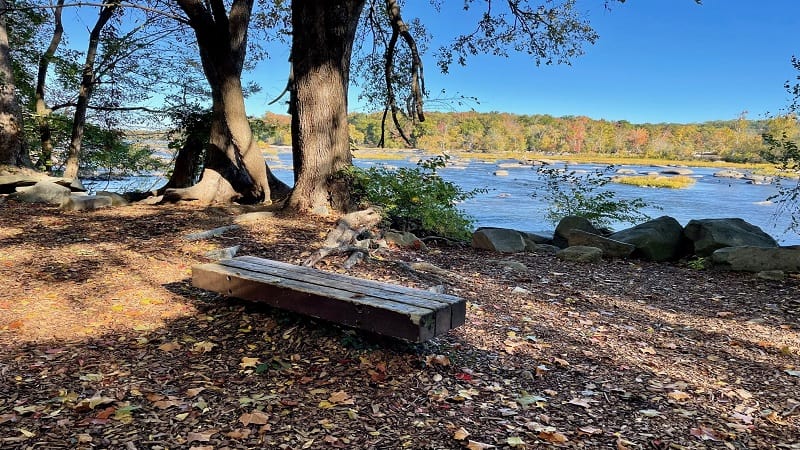 It's a cinch to cobble together the park trails to create a 2.3-mile double loop that includes river views and a walk through a quiet wetlands section.
Riverside Trail
From the kiosk, begin walking east along the James River on the Riverside Trail. Beyond the kiosk map, there is no trail signage or markings.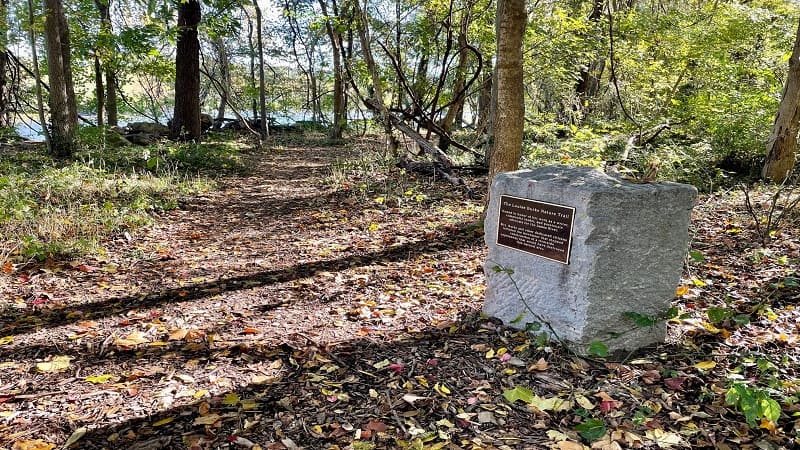 You will, however, see a monument to denote the Louise Burke Nature Trail. Louise Burke was a nature advocate who fought to expand the park system.
More specifically, Burke helped lead a charge to keep an expressway from following along the James River, destroying acres of meadows and woodlands.
As you walk on the Riverside Trail, you'll have several opportunities to step out onto the lower rapids rocks that are strewn across shallow river water.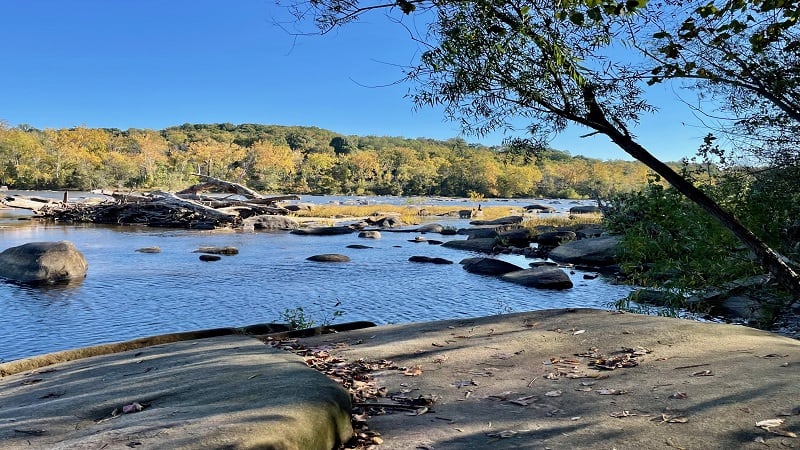 At the .7-mile mark stay right to continue on this trail. To the left is a bench and river views, but the trail ends (though it looks like it continues).
The Wetlands
In a few more steps, turn left to cross over a wooden bridge for the wetlands section on the far east end of Pony Pasture Rapids Park.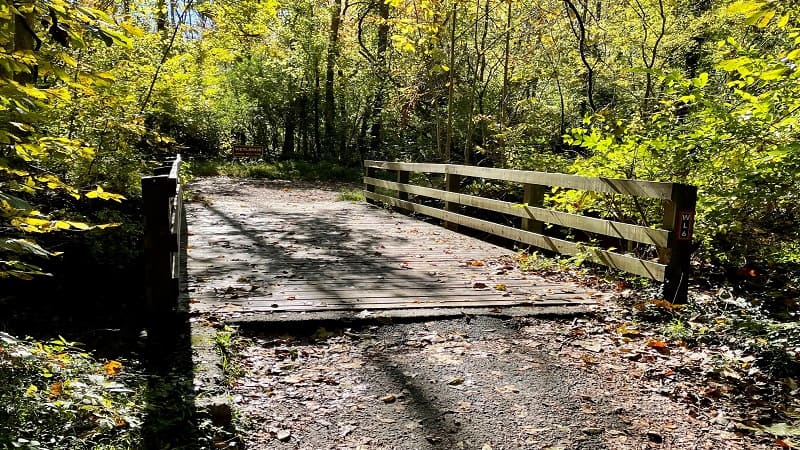 It's a quiet walk that includes a gravel put-in for kayaks and tubes. The full loop is .9 miles. Two paths cut across the wetlands for a shorter hike.
The trail is not named or marked, but thankfully it's not a long hiking trail. At the 1.4-mile mark, you'll reach a bench, a fork and no clear direction.
Turn right here, as a left turn leads you into the neighborhood (Landria Drive). If you find yourself on Landria Drive, it's a short walk back to the wetlands.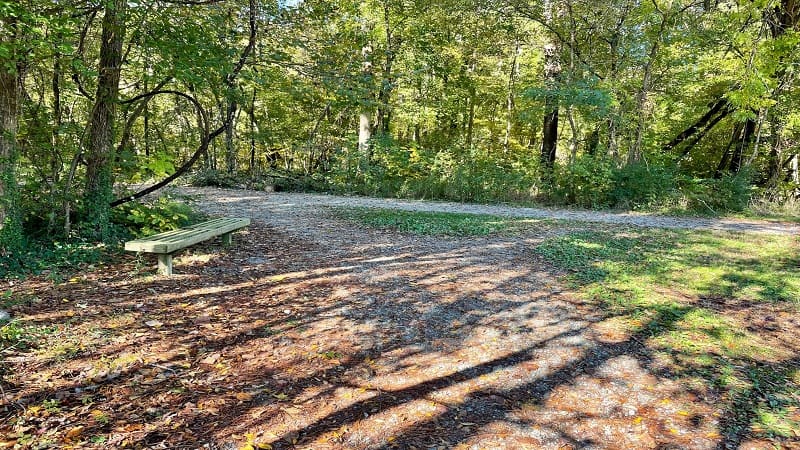 You'll close the loop and turn left to walk back over the wooden bridge at the 1.6-mile mark. Once over the bridge, turn left for the Pleasants Creek Trail.
Pleasants Creek Trail
The Pleasants Creek Trail is a shady walk that takes you directly back to the parking lot. At times, you'll walk alongside a shallow creek.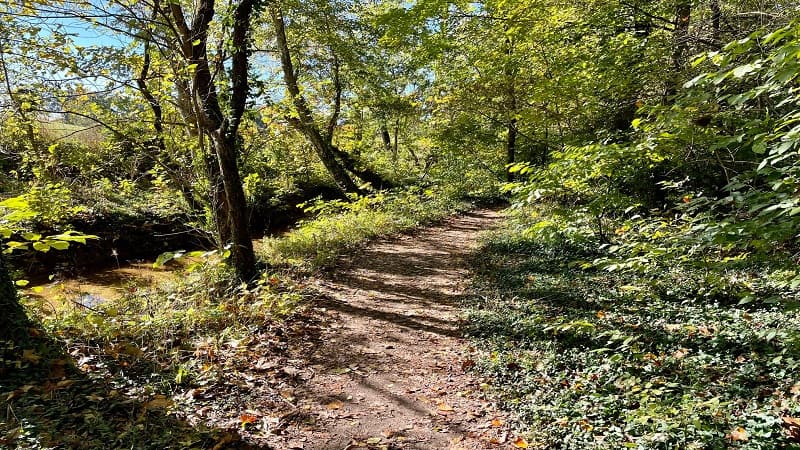 It's about .5 miles back to the parking lot. There are a couple of side paths that splinter off from this trail, but just stay on the main gravel path.
You'll soon see a footbridge on the left called Charlie's Bridge. It's dedicated to Charlie Slade, a beloved park volunteer who built the park's hiking trails.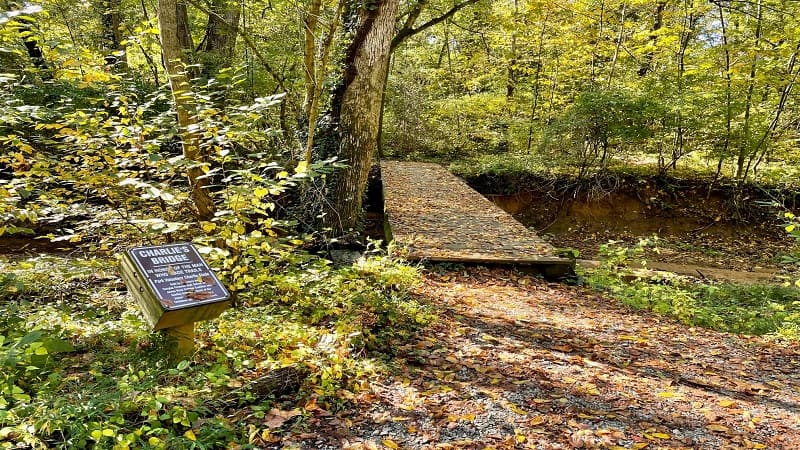 The Pleasants Creek Trail dead-ends at the parking lot. Just to your right, you'll see a couple of picnic tables.
Your hike is more or less complete at this point. Simply turn right to walk along the edge of the parking area to return to the trail kiosk.
Pony Pasture Rapids
Many visitors to Pony Pasture Rapids Park want to get out in the water, especially in the summer. Many look to the upper rapids of the James River.
As the name implies, the upper rapids are upstream on the James. There you'll find bigger rocks, deeper channels and more of the water-loving crowds.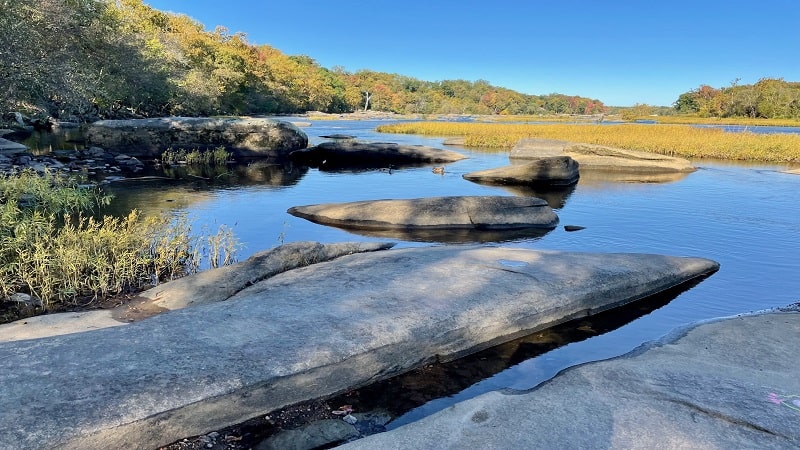 You may encounter refreshing class II rapids, though it's more typically like a float. The 3.5-mile Pony Pasture to Reedy Creek float is popular in Richmond.
Just make sure to park a car in the Reedy Creek parking area before you get going, or you may need to call a ride-share to get you back to Pony Pasture.
Wrap-Up Notes
This easy 2.3-mile hike around Pony Pasture Rapids Park took me less than one hour. It was quiet, shady and very relaxing in mid-October.
The address for Pony Pasture Rapids Park is 7200 Riverside Drive in Richmond. There is no fee to hike, play and splash around at this dog-friendly public park.
If you'd like to get involved with this green space, consider making a donation to or serving as a volunteer with Friends of the James River Park.
Eager for more Central Virginia day hikes? Check out my favorite hikes near Richmond, Virginia.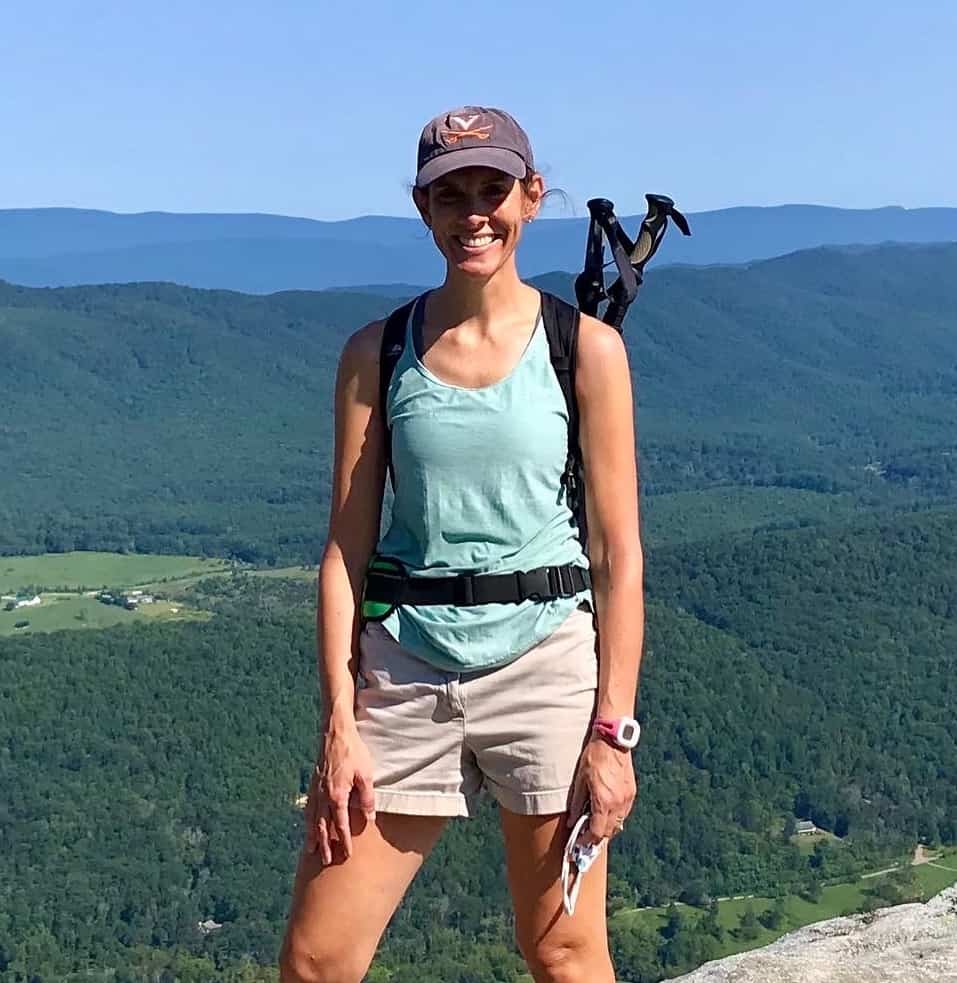 Erin Gifford is the editor of Go Hike Virginia. She has completed more than 300 hikes in Virginia. She is also the author of three hiking guidebooks from Falcon Guides. Need help finding a hike? Check out the Trail Finder feature or send Erin a message.