Appalachian Trail: Sinking Creek to Lee Hollow in Blacksburg, Virginia (+ Keffer Oak)
I've got a secret. There's a wildly scenic stretch of the iconic Appalachian Trail that's just minutes from Virginia Tech in Blacksburg, Virginia.
Not long ago, I hiked this stretch as a point-to-point hike, starting at Sinking Creek (State Route 630) and ending at Lee Hollow (State Route 621).
I parked my car at Lee Hollow and was able to have a friend drive me to Sinking Creek, so I basically hiked to my car. This worked out very well.
The Roanoke Appalachian Trail Club also posts a list of shuttle drivers if you want to hire a local trail steward for a small fee to drive you to a point on the trail.
There's a lot to see on this hike, including views for miles as you walk the scenic ridgeline of Sinking Creek Mountain. There are also two hiker shelters.
| Trail Stats | |
| --- | --- |
| Length | 11.3 miles |
| Difficulty | Strenuous |
| Trail Type | Point-to-Point |
| Elevation Gain | 2,041 feet |
| Duration | 6-7 hours |
| Terrain | Mostly dirt & rock trails, some stairs |
| Dog-Friendly | Yes |
| Fee | Free |
| Driving Directions | Click Here |
Sinking Creek
This hike begins at a parking lot on State Route 630 (Northside Road). Type "Appalachian Trail Parking Northside Road" into Google Maps for directions.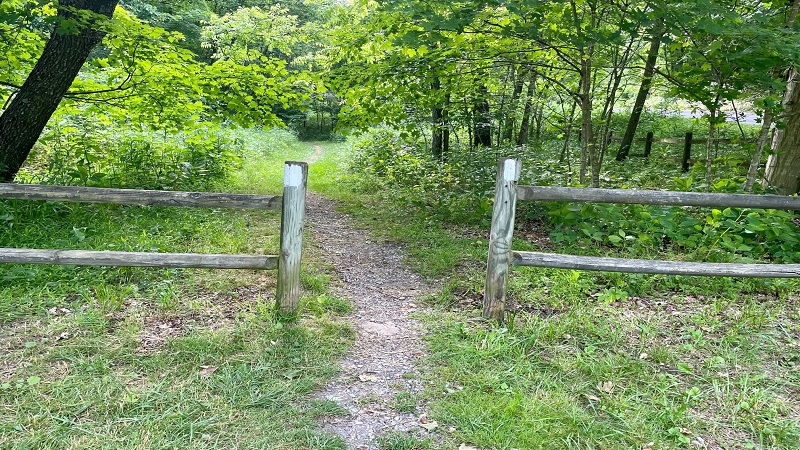 It's a small parking area with no signage. Look for the white blazes painted on either end to signify that this is, in fact, the Appalachian Trail.
This hike sets off on the right when facing the lot (northbound). You'll see two white blazes painted on wooden fence poles.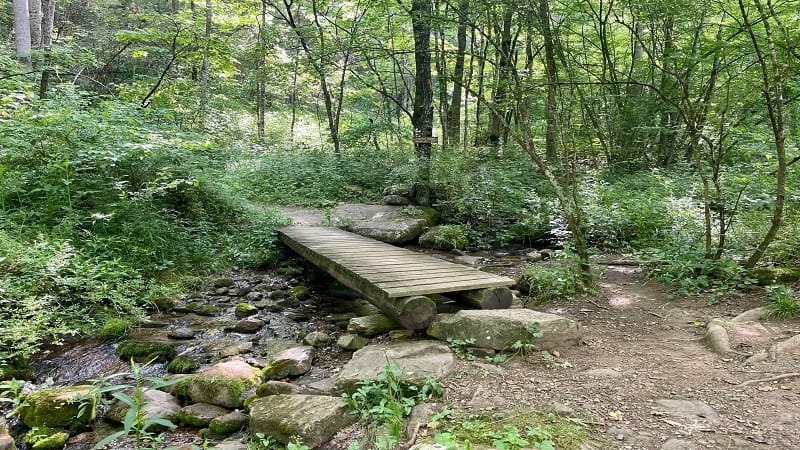 You'll cross a footbridge over Sinking Creek within the first 0.1-mile. Then, a sign lets you know that you'll reach Sinking Creek Mountain in 1.3 miles.
In a few more steps, you'll reach a small ramshackle cabin that's slowly being re-claimed by nature. Oh to know what that cabin has seen over time.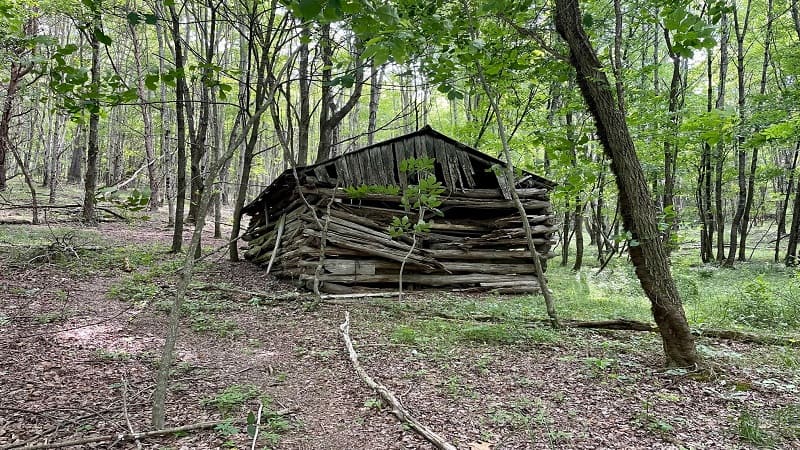 You're also slowly ascending. In fact, over the course of this hike, you'll gain more than 2,000 feet in elevation, so you'll need to dig in in certain sections.
Keffer Oak
At the 0.4-mile mark, you will reach Keffer Oak. It's said to be the second largest oak tree on the entire Appalachian Trail.
Supposedly, the Dover Oak in New York is the oldest oak on the trail, though I could find little more than a hiker's Facebook post to back up this claim.
Both white oak trees are more than 300 years old. From first-hand viewing, I can say that the Keffer Oak is massive. It's awe-inspiring, too. Wowza.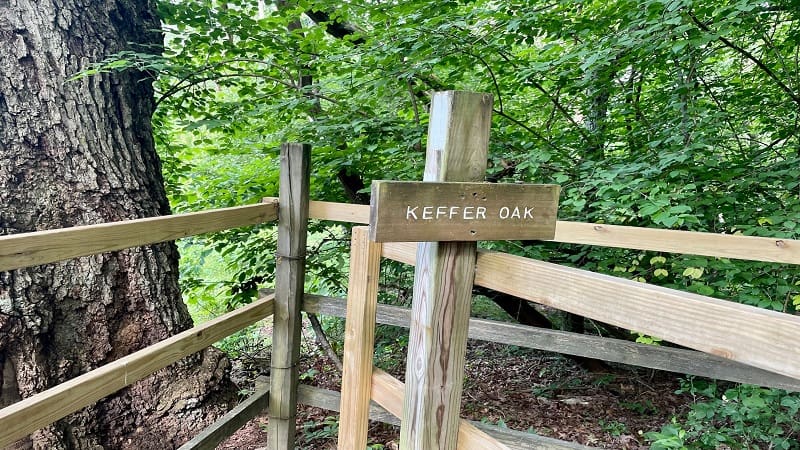 There's a sign marked "Keffer Oak" to help you not miss this celebrated tree on the Appalachian Trail. Yet, somehow I still almost walked right by. Almost.
Apparently, the Keffer Oak is named for Rex Keffer, a former landowner who died in 1988 and is buried locally in Craig County, according to WhiteBlaze.net.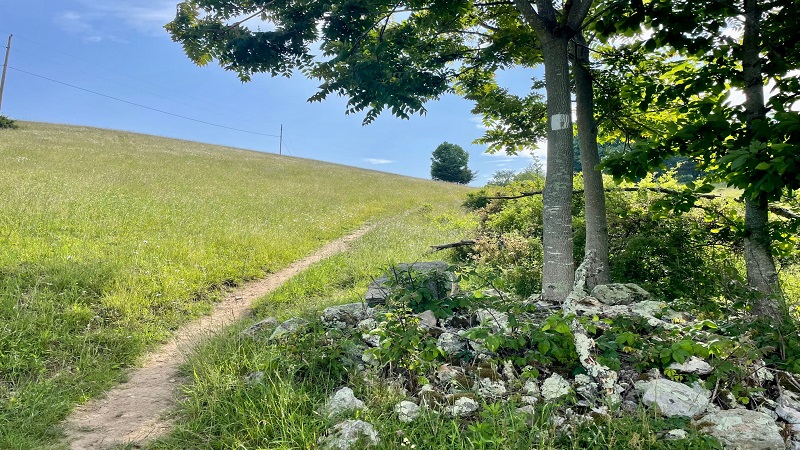 As you continue on, you'll step out into the sunshine and cross an open pasture. There's also a scenic powerline vista before you re-enter the woods.
Steps, Steps, More Steps
Once back in the forest, you'll encounter lots of steps. They're not all at once, like on the Tinker Cliffs and Buck Ridge hikes, but they keep on coming.
You'll ascend a set of 10 or 15 stone steps, then walk a section of flat path, then climb more steps. I'd say it's marginally better than switchbacks.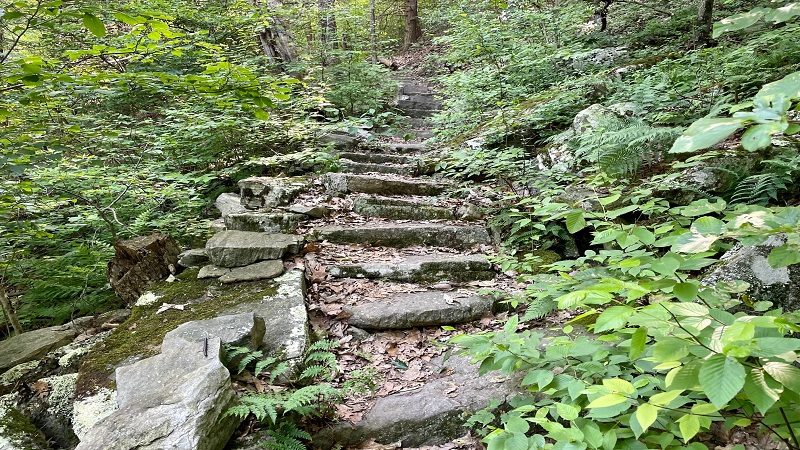 It's also better than a much steeper grade to reach the same end point on the trail. Keep your eyes open for a primitive camp site or two, too.
At the 2.2-mile mark, a short trail leads off to a rocky overlook on the left-hand side of the hiking trail.
Within a few steps, you'll reach the overlook to re-fuel, re-hydrate and take in some views (if somewhat obscured). I met some nice thru-hikers there, too.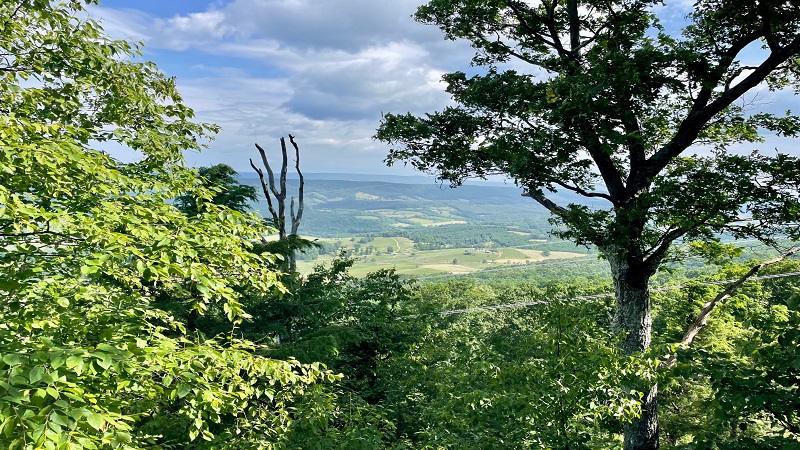 By this point, you will have climbed more than 1,000 feet up Sinking Creek Mountain, so you will want to take a break, if only for a few minutes.
Bruisers Knob
You'll reach Bruisers Knob at the 3.1-mile mark. There are no views. Instead, you'll find piles of rocks. I read about this on a blog called Rock Piles.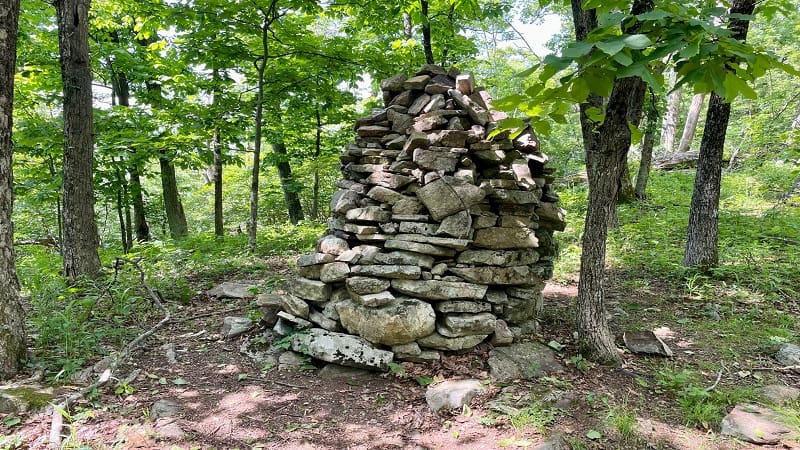 According to the writer (and according to his Appalachian Trail Guide), farmers at one time cleared fields and stacked the rocks they found on mountaintops.
You will see literally dozens of rock piles – some quite neat and orderly – atop Sinking Creek Mountain on both sides of the hiking trail.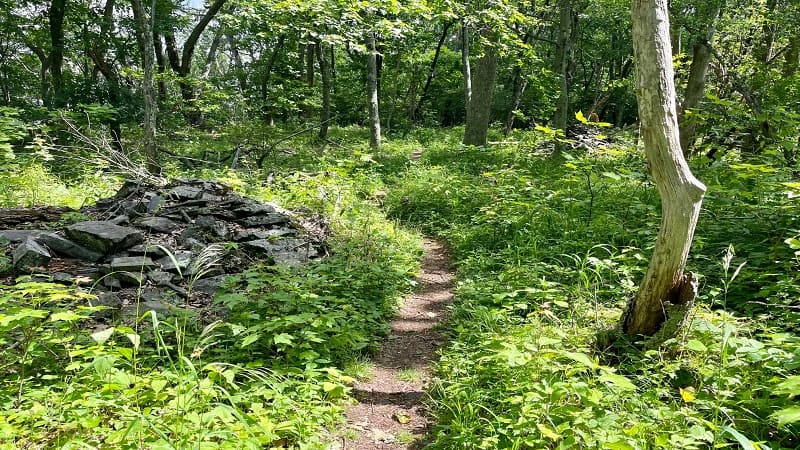 Some people refer to these rock piles as either "rock cairns" or "Bruisers Knob cairns." Either way, they are quite interesting to check out as you hike.
Sarver Hollow Shelter
At the 3.4-mile mark, you'll arrive at a sign for Sarver Hollow Shelter, a typical lean-to shelter for hikers that is 0.4 miles off the trail.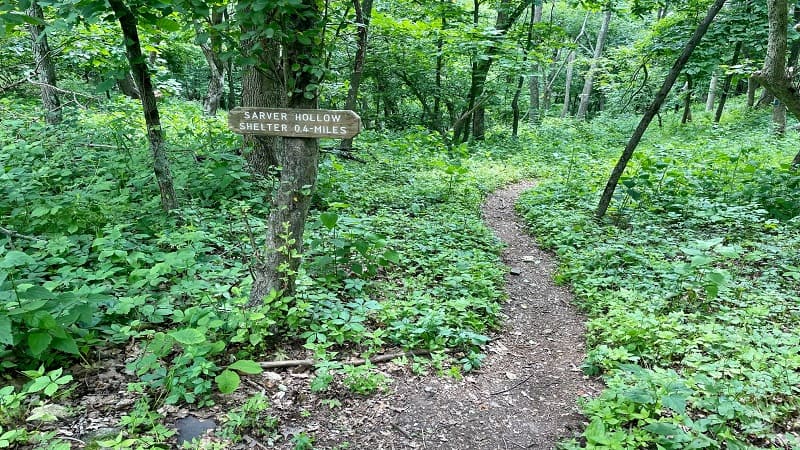 I'm not a fan of shelters that are this far off the trail, especially ones that require a 300+ foot descent to reach them.
There are at least eight switchbacks on the way down, and you will feel as though you will never reach the shelter. You keep going down, down, down.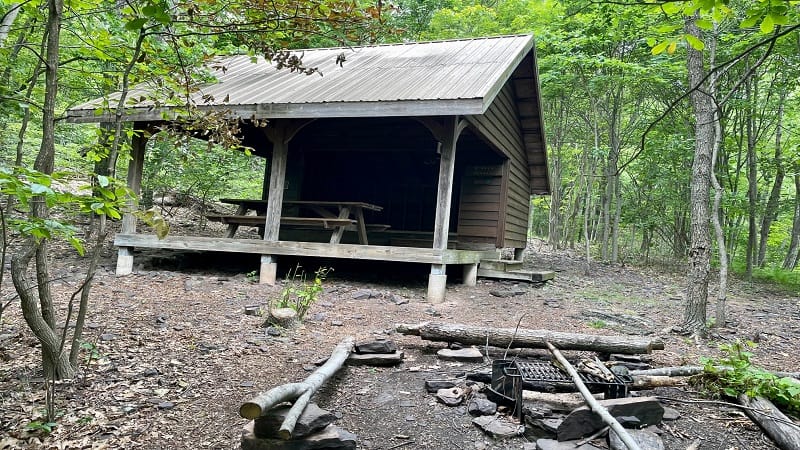 You really have to want desperately to reach this shelter – or the adjacent freshwater spring to refill your water bottles.
Because, of course, you have an uphill hike with a 300+ foot elevation gain waiting for you to get back to the Appalachian Trail.
I checked out the shelter anyway, though I can't say I wasn't grumbling on the way down and the way up. It's a nice shelter though, with a picnic table.
There's also a privy, a spring and space for multiple tents, though I can't imagine that that many people hike all the way down to this shelter.
Sinking Creek Mountain
Once back on the Appalachian Trail, continue north along the spine of Sinking Creek Mountain. From here, you'll encounter lots of scenic panoramas.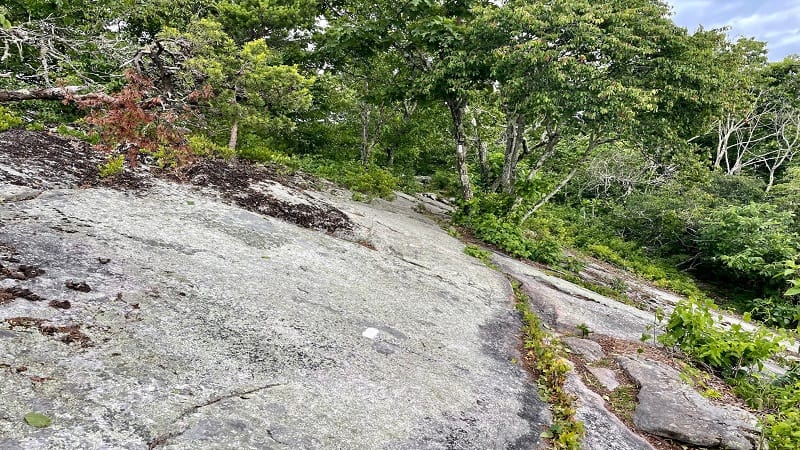 You'll also cross easy stretches of dirt trail, then more challenging rock scrambles on large slanted boulders. Some call these rock ledges.
There are lots of spots to sit down and savor the views across the Craig Creek Valley. It was mostly cloudy the day of my hike, but still, amazing vistas.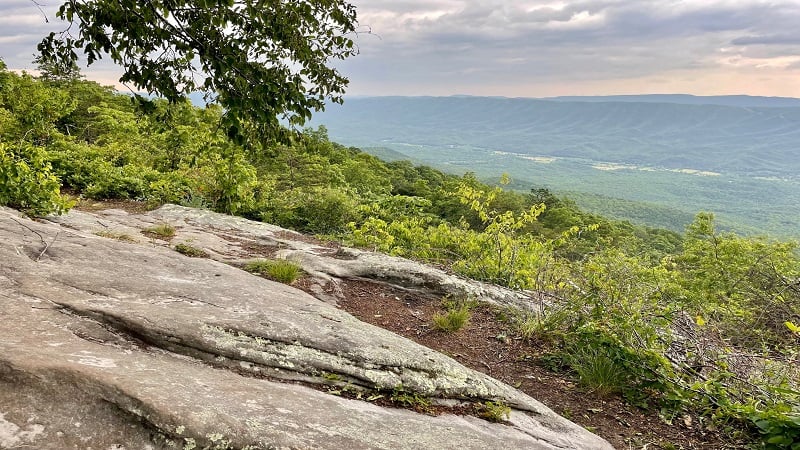 At the 7.3-mile mark (assuming you stopped for Sarver Hollow Shelter), you will reach a sign that marks the Eastern Continental Divide.
From this point, water travels east to the Atlantic Ocean and west to the Gulf of Mexico. There's nothing more than a small sign, but it's still quite notable.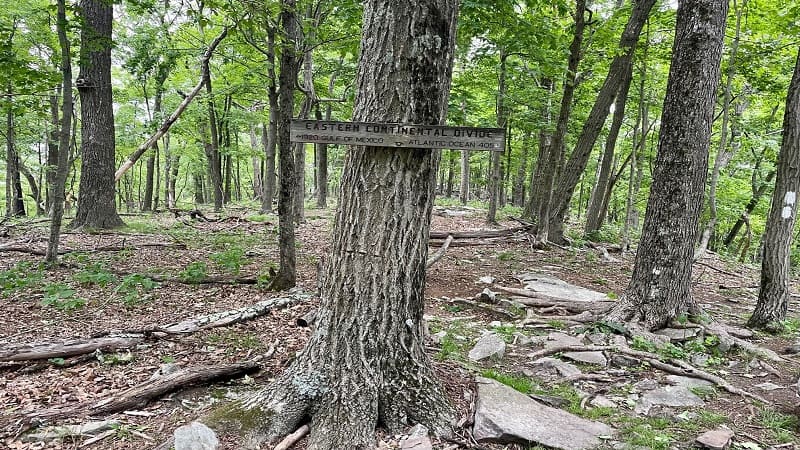 You'll now begin to hike down the mountain. To reach the parking lot at Lee Hollow, you'll need to descend 1,800 feet to complete this hike.
Niday Shelter
There are more views on the way down, too. But first, make a stop for Niday Shelter at the 9.8-mile mark.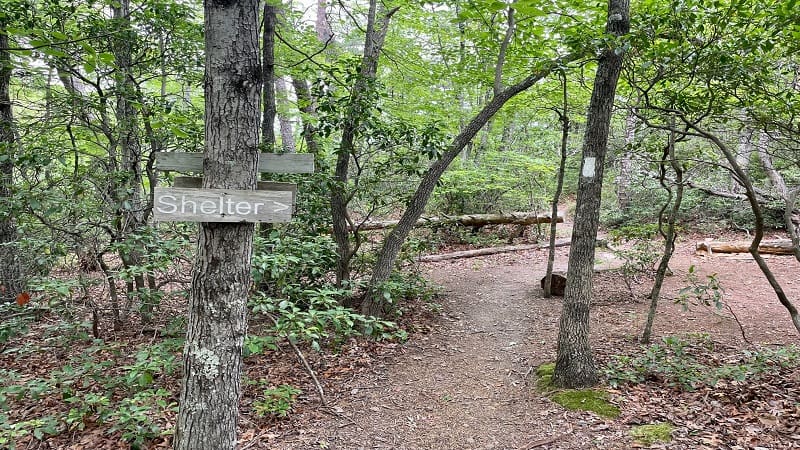 Thankfully, this lean-to shelter for hikers is literally just steps off the trail. There's a picnic table, a privy and an open area for backpacker tents.
Across the Appalachian Trail from Niday Shelter is a freshwater spring. I did not stop for the spring, but from the map it looks very close to the trail.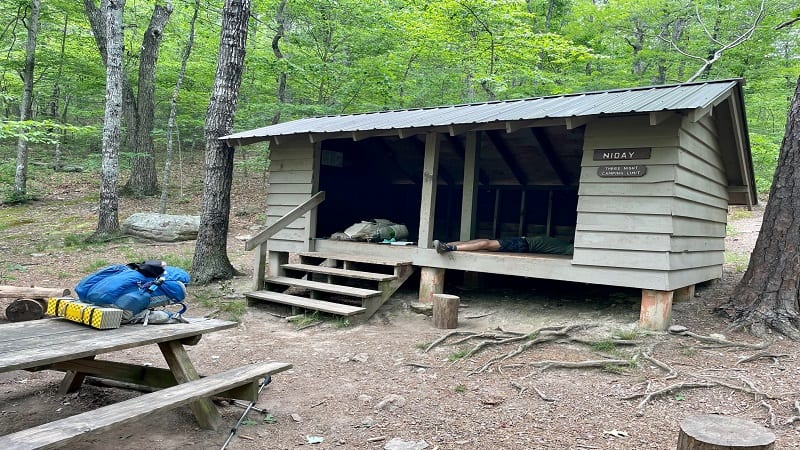 There is a three night camping limit at Niday Shelter, per a sign posted on the shelter. I can't imagine anyone spends more than one night here though.
Lee Hollow
Continue past Niday Shelter and you're nearing the end of this section of the white-blazed Appalachian Trail.
From the shelter, it's an easy 1.5 miles down the mountain until you reach the parking area on State Route 621 (Craig Creek Road).
You'll also lose another 400+ feet in elevation as you continue descending the mountain. Get ready to celebrate.
As you exit the parking area and drive west on Craig Creek Road, you're a short 20 minutes from Pandapas Pond Day Use Area in Blacksburg.
Wrap-Up Notes
This point-to-point hike on the Appalachian Trail in Montgomery County – from Sinking Creek to Lee Hollow – clocked in at 11.3 miles.
Of course, this included a stop at Sarver Hollow Shelter, which was 0.4 miles from the main trail. Skip this stop for a 10.5 mile hike.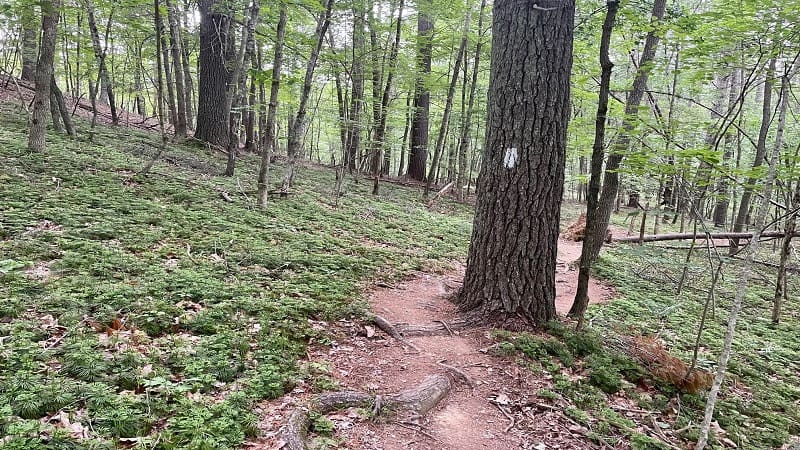 Thanks to an elevation gain of more than 2,000 feet over the course of this Blacksburg hike, I spent more than five hours tackling this section of trail.
This includes time spent chatting with thru-hikers, enjoying the views and taking breaks to re-hydrate and re-fuel.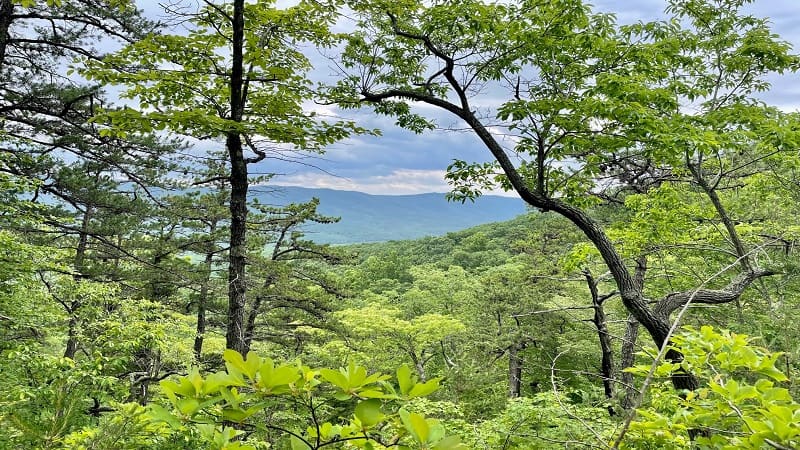 It's a very quiet section of trail. The only other hikers I saw were thru-hikers on their way to Maine. Enjoy the solitude, friends.
Disclosure: This post was sponsored by Blacksburg-Christiansburg-Montgomery County Regional Tourism. However, all views and opinions expressed here are my own.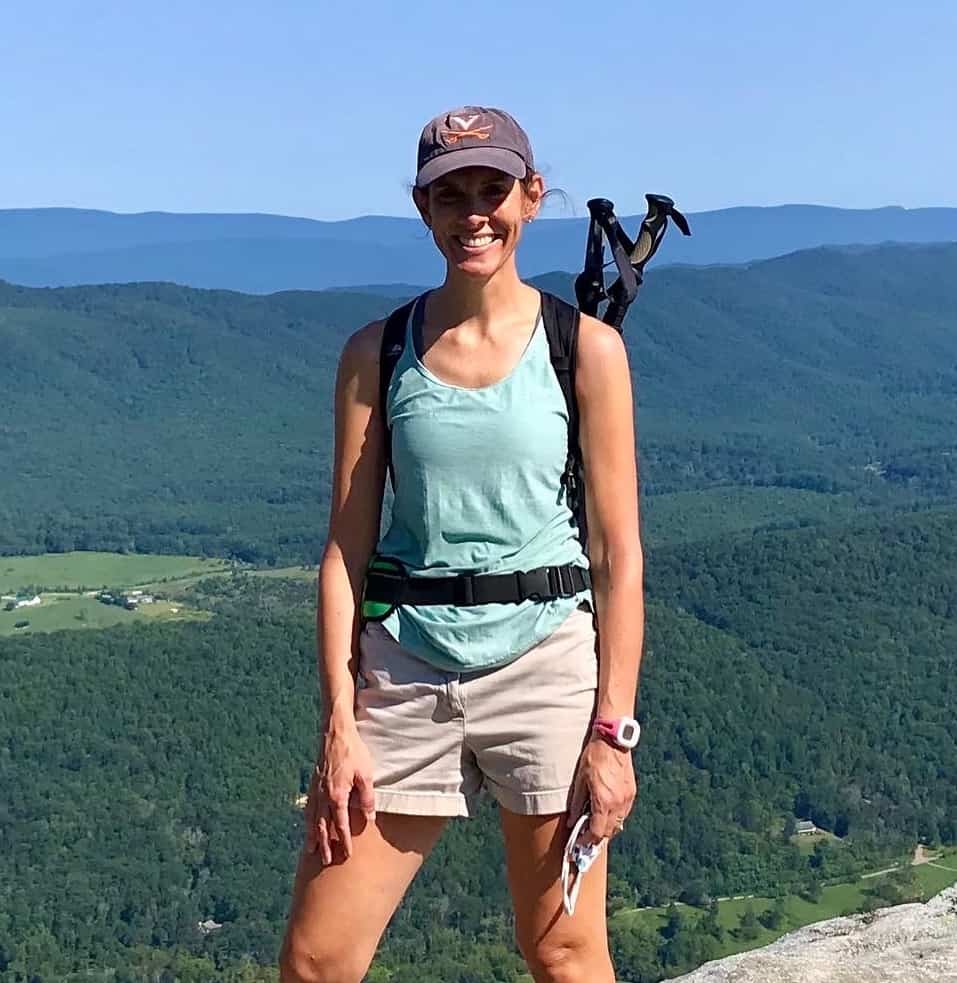 Erin Gifford is the editor of Go Hike Virginia. She has completed more than 300 hikes in Virginia. She is also the author of three hiking guidebooks from Falcon Guides. Need help finding a hike? Check out the Trail Finder feature or send Erin a message.