High Bridge Trail: Hike or Bike This 31-Mile Rail-Trail Near Farmville, Virginia
High Bridge Trail is a 31-mile rail-trail that runs west to east from Pamplin to Burkeville. The primary draw, of course, is the 125-foot-tall High Bridge.
This one-time railroad bridge is more than 2,400-feet-long (nearly half-mile), making it the longest recreational bridge in Virginia.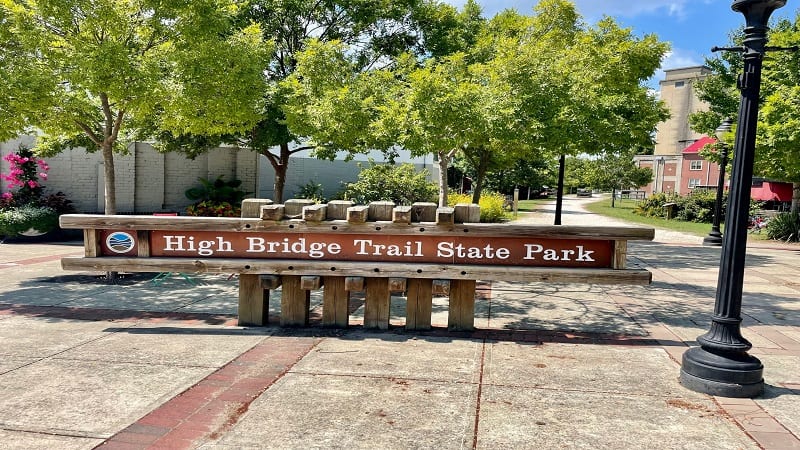 High Bridge is also among the longest recreational bridges in the country, and is the centerpiece of High Bridge Trail State Park in Central Virginia.
The wide trail is made up of finely crushed limestone, making it easy to enjoy this trail on foot, on two wheels or on horseback.
Biking High Bridge Trail
The High Bridge Trail is not great for a hike. There's not much to see aside from the bridge. Maybe a casual stroll. It is, however, perfect for a bike ride.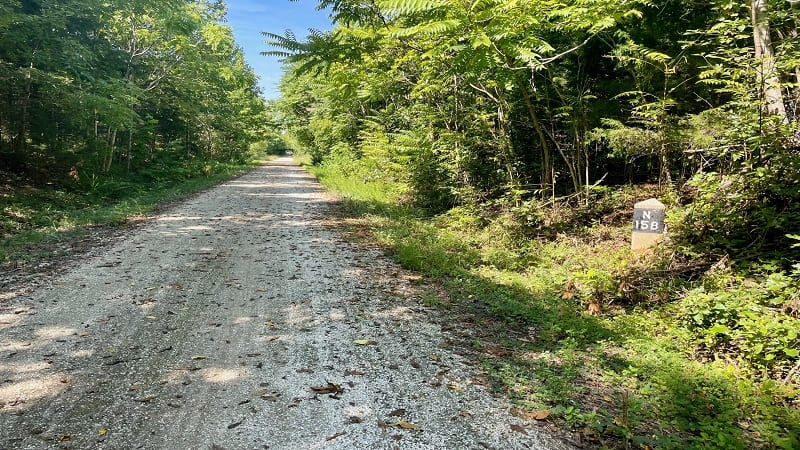 I biked the rail-trail from end-to-end, but since there are eight parking lots, you can easily create your own ride.
The High Bridge Trail State Park map breaks out the trail into 12 segments that range from 0.5 miles to 5.7 miles.
You'll find a picnic table, a parking lot and restrooms (vault toilets) at one or both ends of each trail segment.
The trail crosses over multiple roads and private driveways, but there are no large or dangerous street crossings that can be worrisome.
Pamplin to Elam
The trail begins from a small gravel parking lot just east of Pamplin. It's just off Heights School Road as you make your way to Pamplin.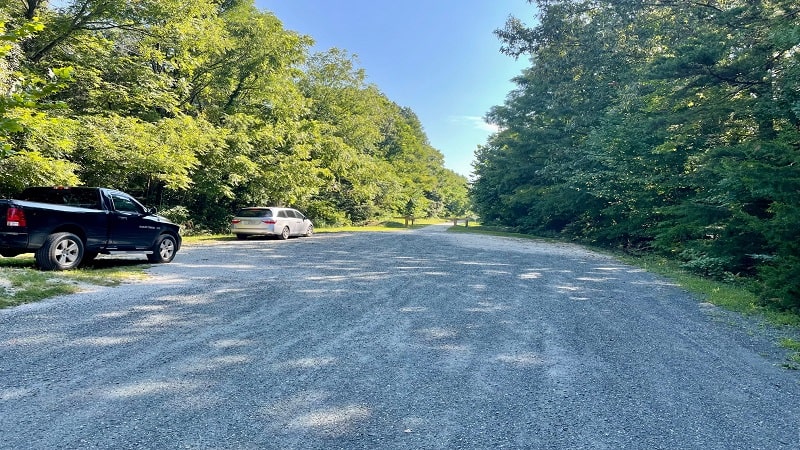 I recommend that you use Google Maps to map to the trailhead since Google Maps thankfully marks the location of the trailhead.
There is no sign at the corner of Pamplin Road and Heights School Road noting the location of the parking lot for the state park.
You'll see the trailhead at the east end of the lot. The park map indicates the presence of restrooms and a picnic table. However, these are not in the lot.
You'll need to bike 0.2 miles along the trail to reach the restrooms and picnic table, as well as a wooden bench. It's an easy shaded ride.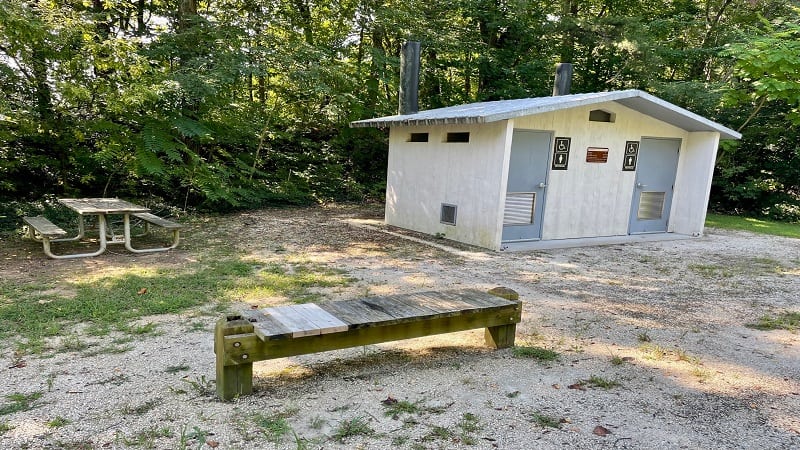 From here, it's another 2.8 miles to Elam. You'll cross over several small roads and private drives along the way to the parking lot in Elam.
If you have time, drive in to Pamplin before you begin. It's only another mile or two. There is a ghost town at the location of the old train depot. Also, Mr. Bubbles.
Mr. Bubbles is a snack shack that sells ice cream, milkshakes, hot dogs and pretzels, as well as meatball subs. Note that Mr. Bubbles is closed on Mondays.
Elam to Prospect
The stretch from Elam to Prospect is 3.7 miles. It's a generally shaded segment of trail with a very slight decline.
There is a small lot in Elam on Sulphur Springs Road that's accessible by way of Prince Edward Highway. There is an honor pay station in the lot.
Along this stretch, you'll pass farmland and cross over a few roads. Once you arrive in Prospect, make note that an Exxon is very close.
If you are hungry or thirsty at this point, take Railroad Avenue 0.4 miles west toward Prince Edward Highway. The Exxon is on the right.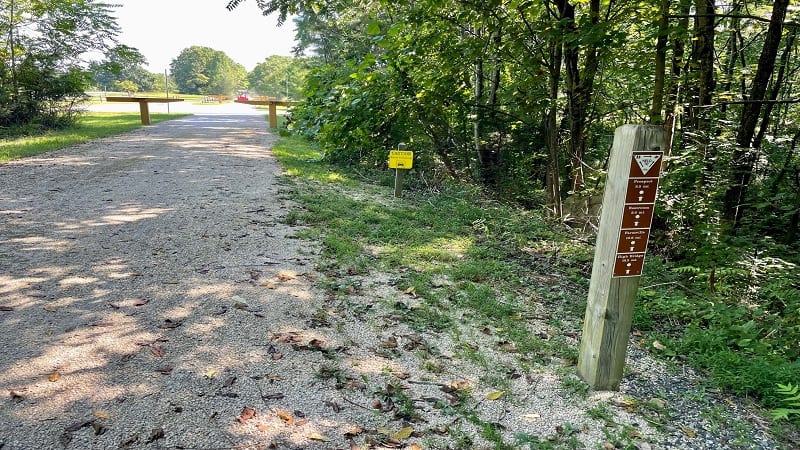 There is a convenience mart with drinks and snacks for sale. At the Prospect trailhead near Prospect Road, you'll find parking, restrooms and a picnic table.
Prospect to Tuggle
The stretch from Prospect to Tuggle is 3.8 miles. There were a few road crossings here and there, but beyond that, there was nothing of note to see.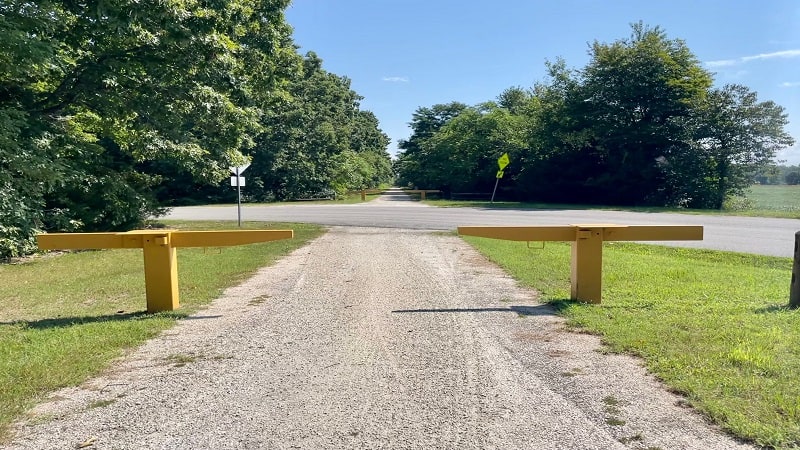 It's basically a quiet stretch that takes you from one parking lot to the next parking lot. There are no nearby conveniences or snack shops of any kind.
You will, however, find restrooms and picnic tables at both ends, at the trailheads in Prospect and in Tuggle.
Tuggle to Farmville
The stretch from Tuggle to Main Street in Farmville is 5.7 miles. It's the longest stretch, but it was easy to manage knowing that the town was close at hand.
It's a quiet bit of trail that has a pedestrian bridge that guides visitors over Prince Edward Highway. Then, after 16.4 miles, you will arrive in Farmville.
As you roll into town, you'll see the historic train depot, Three Roads Brewing Company and a massive mural, all on the right side of the trail.
In another minute or so, you are greeted by a train car, restrooms (flush toilets) and a sign on Main Street for High Bridge Trail State Park.
Main Street, Farmville
Farmville is a small town, but there are plenty of places to eat and drink, including Uptown Coffee Café, which is open daily for breakfast and lunch.
On my way back to my car at Pamplin, I stopped in Uptown Coffee Café for a café mocha and a breakfast sandwich. Highly recommend. Delicious.
I would also suggest Macado's. I know it's a college town chain, but it's a favorite of mine and it was a perfect spot to stop for lunch.
Walk along Main Street and pay a visit to Longwood University, if you have the time. It's on the south end of town, at High Street.
If you want to start your bike ride in Farmville, there is a parking lot on Main Street at East Second Street.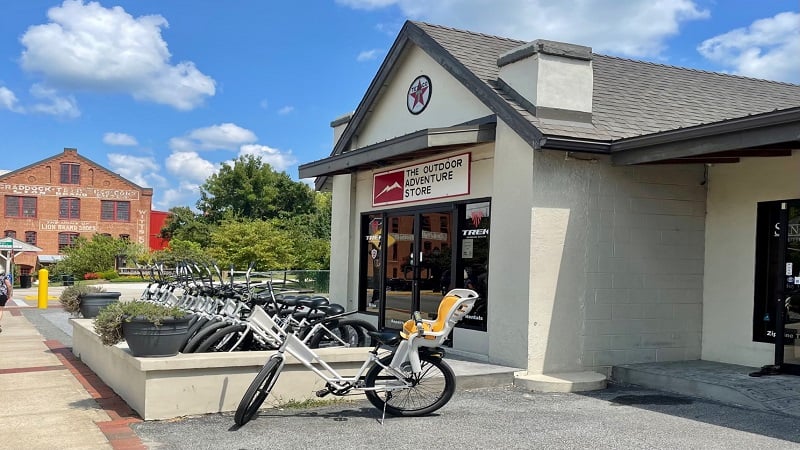 No bike? No problem. Rent a bike in Farmville from The Outdoor Adventure Store, which is adjacent to the High Bridge Trail on Main Street.
Bike rentals start at $24.95 for a two-hour rental of a cruiser-style bike. The shop also rents mountain bikes, e-bikes, tandem bikes and child trailers.
Farmville to Rochelle
Before you get back on the trail, be sure to snap a photo of or with the LOVE sign that's adjacent to the trail on the east side of Main Street.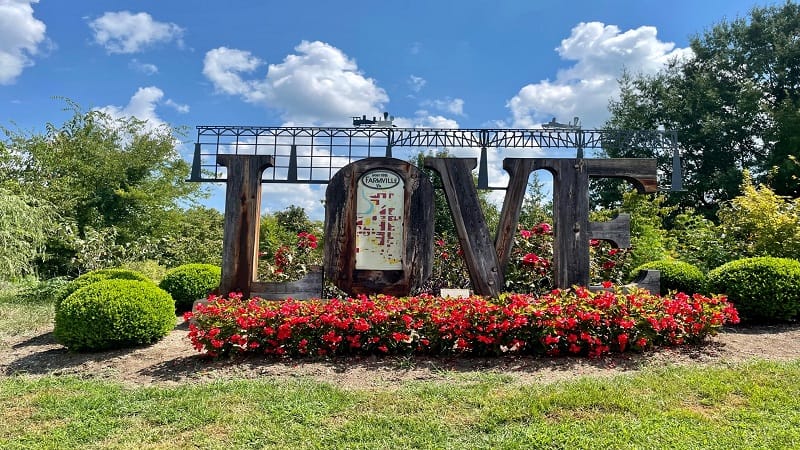 Continue on and it's a 1.6-mile stretch from Main Street to Rochelle, which is where mountain bikers can access 5.5 miles of single-track bike trails.
At the 18.0-mile mark, you'll arrive at a trail marker noting that the hiking and mountain biking trails are to the left.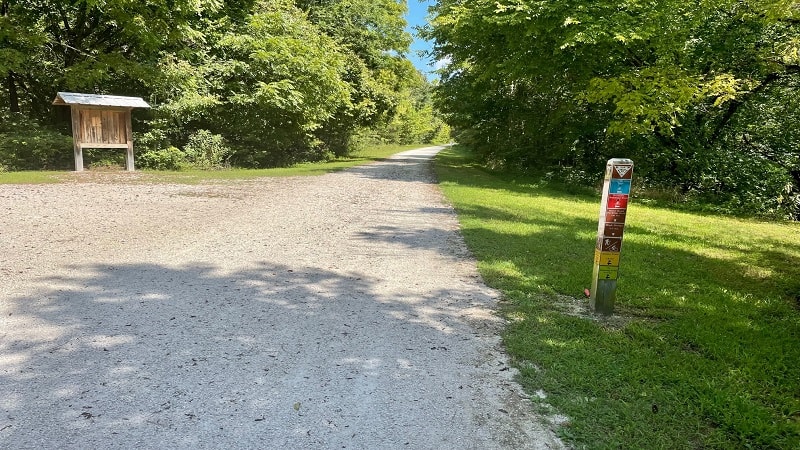 The Smyth Trail (1.9 miles) is for hikers. The Early Trail (1.6 miles), Deering Trail (0.9 miles) and Burnside Trail (3.0 miles) are for mountain bikers.
Rochelle to River Road
Continue on and this next stretch from Rochelle to River Road is 1.9 miles. At River Road, you'll find restrooms and a picnic table, as well as a parking lot.
The restrooms are 50 feet or so off the trail. There is a trail kiosk as well with a map of the state park. There also appears to be a radio tower of some kind.
Cross over River Road and the High Bridge is your next stop. At last. Note: the River Road parking lot opens at 8 am.
River Road to High Bridge
The stretch from River Road to the High Bridge is just 0.9 miles. On your way, you'll see some picnic tables in a green space on the left side of the trail.
Then, the High Bridge. Before you reach the trestle bridge, you'll see a bench and a picnic table, as well as a placard on the history of the railroad bridge.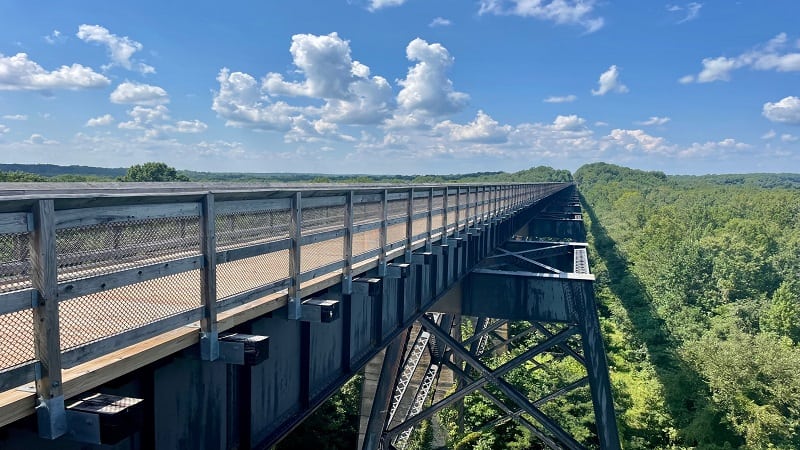 The High Bridge was constructed in 1854 so that the South Side Railroad could cross the Appomattox River on a route between Petersburg and Lynchburg.
High Bridge was also the site of a pivotal Civil War battle – the Battle of High Bridge – which took place on April 6-7, 1865.
A few days later, Confederate General Robert E. Lee surrendered to Union General Ulysses S. Grant at Appomattox Court House.
High Bridge
The High Bridge itself is a stretch marked by Virginia State Parks on the state park map. The bridge is 0.5 miles from end-to-end.
The wooden bridge is wide and gorgeous. There is plenty of space for hikers and bikers to take in all the views from the bridge span.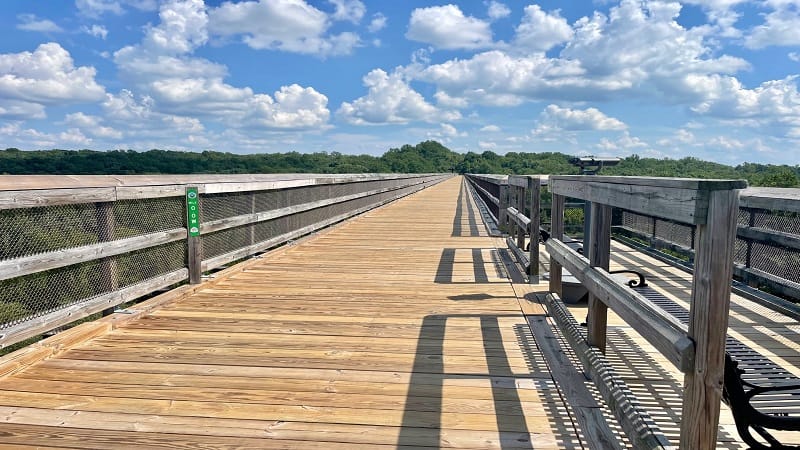 In the middle of the bridge, note the 0.0 mile marker sign. As you may have noted, these green signs appear every 0.5 miles across the length of the trail.
The mile markers indicate the distance to the center of the bridge. At the 0.0 mile marker, you are at the center of the Appomattox River. Celebrate.
There are several benches on the High Bridge as well, for those who want to stop, sit and savor all the views on a beautiful day.
High Bridge is a Virginia Historic Landmark and has a place on the National Register of Historic Places.
High Bridge to Camp Paradise
The stretch from the east end of the High Bridge to the Camp Paradise parking area is just 0.3 miles. It's the shortest segment of the High Bridge Trail.
This is a great option for hikers and bikers who want to see the bridge, but want to get to the bridge quickly. It's also great for strollers and wheelchairs.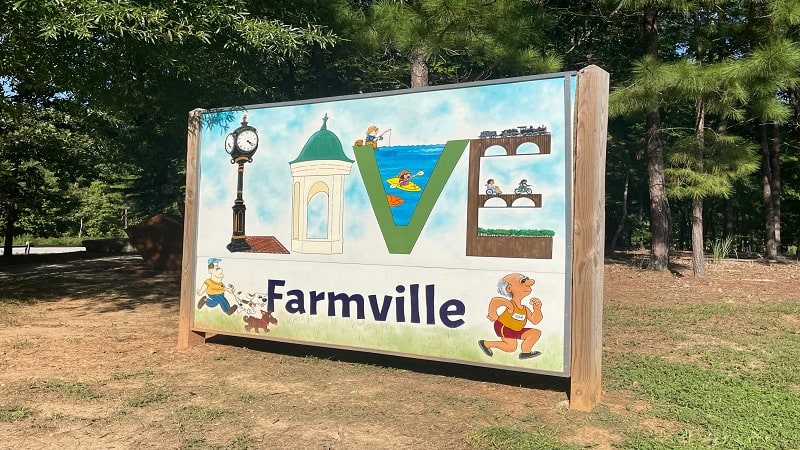 The Camp Paradise parking lot is large and there is a restroom, as well as a bike rack and picnic tables. Note: this parking lot opens at 8 am.
It's 5.2 miles to Farmville from Camp Paradise (one-way). This is a great option for those who want to see Farmville and the High Bridge by bicycle.
Camp Paradise to Rice
The stretch from Camp Paradise to Rice is 2.9 miles. There are parking lots, restrooms and picnic tables on both ends of this stretch of trail.
Once you reach Rice, it's worth noting that there is a Dollar General just 0.5 miles from the parking lot. It's an easy 0.5 miles east on Rices Depot Road.
Alternatively, there is an Exxon that is 0.6 miles west on Rices Depot Road. Both are good options if you're craving a snack or a drink on the trail.
Rice to Moran
The stretch from Rice to Moran is 3.9 miles. It's also extremely uneventful. There is a restroom and parking area, but nothing else of note.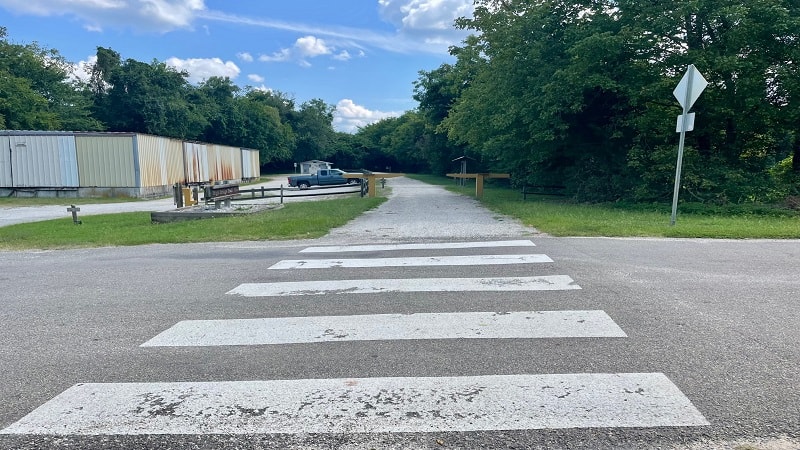 If you're biking the High Bridge Trail end-to-end you're now at nearly 28 miles and you will be ready to be done.
Unfortunately, there is nothing of note to keep your interest. Still, it's quiet and mostly shaded.
Moran to Burkeville
The stretch from Moran to Burkeville is 3.0 miles. It's also uneventful, and tricky, particularly if you're planning to camp at Twin Lakes State Park.
At 31.2 miles, the trail literally just ends. To be fair, at the intersection with Orchard Road a trail marker notes "End of Trail (no outlet)" in 1.7 miles.
I didn't really think there was no outlet. From the state park map, it looks as though the trail connects with a road. Nope. Not at all. You must turn around.
The trail ends in deep forest at a picnic table. There is no parking lot or restroom, which again to be fair, is also not marked on the state park map.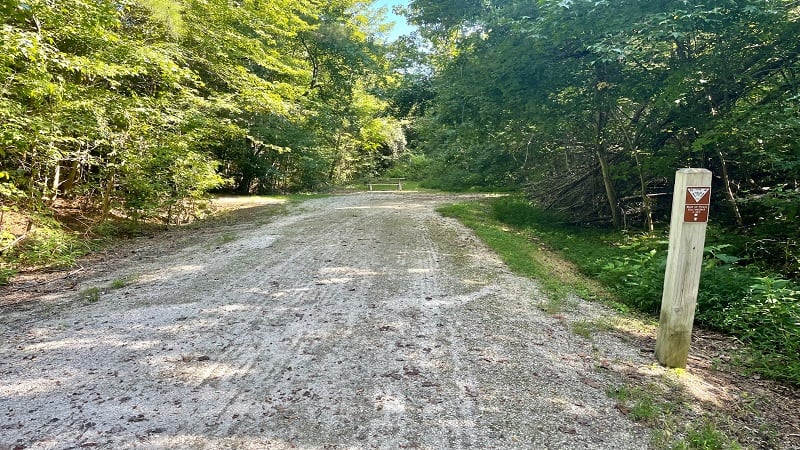 From the end of the trail, it's 1.7 miles to Orchard Road. Then, it's about 5.5 miles to the park office at Twin Lakes State Park.
It's a hilly 5.5 miles to Twin Lakes. Thankfully, the campground is just across Twin Lakes Road from the park office.
High Bridge Trip Ideas
There are several ways to make the most of a visit to High Bridge Trail. Here are my top three recommendations:
#1: Camp Paradise to High Bridge
From the large Camp Paradise parking lot, it's an easy and accessible 0.3-mile walk or stroll to the east end of the High Bridge.
From here, walk to the west end of the 0.5-mile long trestle bridge, then return to the parking area for a 1.6-mile round-trip hike with big views.
#2: Camp Paradise to Farmville
From Camp Paradise, it's 5.2 miles to Downtown Farmville. This can be a long walk, but quite a nice bike ride, which includes the length of High Bridge.
Enjoy breakfast, lunch or a snack in Farmville, then make the return ride to Camp Paradise for a 10.4-mile round-trip scenic ride.
#3: Pamplin to Twin Lakes State Park
If you want to bike the length of the trail, then overnight in your own tent at Twin Lakes State Park, this option is for you.
For this trip idea, bike 31 miles from Pamplin to the end of High Bridge Trail. Turn around, then bike 1.7 miles to Orchard Road. Turn left on Orchard Road.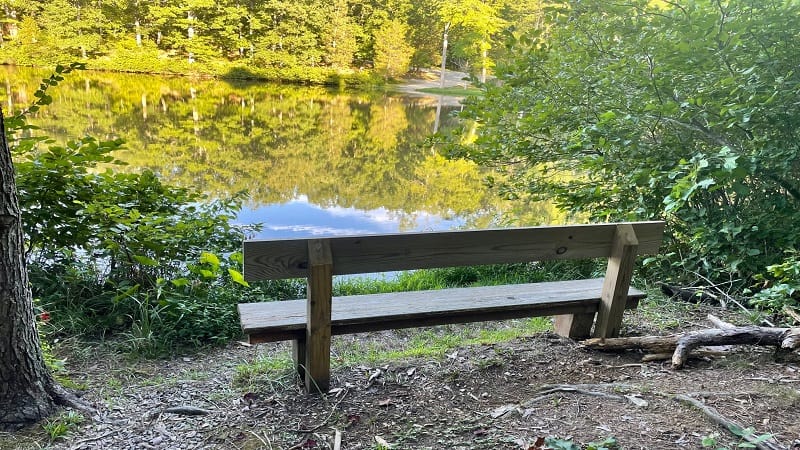 From here, it's another 5.5 miles to Twin Lakes State Park by way of Grape Lawn Road and Twin Lakes Road. Both are country roads with few vehicles.
The ride to Twin Lakes clocks in at around 38 miles. The return to Pamplin is less, around 36 miles, since you're not biking to the end of High Bridge Trail.
Make note that there is a bit of an incline on the return to Pamplin, starting at Farmville. It's not terrible, but there is a 1,000 foot elevation gain.
If you leave your car overnight at Pamplin, call or email the park office to inform on-duty rangers. Include your vehicle make and license plate number.
Wrap-Up Notes
The end-to-end bike ride on the High Bridge Trail was very nice. It was a bucket list ride for me and it paired perfectly with a stay at Twin Lakes State Park.
If you don't choose to camp at Twin Lakes, it's worth stopping over for a visit to the swimming beach or for a hike on one of the park's short trails.
There are several other state parks in the area too, including Holliday Lake, Bear Creek Lake and Sailor's Creek Battlefield Historical State Park.
High Bridge Trail State Park, which includes High Bridge Trail, is open from sunrise to dusk. Except where noted above, parking lots open at sunrise.
The fee to park at the trailside lots is $5/car year-round. Note that there is no honor pay station at the Pamplin parking lot.