A Refreshing Hike to Little Mountain Falls at Fairy Stone State Park
The hike to Little Mountain Falls at Fairy Stone State Park is the top-rated hike in the park on AllTrails. Naturally, I had to see if this loop hike lived up to the hype.
I was on my way to spend a long weekend in Wytheville, hiking as many trails as I could over three days in Southwest Virginia. Fairy Stone State Park was my first stop.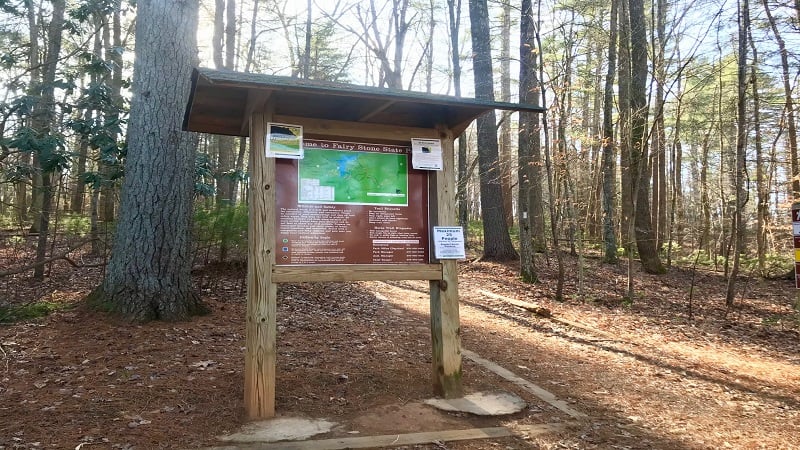 With 4,741 acres to hike, bike, fish and paddle, Fairy Stone is the largest of the original six state parks in Virginia that opened to visitors on June 15, 1936.
Nearly a dozen hiking and multi-use trails criss-cross this state park that also wows with 168-acre Fairy Stone Lake and a swimming beach, even yurts for park stays.
| Trail Stats | |
| --- | --- |
| Length | 4.5 miles |
| Difficulty | Easy |
| Trail Type | Lollipop |
| Elevation Gain | 692 feet |
| Duration | 2.5-3.5 hours |
| Terrain | Mostly dirt &rock trails |
| Dog-Friendly | Yes |
| Fee | $7 per vehicle weekdays ($10 per vehicle weekends, Apr-Oct) |
| Driving Directions | Click Here |
Arriving at the Trailhead
The 4.5-mile loop hike that leads to Little Mountain Falls and beyond begins across Fairy Stone Lake Drive from a rather large parking area.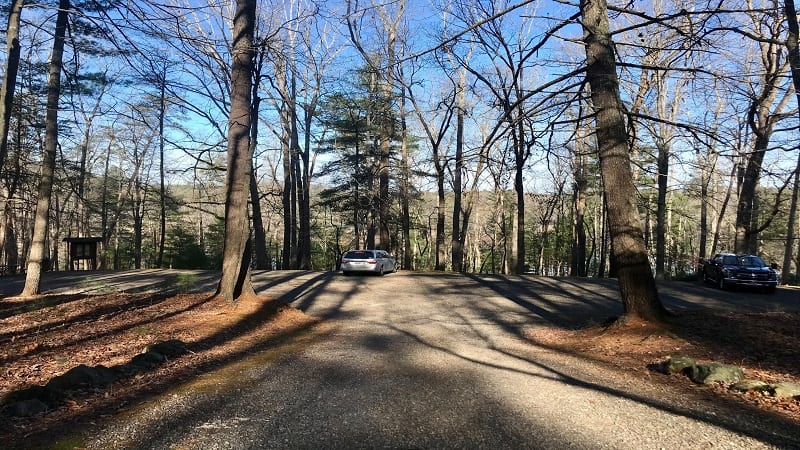 Here you'll find more than two dozen parking spaces, as well as a picnic table, a porta-potty and a small outdoor amphitheater. You can also catch a few lake views.
Walk across the park road to the large trail kiosk. The hike begins just past this sign.
The First Steps
Continue past the kiosk on the white-blazed Beach Trail through a fragrant mix of deciduous and coniferous trees. In a few steps, a couple of yurts appear on the left.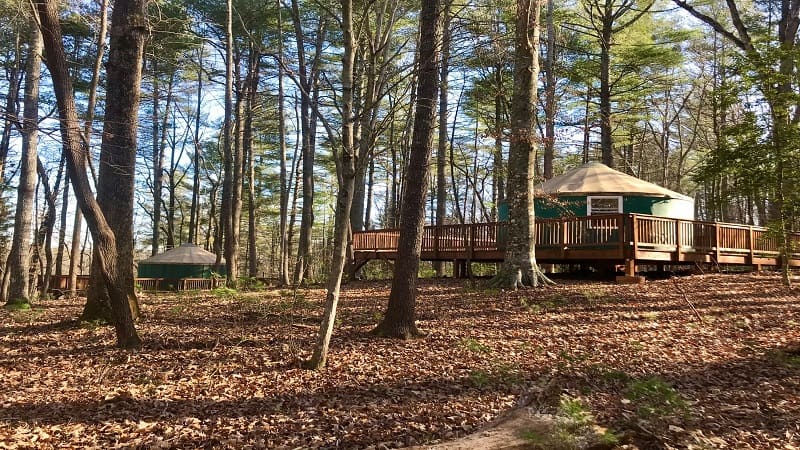 The park has four yurts with sizeable wooden decks that are available for overnight stays. They are rather primitive with no running water, electricity, heat or air conditioning.
Yurts three and four appear on the left just past the first two yurts. At the .2-mile mark, turn left for the yellow-blazed Lake Shore Trail.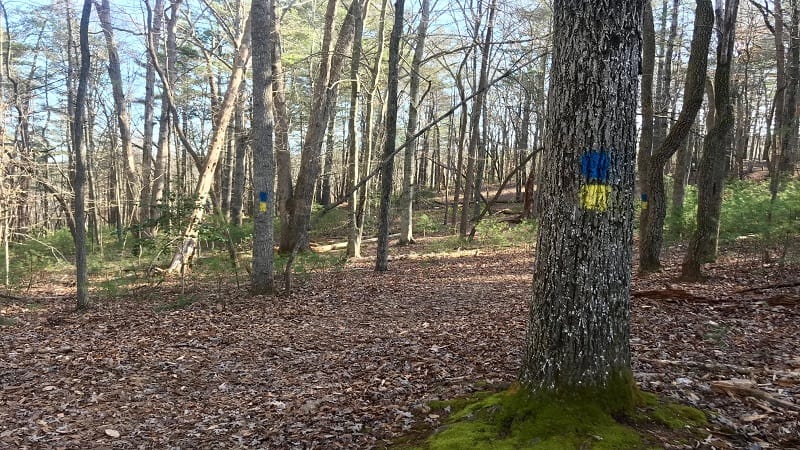 Then, it starts to get a little confusing. At the .3-mile mark, stay right for the blue-blazed Turkey Ridge Trail. Your best bet is to follow the signs for the waterfall.
At the .6-mile mark, you'll see a trail sign. Stay left for the orange-blazed Little Mountain Falls Trail. Geesh. Why so many connector trails to reach Little Mountain Falls?
From here, you'll cross over a stream three times before reaching the small but delightful waterfall just steps off the trail on the left at the 1.6-mile mark.
Enjoy the tumbling waterfall and a refreshing watering hole that's just right for splashing in on a warm day. Re-trace your steps back to the Little Mountain Falls Trail.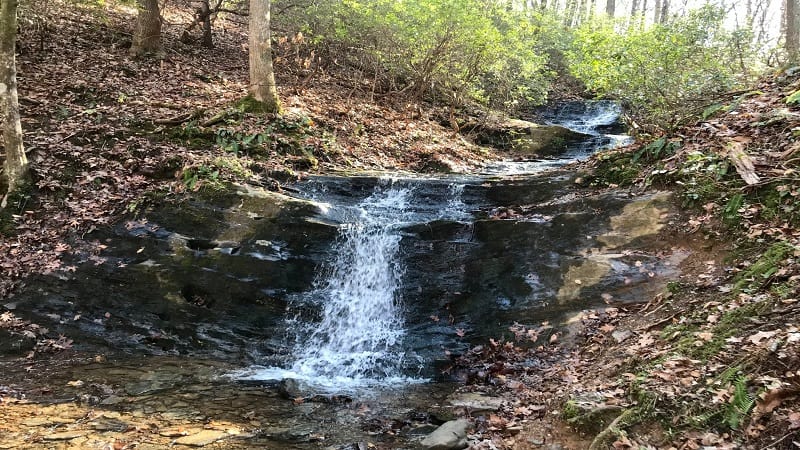 Turn left and proceed up the hill. The cascades that lead to the waterfall are now on your left as you ascend the trail. You'll then cross over the stream two more times.
At the 2.3-mile mark, look for a bench and far-reaching views at the Blue Ridge Overlook. The views are northeast-facing and the overlook is very gram-worthy.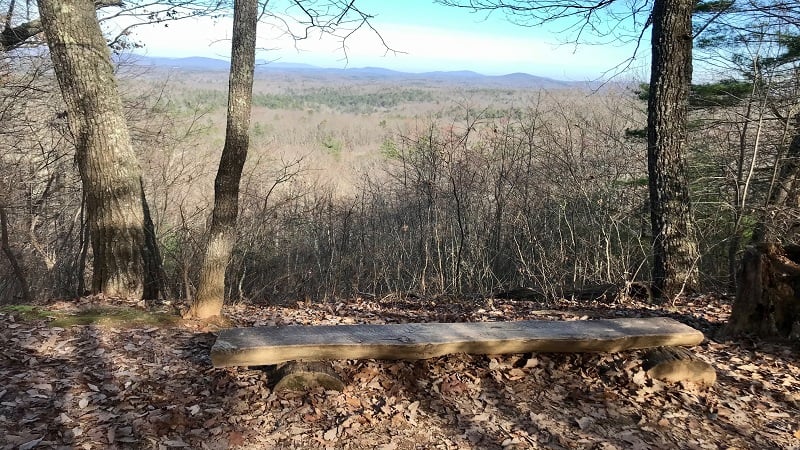 As you continue on, you'll see a deep gorge on the right at the 2.6-mile mark. Then, a trail marker appears in another .1-mile.
Turn right to descend the Little Mountain Falls Trail. Continue along the wooded trail until you reach another trail marker at the 3.9-mile mark.
Turn right here, then you'll reach another trail marker to close the loop in a few more steps. Turn left to get back on the Turkey Ridge Trail (blue blazes).
From here, continue following markers to the trailhead to return to your car. As you get closer, you'll re-connect with the yellow-blazed Lake Shore Trail.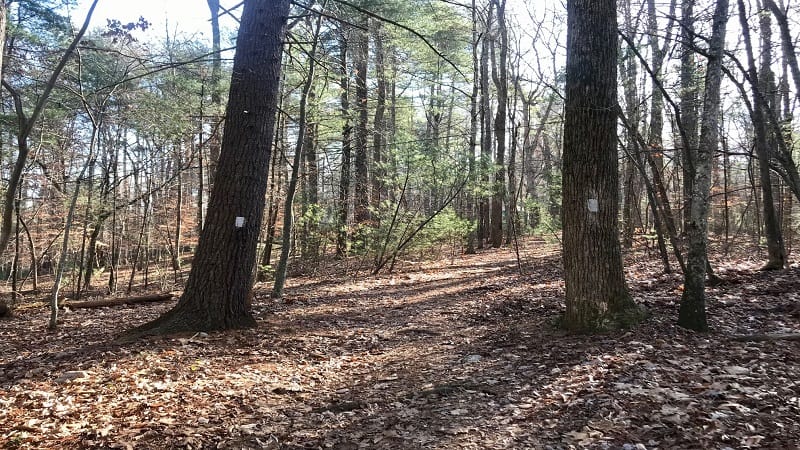 Then, you'll hop back on the white-blazed Beach Trail. Honestly, however, it's far easier to navigate back to your car if you simply follow signs to the trailhead.
Wrap-Up Notes
From the parking area, this hike took me nearly two hours, including time spent snapping photos of the waterfall and the Blue Ridge Overlook.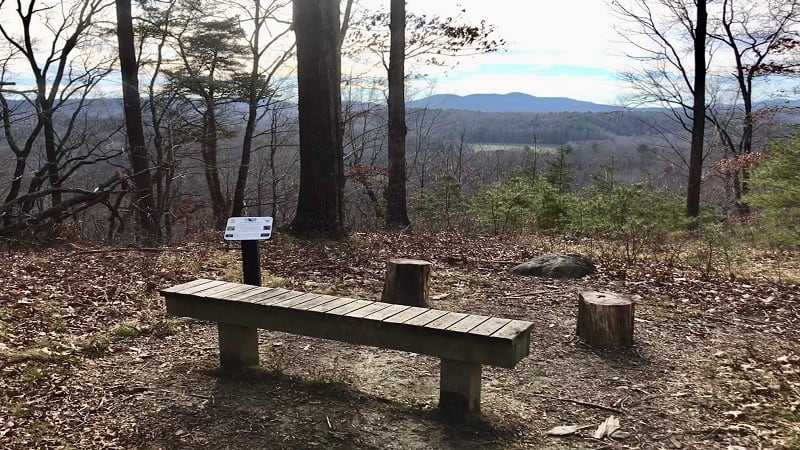 I do love a good hike that includes both a waterfall and a scenic overlook. Apple Orchard Falls in Bedford is another hike that does the same. It's a fave of mine.
Have time for a second hike at Fairy Stone State Park? The easy 1.8-mile loop at Stuart's Knob is both scenic and historic. Enjoy.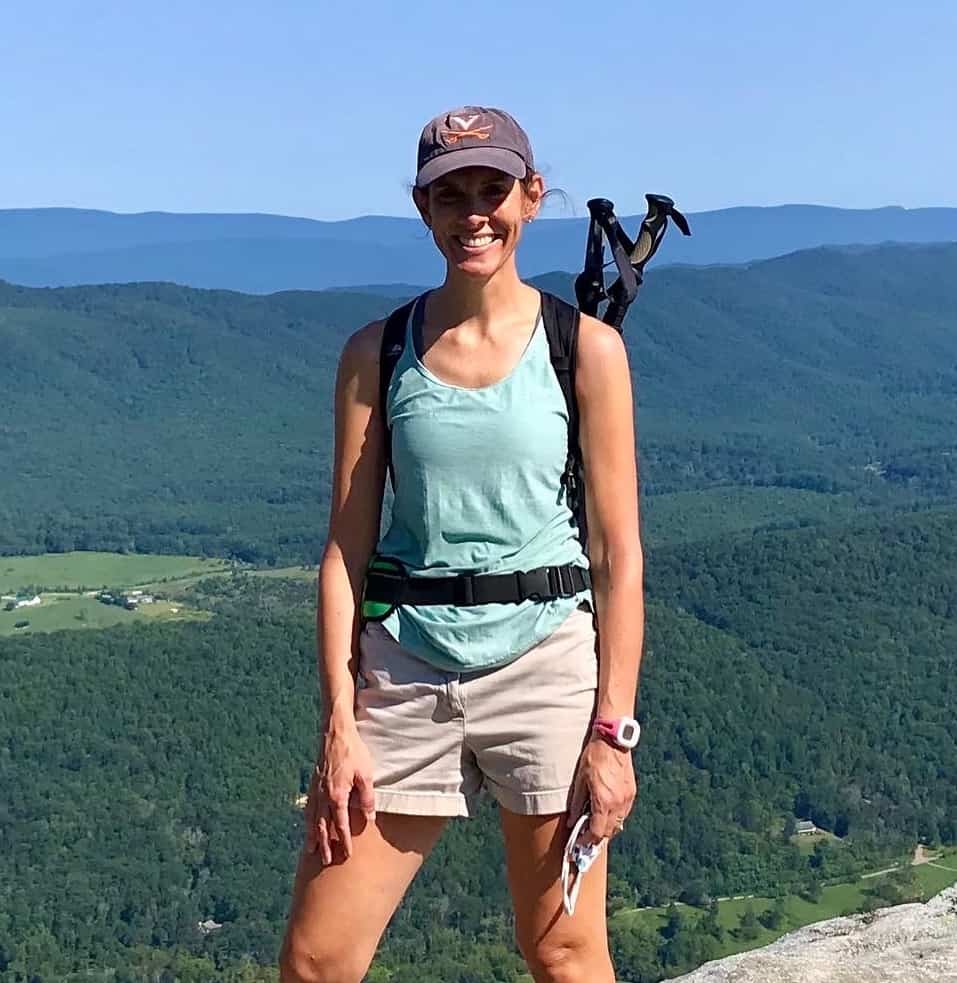 Erin Gifford is the editor of Go Hike Virginia. She has completed more than 300 hikes in Virginia. She is also the author of three hiking guidebooks from Falcon Guides. Need help finding a hike? Check out the Trail Finder feature or send Erin a message.