Hickory Hollow Natural Area Preserve: A Relaxing Hike in the Woods in Lancaster, Virginia
A couple of weeks ago, I completed several hikes on Virginia's Northern Neck and Middle Peninsula for my guidebook on coastal trails of Delaware, Maryland and Virginia.
The Hickory Hollow Natural Area Preserve in Lancaster made my short list. This 254-acre mixed pine-hardwood forest is lovely, but not especially coastal.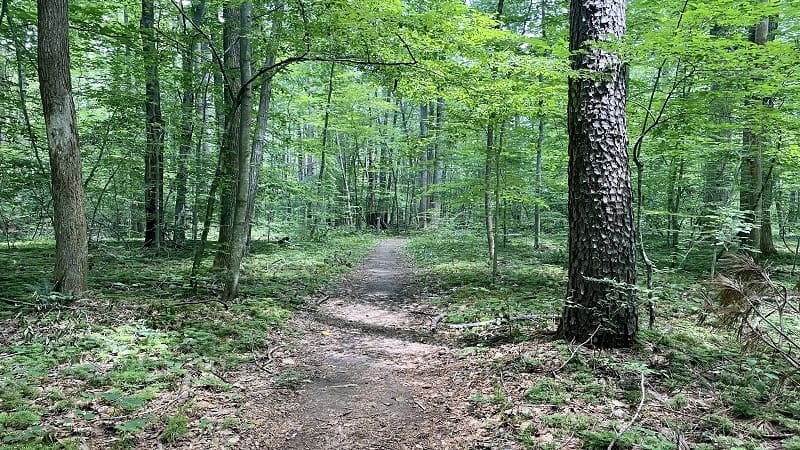 This nature preserve is owned by the Northern Neck Audubon Society. In addition to mixed pine-hardwood forest, you'll find a seepage swamp that supports 500+ plant species.
The Hickory Hollow Natural Trail is identified online and on a trail kiosk in the parking lot, but no such trail exists. Rather it's a system of short, meandering trails.
| Trail Stats | |
| --- | --- |
| Length | 2.9 miles |
| Difficulty | Easy |
| Trail Type | Loop |
| Elevation Gain | 177 feet |
| Duration | 1.5-2 hours |
| Terrain | Mostly dirt trails, some wooden boardwalk |
| Dog-Friendly | Yes |
| Fee | Free |
| Driving Directions | Click Here |
Arriving at the Trailhead
The Hickory Hollow Natural Area Preserve is located a stone's throw from the Lancaster County Animal Shelter. So you will hear pups barking, at least early in the hike.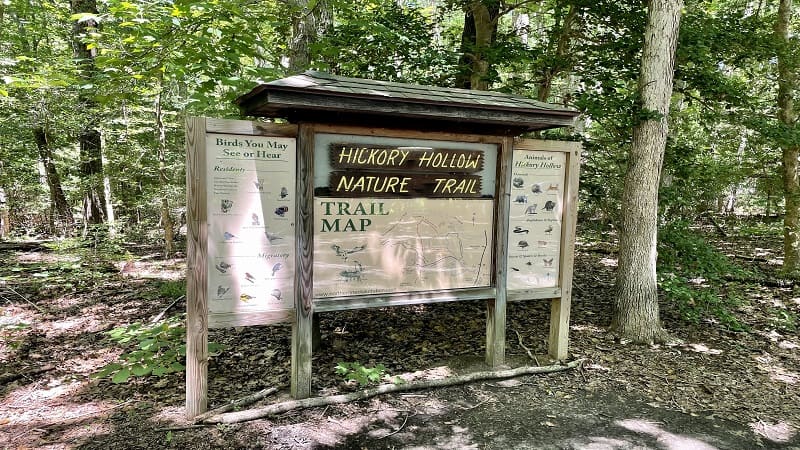 The shaded parking area has room for a dozen cars. A large trail kiosk in the middle of the lot features a trail map as well as birds, mammals and insects you may see.
From here, the White Loop Trail leads into the dense forest with ravines and a swamp. Ten interconnecting nature trails range in length between .1-mile and 1.8-miles.
The First Steps
Within the first steps you're enveloped by the mixed pine-hardwood forest as you enter this habitat for migratory songbirds and wild turkey, even rare plants.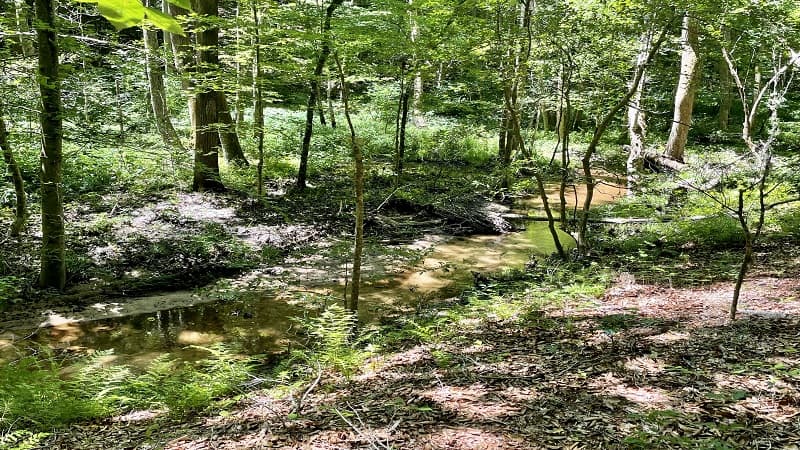 At the .1-mile mark, the White Loop Trail forks. You'll see a trail marker with a white and green arrow. Turn left here and you'll soon be walking alongside a stream.
You'll see another marker at the .3-mile mark, again with a white and green arrow. Stay to the left to continue on the wooded White Loop Trail.
The White Loop Trail is a 1.7-mile loop, but for this hike, I added on the red-blazed Red Overlook Trail and dark green-blazed Tom Teeples Trail for a 2.9-mile loop.
At the .7-mile mark, you'll see a path and a cool wooden bridge that leads off to the left. This leads to Lancaster High School. Here you'll want to stay to the right.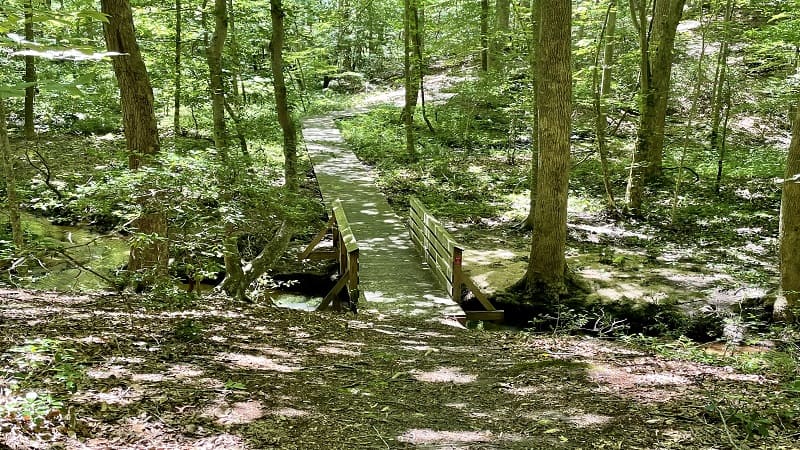 The Red Overlook Trail appears at the 1.0-mile mark. I was kind of excited since I thought a scenic overlook was imminent. I was wrong. Boo.
There is a short spur trail that leads off to the left at the 1.4-mile mark. My hopes were high, but there is only a wooden bench. It was nice, but no view. Just foliage.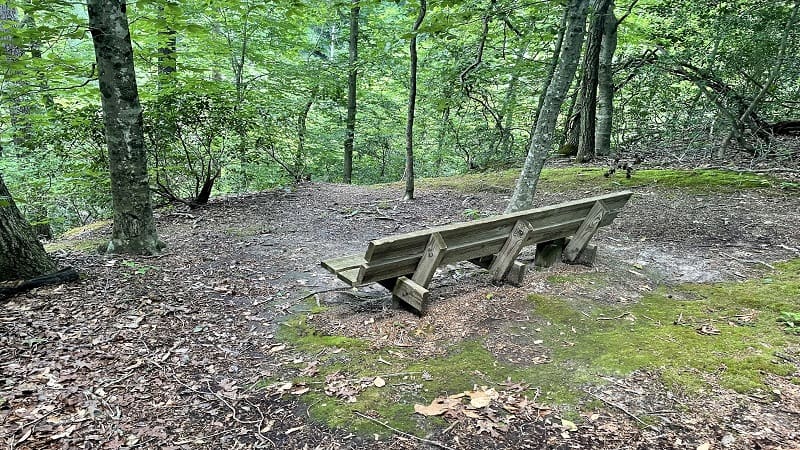 From the "overlook," re-trace your steps, then stay left for the red-blazed Red Overlook Trail, which re-connects with the White Loop Trail at the 1.8-mile mark.
In a few more steps, turn left onto the yellow-blazed Ann Messick Trail. This leads to the Cabin Swamp. A placard educates on the importance of the ravine habitat.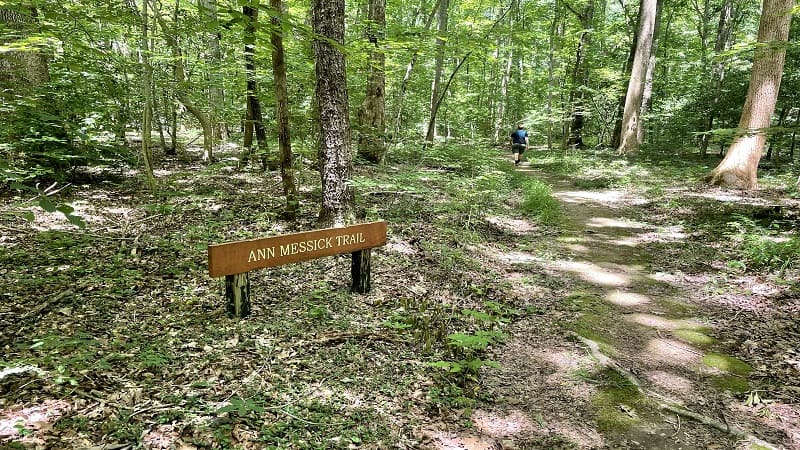 A second placard shares with visitors what to know about the Cabin Swamp, a natural wetland area with nutrient-enriched soil that supports rare, isolated plant species.
At the 2.0-mile mark, you'll reach a wooden boardwalk that leads to a small platform with two benches and limited views of the Cabin Swamp.
Re-trace your steps, but keep your eyes open. It's easy to miss a semi-obscured, unmarked connector trail on the left that leads to the dark green-blazed Tom Teeples Trail.
At the 2.7-mile mark, turn left to jump back on the White Loop Trail. You'll see an educational placard on what to know about the mixed pine-hardwood forest.
From here, you'll take this forested hiking trail all the way to the parking area. Your hike is complete at the 2.9-mile mark.
Wrap-Up Notes
From the parking area, this hike took me just over one hour to complete. Beyond a couple of benches, there really weren't many stops worth making on this hike.
Given there are 10 short nature trails at this nature preserve, it's easy to create-your-own-hike. There are so many different combinations.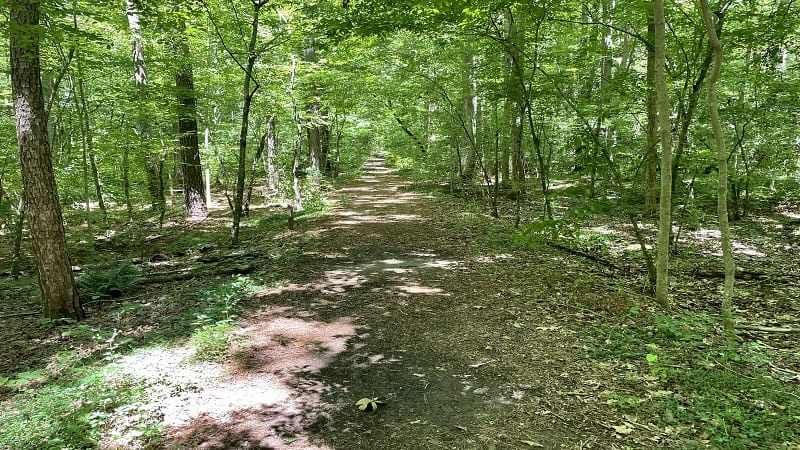 If you're looking for a nice, relaxing walk in the woods, this is the hike for you. However, there are no scenic views, rock scrambles or water features, like falls.
For more area hikes, look to the Interpretive Trail at Machicomoco State Park in Hayes and a fantastic loop hike at Hughlett Point Natural Area Preserve in Kilmarnock.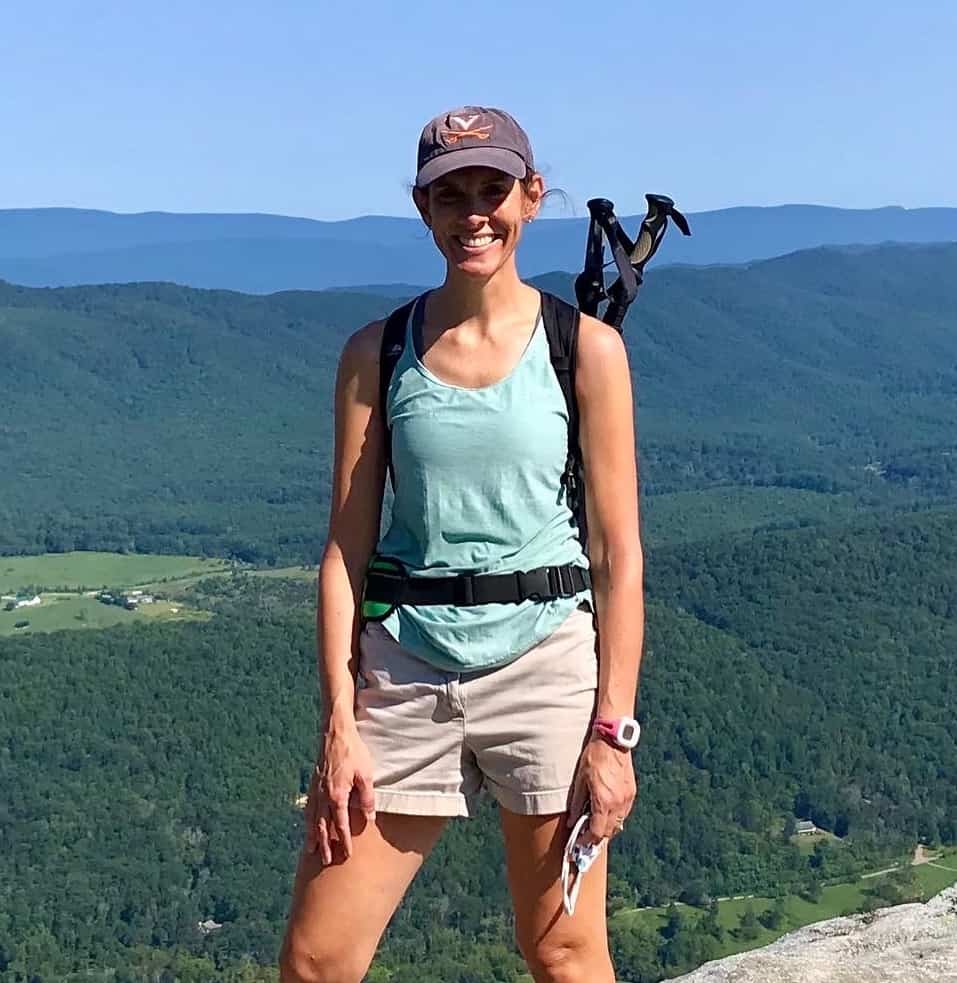 Erin Gifford is the editor of Go Hike Virginia. She has completed more than 300 hikes in Virginia. She is also the author of three hiking guidebooks from Falcon Guides. Need help finding a hike? Check out the Trail Finder feature or send Erin a message.