Hay Rock Hike: An Appalachian Trail Hike at Carvins Cove Natural Reserve Near Roanoke, Virginia
The Hay Rock hike at Carvins Cove Natural Reserve near Roanoke, Virginia had been on my must-do list for quite some time. Oh, those reservoir views.
Honestly, the views of the 630-acre Carvins Cove Reservoir are mesmerizing, especially on a blue sky day. In person, they were as advertised, too.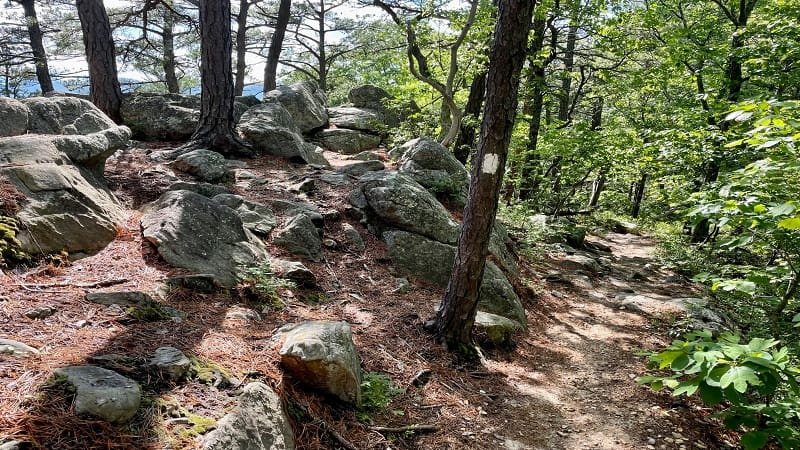 Interestingly, this out-and-back hike on the Appalachian Trail begins from the back of a nondescript parking lot, next to an Exxon, across the street from a Super 8.
I'm sure many people motor along Roanoke Road, going here and there, and have no idea how close they are to such natural beauty.
| Trail Stats | |
| --- | --- |
| Length | 7.7 miles |
| Difficulty | Moderate |
| Trail Type | Out-and-Back |
| Elevation Gain | 1,404 feet |
| Duration | 5-6 hours |
| Terrain | Mostly dirt & rock trails |
| Dog-Friendly | Yes |
| Fee | Free |
| Driving Directions | Click Here |
Hay Rock Trailhead
The trailhead for this hike is at the back of a small parking lot on Tinker Mountain Road, essentially a service road that runs parallel to Roanoke Road.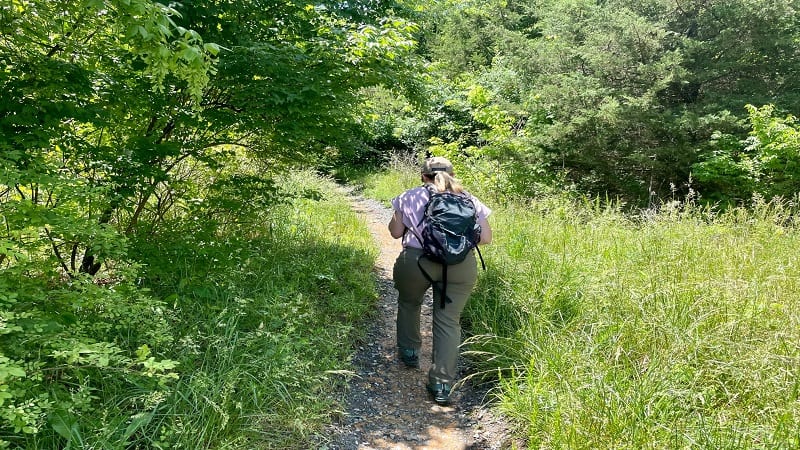 Look for a metal guard rail and what looks like an overgrown dirt trail leading off past the guard rail. Yes, this is the start of the hike. There are no signs.
This unmarked trail leads to the Appalachian Trail, which you'll reach at the 0.2-mile mark. There is a trail kiosk on the right as you reach the junction.
Appalachian Trail
Stay to the left for the Appalachian Trail. You'll see a trail sign that reads "Hay Rock 3.7 Miles." You're in the right place, friends.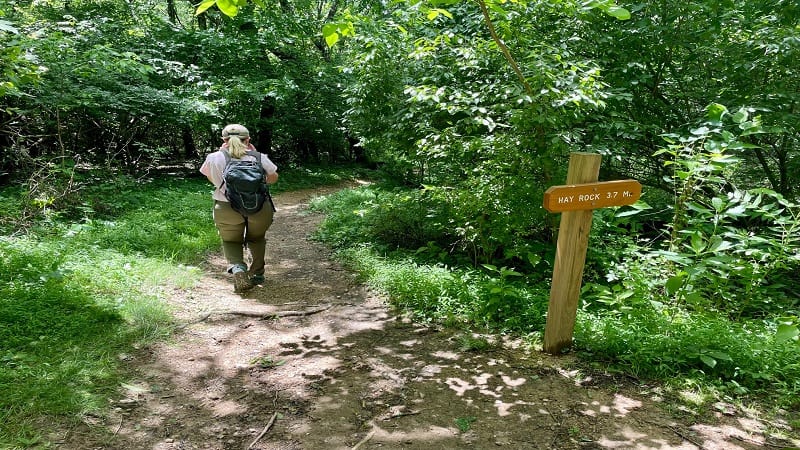 Continue hiking along this forested trail. Soon, the trail crosses over Tinker Creek at the 0.4-mile mark. It was flowing nicely when I was there after a rain.
At the 0.5-mile mark, get ready to cross over railroad tracks. Then, you'll traverse wooden planks and a footbridge. This is all before the ascent begins.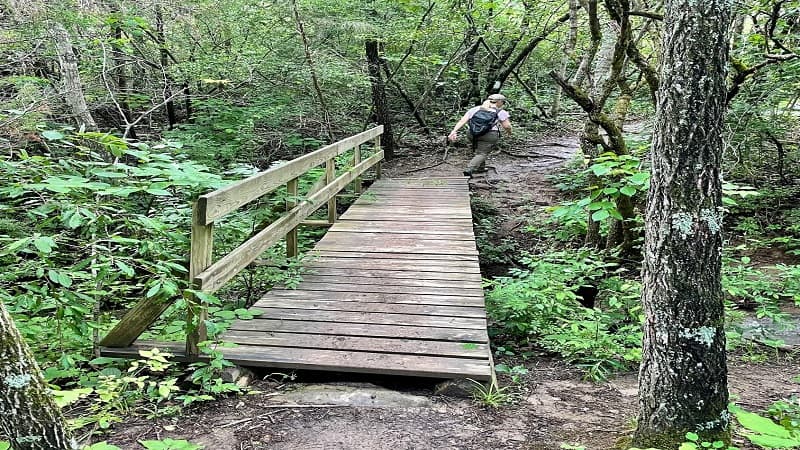 As you hike, you'll climb a few sets of stairs and hike in full sun, then you'll cross under the high voltage power lines at the 1.8-mile mark.
The buzzing can feel deafening, but it's really not so bad. Focus on the powerline vistas with views across to Daleville and the Blue Ridge Mountains.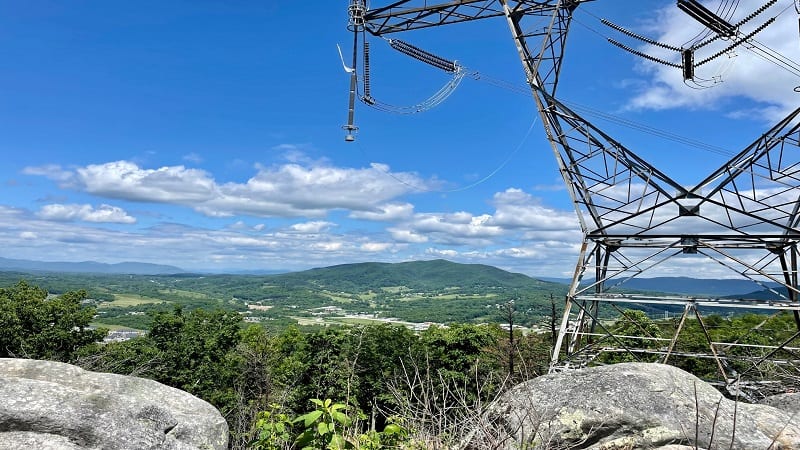 Continue on and you'll begin to see some reservoir views and rock formations. At the 2.4-mile mark, take in the first big views across the impoundment.
From here, you'll hike primarily along a rocky ridgeline – Tinker Ridge. Then, the dreaded high voltage power lines return to the scene at the 2.7-mile mark.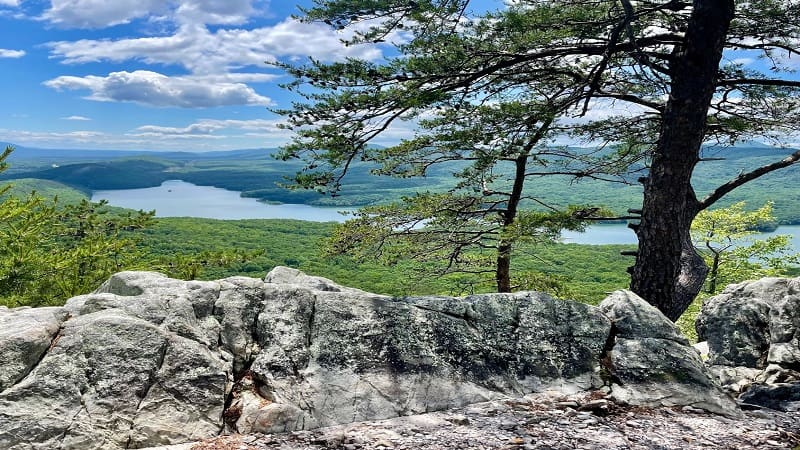 Hay Rock
Soon after, you'll enjoy more big views, almost all the way to Hay Rock, which you'll reach at the 3.8-mile mark.
I honestly didn't know what to expect from Hay Rock. You really can't climb Hay Rock since it's basically a 45-degree angle. It would be rather dangerous.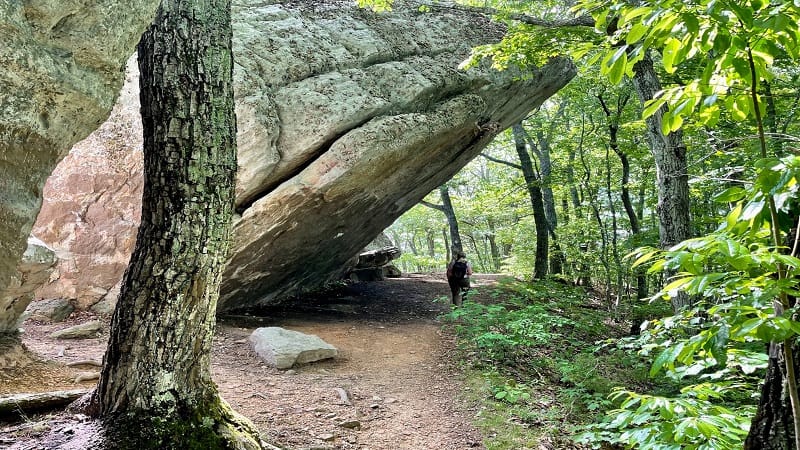 There also really aren't any views through the crevices, at least none that I could see. It was cool, but Carvins Cove Reservoir is the real star of the show.
In fact, the angle is so steep that it's impossible to scramble Hay Rock. However, you can walk under Hay Rock and it's nice for shade.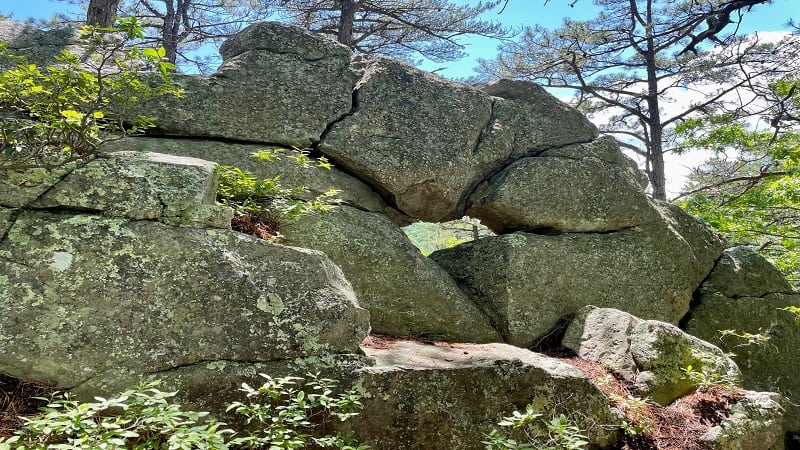 Once you've explored Hay Rock, re-trace your steps to the parking area. Take a break at any and all overlooks and rock formations for views across the reservoir.
Wrap-Up Notes
From the parking area, this hike took me four hours to complete, including time spent re-hydrating and re-fueling at one of the overlooks.
While an out-and-back hike all the way to Hay Rock is 7.7 miles, it's a cinch to shorten this hike to 5ish miles by including only the reservoir overlooks.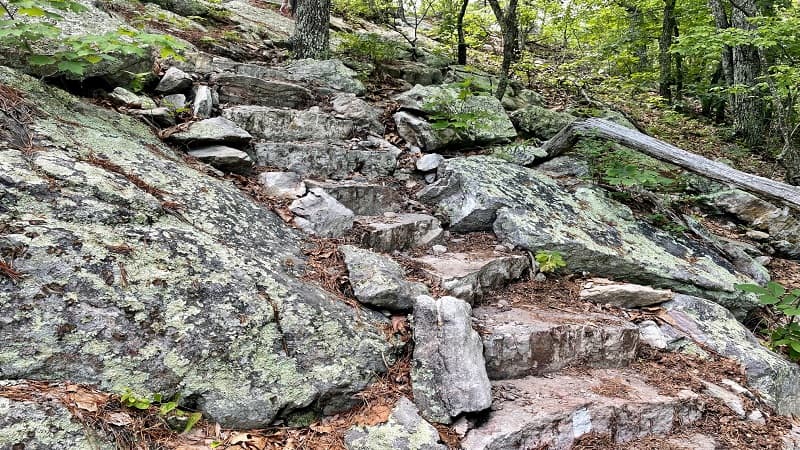 Whichever option you choose, this is a delightful hike along the Appalachian Trail. The reservoir views are truly sensational. Five stars, friends.
As a bonus, this lesser-known hike does not attract the crowds like the McAfee Knob hike is known to attract. You may even have the scenic vistas to yourself.
Hike Options
Given this Carvins Cove hike is in close proximity to the Virginia's Triple Crown hikes, it's easy to add on one or more hikes for more steps and elevation gain.
The Virginia's Triple Crown hikes are Dragon's Tooth, McAfee Knob and Tinker Cliffs. The closest of the three hikes is Tinker Cliffs.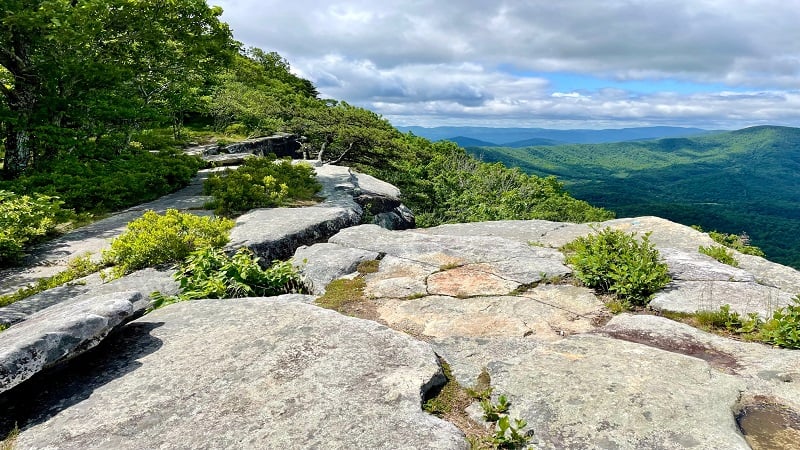 It's 6.5 miles from Hay Rock to Tinker Cliffs, so an out-and-back hike would clock in at 14.2 miles. This is definitely doable for a day hike.
However, if you want to make this a two-day hike, consider camping at the Lamberts Meadow Shelter. Note that camping at Tinker Cliffs is not allowed.
Carvins Cove Natural Reserve
If you've got fuel in the tank for a second hike, it's worth noting that Carvins Cove Natural Reserve has more than 60 miles of hiking and biking trails.
In fact, the Carvins Cove trail map highlights 34 trails, most of which are multi-use trails for hikers, bikers and equestrians.
Just one trail, the 1.2-mile Sawmill Branch Trail, is for hikers only. Trails range from the .1-mile Trough Expert Trail to the 9.8-mile Brushy Mountain Trail.
Interestingly, this natural reserve straddles two counties: Botetourt County and Roanoke County. There is also a boat landing to get out on the reservoir.