Lake Royal: An Easy Lake Loop in Fairfax, Virginia
Nestled into the quiet Kings Park West suburb in Fairfax, Virginia is Lake Royal, a 36-acre lake with a walking path that goes all the way around the lake.
This small lake was created by impounding the gently flowing waters from the Rabbit Branch and Crooked Creek of the Pohick Stream Valley.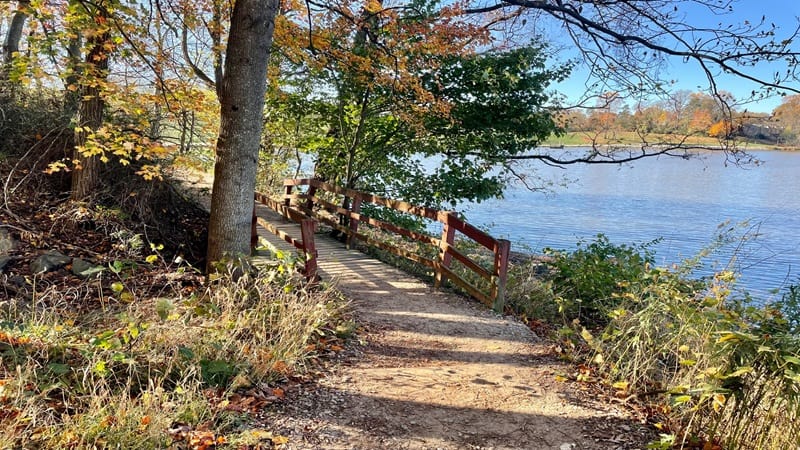 Interestingly, this beautiful lake touches two parks: Lakeside Park on the north and Royal Lake Park on the west.
You can access the walking path around the lake from several points and from both parks. I began this easy hike from the parking lot at Lakeside Park.
Much of the path is dirt and gravel, though there are some paved stretches. There are benches, picnic tables and children's playgrounds around the lake.
| Trail Stats | |
| --- | --- |
| Length | 1.9 miles |
| Difficulty | Easy |
| Trail Type | Loop |
| Elevation Gain | 46 feet |
| Duration | 1-1.5 hours |
| Terrain | Mostly dirt & gravel trails |
| Dog-Friendly | Yes |
| Fee | Free |
| Driving Directions | Click Here |
Lakeside Park
The driving directions above guide you to the parking lot at Lakeside Park. The lot has a porta-potty and is steps from a colorful playground.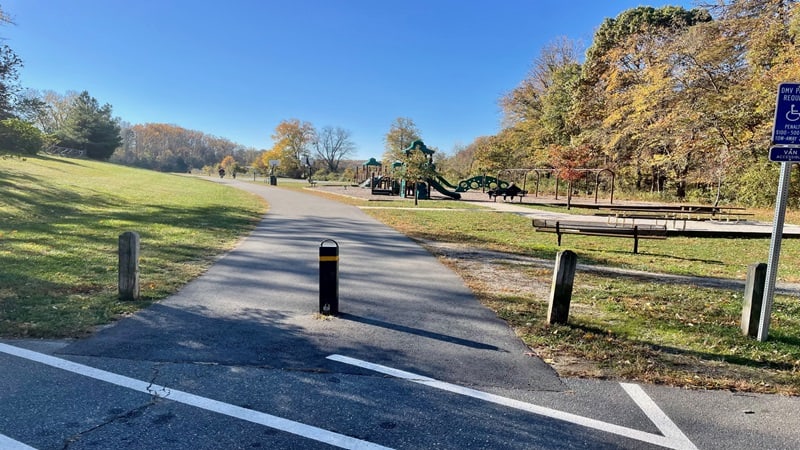 The paved trail begins just past the porta-potty. The children's playground and a basketball court will be on your right. A baseball field will turn up on the left.
On this clockwise hike, the paved portion of trail will end at the 0.2-mile mark at a sign for the Ronald E. Craven Trail. It's also called the Lake Royal Trail.
The elevation gain for this hike is not much – less than 50 feet over the course of this hike. Wooden steps manage the easy ups and downs on the trail.
Ronald E. Craven Trail
At the 0.4-mile mark, a short spur trail on the right leads to a point where you can walk out to the lake. It's a popular spot for anglers eager to catch a fish.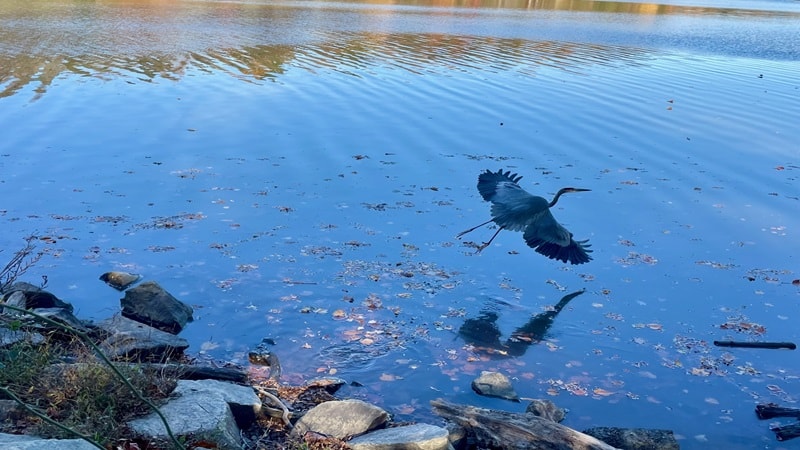 I also spotted a great blue heron from this point. There were plenty of geese swimming in Lake Royal, too.
In a few more steps, you'll exit the woods and will be in full sun as you continue around the lake on a mostly crushed gravel path.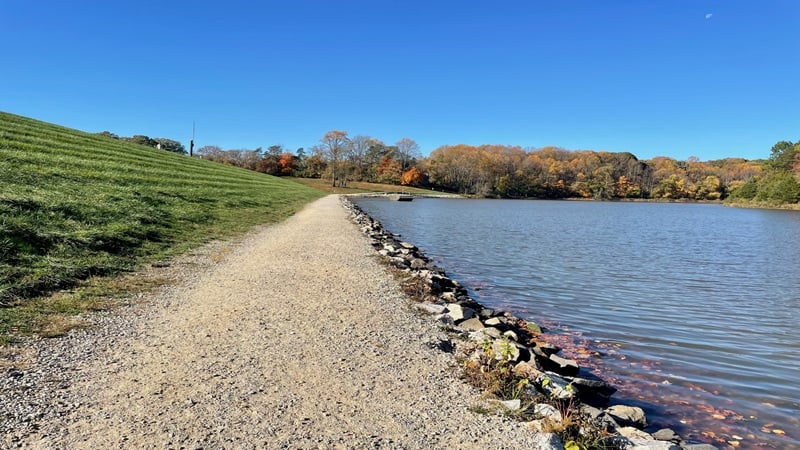 As you near the 0.9-mile mark, you'll see Raft Island to your right. You'll then cross over a couple of small bridges. You are now in Royal Lake Park.
Royal Lake Park
Royal Lake Park is a public green space with tennis courts, a playground and a basketball court. You'll see the latter two through the trees later in the hike.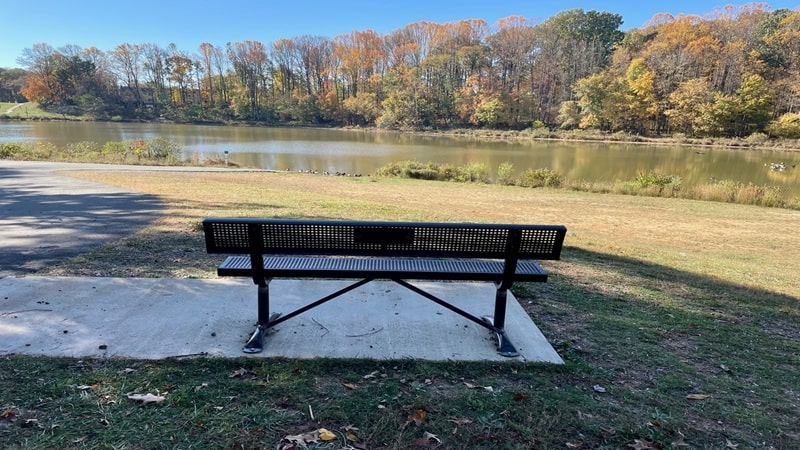 At the 1.1-mile mark, there are picnic tables, benches and a boat launch. A trail kiosk shares more about the park, the lake and the walking trail.
Continue walking and you'll see a couple of benches. You'll also see more wooden steps, both up and down, as you loop around the lake.
You'll cross one more bridge, over Rabbit Branch. The trail then returns to an asphalt surface at a T-junction. From here, you're steps from the parking lot.
There is also one more picnic table with delightful views across Lake Royal. This would be an ideal place for an afternoon picnic.
Wrap-Up Notes
From the parking lot, this quiet loop hike took me just under 45 minutes. I encountered no more than a dozen walkers on a weekday morning.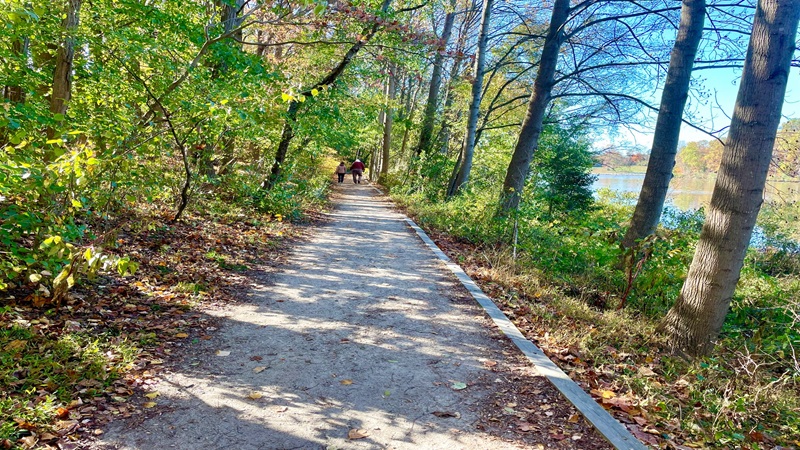 Both Royal Lake Park and Lakeside Park are managed by the Fairfax County Park Authority. It's clear that both parks are well maintained for visitors.
Swimming is not allowed in this Virginia lake. There is no swimming beach.
If you'd like to help support, preserve, protect and improve Lake Royal, consider getting involved as a volunteer with Friends of Royal Lake.
Lake Royal is one of several lakes in Fairfax County with walking paths. You may also want to check out trails at Lake Mercer and Lake Accotink.