Best Hiking Dresses: 6 Top-Rated & Comfy Trail Picks (2022)
Have you ever thought about hitting the trails in a hiking dress? Believe it or not, hiking dresses do exist. You may even wonder why you've never worn one before.
They're actually a really comfortable option for warm weather hiking attire. As a bonus, hiking dresses can allow for more freedom of movement.
In this article we're talking all about hiking dresses. You'll learn what to look for and what kind of hiking dresses exist, as well as our top picks.
Whether you want to look stylish or simply want the extra breeze and air flow, there's the perfect hiking dress for you. Let's get into it.
What Do Female Hikers Wear?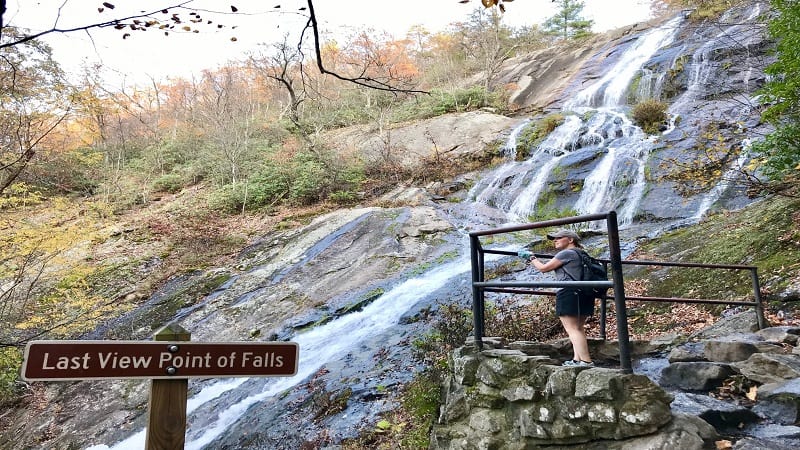 Female hikers can wear many different types of hiking attire depending on the season, the weather, the trail, and of course, the mood.
While some some women might be more comfortable hiking in leggings or hiking shorts, other women are more comfortable in skirts or dresses.
The most important thing to keep in mind when selecting hiking clothes is that you choose the proper materials for the trail and the weather.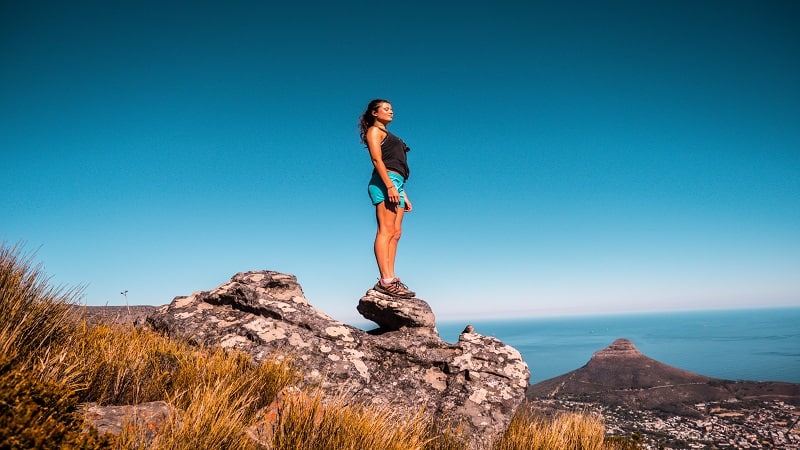 Regardless of whether it's hot or cold, look for materials that are moisture-wicking and breathable. Quick-drying is also a key factor.
Popular materials include polyester, spandex, nylon and merino wool.
It's also a good idea to look for hiking clothes that allow you are not restrictive and allow you move freely. They should be comfortable, too.
Clothing with hand pockets are a bonus. Pockets are great for keeping your phone and snacks handy for when you need them.
Is It Okay to Hike in a Dress?
If you love to wear skirts and dresses in your everyday life, then you'll love wearing hiking skirts and dresses on the trails. It's totally okay to hike in a dress.
In fact, there are many dresses that are made specifically for hiking. They're manufactured with technical materials and are great for the trails.
There are many benefits to hiking in a dress. Importantly, you won't experience clothing-related chafing in a dress.
Additionally, there's plenty of air flow to keep you cool and dry while hiking in the summer.
Hiking dresses are practical when you need to relieve yourself or wash off in the woods. They're also good when you need to change into camp clothes.
Honestly, a one-piece outfit is just easy. Easy to plan, easy to wear, and easy to change in and out of when camping or backpacking.
However, there are a few cons to hiking dresses, like initial inner-thigh chafing that typically goes away once you get used to hiking in dresses.
Dresses don't offer much protection from mosquitoes or bugs, but this is a problem with shorts, too.
How to Choose The Best Dress for Hiking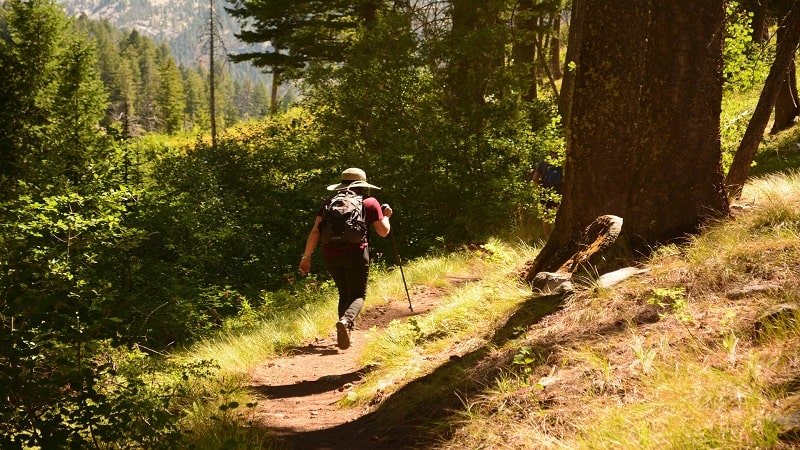 There are a few things to look for when choosing the best dress for hiking. Here are the top considerations:
* Fit
* Straps
* Pockets
* Bust size
* Material
* Length
Some women prefer loose-fitting, breezy dresses, while other women prefer more form-fitting options.
When reviewing hiking dresses by fit and style, be sure to read reviews to get a feel for how the dress truly feels to wearers.
If you have a large bust, it may seem difficult to find a hiking dress. But rest assured, they are out there!
Features like adjustable straps and built-in bras can be helpful for those with a large bust.
Look for synthetic and stretchy materials like nylon, spandex and polyester. These materials perform best and feel great on the trails.
Additionally, pay attention to any extra features you might want like shorts liners, pockets, etc.
Best Hiking Dresses
The best hiking dresses are made of the right material for breathability and moisture-wicking. They are also functional.
Look for dresses that have built-in bras, secure pockets, and other features like adjustable straps or built-in liners.
The dresses on this list combine multiple features and come in different fits and styles for any lovers of dresses.
Best of all, they can all be dressed up for town or worn alone on the trails.
PrAna makes excellent outdoor attire and the Skypath dress is no exception. It's lightweight and flowy. It's also made from 100% polyester.
Even better, it's super cute! You'd never know this was an outdoor activity dress just by looking at this dress.
This dress is made from a stretch jersey knit and is super comfortable. It comes in 6 colors and patterns in sizes from XS to XL.
The dress is tank-style with an open back design. It's perfect to wear during the hot summer months.
The Skypath dress has an interior shelf bra with a mesh lining for support and breathability. You don't need wear a hiking bra if you don't want to.
The built-in bra has optional padding to eliminate the need for a traditional bra entirely.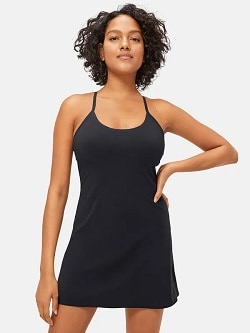 If you're looking for a fun, sporty dress to wear on the trails, the Exercise Dress is for you. This dress is also great for exercising or generally being active outside.
Made from a breathable lightweight nylon and spandex material, this dress is perfect for women on the go.
As a bonus, the Exercise Dress is comfortable enough for lounging around the house. Even wear this dress during a mid-day nap.
This dress has adjustable racerback straps for a personalized fit. It also has a shorts liner with pockets for your phone.
You can get this cute and comfortable sport dress in sizes ranging from XXS to XL. It comes in 15 different colors.
Although this is a sport dress, it can be worn for many occasions. You can easily dress it up for a night out or wear it alone at the gym.
Another great hiking dress is from PrAna. This cute dress is a v-neck racer-back style that is perfect for hiking, watersports, camping and working out.
The top-rated Opal dress comes in six different colors and patterns. It's available in sizes that range from XS to XL.
The Opal dress is also lightweight and flowy. It's another perfect option for those hot summer days on the hiking trails.
This dress has a built-in bra, but it doesn't come with optional bra padding. Some women may want additional support of a regular bra with this dress.
Made from a stretch jersey knit polyester material, the Opal dress is comfortable, fitted, moisture-wicking and quick-drying.
This particular PrAna dress runs a little small and since it has a slim fit, it's best to order a size larger than you normally would.
This loose fitting racerback hiking dress from Backcountry will have you feeling comfortable and carefree on the trails or in town.
This dress is made from soft, breathable material that's moisture-wicking to keep you cool and dry. Plus, it's water resistant for drizzly days.
If you like the feeling of an oversized tee shirt or tank top, you'll love this dress. As an added bonus, it has pockets, too.
Backcountry designed the On The Go Dress to be both versatile and comfortable. They hit the nail on the head with this one.
This dress comes in three colors and ranges in size from XS to XXL.
The Amber Dawn dress from Patagonia is an adorable dress that you can take from the trail to a night out on the town effortlessly.
This is one of the most comfortable and cutest hiking dresses on the list.
This dress features a pleated v-neck chest and bust line, criss-cross back straps, and a flowy skirt that falls mid-thigh.
The Amber Dawn dress is made from a cotton and spandex blend with jersey knit fabric. It comes in 5 different designs and sizes from XS to XL.
This dress is a cute sundress-style dress that's perfect for the trails, to wear over a swimsuit, for kayaking and canoeing, and much more.
The Freelance Dress from Title Nine is a super-cute dress that you'd never know was made for the outdoors if you weren't reading this!
This dress is totally versatile and features a snap between the legs to make it a true go-anywhere, do-anything dress.
The Freelance Dress has a fitted top with a flared and flowy skirt for air flow.
Key features include a crotch snap, mesh panels for ventilation and a zippered kangaroo pocket to keep your phone and valuables close and secure.
This dress comes in two colors and two prints in sizes from XS to XL. It's made from a nylon and spandex blend for stretch, comfort and breathability.
Wrap-Up: Best Hiking Dresses
The best hiking dress for you will fit well, feel nice, and provide ample coverage and comfort for an entire day on the trail.
Hiking dresses are great for warm weather, added range of motion, and for easily transitioning from the trail to in-town activities.
No matter your reason for wanting a hiking dress, we're sure there's something you'll love in this list.