Best Backpacking Coffee (2023)
It's hard to get better than a hot cup of coffee when you're hiking, camping or backpacking, whether snuggled up in a sleeping bag or sitting around a campfire.
There are a several ways to make backpacking coffee too, including instant coffee, pour over coffee and coffee pouches that are a lot like tea bags.
As an Amazon Associate I earn from qualifying purchases. If you click and purchase, I receive a commission at no cost to you.
In this article, we're covering all three methods that make brewing coffee a cinch while backpacking. All three can make delicious coffee, too.
You'll also find favorite coffee brands that are made with portability and ease-of use in mind for brewing coffee outdoors when hiking, camping or backpacking.
Making Coffee While Backpacking
Coffee is a versatile beverage. There are many different ways to drink coffee and many different ways to brew coffee, even when outdoors.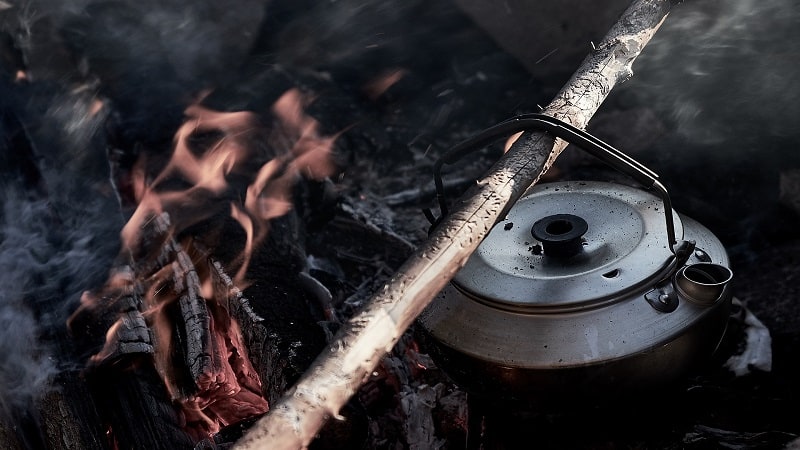 Some methods require compact travel-size brewers, such as the Snow Peak Titanium French Press or the AeroPress Go, as well as a coffee percolator.
For this article, we're keeping it simple and with our three favorite backpacking coffee methods:
* Instant coffee
* Pour over coffee
* Pouches for steeping (similar to tea bags)
Backpacking Coffee Setup
Depending on the backpack coffee brewing method you choose, you'll need special backpacking gear to make coffee. In addition to hot water, of course.
Your coffee setup should include a camp stove, a lighter and an insulated backpacking coffee mug, as well as coffee. Also, creamer and sugar, if you like.
Alpine Start makes an easy-to-use coffee+creamer packet. Copper Cow also makes a powdered creamer product, as well as sugar packets.
For pour over coffee, you need a drip cone or pour over cup attachment, as well as a container for heating up water for your coffee.
A Jet Boil camping stove covers all these bases. It holds and heats water, attaches to a fuel canister, and has a built-in igniter. Plus, it packs down easily.
Instant Coffee Packets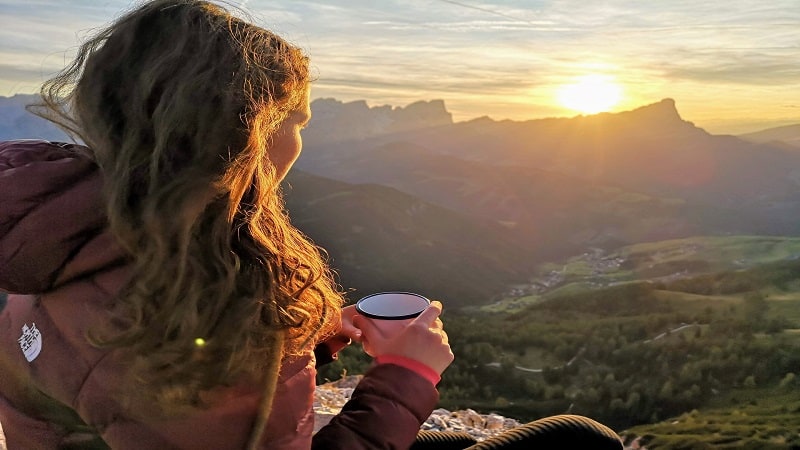 Today's instant coffee is so much better than the bitter Folgers coffee granules from days gone by. There are now many delicious choices for backpacking.
Instant coffee is basically dehydrated brewed coffee. So, you only need hot water and your favorite creamer or sugar, if you like add-ins. It's so easy.
To make a cup of instant coffee, simply empty an instant coffee packet into your mug, then pour in the suggested amount of hot water. Super simple.
If you like cream and sugar in your morning coffee, add them in. Here are instant coffee packets we like that are worth a try on your next backpacking adventure.
Alpine Start makes instant coffee packets from 100% high-elevation grown arabica coffee beans from Colombia.
These instant coffee packets have medium roast instant coffee that dissolves instantly in hot or cold water.
The recommended amount of water for the Alpine Start coffee is 10 oz. You can use less water for a stronger coffee and more water for a weaker cup.
Alpine Start coffee packets are fairly small. They are roughly the size of an ink marker and won't take up much space in your pack at all.
In addition to instant coffee, Alpine start also makes a non-dairy instant coffee+creamer latte and an instant dirty chai latte.
Verve Instant Craft Coffee is perfect if you're looking for a true craft coffee on the trail, and one that's instant, to boot.
This coffee blend has notes of chocolate, red apple, and maple. This coffee is small-batch brewed in-house in California. It's true craft coffee.
This coffee comes in a 6 pack box. Just add one packet to your cup along with 10 oz of hot or cold water for an instant cup of coffee.
Verve Instant Craft Coffee is s sourced from Latin America with a full-bodied dark roast. It pairs well with creamer and sugar, too.
As a bonus, Verve is committed to sustainability. The company sources directly from farmers and pays fair prices. It's a great cup all the way around.
With almost 1,500 5-star reviews on Amazon, the Mount Hagen Instant Organic Coffee is a real winner. One top review states, "Hard to believe it's instant."
This selection comes with 25 single-serve packets of 100% highland arabica coffee beans that are Fair Trade certified and sustainably sourced.
This coffee is gently processed to preserve the sophisticated flavor that is unique to Papua New Guinea.
As a bonus, you can drink this coffee with confidence knowing that it's free of chemicals or pesticides. The beans are quarantined and organically grown.
If you're looking for an organic and Fair Trade instant coffee that won't break the bank, Mount Hagen is a great choice.
Starbucks VIA Instant Coffee is one of the most popular instant coffees. It also comes in multiple varieties, including instant Pike Place roast and vanilla latte.
One box comes with a whopping 50 single-serve packets, so this coffee should last you for some time. You can also get this instant coffee in decaf blends.
The Pike Place roast is a medium roast. It's a smooth, well-rounded blend of Latin American coffees with notes of chocolate and toasted nut.
Starbucks is committed to 100% ethical coffee sourcing in partnership with Conservation International to support the farmers and their communities.
This is a great camping and backpacking coffee. It tastes great with creamer and sugar, too. Just add to hot or cold water and you're done.
Pour Over Coffee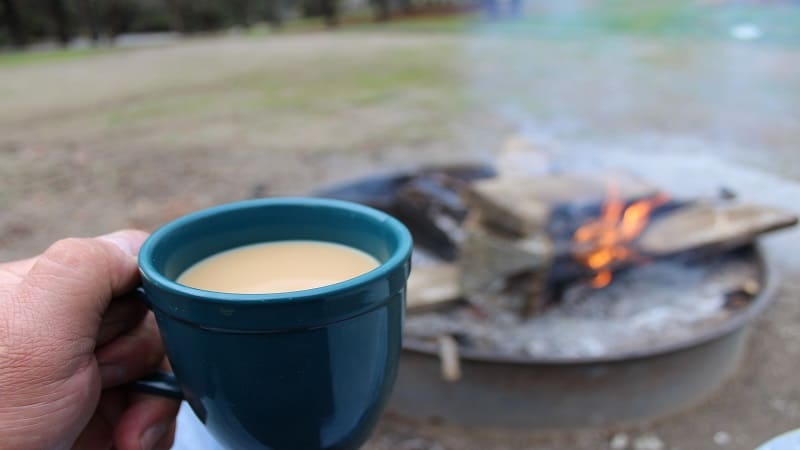 Brew pour over coffee by pouring boiling water over ground coffee in a filter that sits on top of a mug or container.
This style of brewing coffee is similar to drip coffee but allows for more control over the water pour, which can result in better tasting coffee.
For pour over backpacking coffee, a must-have gear item is an ultralight java drip coffee maker. It's inexpensive, does the job and packs away easily
Clip the plastic legs to your mug, add your favorite coffee, and slowly pour your hot water over the top. Here are a few of our favorite pour over coffees.
Tribo Coffee sells single-serve packets that are perfect for pour over drip coffee brewing. All Tribo coffees are ethically sourced in a sustainable manner.
Tribo roasts specialty grade Arabica coffee in small batches for perfect results every time. Each box of 10 servings includes a variety of roasts and flavors.
Among the coffees are: Ethiopian light roast, Guatemalan medium roast, Papua New Guinea medium-dark roast and a medium-dark Campfire Blend.
This coffee was made to travel, too. Each single-serve packet is sealed with natural nitrogen to preserve freshness and flavor.
As a bonus, each box of coffee comes with a disposable pour over paper filter. However, we recommend picking up a reusable filter for sustainability reasons.
Kuju Coffee comes with 6 single-serve pour over coffee packets, as well as a recyclable filter that sits on any coffee cup or mug.
This coffee comes in many blends, flavors and roasts, like the Basecamp Blend. This smooth medium roast has tasting notes of oak, chocolate and honey.
This coffee brand is direct-trade, specialty-grade coffee that is locally sourced and packaged in 100% wind-powered facilities.
This brand uses only 100% specialty grade coffee. As a bonus, Kuju Coffee donates 1% of all coffee sales to the National Park Foundation.
From their reviews, backpackers love the taste and convenience of Kuju pour over coffee. It's easy to brew and tastes delicious around the campfire.
Copper Cow sources high-quality coffee beans from organic farms in Vietnam and pays farmers twice the market rate. This is ethical sourcing at its finest.
The Copper Cow Premium Vietnamese Coffee comes with 16 single-serve packets and a recyclable pour over filter. This coffee comes in many flavors and blends.
Among the favorite coffees for backpackers are classic black, vanilla, churro (yes, churro), salted caramel, lavender and decaf black.
Copper Cow also makes backpacking coffee creamer packets. Creamers come in both classic (dairy) and coconut (dairy-free) for campers and backpackers.
If you want authentic Vietnamese coffee on your next backpacking trip, Copper Cow makes it possible. It's sustainable and women-owned, too.
Our Gorongosa Gogogo Pour Over Coffee comes in a pack of 10 and 100% of profits support the local environment, community and economy.
This coffee comes in single-use, recyclable pouches. Each package includes 3 light roast, 3 medium roast and 3 dark roast blends.
The Our Gorongosa coffee comes from Mozambique, Colombia, Uganda, Brazil and Peru. Profits help support the Gorongosa Project in Mozambique.
Each blend contains Gorongosa Green, grown by local farmers in the heart of Gorongosa National Park.
This coffee is great for camping and backpacking because it's so easy and convenient to make on the trail.
Coffee Pouches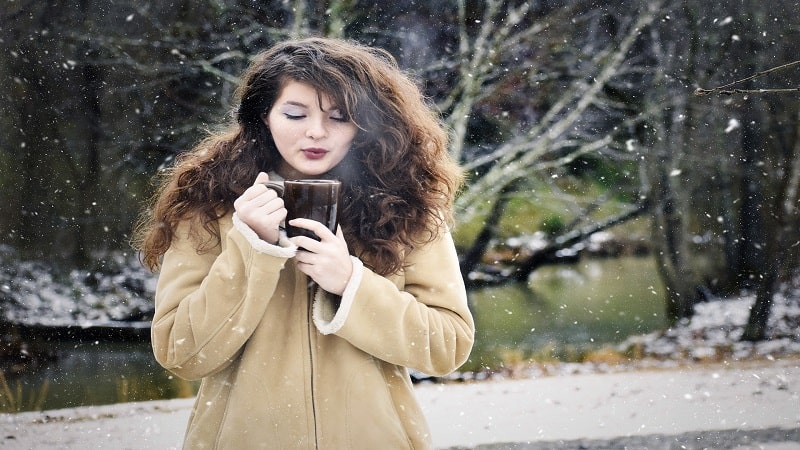 Backpacker coffee pouches are essentially tea bags for coffee. This method of brewing coffee involves steeping a small pouch of coffee in hot water.
Coffee pouches come in different blends and flavors. They're also recyclable and are very convenient outdoors, like when you're camping or backpacking.
To brew a delicious mug of backpacking coffee, simply place a coffee pouch in 12 oz of hot water, then let it steep for 3 to 5 minutes.
When your coffee is ready, remove the pouch. Drink your coffee black, or add in sugar or creamer. Here are a few of our favorite coffee pouches for backpacking.
Grounds & Hounds doesn't just make great backpacking coffee. They are also philanthropic, donating 20% of profits to lifesaving animal rescue initiatives.
The company's core mission is to eradicate unnecessary animal euthanasia and improve animal welfare. However, their passion is amazing coffee.
Their coffee beans are 100% arabica, sourced from the best coffee-growing regions in the world. The beans are small batch roasted to perfection.
Their Off Trail coffee comes with 10 single-serve pouches of coffee sourced from Papua New Guinea, Colombia, and Mexico.
This blend is a dark roast of 100% organic coffee beans with smooth tasting notes of dark chocolate, vanilla, and graham cracker.
Grounds & Hounds doesn't just make hot coffee pouches. Their Sunny Spot Cold Brew is a delicious cold brew single-serve coffee.
Much like the other varieties from Grounds & Hounds, this coffee is sourced from countries like Papua New Guinea, Colombia and Mexico.
Sunny Spot Cold Brew comes with 4 iced coffee pouches. Steep this coffee for 8-12 hours, so make this before you leave camp for a day hike.
Sunny Spot is a French roast coffee with notes of hazelnut and red currant that are followed by notes of milk chocolate, marshmallow and graham cracker.
Like all Grounds & Hounds products, 20% of profits from the sale of Sunny Spot Cold Brew go to help animals in need nationwide.
Based in Santa Cruz, California, Steeped Coffee ethically sources their coffees from Colombia. The coffee pouches are recyclable, including all the packaging.
Each box of Steeped Coffee comes with 8 single-serve coffee pouches. There are variety of blends and roasts, too.
Among the favorites are California blend, Eventide decaf, Odyssey blend, Organic Breakwater and Sunrise blend. You can also try out several in a variety pack.
The medium roast California blend has tasting notes of chocolate, toasted coconut, and fudge. All Steeped coffees are hand-roasted locally in small batches.
To brew, simply pour hot water over the coffee pouch, dunk it for 15 seconds to form a light foam, and steep for 5+ minutes to your desired taste.
Wildland Coffee says it all right on the package. It's 'Coffee in a Tea Bag.' Even better, it's super convenient and delicious, too.
This brand comes in several roasts, including medium, dark and extra dark. You can buy a variety pack or a box of just one coffee blend.
Each package of Wildland Coffee comes with 10 single-serve coffee packets filled with ethically-sourced Brazilian coffee beans.
The founder of Wildland Coffee created the brand so that everyone can make tasty, easy and convenient coffee while simultaneously enjoying the outdoors.
To brew a cup of coffee, simply steep your coffee pouch in hot water for 8+ minutes to your desired taste.
What to Do with Used Coffee Grounds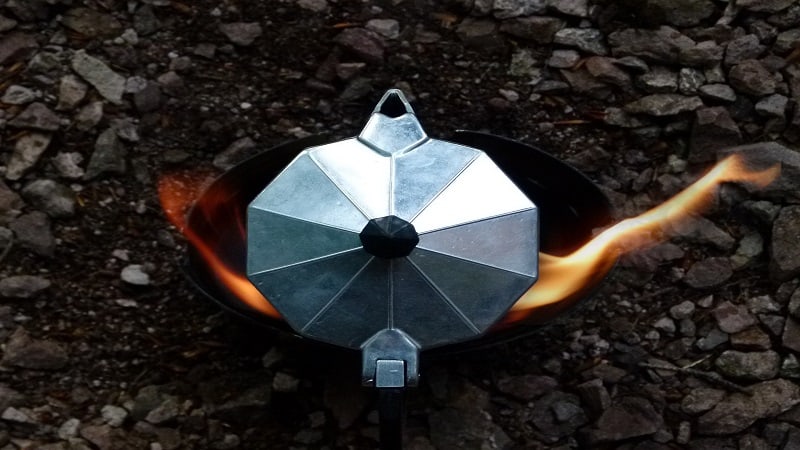 If you use a backpacking coffee maker, the responsible option to dispose of your grounds is to follow Leave No Trace principles. As in, pack it in, pack it out.
Pack your used coffee grounds and filter in your pack in a leak-proof bag to dispose of later. You don't need to trash the grounds.
Used coffee grounds work great as fertilize and an odor neutralizer, as well as for composting. There's no need to toss them into the trash.
Consider spreading coffee grounds in your garden at home or around the base of trees or vegetation, or simply put them in your compost pile.
For more gear reviews, including gift ideas for hikers and backpackers, check out my Gear Guides.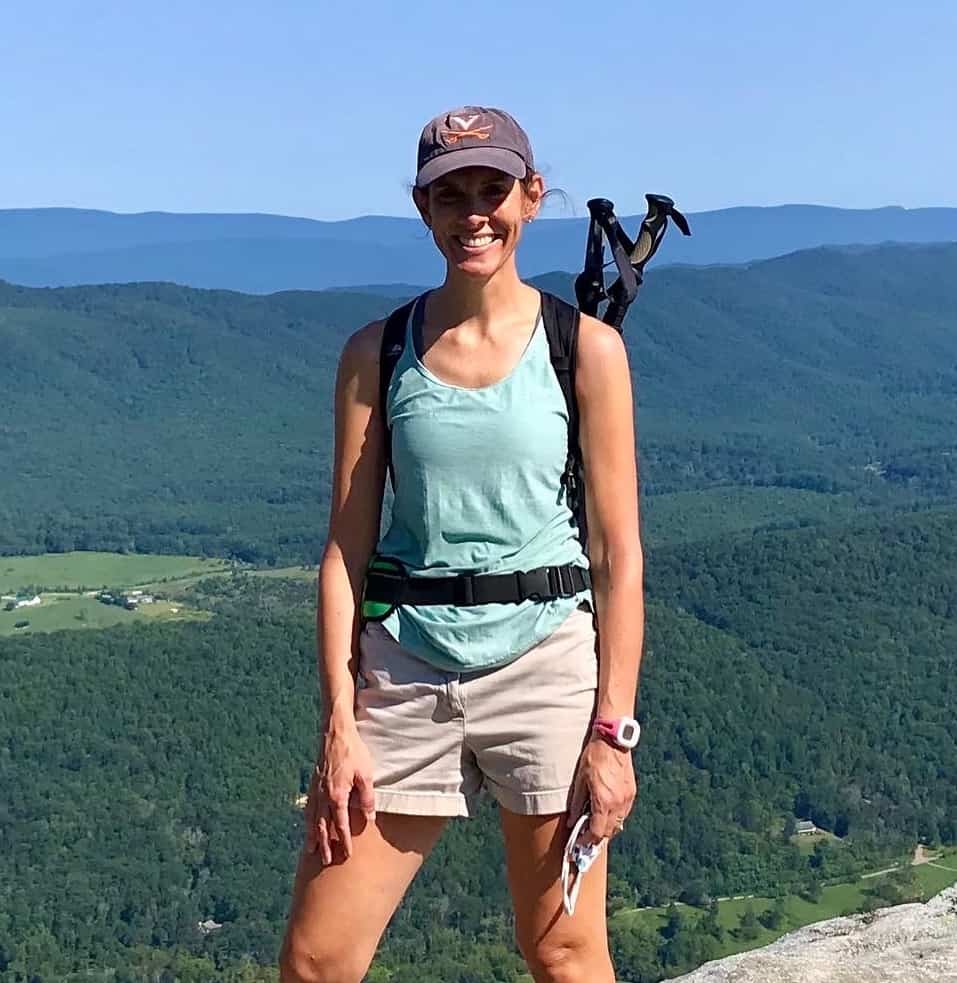 Erin Gifford is the editor of Go Hike Virginia. She has completed more than 300 hikes in Virginia. She is also the author of three hiking guidebooks from Falcon Guides. Need help finding a hike? Check out the Trail Finder feature or send Erin a message.