Larus Park: A Hidden Forested Hike to Love in Richmond, Virginia
If you've not yet hiked the wooded trails at Larus Park in Richmond, I'm not surprised. In fact, some locals don't even know about 106-acre Larus Park.
This public park in Richmond, Virginia is nestled between three major roads: Stony Point Parkway, Chippenham Parkway and West Huguenot Road.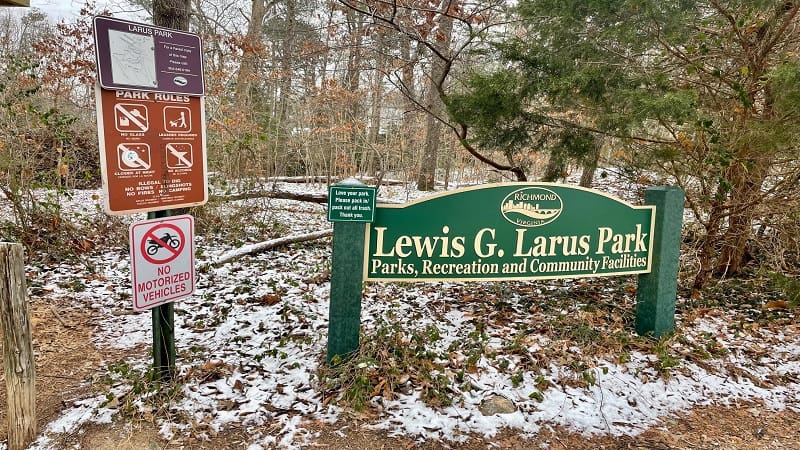 To be fair, some of the park does spill north of Chippenham Parkway.
A small parking area and lesser-known trailhead is located at Old Holly Road and Beechmont Road.
You may think it would be noisy, being so close to major roads, but you likely won't even hear the motoring cars and trucks. It felt quite still and serene.
| Trail Stats | |
| --- | --- |
| Length | 2.7 miles |
| Difficulty | Easy |
| Trail Type | Lollipop |
| Elevation Gain | 266 feet |
| Duration | 1.5-2 hours |
| Terrain | Mostly dirt trails |
| Dog-Friendly | Yes |
| Fee | Free |
| Driving Directions | Click Here |
Larus Park
There are four trails at Larus Park, not including connector trails. None of the trails have names. They are simply red, yellow, blue and green.
The red trail is the longest at 1.08 miles, while the green trail is the shortest at just .6 miles. There is a trail map at five trailheads and trail junctions.
But first, let's talk about parking, because there is not a lot of parking. As far as I can tell, the main entrance is at 8850 West Huguenot Road.
Technically it's on Hayden Hill Lane, but the lot is very small. There's room for maybe four cars. Worse, there's construction, which can further limit parking.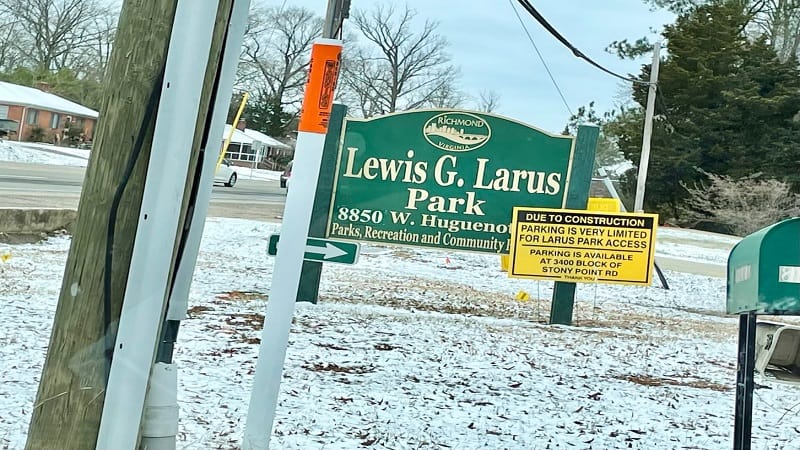 A sign directed me and a friend to the Stony Point Road entrance, just outside the gates for Sabot at Stony Point, a private school in Richmond.
Even there, parking is limited. However, there is some street parking available as the Stony Point entrance is in a new neighborhood of single-family homes.
Larus Park Trails
It's easy to create your own hike at Larus Park, but I highly recommend that you snap a photo of the Larus Park trail map at the entrance.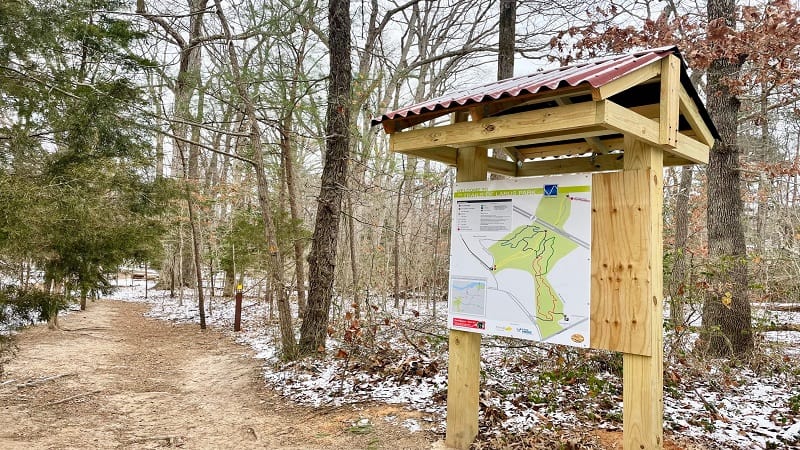 Despite frequent color-coded trail markers, it can still get a bit confusing to follow the path you want through this urban wooded wonderland.
From the Stony Point Road entrance, we began our hike on the yellow trail. After a few steps, we spied a snow-covered picnic table. Then, the trail split.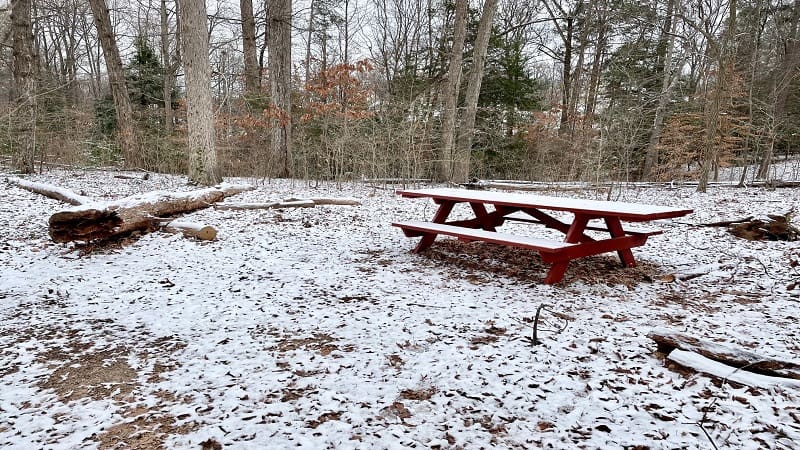 We opted to go right, but both yellow paths come back together at the .2-mile mark. The trail then splits again at the .3-mile mark.
Alternatively, you can continue straight ahead on the yellow trail. This will take you to Old Holly Road, on the other side of Chippenham Parkway.
Create-Your-Own Hike
We turned right to hook up with the green trail (by way of a connector trail). Then, we reached an easy bridge crossing over a gently-flowing stream.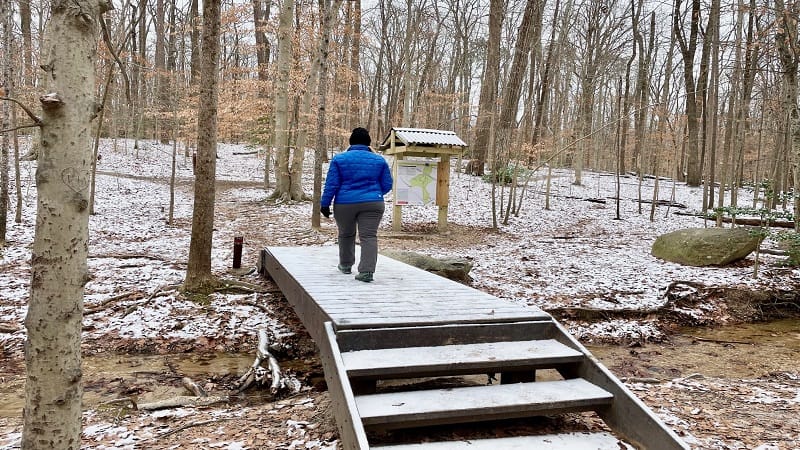 In a few more steps, we reached a trail kiosk. Here we stayed right for the red trail to walk south. At the .8-mile mark, the red trail loops back north.
You can stay on the red trail to complete a loop, but we opted to turn right onto the green trail at the 1.3-mile mark for a perimeter hike around the park.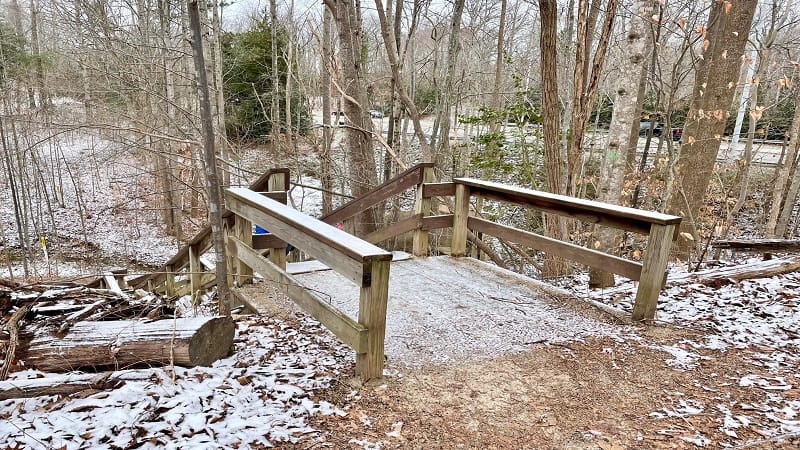 Cross a second footbridge at the 1.6-mile mark. Then stay right to shortly connect with the yellow trail. A wooden staircase drops you down in elevation.
You'll thankfully spy a trail kiosk at the bottom of the stairs. This is good in case you did not snap a photo of the trail map at the start of the hike.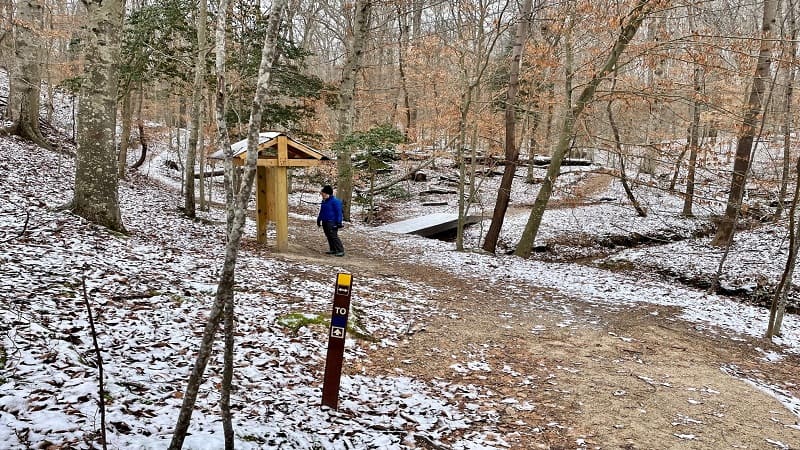 Follow signs for the blue trail to continue looping around the perimeter of Larus Park. At the 2.3-mile mark, another connector trail.
This one tells you where to go for the yellow trail. Stay right, then stay right again to follow the yellow trail back to the trailhead to complete your hike.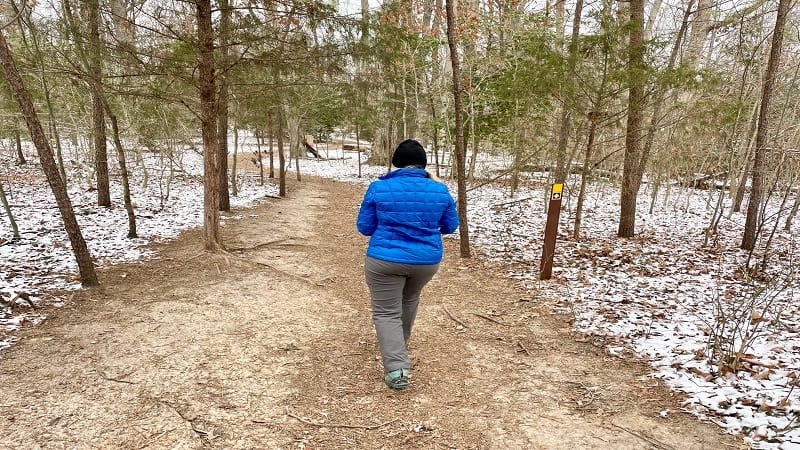 There are a handful of wooden benches and footbridges along this hike, making this a fun and interesting hike, especially for little ones.
Wrap-Up Notes
According to AllTrails, you can get a 4.0-mile hike out of Larus Park. Honestly, I think you'd be hard-pressed to do so.
Instead, this 2.7-mile lollipop hike is a good way to go. It took just over an hour to complete. It's the perfect hike when you just want to get into nature.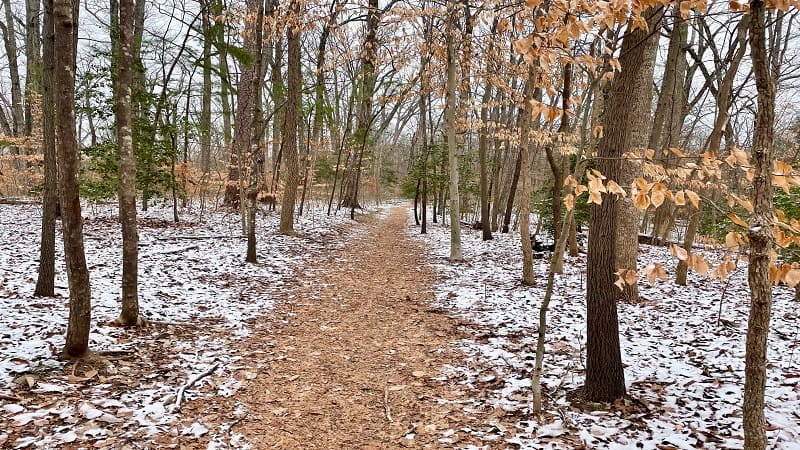 You can, however, create a 4.5-mile lollipop hike if you start at the Huguenot Flatwater parking lot near the south end of the Huguenot Bridge.
This route is on the urban side as make your way from the Huguenot Bridge to the northeast corner of Larus Park, but it's a nice option for extra steps.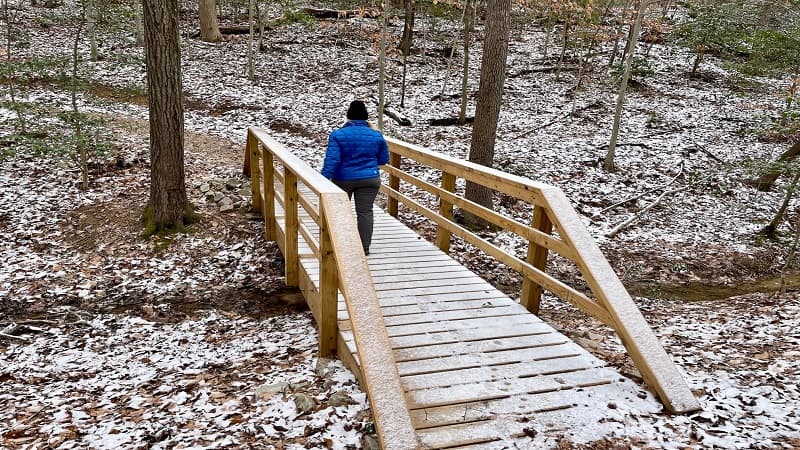 The James River Hikers group has this hike on the schedule from time to time. This 4,900+ member MeetUp group hikes all around the RVA area.
Since there's a lot of great hiking near Richmond, you may also want to check out easy urban hikes at Forest Hill Park, Texas Beach and Belle Isle.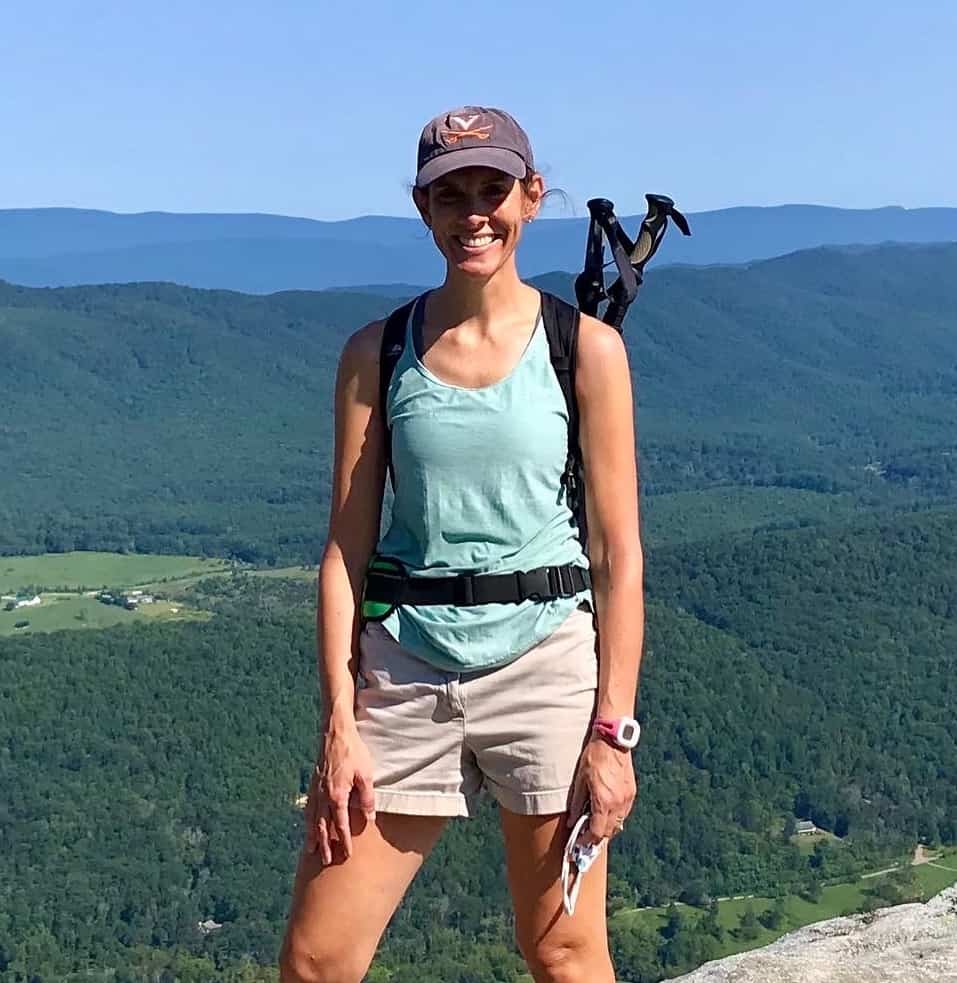 Erin Gifford is the editor of Go Hike Virginia. She has completed more than 300 hikes in Virginia. She is also the author of three hiking guidebooks from Falcon Guides. Need help finding a hike? Check out the Trail Finder feature or send Erin a message.