Twin Lakes State Park: A Refreshing Lake Park in Green Bay, Virginia
Twin Lakes State Park is a serene state park in Green Bay, Virginia. For the curious, yes, there are two lakes: Goodwin Lake and Prince Edward Lake.
This 548-acre park opened in 1939 and is among the smaller state parks in Virginia, but it packs a lot into its small footprint in Prince Edward County.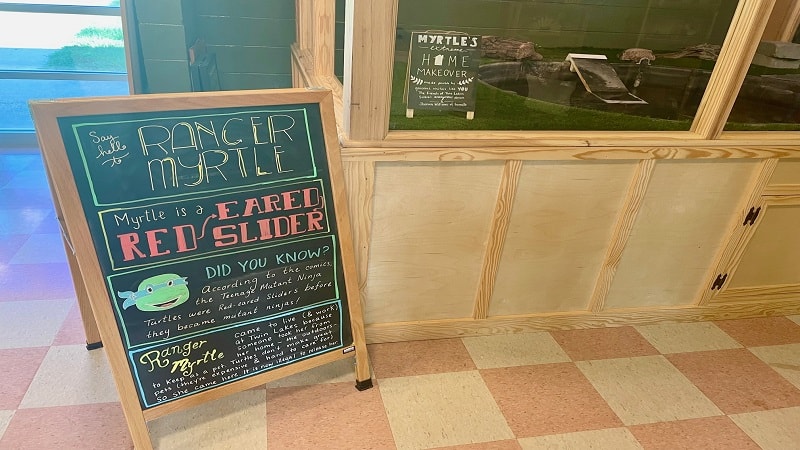 Twin Lakes State Park amenities include a campground, cabins, hiking and biking trails, boat launches, fishing piers, a swimming beach and boat rentals.
The state park is also home to Ranger Myrtle, a beloved red-eared slider turtle. You'll want to say hello to her at the Discovery Center on Goodwin Lake.
State Park Trails
There are six miles of hiking trails, including the Otter's Path Trail, a 2.9-mile trail that is open to hikers and bikers. This is the longest trail at the state park.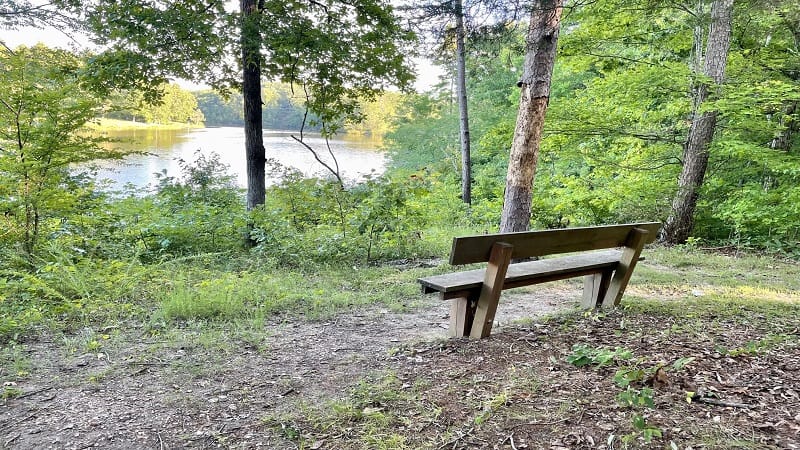 The yellow-blazed Between the Lakes Trail is an easy .5-mile out-and-back hike that leads to a bench with semi-obscured views of 36-acre Prince Edward Lake.
This hiking trail is across the parking lot from the swimming beach and gift shop. The Between the Lakes Trail also provides access to the Otter's Path Trail.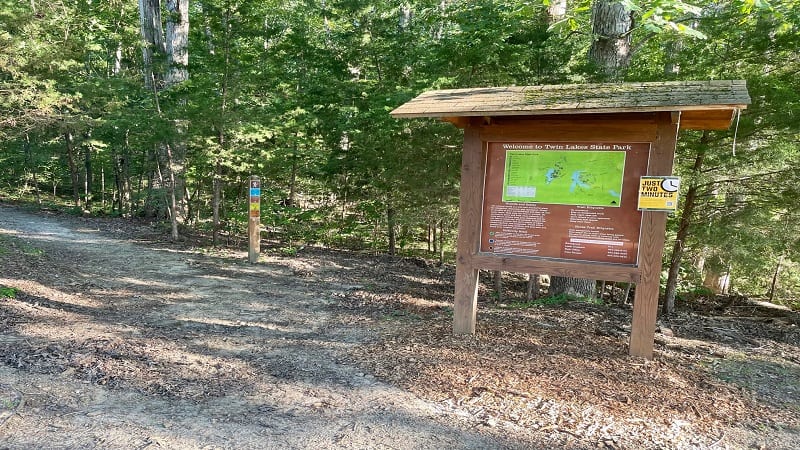 The 1.1-mile Goodwin Lake Trail starts to the left of the swimming beach. This easy, shaded hike circumnavigates 15-acre Goodwin Lake.
There are several wooden benches and bridges along the way, making this an engaging hike and a perfect after-dinner hike at Twin Lakes State Park.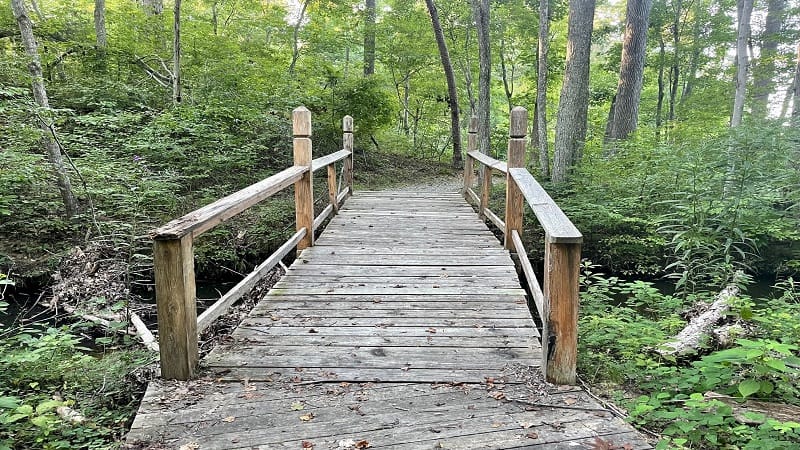 The short Dogwood Hollow Trail can be picked up at the campground or across from the ranger station at the front of the park.
I opted to start and finish this trail at the campground. It's a forested .6-mile loop hike. It's a nice hike if you just want to spend some time in the woods.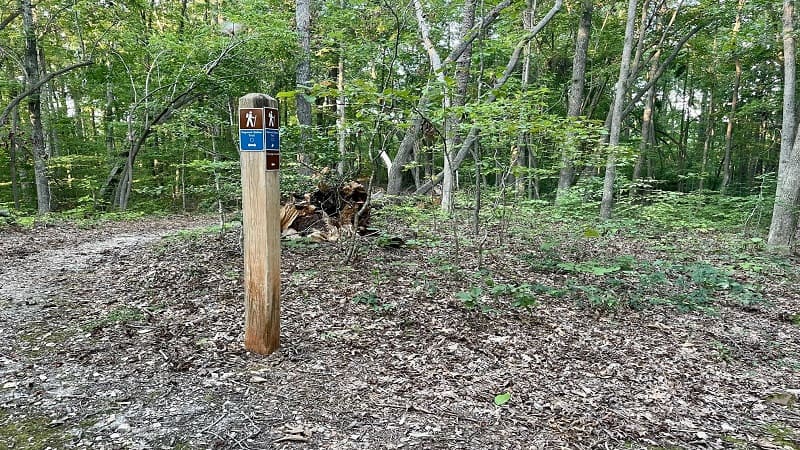 Twin Lakes Swimming Beach
The sandy swimming beach at Twin Lakes State Park is very popular, especially with families eager for a cooling splash in summer months.
This beach is located on the east side of Goodwin Lake and is accessed by way of Twin Lakes Road. Here you'll also find picnic tables and a fishing pier.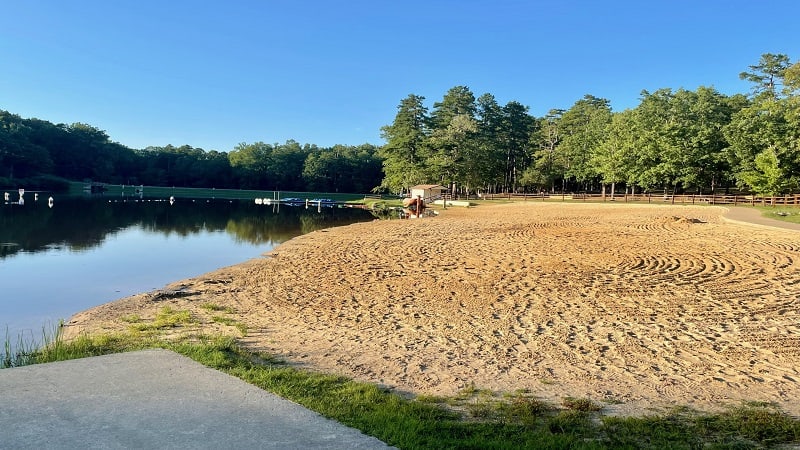 A concession stand at the beach is open from Memorial Day weekend through Labor Day weekend. The stand sells snacks, drinks, ice cream and beach toys.
You can also rent pedal boats, stand-up paddleboards, canoes, kayaks and rowboats at the concession stand. Availability is dependent on time of year.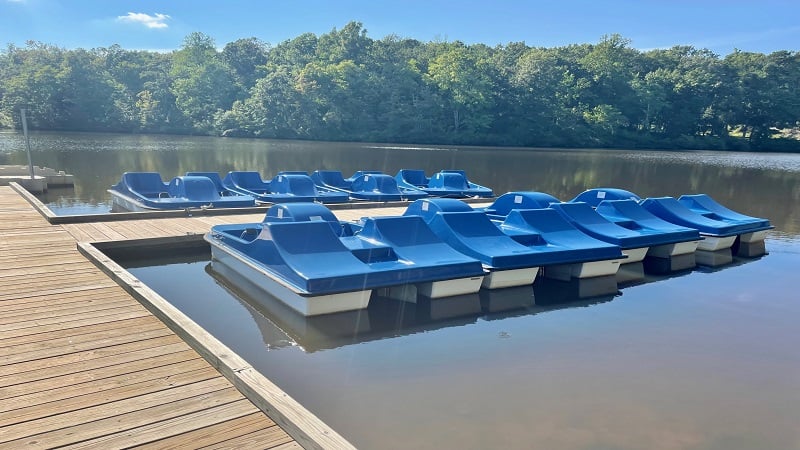 Boats with electric motors are allowed on both Goodwin Lake and Prince Edward Lake. Boat launches are located on Goodwin Lake Road.
Twin Lakes Interpretive Programs
Twin Lakes State Park offers a wide variety of interpretive programs for park visitors. Most programs are offered on Fridays, Saturdays and Sundays.
Kid-friendly programs include You Were Mis-snaken, a ranger-led snake identification program, and Crafting Hour, a nature-inspired art session.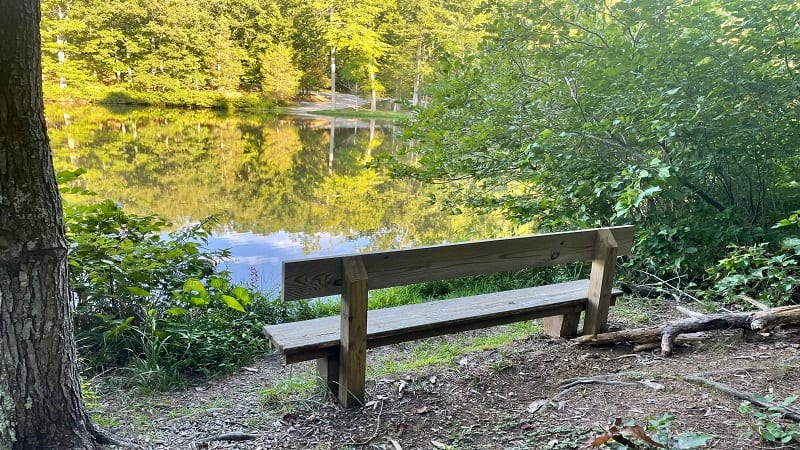 The park also hosts one-mile historical hikes and mindfulness walks around Goodwin Lake on the blue-blazed Goodwin Lake Trail.
On National Public Lands Day in late-September, Twin Lakes State Park holds a day-long volunteer clean-up event to help keep the park beautiful.
Twin Lakes Campground
Camping at Twin Lakes State Park is popular, thanks to 33 camp sites for tents, pop-ups and RVs that range in length from 25 feet to 36 feet.
Camping is available from the first Friday in March until the first Monday in December. Sites can be reserved online for a rate of $35 to $40 per night.
All sites have water and electricity, as well as a picnic table, a fire ring and shade. Firewood can be purchased at the campground for $8 per bundle.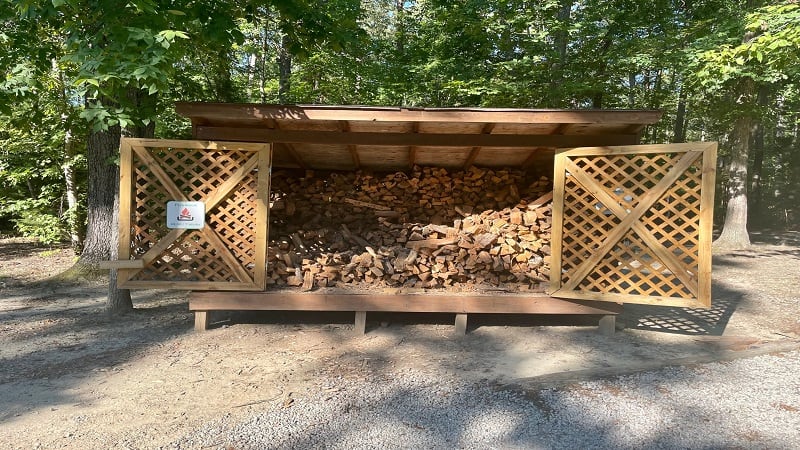 There is a designated section at the family campground for tents-only. For RVs, there are both pull-through sites and back-in sites.
There is a bath house, a camp host and a soda machine, as well as access to the Dogwood Hollow Trail from the tents-only section of the campground.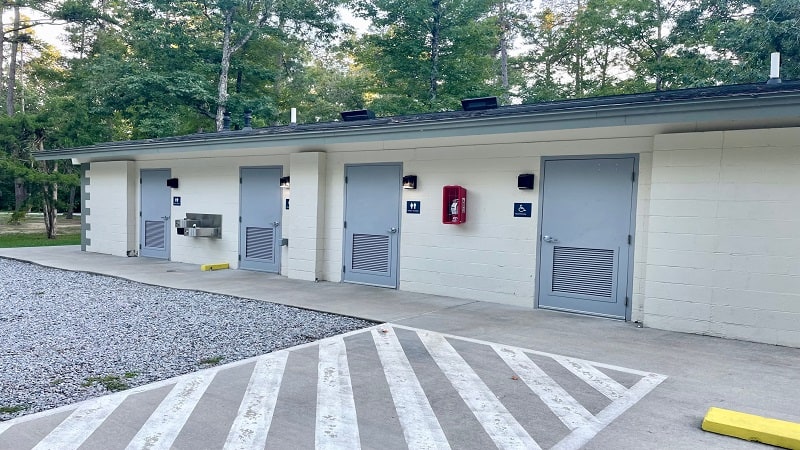 The campground is 5.5 miles from the High Bridge Trail at Orchard Road, for those who have interest in bike camping at this state park.
Twin Lakes Cabins
Separate from the campground are nine cabins and a lodge available for rent year-round. There is a minimum stay requirement for rentals.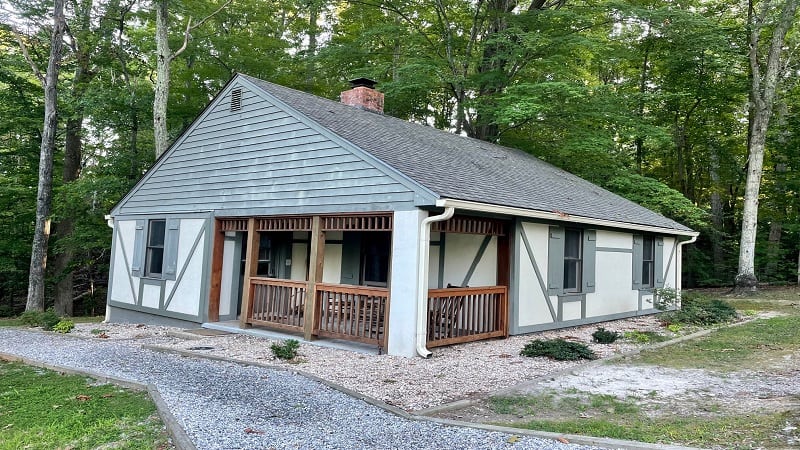 All rentals have heat, air conditioning, bathrooms and kitchens. No sheets or towels are provided. There are no telephones or televisions.
Nightly cabin rental rates range from $113 for a two-bedroom cabin to $159 for a three-bedroom cabin during prime season (April through October).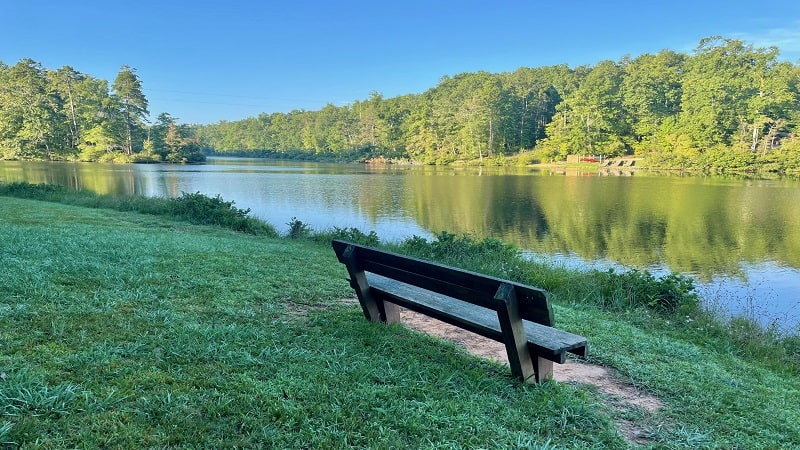 Bowen Lodge is the on-property lodge. This ADA-accessible lodge has six bedrooms, as well as a washer and dryer. The in-season rate is $399 per night.
The cabins and lodge are located on or near Prince Edward Lake, and are accessible by way of Cedar Crest Road. There is also a conference center.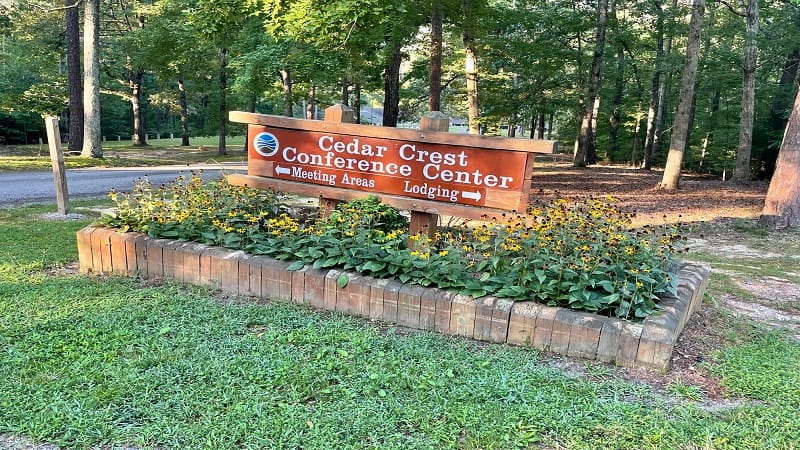 The conference center, Cedar Crest Conference Center, can also host weddings. There is an outdoor gazebo, picnic shelters and a caterer's kitchen.
Twin Lakes History
The land on which Twin Lakes State Park is located was once agricultural land owned and tended to by farmers during the Great Depression.
The land was purchased by the federal government and used to create two parks in 1939: Goodwin Lake Recreation Area and Prince Edward Lake.
In 1950, Prince Edward Lake became Prince Edward State Park, Virginia's eighth state park and the only one in Virginia accessible to African-Americans.
The two lake parks were run as racially segregated parks. In 1976, the two parks merged. The park was renamed as Twin Lakes State Park in 1986.
Twin Lakes State Park: Before You Go
The main park entrance is located at 788 Twin Lakes Road in Green Bay, Virginia. This is the location of the campground and swimming beach.
Twin Lakes is open every day from dawn until dusk. Pets are allowed at the park. There is also a playground adjacent to the swimming beach.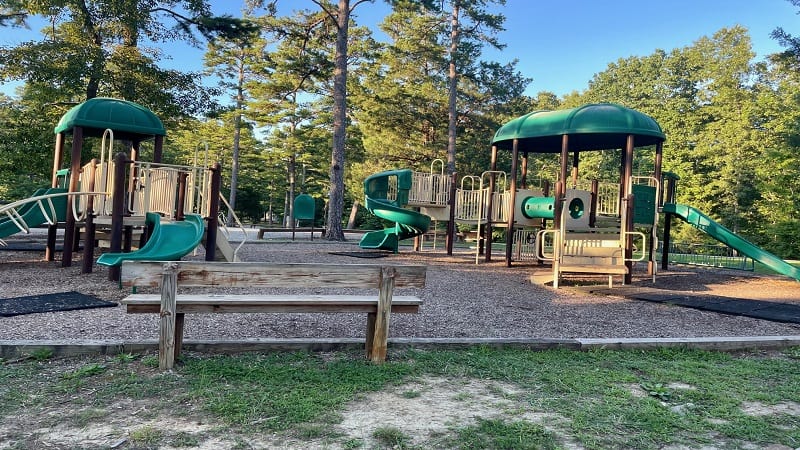 The park office is open daily from 9 am to 4 pm. Concessions are open from 10 am to 5:30 pm, but can shut down early if there are no visitors on the beach.
If you'd like to get involved with the state park, consider making a donation to or serving as a volunteer with Friends of Twin Lakes State Park.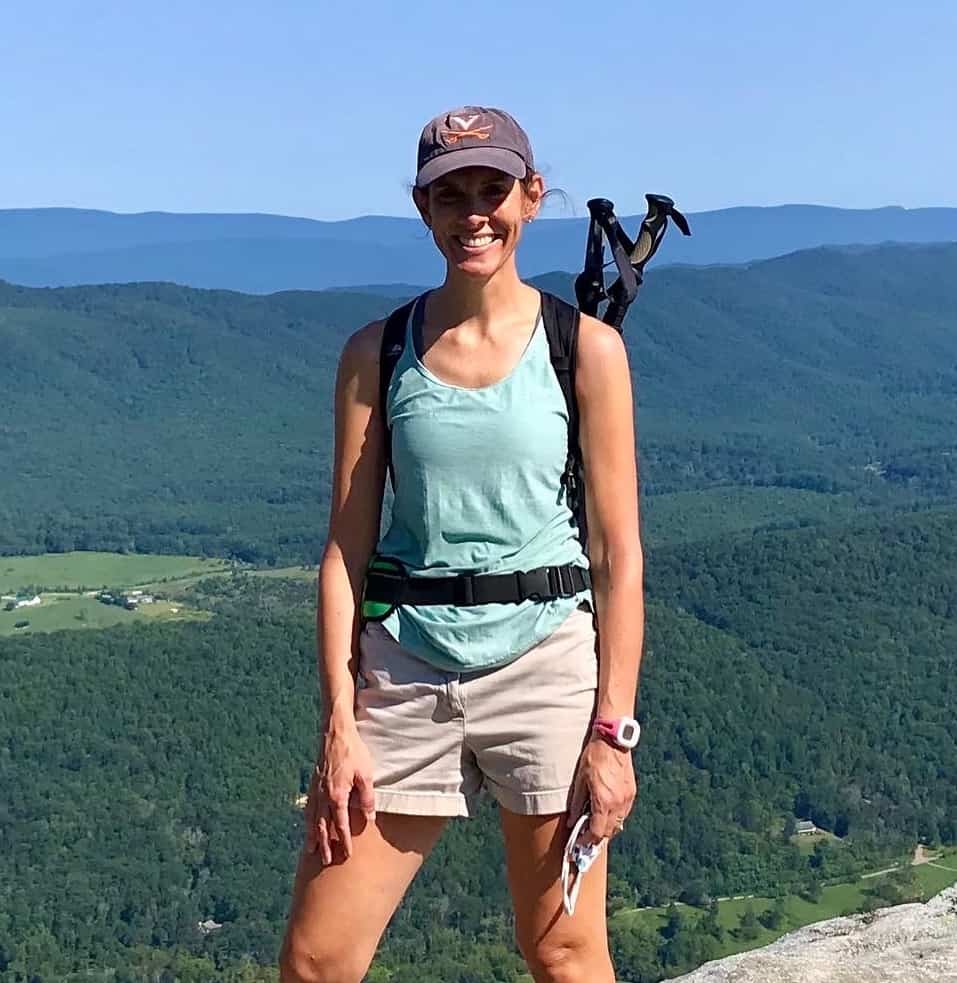 Erin Gifford is the editor of Go Hike Virginia. She has completed more than 300 hikes in Virginia. She is also the author of three hiking guidebooks from Falcon Guides. Need help finding a hike? Check out the Trail Finder feature or send Erin a message.