Belle Isle State Park: A Perfect Beginner Backpacking Destination in Virginia
In January, I completed my very first overnight backpacking trip at Belle Isle State Park in Lancaster, Virginia. It was mostly perfect, too.
I went with the Virginia Backpacking group that I found on Meetup. Thankfully, "all skill levels are welcome" with this group of backpackers. I was definitely a rookie.
Of course, January is not the optimal month to go backpacking for the first time. I got lucky. It was in the mid-50s when we set off for the primitive hike-in campground.
Now that I've got one overnight under my belt, I'm ready to do it again. I've already got small group backpacking trips planned for March and April.
The Campground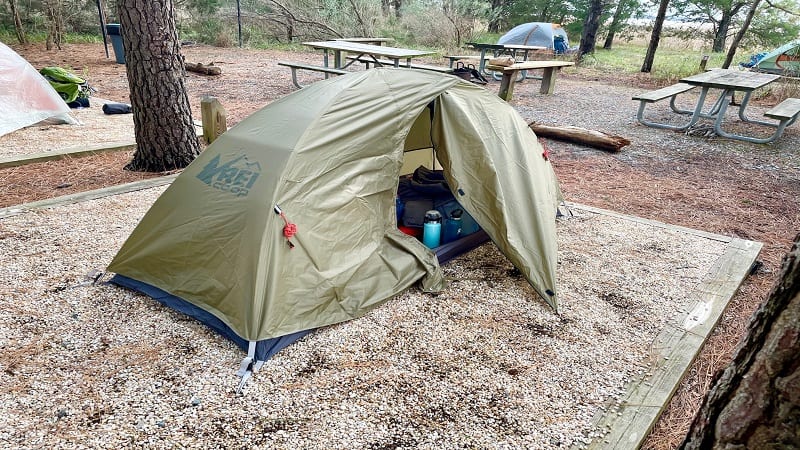 The primitive campground is located at Brewer's Point on the west side of the park. It's set on a peninsula that borders the Rappahannock River and Mulberry Creek.
It's an easy 1.5-mile hike along the Neck Fields Trail from Equestrian Trailer Parking (backpackers can park here overnight) to the campground. It's perfectly flat, too.
Brewer's Point is a hike-in or boat-in campground. As in, you can only reach the primitive sites on foot or by human-powered watercraft, like a canoe or kayak.
The park website notes that there are four sites that each have room for up to six people, but that's not quite right. There are two large platform sites and four small sites.
The large platform sites could probably fit two tents. Meanwhile, the four small sites can each only accommodate one tent, and even then, a fairly small tent.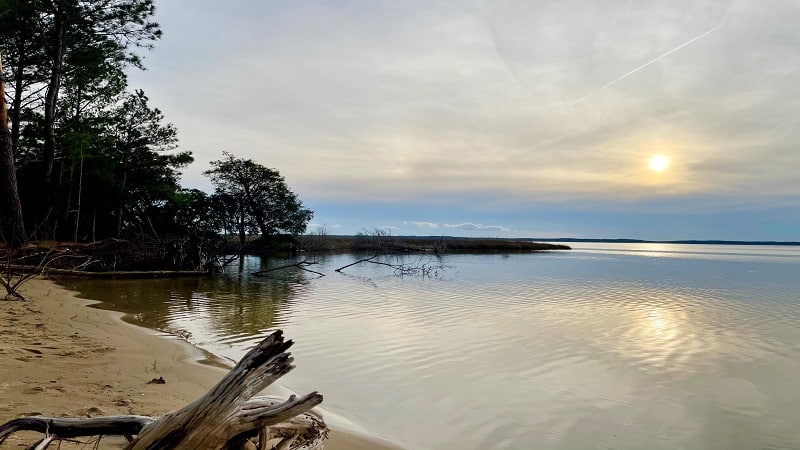 I have a one-person backpacking tent (REI's Co-op Passage 1 Tent). It fit perfectly on my pad site. It would have been a pretty tight squeeze if I had set up a larger tent.
There is also a good bit of wooded space between the large platform sites and the small pad sites if you want to hang a hammock either for day-use or for sleeping.
In the middle of the four small sites you'll find several picnic tables, a couple of benches and a fire ring. I imagine there was probably at least one more fire ring.
Near the fire pit, I was excited to see a porta-potty. And a relatively clean one, at that. Honestly, I was not expecting to see one at all, so that was a huge score.
There is no electricity or potable water, but there is a porta-potty. There is also no wi-fi (obviously), but the AT&T cell signal is quite strong and reliable from Brewer's Point.
Settling In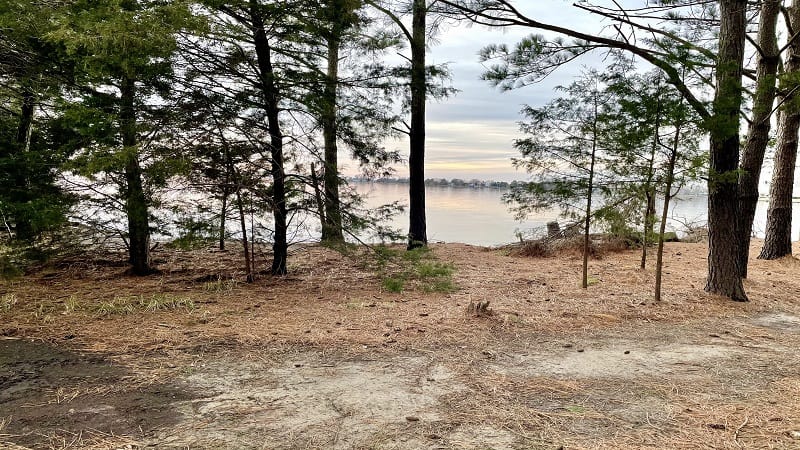 It was a short 30-45 minute walk from the parking area to the campground. On arrival, I chose my tent pad and got down to business setting up my space.
I had unboxed my new one-person tent a few days earlier and set it up in my family room. I wanted to make sure all the pieces were there (highly recommended).
I also didn't want to look like a total newb, you know. I kind of wanted to look like I knew what I was doing. Thankfully, this tent was a cinch to set up. Phew.
With my first task complete, I began to take everything else out of my new backpack (Osprey Renn 65), including my down sleeping bag and inflatable sleeping pad (Big Agnes).
Evening Falls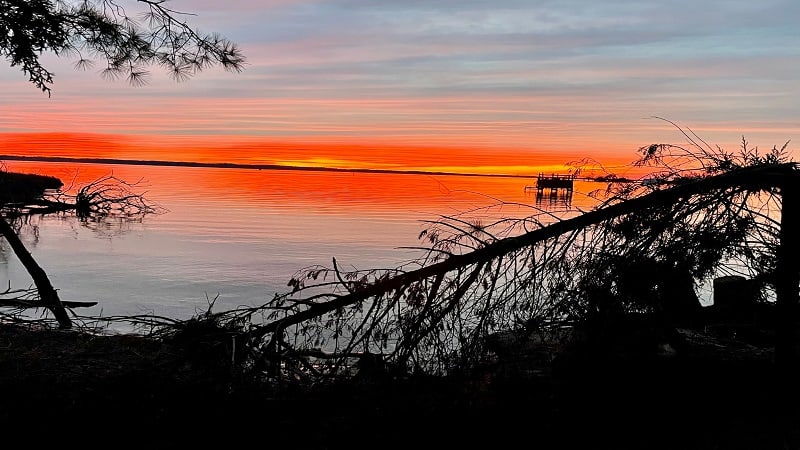 With my tent organized, I walked a few steps to the small driftwood-covered sandy beach. It was the perfect spot for a colorful sunset on an unseasonably warm January day.
I must have taken a dozen photos of the slowly fading sun. It was gorgeous. Then, it was time for dinner. I set up my new PocketRocket stove and got to work.
Honestly, it wasn't a lot of work. You turn on the gas, light the burner, then set the one-liter pot filled with water on top of the stove. Easy-peasy.
I think the hardest part was having to wait 10 minutes for my dehydrated pasta primavera to "cook" after waiting five minutes for the water to boil.
Post-pasta primavera, everyone gathered around the fire to chat and chill. We even stayed up later than "hiker midnight" (aka 9 pm), but not that much later.
The temperature began to drop into the 40s. It got chilly, but still not as chilly as it would be on a typical January evening. It was time to snuggle up in my sleeping bag.
Sleepy Time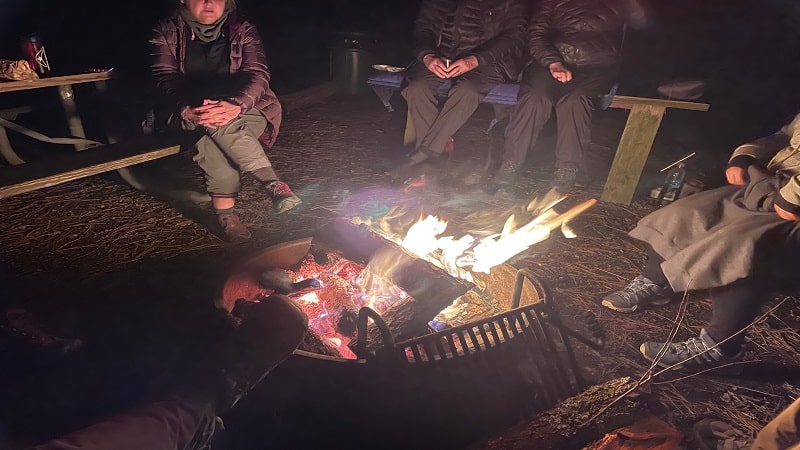 I was excited to get into my sleeping bag, but then I was cold. Worse, my toe warmers were outside my tent, hanging in a waterproof bag from a pole.
We had all taken anything with a scent out of our tents, as not to attract mice. Yikes. So, toothpaste, deodorant, lotion, lip balm. It all got set aside, away from the tents.
Sadly, my toe warmers were cuddled up with my toothpaste and lip balm. Worse, I did not want to exit my sleeping bag. Finally, I relented. I was glad I did.
With warm toes, I closed my eyes. I wanted to drift away to la-la land. Then, I had to pee. I held off as long as I could. After midnight, I finally went for the porta-potty.
Ugh, will I ever get to sleep? At some point, it began to rain. I don't mind rain. I've camped in the rain before. I think it actually helped me fall asleep.
Still, I slept poorly. It was my first time sleeping on the ground (when we car camp, we usually bring cots). I was excited and uncomfortable all at the same time.
Headed Home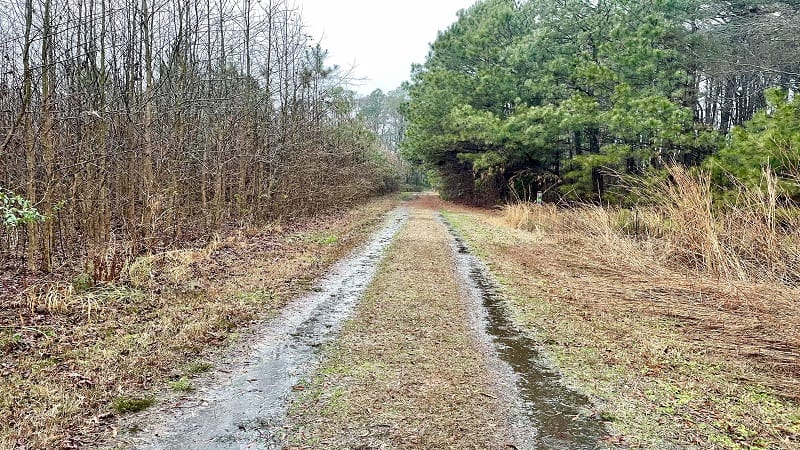 I waited as long as I could and by 7 am I finally unzipped my tent, hit the porta-potty one more time and began to pack it up. In the rain.
Thankfully, it wasn't a driving rain. Mostly just a nuisance rain. More than a drizzle, less than a monsoon. I was the first one up and out of the campground.
I slogged 1.5-miles back to my car in Equestrian Trailer Parking. I was getting wet, but I felt good, accomplished. At last, I could say I was a backpacker. Even if still a newb.
I'm beyond excited to set out again soon. This next time, there will be no porta-potty. Another exciting milestone to reach in my quest for backpacking excellence.
Well, maybe not excellence. At the very least, I'd like to be able to go backpacking on my own and live to tell about the experience. This is definitely the year.
Wrap-Up Notes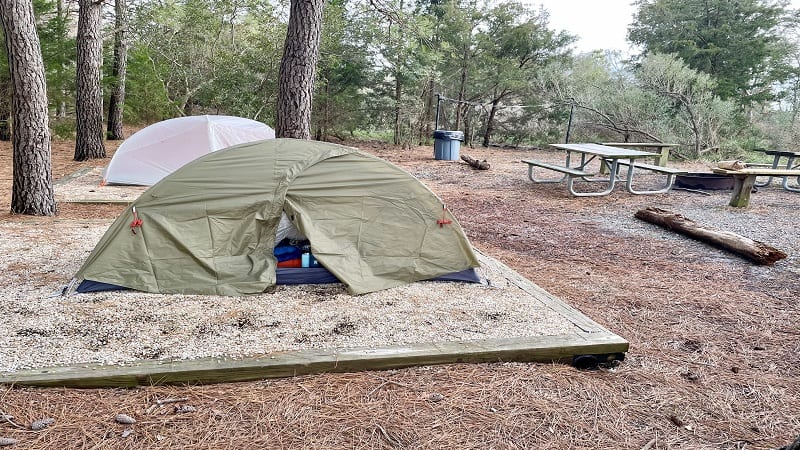 If you're considering your very first backpacking adventure, I can't recommend Belle Isle State Park more highly. It's absolutely perfect for first-timers.
Since the trail is flat and short, it's a snap to make it to the campground. Better, if you're just not feeling it, it's only a 1.5-mile walk back to your car to drive home.
I also can't recommend Virginia Backpacking more highly. This outdoor-focused Meetup group organizes mostly beginner-level trips every couple of months.
If you decide to go out on your very first backpacking trip, maybe at Belle Isle State Park, I hope you'll let me know. I can't wait to hear about your experience.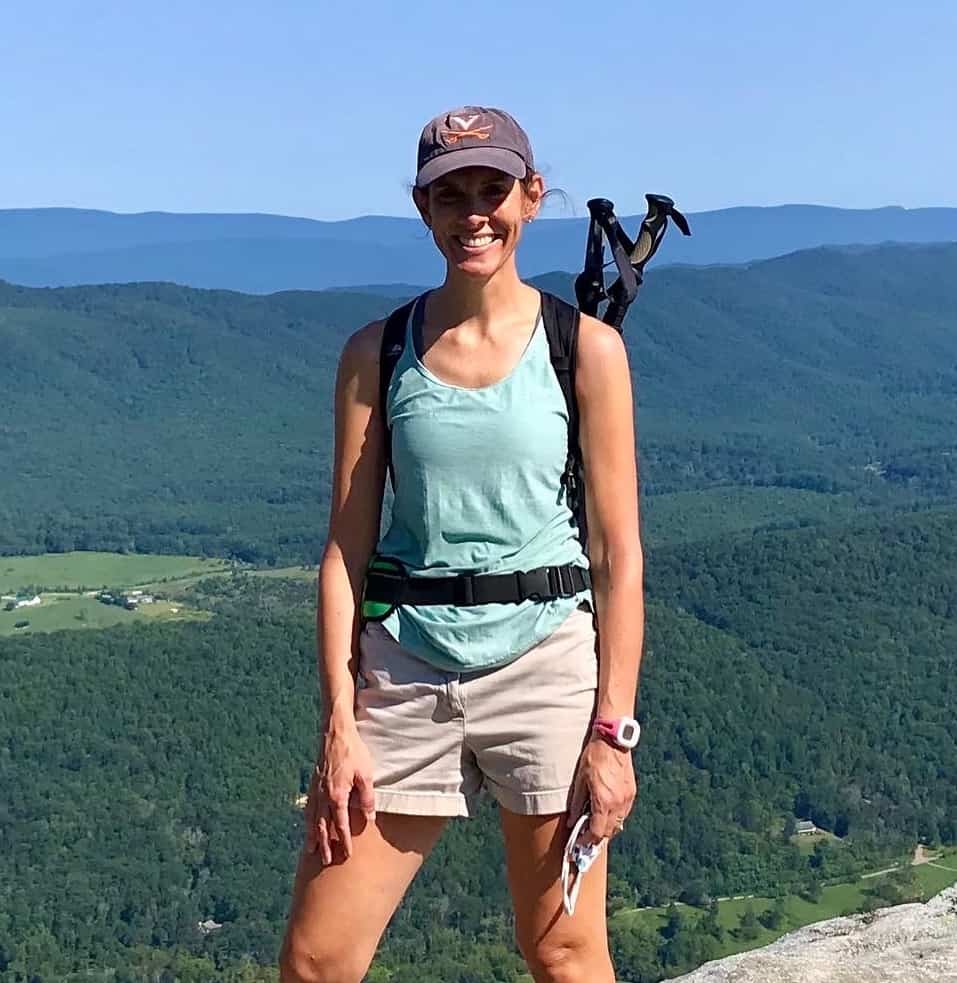 Erin Gifford is the editor of Go Hike Virginia. She has completed more than 300 hikes in Virginia. She is also the author of three hiking guidebooks from Falcon Guides. Need help finding a hike? Check out the Trail Finder feature or send Erin a message.