Black Ridge Trail: A Scenic Blue Ridge Parkway Hike at Rocky Knob in Floyd
There are so many fantastic Blue Ridge Parkway hikes in Virginia. There's no question that the Black Ridge Trail near Floyd is among them.
I tackled this scenic 3.0-mile loop hike, which starts from the Rocky Knob Visitor Center at milepost 169. It's a carefree, scenic hike that's good for the whole family.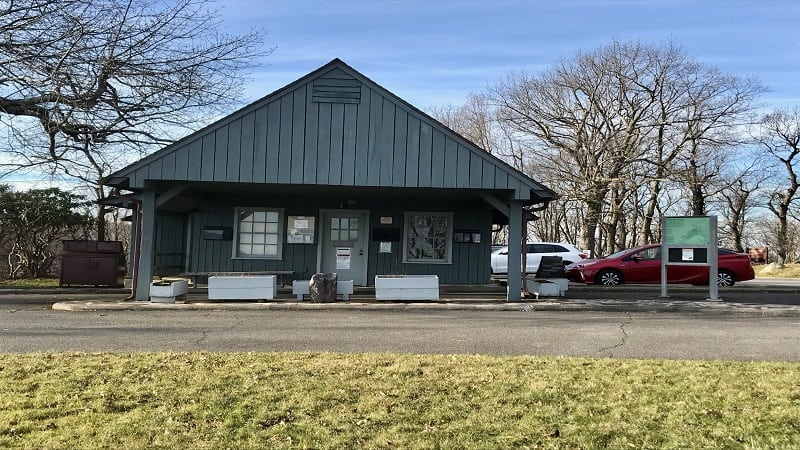 This Southwest Virginia hike begins from the parking lot behind the visitor center. I saw yellow and blue blazes but no clear path to guide me on this hike.
I pulled up the trail map on AllTrails, but even AllTrails was struggling to place me. Once I got going, however, it was smooth sailing to the end of the hike.
| Trail Stats | |
| --- | --- |
| Length | 3.0 miles |
| Difficulty | Moderate |
| Trail Type | Loop |
| Elevation Gain | 568 feet |
| Duration | 1.5-2 hours |
| Terrain | Mostly dirt & rock trails, some grassy trail |
| Dog-Friendly | Yes |
| Fee | Free |
| Driving Directions | Click Here |
Rocky Knob Visitor Center
It was easy to map to the Rocky Knob Visitor Center. From here, drive around to the back of the parking lot. You will immediately see hikers and trail signs.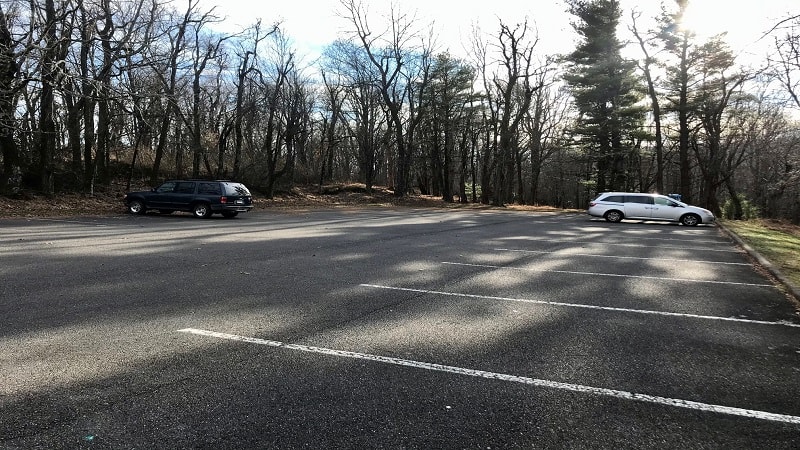 But first, walk over to the visitor center. Sadly, it was closed for the winter season, but there is a helpful "Hike the Gorge" trail sign next o the visitor center.
I snapped a quick photo to have an image of the three hiking trails that set off from this point, including Rock Castle Gorge Trail and Rocky Knob Picnic Loop Trail.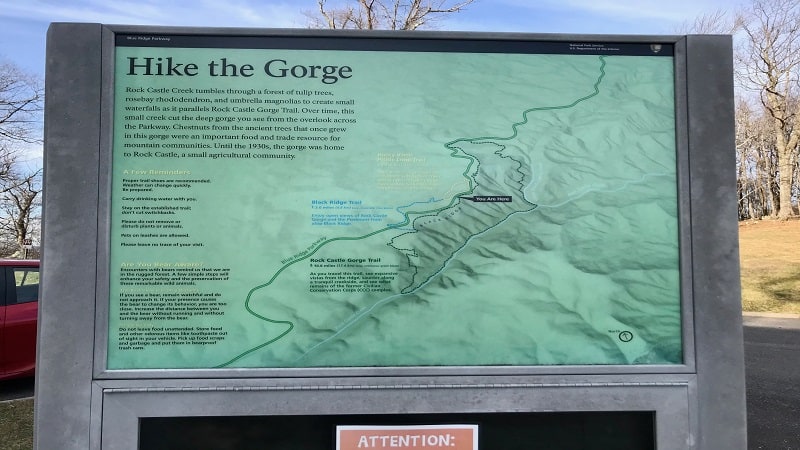 Rocky Knob Picnic Loop Trail
I returned to the trailhead and saw a Kids in Parks sign for the Rocky Knob TRACK Trail. This 1.0-mile hike follows the yellow-blazed Rocky Knob Picnic Loop Trail.
This trail creates a forested loop around the parking lot and visitor center. Keep your eyes open during nesting season for a variety of birds, like hooded warblers.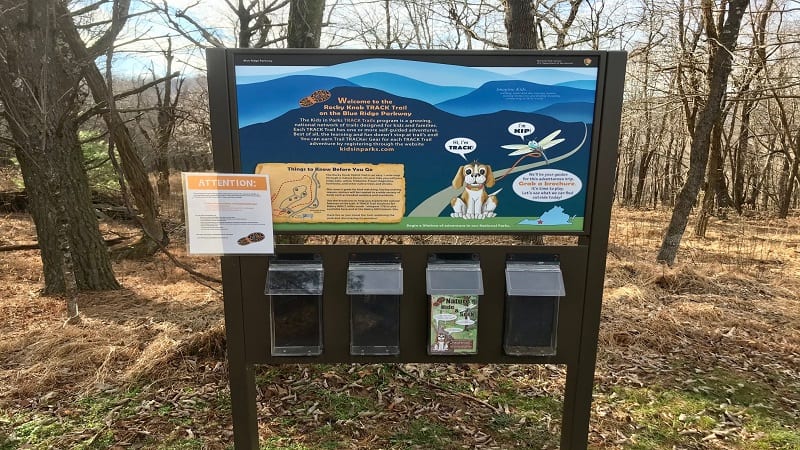 I disregarded this sign since the Black Ridge Trail has blue blazes. This is when confusion set in. I began to walk the trail, but I saw no blue blazes.
I continued to walk and soon reached an open field. More yellow blazes. I then reached a trail marked with a yellow and blue blaze. Frustrating.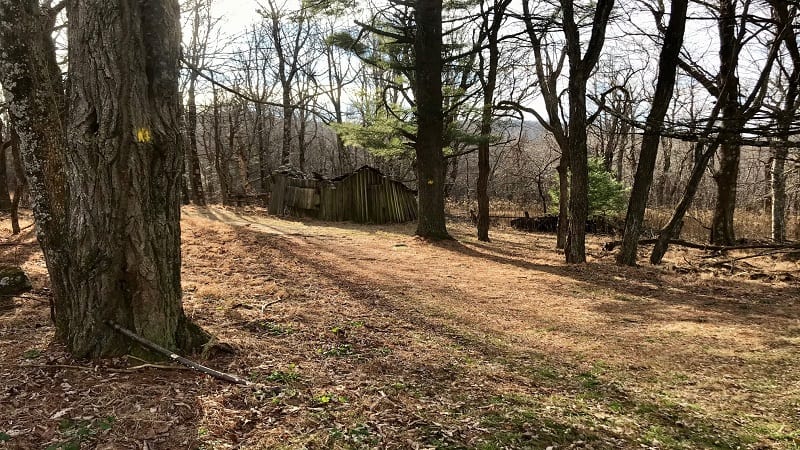 Honestly, if I had spent more than a second looking at the "Hike the Gorge" sign I would have realized you take yellow to blue. Then, smooth sailing.
At the open field, stay left to re-enter the forest. You'll still see yellow blazes, but when you see the blue blaze, turn right. Now you're on the Black Ridge Trail.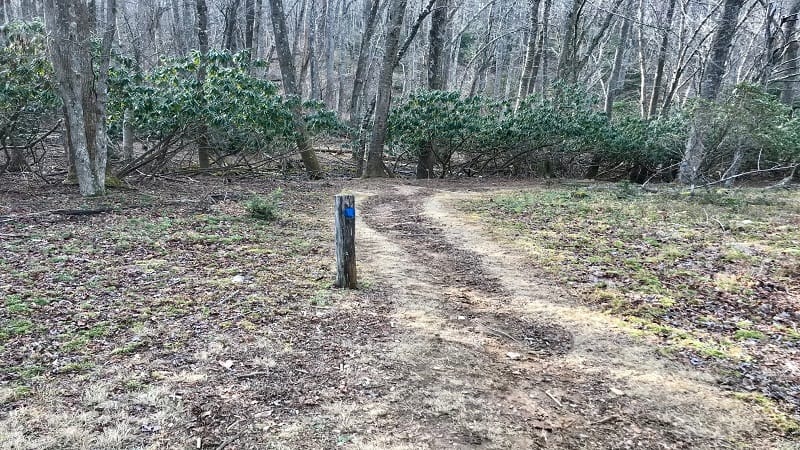 Black Ridge Trail
At the .4-mile mark, the trail curves to the right and a relaxing stream appears on the left as you make your way through rhododendron thickets.
What I can only refer to as a smile made of rocks turns up on the left near the .5-mile mark. I'm sure this is frowned up – like rock cairns – but it made me smile.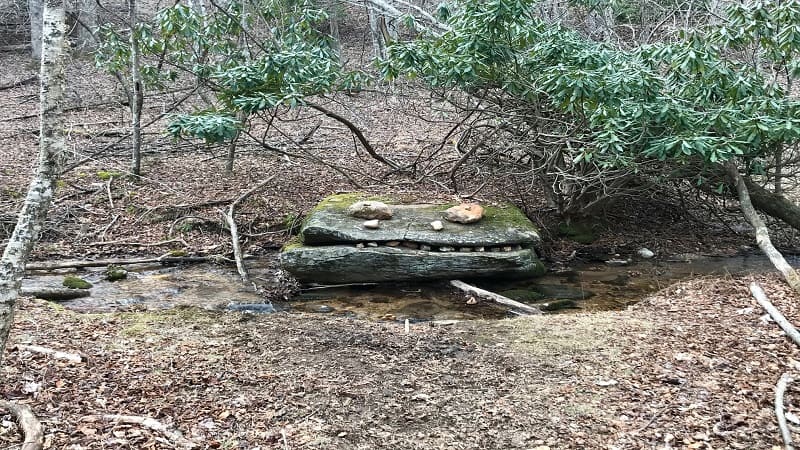 In a few more steps, you'll reach the remains of a very tall stone chimney. I imagine a homestead was once here many years ago, just steps from the stream.
Next, hopscotch across the water. You'll then begin a mild ascent up what feels like a rocky ravine. At the .8-mile mark turn left onto what looks like a service road.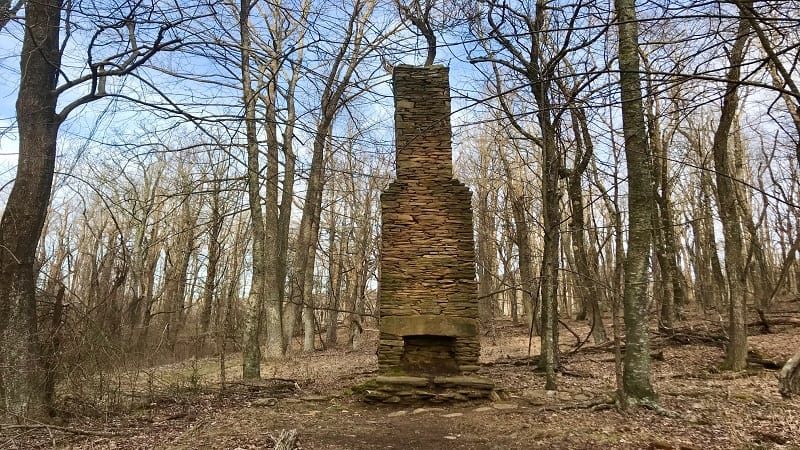 At this point, you are adjacent to private farm property. The mountain views through the trees are quite nice, so enjoy them as you continue the ascent.
An old shed appears at the 1.4-mile mark, then the scenery begins to change. You'll soon be walking on a path through tall grasses to the Blue Ridge Parkway.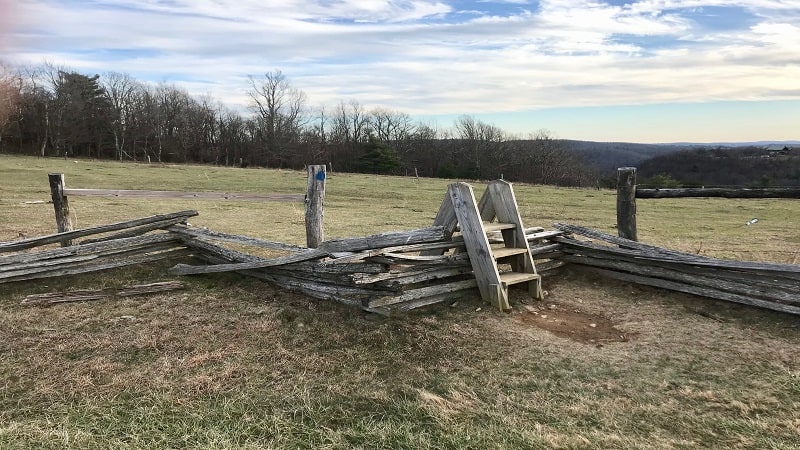 Cross over the scenic byway, then climb a small ladder (a fence stile) that takes you to an open pasture. I didn't see any cows, but you they had been there.
From here, hike around the outskirts of a grassy knoll atop Black Ridge. It's easy to see the trail markers too. At the 2.0-mile mark, you may need some clarity.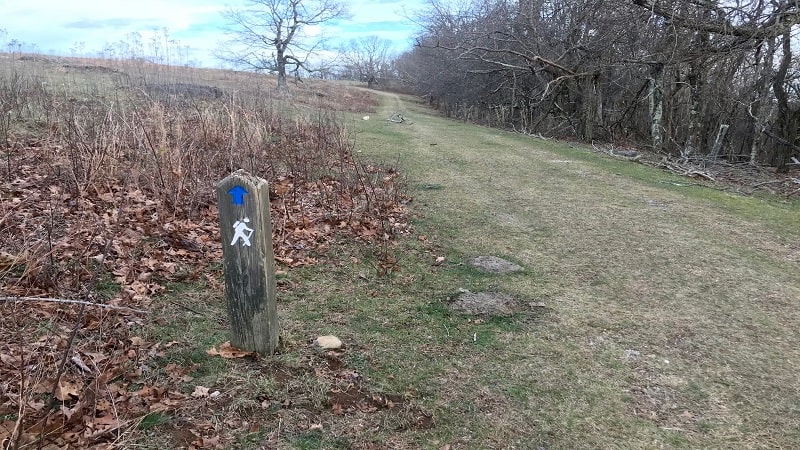 Turn left, then left again to follow along the fence line (the fence is on your right). At the 2.3-mile mark, climb over a second fence stile to return to the woods.
Near the 2.6-mile mark, there is a wooden bench with semi-obstructed views. In a few more steps, you'll walk a thin dirt trail to return to the visitor center.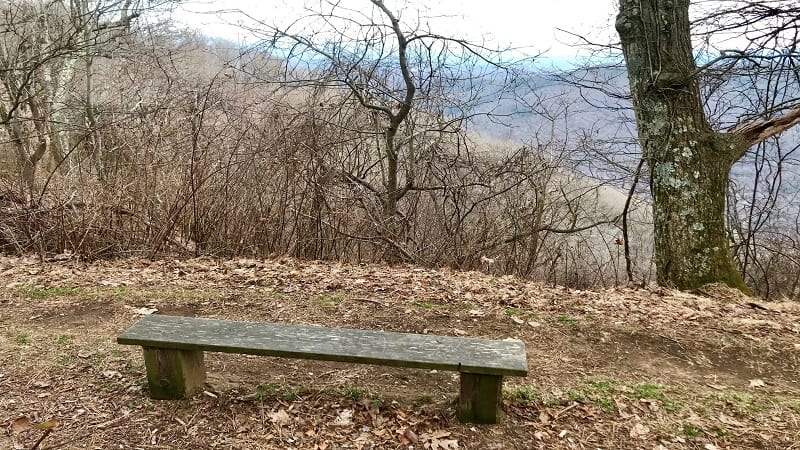 At the 2.8-mile mark, take a pause from the forest for gorgeous east-facing views. You'll actually be walking a trail in front of an overlook on the Blue Ridge Parkway.
Once you pass the overlook, keep your eyes peeled for a blue-blazed trail marker on the left. Turn left here, then cross the byway to reach the visitor center.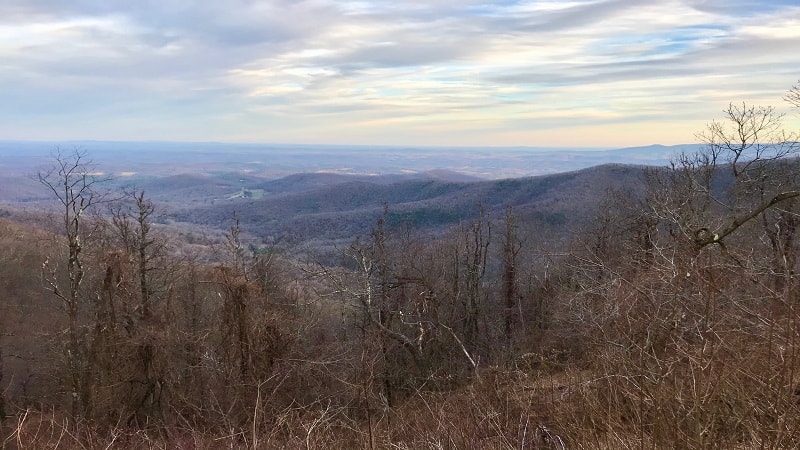 If you miss this left turn, you'll find yourself on the green-blazed Rock Castle Gorge Trail. Heads up, friends. This close to the end, you won't want to miss the exit.
From here, keep an eye on the blue blazes and you'll wind yourself back to the parking area behind the visitor center.
Wrap-Up Notes
From the parking area, this scenic hike took me 75 minutes to complete, including time spent enjoying the views and wandering around in confusion.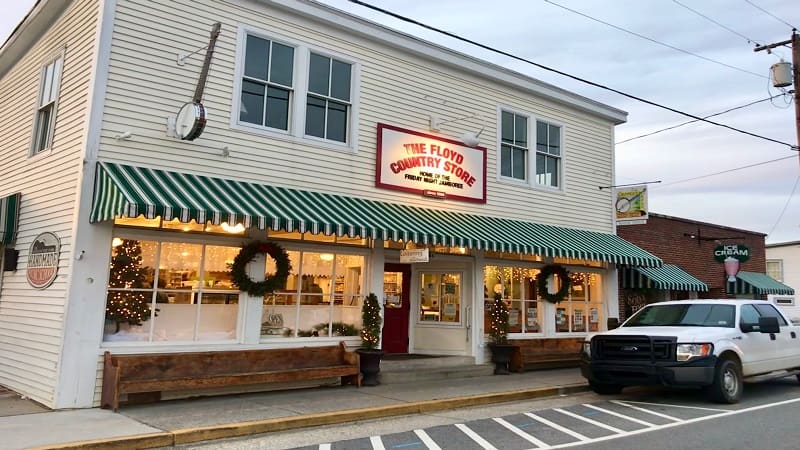 For post-hike snacks and sips, make the 15-minute drive to Floyd. Here, the Floyd Country Store is a must-stop for sandwiches, sweets, sodas and souvenirs.
The Floyd Country Store is also well-known for its Friday Night Jamboree. As in, live and authentic Appalachian music every Friday night from 6:30 to 10 pm.