5 Trails to Hike When Shenandoah National Park is Closed
Shenandoah National Park has long been a favorite destination for gram-worthy hikes in Virginia's scenic Shenandoah Valley.
But, where the heck do you go for a satisfying hike when this national park is closed, like it was from April to June due to coronavirus?
For those near (or near-ish) to the North Entrance Station in Front Royal, the entrance closest to Northern Virginia and Washington, DC, I've got answers.
In April, I hiked the Buzzard Rock Trail, which begins less than 15 minutes from this park entrance, and it was an absolute delight.
Here are five fantastic alternatives when you find yourself shut out of Shenandoah National Park and eager to get out on nearby hiking trails.
1. Buzzard Rock Trail
The Buzzard Rock Trail near Front Royal is a rewarding hike for view-seekers and a manageable hike for families.
From the parking lot, the shady out-and-back trail to the primary overlook is just 2.9 miles round-trip. Even better, the elevation gain is less than 500 feet.
This terrain-rich trail is far from boring thanks to rock scrambles, creek crossings and, of course, a payoff view of the Massanutten Mountains.
Continue on the Buzzard Rock Trail for more miles (and more elevation) as well as two additional overlooks. The full Buzzard Rock Trail runs 6.2 miles round-trip.
2. Meneka Peak Loop
Just 20 minutes from Shenandoah National Park, the Meneka Peak Loop in George Washington National Forest is just right for those eager for a rocky hike with payoff views.
This eight-mile loop hike is not for the faint of heart thanks to an elevation gain of nearly 1,800 feet, so be prepared for a climb.
Throughout the hike, you will be wowed by views as you ascend to the summit. With each step, you'll be urged on to climb higher and higher to the scenic peak.
The ascent is gradual, making this a wonderful hike to enjoy with a favorite pal or pup.
3. Point Trail to Wildcat Ridge Trail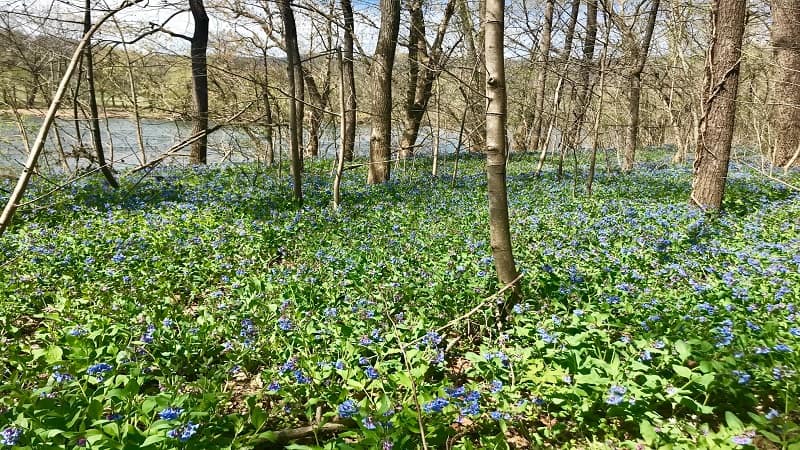 In nearby Bentonville, Shenandoah River State Park boasts nearly 25 miles of wooded and shoreline hiking trails along the South Fork of the Shenandoah River.
A favorite hike for solitude and scenery is the moderately-trafficked route along the Point Trail to the scenic lookout at the end of the connecting Wildcat Ledge Trail.
This four-mile loop hike meanders through wooded forest, over a few creeks, even across some boardwalk trails until Wildcat Point.
This rock outcropping affords delightful views across the Shenandoah River. In early-spring, another favorite hike is the short Bluebell Trail for glorious bluebells.
4. Eastham Park
For more of a relaxing stroll than a rugged mountain hike, head to Eastham Park in Front Royal. Here, a paved trail guides visitors along the South Fork of the Shenandoah River.
The stroller-friendly walk is less than two miles, but sometimes you just want to get into nature and a short walk amongst the green, leafy trees is all you need.
5. Lost Mountain Trail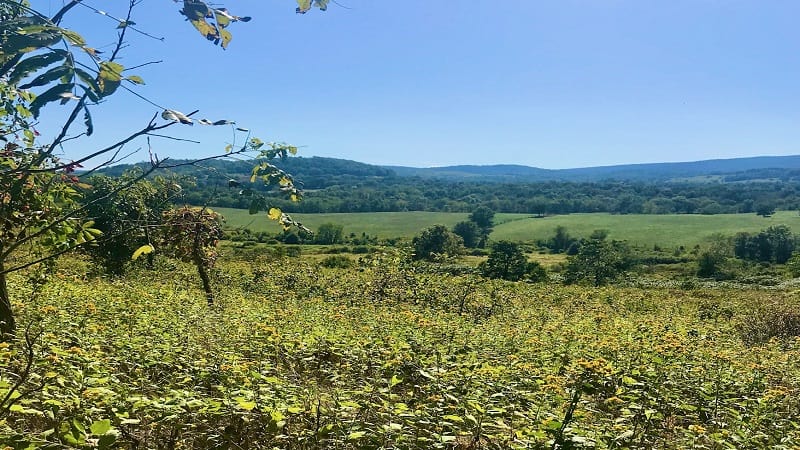 Just 30 minutes from Shenandoah National Park is Sky Meadows State Park, home to the well-marked Lost Mountain Trail.
This four-mile, mostly shaded loop trail features open meadows, wooded elevation and creek crossings. Look for bright-yellow wildflowers along the trail on the park's east side.
Just past the half-way point, a bench facing the mountains beckons hikers to sit and enjoy the views for awhile. From here, the hike loops back downhill to the starting point.
Before you return home, stop in the visitors center and historic agricultural buildings to explore more of the park that was once home to rolling pastures of a colonial farm.