7 Top-Rated Sports Bras for Walking, Hiking & Backpacking (2022)
There's just something special about finding the right hiking bra to help ensure maximum comfort and happiness on the trails.
A good hiking bra will help keep you comfortable as you hike and prevent any unwanted movement, chafing or shoulder soreness. Ouch.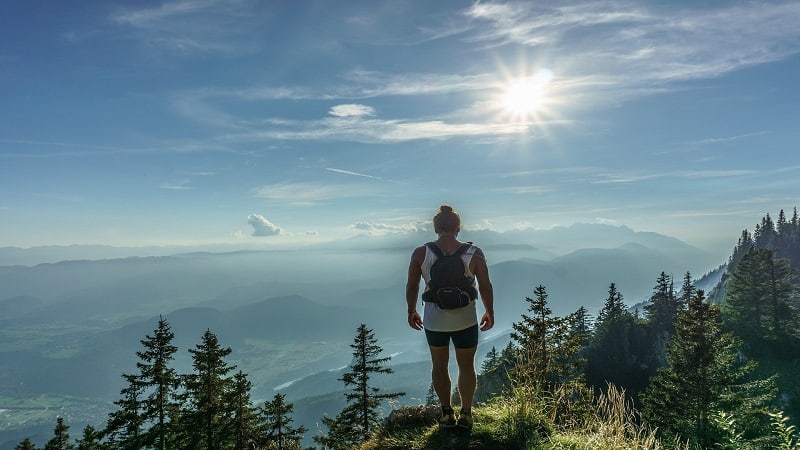 As an Amazon Associate I earn from qualifying purchases. If you click and purchase, I receive a commission at no cost to you.
To help you feel as comfortable as possible on your next hike, we've compiled seven of the best hiking bras, based on personal experience and hiker reviews.
Whether you're looking for a seamless bra, a high impact bra, or one for large bust sizes, we've got you covered with these seven hiking bras, as well three quick picks.
Quick Picks: Best Hiking Bras
What Kind of Bra Should I Wear Hiking?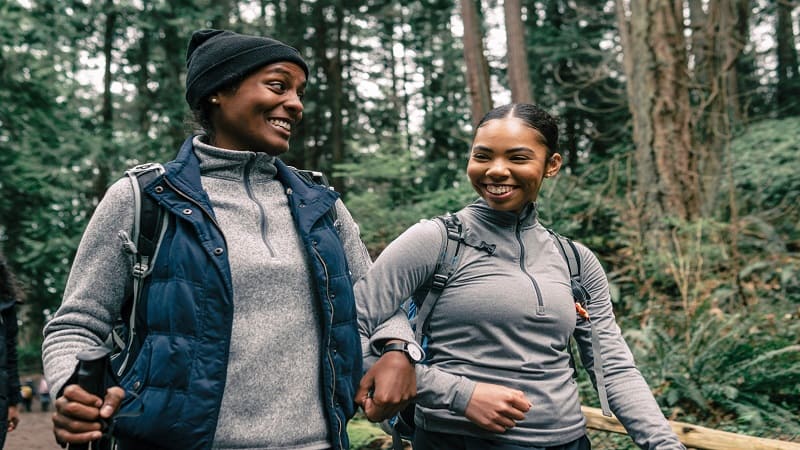 If you're looking for a bra that will provide you with the best support on the trails, then you'll want to go with a sports bra for hiking.
Sports bras are made from high performance material that wick sweat and dry quickly, which is perfect for keeping you cool and comfortable on a hike.
Sports bras are designed to be stretchy and comfortable, not restrictive. Some also have anti-odor properties, which is an added bonus on the trail.
Lighter support bras, like bralettes, can be good picks for low-key and easy-going hikes. These bras offer less support, but are incredibly comfortable.
For longer or more strenuous trails, consider a sports bra with plenty of support for your chest and your shoulders.
This article features a range of bras from sports bras to medium support bralettes for all shapes, sizes and bodies.
What Should I Look for in a Hiking Bra?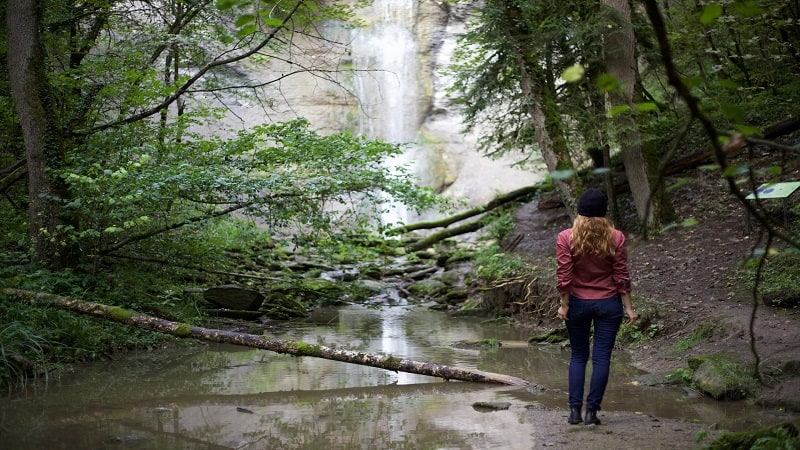 A hiking bra should offer support and freedom of movement. At the same time, it should be lightweight and breathable so you won't overheat or chafe.
The best hiking bras are made with synthetic fabrics that are both moisture-wicking and quick-drying. Popular materials to look for include:
– Spandex
– Polyester
– Merino Wool
– Nylon
In addition, pay attention to cup sizes, closures, level of support and shoulder straps. These all factor into fit and comfort.
Some straps, like criss-cross straps, are best for shoulder support. These kinds of bras are great for large busts, as well as long hiking and backpacking trips.
Not all bras are sized the same, so if you have a larger chest and need a custom-sized bra, be sure to pay close attention to the sizing charts.
Finally, different levels of support include light or low support, medium impact or medium support, and high impact support.
Most sports bras provide medium to high impact support. This is great for high impact activities like jogging and running, but they're also great for hiking.
Best Hiking Bras
You're here because you want the best hiking bras laid out for you. And you're in luck! These picks are tops among hundreds of other female hikers.
We've eliminated the leg-work and compiled this list of the seven best hiking bras. Let's dive in to help get you back on the trails.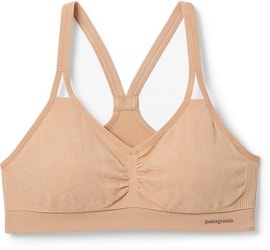 The Patagonia Barely Bra is our top pick overall. It's stretchy, breathable, and provides great support for both long and short hikes.
The non-slip straps and racerback design also help keep it in place, so you don't need to worry about straps slipping down as you move.
This bra is a great choice for hikers because it provides plenty of support without being restrictive.
When you're hiking, it's important to wear a bra that will keep you comfortable and dry. Sweat and wetness can cause chafing, which is no fun on the trails.
Materials like nylon and spandex are breathable and help to wick moisture away from your skin, which is important when you're working up a sweat.
Additionally, bras made of these materials are typically stretchy and comfortable, which is important when you're navigating difficult terrain.
Plus, the fabric is treated with HeiQ® Fresh durable odor control, so you can stay comfortable during and after your hike.
If you're looking for a sports bra that will keep you comfy while on the trails outdoors in nature, put the Patagonia Barely Bra at the top of your list.
Many ladies prefer a seamless bra that is easily concealed under clothing. This Calvin Klein bra is great while also providing plenty of support on the trails.
This bra is made from a nylon/spandex blend that provides both stretchiness and support which is a must for all day comfort when hiking.
The seamless slip-on elastic band gives this hiking bra just enough stability without being restrictive or uncomfortable.
If you're the type of person who prefers to wear bralettes, the Calvin Klein seamless bra is perfect for you.
This hiking bra offers light support which makes it perfect for low-key days on the hiking trails. You'll be super comfortable all day long.
Reviewers love this bra for its pull-on seamless look and feel, as well as the lightly lined interior for all-day comfort both on-trail and off-trail.
The clean cut edges make this bra virtually invisible under clothing, so you never have to worry about bra lines.
This bra is made from moisture wicking materials that are perfect for hot days on the trail. It dries quickly, keeping you comfy throughout the day.
If you're looking for a hiking bra with light support, look into this one.
The Running Girl Sports Bra is a great, versatile pick. This moisture-wicking bra is not only great for hiking, it's good for running and yoga, too.
Removable cups provide shape and support while still allowing this hiking bra to be breathable enough for any outdoor activity.
This bra has a v-neck design and double criss-cross straps. With 30 different colors and designs, this bra is perfect to wear alone or under a shirt.
As far as materials go, this hiking bra is made of a moisture wicking nylon and spandex blend with added Lycra for flexibility and comfort.
As we've noted, these materials are great for any outdoor activity because they pull sweat away from your body and dry fast for all-day comfort.
This bra also provides plenty of coverage and support, yet remains flexible enough for movement and comfort as you go about your day.
The Running Girl Sports Bra comes in seven different sizes making it a perfect choice for hikers of all shapes and sizes.
This bra is perfect for large-breasted hikers who have trouble finding well-fitting bras in their size. This bra comes in over 50 sizes. That's right, 50!
Plus, this hiking bra is available in five different colors, so there's truly a perfect fit for everyone here.
Features of this bra include a breathable open-air mesh design and a custom fit designed in New York City with over 50 sizes for every body.
This bra offers full coverage with a hook-and-eye closure, so it's really easy to put on and take off.
This bra is made from polyester, polyamide and spandex. These synthetic materials are great for breathability, flexibility and wicking away sweat.
This bra features a mesh neck insert and wide, non-stretch straps that stay in place and don't hurt your shoulders.
Finally, this bra provides medium support so it's great for spending the day on your favorite hiking trails.
If you're looking for a sports bra to wear alone as a top, this is a great pick. A built-in phone pocket lets you keep your phone within easy reach.
This bra is made from a polyester and spandex blend, which makes it lightweight, stretchy and comfortable.
The focus of this blend is on being breathable, so you can stay cool even when you're working up a sweat on high-elevation hikes.
This sports bra also features an interior mesh panel with removable cups, so you can get the coverage you need when you want it.
This sports bra has a handy phone pocket on the back, so you can take your phone with you on your hike without having to worry about where to put it.
Because of the phone-pocket design, this is one of the best hiking bras for wearing on its own on warm summer days.
This sports bra is great for hiking, but it's also great to for the gym, at yoga, while running, cycling, and more.
The Duoduo Seamless Bra comes in small and medium sizes. For sizes 30A and 32B, go with the small. For sizes 32C to 34C, medium is a good choice.
This high-impact bra has outstanding shoulder support, so it's a great pick for long distance hikes or backpacking.
It's also another top pick for large-breasted hikers because of the full coverage and wide range of size options.
The cups on this sports bra provide full coverage for maximum bust containment. You won't have to worry about spillage with this bra.
The Yvette high-impact sports bra comes in many sizes, from small all the way up to 5X and it comes in five different colors, too!
This bra features a criss-cross design that does more than look cute. This strap design distributes weight and protects your shoulders and back while hiking.
The Yvette Sports Bra is perfect for hiking and high-impact activities or exercises. You're going to want more than one of these!
The hook-and-eye clasp design makes this bra easy to put on and take off and gives you the option to make it tighter if you need extra support.
Finally, this bra is made from a moisture-wicking material with molded cups and a mesh panel in the center so your cleavage can breathe.
Finally, if you're looking for a hiking bra that has natural moisture-wicking and odor control built in, check out the Merino Wool Sports Bra.
Merino wool naturally wicks moisture away, dries quickly and has anti-odor and antibacterial properties.
This bra combines 68% merino wool with spandex and nylon to make a bra that's comfortable, flexible and performs at top of its class!
This popular merino wool sports bra for hiking comes in 11 colors and styles with sizes from XS to XL.
Of course, this bra is a great pick for hitting the trails, but it's also great for other activities, like yoga, the gym or just wearing around the house.
This bra makes a great staple addition to your wardrobe because it's so versatile. You'll wonder what you ever did without this merino wool sports bra.
Wrap-Up: Best Hiking Bras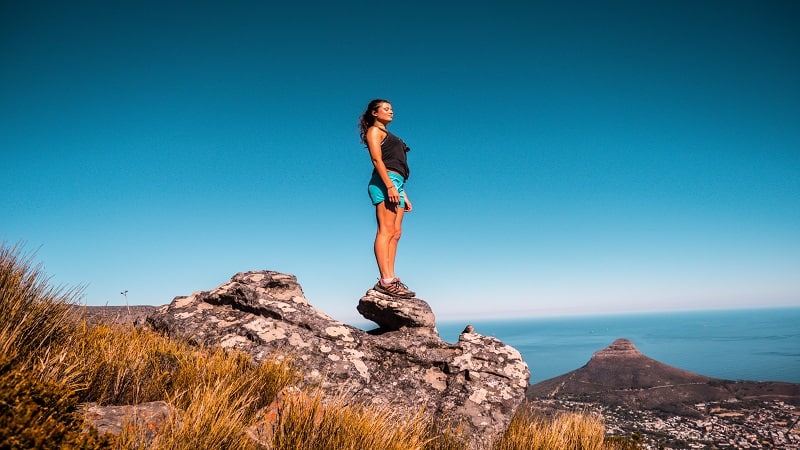 In this article we covered seven of the best hiking bras that are a good match for a variety of size and support preferences.
Here are the main things to look for next time you're shopping for the best hiking bra for you.
Material: Synthetic materials are best, look for fabrics like nylon, spandex, and polyester for breathability and flexibility.
Size: If you've got a larger chest, you can still find a great hiking bra for you! Look at sizing charts and read reviews from real buyers.
Support Level: Most sports bras are labeled as low, medium or high impact and/or support levels. Choose the appropriate support level for your activity.
Straps and closures: Criss-cross straps help take weight off your shoulders, and hook-and-eye closures sometimes have an advantage over slip-on bras.
Once you know what to look for, it's easy to find the best bras for hiking for your specific size and situation.
This list combines many different types and sizes of hiking bras. Whether you need a lot of support or inclusive bra sizes, it's all here.