15 Best Hiking Leggings for Women (2023)
Hiking in leggings? Yes, please. Leggings are the perfect choice for a hike, whether you're a beginner hiker or an experienced hiker. Me personally, I love them!
Hiking leggings provide the comfort and flexibility you need to hike any trail. Plus, they're breathable and they dry fast to keep you cool on hot days.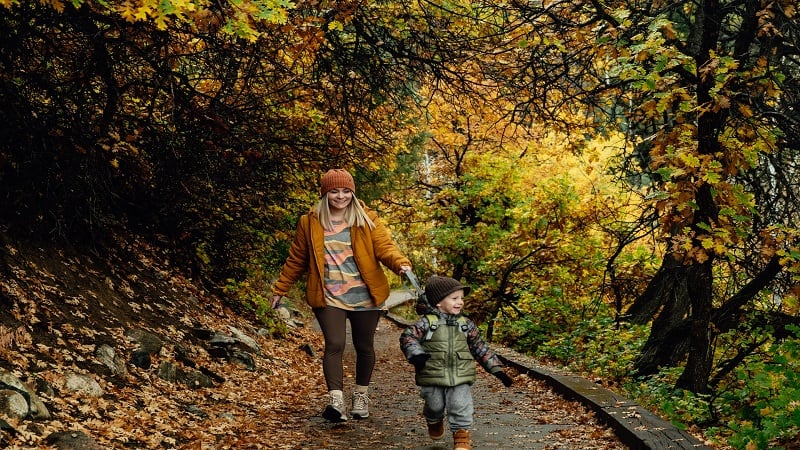 There may be affiliate links in this post. If you make a purchase, I earn a small commission at no extra cost to you. Thank you.
What are the best hiking leggings for women? There are a few factors to consider when choosing leggings for hiking.
In this article, you'll find the most frequently asked questions about hiking leggings. I'll also share what I think about 15 different pairs of leggings.
Can I Wear Leggings While Hiking?
Yes, you can wear leggings while hiking. They're a perfect choice for day hikes because they give you total freedom of movement and they look great, too.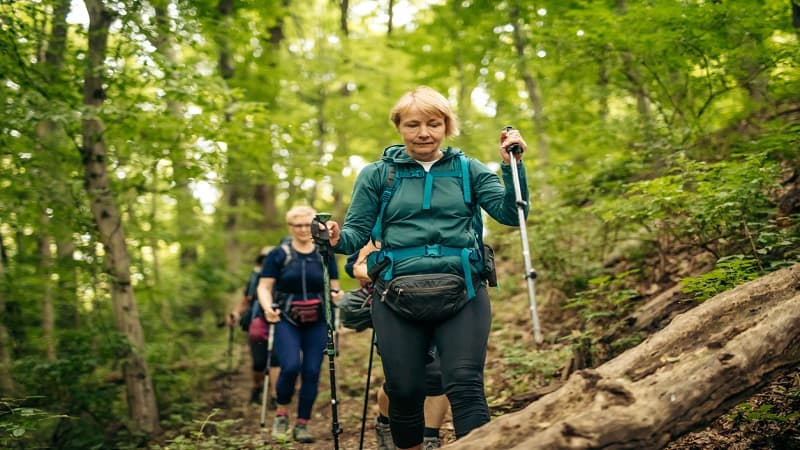 Many women agree that leggings are the most comfortable for hiking, especially when they have multiple pockets. Consider these factors about hiking leggings:
* Leggings are form-fitting, meaning they won't snag on foliage. They'll protect your legs from scratches, too.
* Leggings can protect against ticks and poison ivy in the hot summer months thanks to full leg coverage.
* Insulated leggings are great for winter hikes, while breathable, lightweight leggings are good for warm weather outdoor activities.
* Hiking leggings won't restrict your range of movement, like when you need to scramble rocks.
Leggings won't be the top choice for every hiker, but many women love them. Even if you don't like the feeling of form-fitting leggings, there are options for you.
What Leggings are Best for Hiking?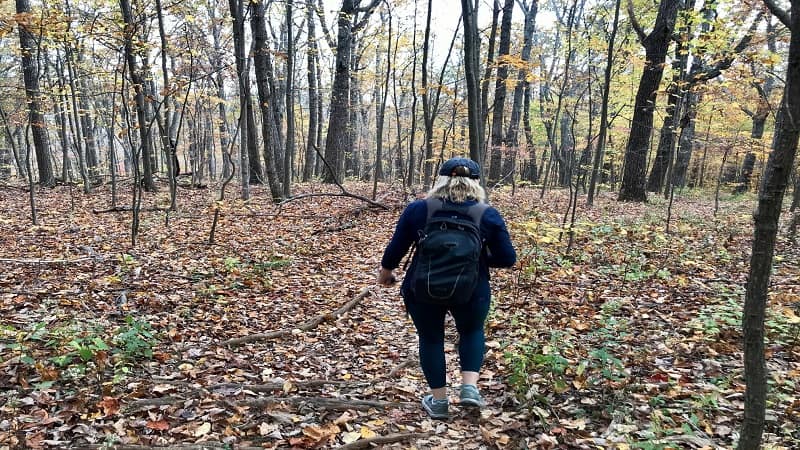 When choosing hiking leggings, consider climate and range of activity. Leggings made of moisture-wicking durable materials are ideal for summer hikes.
For hiking in warm weather, opt for a lightweight pair of leggings that allow your skin to breathe. Stay away from leggings made from cotton.
Cotton is not breathable and holds on to moisture. This can cause chafing and odor. Look for synthetic materials, like polyester, spandex, nylon and lycra.
The best leggings have reinforcement panels where you need them the most, like in the crotch and inner thigh area. Some have panels in the knees, too.
Pockets are also a huge plus. Some hiking leggings have multiple zippered pockets that are perfect for storing your cell phone, small snacks or your car keys.
Other leggings have fewer pockets or no pockets at all. Pockets are definitely not a make-or-break feature, but they can be extremely handy on the trail.
Is It Better to Hike in Shorts or Leggings?
Hiking in shorts or pants vs hiking in leggings is a personal preference. However, here are a few considerations:
* Will there be poison ivy on the trail?
* Are ticks bad where you plan to hike?
* Do your legs sunburn easily?
* Will the trail be overgrown? This can lead to scratches, ticks or chiggers, etc. Additionally, shorts (and pants) can snag, but leggings typically won't.
If you're worried about being too hot while hiking in leggings, it's important to note that some leggings are very lightweight and breathable.
In the end, it's up to you and your personal level of comfort. Some hikers love shorts, while others wear leggings every day of the year. It's all up to you.
Hiking Leggings are Great for Any Season
The leggings in this article are best for warm weather hiking. But the truth is: there are hiking leggings perfect for any season.
Cold weather hiking leggings come in fleece-lined options that can be worn alone. Or, add in merino wool leggings to wear as a base layer with your favorite pants.
It doesn't matter if it's cold, hot, or somewhere in between. Hiking leggings are for all people and for all seasons.
The materials for cold weather and warmer weather hiking leggings are mostly similar. It's how they're made that makes all the difference.
When shopping for hiking leggings, be sure to read descriptions and reviews.
* Insulated or lined thermal leggings = cold weather hiking
* Non-insulated or non-lined leggings = warm weather hiking
* Cotton leggings = no-go for hiking in any season
Best Hiking Leggings
Now that you know the benefits of hiking in leggings, let's dive into the top picks. There are leggings for all budgets and all are great for warm weather hiking.
Fjallraven is a leading outdoor brand. These premium hiking leggings are a shining example of why this brand is superior.
Fjallraven Abisko trekking tights come in four colors and are available in sizes from XS to XXL. These leggings are technical, hardwearing and super durable.
They're made from a high-performance stretch fabric that is both durable and wicks away moisture. The material is a polyamide, spandex and polyester blend.
While they're technical and durable, these leggings are also incredibly cute. If fashion is just as important as function to you, you'll love these.
The waistband has an adjustable drawstring. There's a map pocket on the right leg, a zippered pocket on the left leg, and a small pocket in the waistband.
They have reinforcements at the knees for extra durability and protection in rough terrain or kneeling on damp ground.
For added convenience, there's also a clip-on loop at the hip for attaching gear. Finally, the crotch panel is reinforced and has flatlock seams to prevent chafing.
The KUHL Transcendr leggings are perfect for rugged trail days. These leggings come in two colors and sizes from XS to XL.
If it's sturdiness you want, look no further. These leggings have built-in stretch panels for flexibility and a durable water repellent finish to shed moisture.
The high-rise fit has an internal drawstring waist. These leggings provide great coverage and security for high-stretch activities.
There's an envelope pocket that safely stores your phone at the right thigh and a security pocket in the waistband.
UPF 50+ fabric shields against harmful UV rays and reflective trim at the hem enhances your visibility in low-light conditions.
These leggings are made from a nylon and spandex blend. They also have flatlock seams for comfort no matter the activity you have planned for the day.
KUHL leggings are perfect for strenuous trails, yoga, running or simply for carrying out errands around town.
The Mountain Hardwear leggings are one of the best pairs of women's hiking leggings. They're available from XS to XL and have three colors to choose from.
Plus, the Mountain Hardwear Chockstone Rock Tights are super comfortable. These leggings have UPF 50+ fabric to shield harmful UV rays.
They're made with nylon and elastane and have knit accent panels for style and durability. They also have a nylon and elastane inner reinforcement panel.
The high-waist cut provides full coverage and layers well with a hiking fanny pack. These leggings have a tapered cut and look good on everyone.
Additionally, these leggings have a stretchy zippered pocket. That means no worrying about losing your essentials on the trail.
These leggings aren't extremely tight, but also they won't be too loose that they'll snag on branches. The cut is more like a slim jogger than a true legging.
They taper down to the ankle, but aren't baggy anywhere. This pair of leggings has style, a high waist and a zippered pocket, which makes them a perfect pick.
​​These high-rise capris are among Eddie Bauer's top selling trail tights. They're perfect for summer days, and even have a UPF 50+ sun protection rating.
They're made from a moisture-wicking and breathable polyester and spandex material that will keep you cool and dry on even the hottest days.
These tights also enjoy the advantage of a patented Polygiene odor control technology, which prohibits the growth of odor-causing bacteria.
But don't worry – it's only on the outer fabric. These leggings have a chemical-free reinforced crotch panel.
These leggings are high-rise and sit at your natural waist. The Power Mesh Waistband is comfortable and stays in the right place, even when you're sweating.
They have two drop-in cargo pockets and one vertical zippered pocket so you can keep your essentials close at hand and secure.
The Free Leaper camo leggings are a great budget choice if you want style and functionality. The buttery-soft fabric feels great against your skin, too.
These hiking leggings come in sizes from XS to XL. There are six different colors and camo patterns from which to choose.
They have a high-rise waist for tummy control and a butt lift for contouring. Customers love how soft and stretchy the material is for any active activity.
They also have a deep pocket on each leg, making them perfect for storing your essentials while you hike.
Wear these leggings for hiking, yoga, pilates, running, errands, or just lounging around the house.
They're made of a moisture-wicking nylon and spandex blend that will keep you cool and dry no matter what you're doing.
If you're looking for a great pair of hiking leggings that won't break the bank, these are an excellent choice.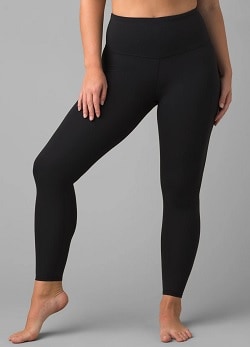 The PrAna 7/8 Layna leggings are comfortable and sustainable. What more could you want?
These leggings are made from an ultralight sustainable fabric that is lightweight and breathable. PrAna describes these leggings as a 'second skin'.
The supportive high waistband provides a snug and comfortable fit, while the fast drying material prevents you from feeling sweaty on hot days.
PrAna is a Fair Trade Certified factory, so if sustainability is important to you then these leggings are a great choice.
They have a reinforced crotch with flatlock seams to prevent chafing. Additionally, these tights are UPF 50+ rated for the ultimate sun protection.
There is only one pocket in the waistband – not ideal for storing your phone, but still functional. These leggings are available in five colors and sizes from XS to XL.
So, if you're looking for a sustainable, comfortable, and supportive pair of hiking leggings, the PrAna Layna 7/8 leggings are a very good option.
The CRZ YOGA Women's Naked Feeling Capri Leggings are perfect for those who want buttery-soft leggings for hitting the trails.
These comfortable leggings have a high waist for tummy control and support. For a custom fit, the waistband has an internal drawstring.
Plus, with more than 20 different colors and patterns to choose from, you're sure to find a pair that you love.
The leggings are available in a huge range of sizes, from XXS to XL.
The stretchy material is a moisture wicking, breathable blend of polyamide and spandex, making them perfect for active days.
Plus, for added convenience, each leg has a large pocket. Store your phone, keys, snacks, or whatever you need.
These leggings have 4-way stretch and were designed for movement and activity.
The Gym People Women's Joggers are a great hiking legging choice for those who love the look and feel of leggings but hate the form-fitting compression feel.
These lightweight tapered pants are comfortable, breathable and stretchy without feeling tight and form-fitting.
They're made with a polyamide spandex blend with four-way stretch. They're breathable, lightweight and super comfortable.
As for pockets, these leggings have two fixed side pockets that are thankfully deep enough for a phone, keys and a small wallet.
The wide elastic waistband stays in place and provides a bit of tummy support without being too restrictive.
These leggings are available in 15 colors and sizes range from XS to XL.
If you're looking for the most comfortable leggings that don't have the compression feeling, these are a great option.
Patagonia's Women's Pack Out Tights are an awesome choice when you want to tackle the trails. They allow lots of mobility and a wide range of movement.
These versatile leggings are extra-stretchy thanks to a blend of recycled polyester and spandex. They are also moisture-wicking and quick-drying.
Easy-access pockets on both legs make it a cinch to drop in your cell phone so it's within reach when you need to consult the trail map or snap a photo.
A wide waistband lays flat when you're hiking, which can be perfect when you're carrying a backpack or daypack.
These leggings come in nine natural colors, including hemlock green, tidepool blue, stingray mauve, and of course, basic black.
The Patagonia Pack Out Tights also come in six sizes, ranging from S to XXL, helping to ensure that every body type can find just the right size.
The REI Flash Hybrid Tights are a great choice for hitting the hiking trails in any season. The stretchy fabric is breathable and moisture-wicking.
These hiking leggings are also quick drying, so if you get wet at a water crossing, you will be dry again in no time.
There are stretchy side pockets on both sides of these leggings that are big enough to hold your phone in place, so no jostling while on the hiking trail.
The REI Flash Hybrid Tights also have a zipper pocket too, which is just right for holding small items, like a car key, your driver's license or some cash.
These hiking leggings have a high-rise waistband that stays in place as you hike, whether on the uphill, the downhill or tackling a fun rock scramble.
Made from a blend of nylon and spandex, these hiking leggings come in three colors, including graystone, blue nights and black.
These hiking tights also come in five sizes, from S to XL. As a bonus, more than 150 reviewers consider these hiking leggings to be comfy and well-fitting.
The Outdoor Research Ferrosi Leggings are lightweight, stretchy and ready to tackle the more rugged trails that require all kinds of rock scrambling.
These hiking leggings breathe easily, dry quickly and are made from fabric that is hardly a match to water, wind and abrasion.
As a bonus, these leggings are made of a sun protective fabric, which I personally love. They have a UPF 50+ rating to protect you from the sun's rays.
These ankle length leggings are constructed from a blend of nylon and spandex, so they definitely move with you. They've got pockets, too.
Yes, the Outdoor Research Ferrosi Leggings have drop-in side pockets, a small zipper pocket on your right hip and a waistband pocket to carry your goods.
These leggings come in two colors, including naval blue and black. They are also available in five sizes, ranging from XS to XL.
The prAna Kimble Printed Leggings are a great pick when you want a pair of fun and flirty leggings that go beyond the color basics, like khaki and black.
These hiking leggings come in two funky prints, including kale wildflower and tivoli. They've been discontinued though, so go ahead and jump on these.
Made from a stretchy jersey fabric, these hiking tights move with you, so you can easily lead the pack on your next outdoor hiking adventure.
These ankle length leggings are high rise and have a wide waistband. They don't have a pocket for your phone, but they do have a small key pocket.
The prAna Kimble hiking leggings are made from recycled materials, which is fantastic. I love it when clothing brands place a priority on sustainability.
These leggings come in five sizes, ranging from XS to XL. Some reviewers say these leggings run small, so keep this in mind if you plan to order a pair.
The North Face Paramount Hybrid Tights are made from a blend of polyester, elastane and nylon. They move with you and are super comfy for the trails.
These hiking leggings have two zipper pockets on the front that are plenty deep for your phone or car keys. They also have two back zipper pockets.
These hiking tights are 7/8 length, which basically means that they are ankle length. They are for those who prefer between full-length and capri-length.
The North Face Paramount Hybrid Tights come in three colors, including new taupe green, basic black and asphalt grey.
The leggings also come in six sizes, ranging from XS to XXL. With such a range, there should be a fit for hikers of all shapes and sizes.
These flattering leggings have garnered rave reviews, but several reviewers suggested that you may want to order up one size for the best fit.
The Eddie Bauer Trail Tight Leggings are a fantastic pick for the hiking trails. They are breathable, moisture-wicking and offer UPF 50+ sun protection.
These leggings are made from a high compression fabric that's a comfortable blend of polyester and spandex. They also have a power mesh waistband.
There are two large side pockets with zippers that allow for easy access to your phone. A small waistband pocket is just right for a car key, cash or an ID.
The Eddie Bauer Trail Tight Leggings were specifically designed for scrambling and hiking, so you will be well prepared for your next outdoor adventure.
These leggings come in a wide variety of colors, including dark evergreen, paprika and heather gray. In total, there are 17 different color choices.
These hiking tights also come in a huge range of sizes, from XS to 3X. There are also petite, tall and plus sizes.
The Avalanche Cargo Pocket Leggings are a great choice when you're ready to tackle the hiking trails, whether on your own or with a hiking group.
These comfy hiking leggings are constructed from a blend of polyester and spandex. They also sport a seamless high waistband for added comfort.
These hiking tights have four pockets, including two hip pockets and two cargo pockets that are just right for holding your cell phone and a granola bar.
The Avalanche Cargo Pocket Leggings offer light compression. They also wick moisture to help you feel cool and dry on warm days.
These hiking leggings are available in two colors, including vintage indigo and black. They also come in four sizes: small, medium, large and extra large.
Reviewers love these leggings, and are pleased that the leggings are both comfortable and retain their shape and stretch after a machine washing.
Wrap-Up Notes: Hiking Leggings
Hiking leggings are a must-have for any woman who loves the outdoors. With so many choices, it may be hard to decide which pair is the best option for you.
Whether you're looking for durable reinforced leggings for rugged terrain or soft and comfortable leggings for a leisurely hike, we hope we had you covered.
Whatever your needs, there is sure to be a perfect pair of hiking leggings for your next day hike. Happy trails!