Need to Know: Is it Safe to Go Hiking During Hunting Season?
I'll admit, I was nervous when I saw several camo-clad hunters as I pulled into the parking area to hike along the orange-blazed Massanutten Trail to Signal Knob.
This was one year ago and it was my first experience with hunters. These were bear hunters with nearly a dozen hound dogs with tracking collars.
I was wearing a bright-orange hat. Still, I felt it prudent to strike up a conversation with one of the hunters to assess my overall hiking safety this day.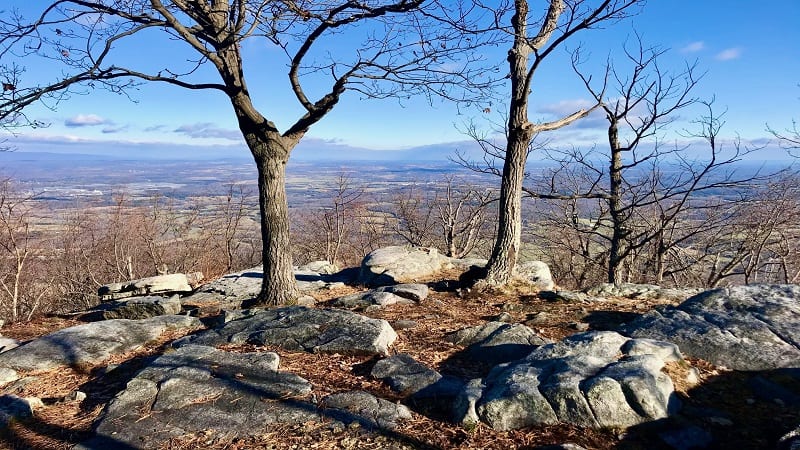 As an Amazon Associate I earn from qualifying purchases. If you click and purchase, I receive a commission at no cost to you.
This was also the first time I learned about "bear hounding," which involves using hound dogs to chase bears up trees, presumably to be shot for sport.
I do not condone bear hounding, but I did get peace of mind from my chat with the hunters. I felt safe (enough) on the trails to proceed to Signal Knob.
Given we are in the midst of hunting season in Virginia, I wanted to share trail tips to ensure your safety if you choose to go hiking on public lands.
Hunting Season in Virginia
It's wise to first educate yourself on Virginia hunting seasons, which take place from fall to spring. A great site to consult is Hunting Season HQ.
This website shares the hunting season dates for every state. In Virginia, there are various seasons, including bear, deer, elk and small game, like rabbits.
There are even seasons within seasons, depending on the weapons. There are seasons for archery, muzzleloaders and firearms. Also, early and late seasons.
Hunting is not allowed on public lands on Sundays. Private landowners may allow hunting on their own land on Sundays, but this should not impact hikers.
For hunting regulations, new rules and region-specific need-to-knows, look to the Virginia Department of Wildlife Resources.
Blaze Orange for Hikers (Dogs, Too)
When hiking on Wildlife Management Areas (WMAs) and public lands, like state and national forests, wear blaze orange to increase your visibility.
Hunting is allowed on these lands so make sure that you can be seen and not mistaken for a deer (though a hunter did tell me that would be hard to do).
Not long ago, I hiked to the Whiskey Hollow Shelter on the Appalachian Trail during hunting season. I bumped into two hunters at the start of my hike.
Both assured me it would be very, very difficult to mistake me – wearing a bright-orange knit hat – for a white-tailed deer. I honestly felt quite safe.
In addition to a blaze orange hat, think about a blaze orange hunting vest. Honestly, most any blaze orange article of clothing will do.
Avoid wearing neutral colors on the hiking trails, like brown, black and grey. Brightly-colored clothing is a good bet, in addition to an orange blaze.
If you're planning to hike with your pup, think blaze orange for dogs, too. Look to a blaze orange dog vest or dog bandana for safety on the hiking trails.
Given their four-legged nature, dogs can appear – from a distance – like a deer, racoon or groundhog. Do what you can to ensure your pup can be seen.
Reflective fabrics or panels are wise, when possible. This is because hunters often set out for a hunt in the dimly lit dawn and dusk hours.
That noted, it's wise to hike trails open to hunters in the mid-day hours when there are less likely to be hunters. Opt for a less-busy weekday if you can.
Where to Go to Avoid Hunters
Hunting is allowed at more than 45 Wildlife Management Areas in Virginia, including Ragged Island WMA near Newport News.
You can also hunt in national forests, state forests, more than a dozen state parks, and some national wildlife refuges (NWRs), including Back Bay NWR.
Hunting is prohibited at all national parks in Virginia. This includes Shenandoah National Park, Prince William Forest Park and Great Falls Park.
You can avoid hunters by hiking urban trails, like the Mount Vernon Trail in Alexandria. Regional parks, like Burke Lake Park in Burke, are also good picks.
If you're unsure whether a trail you're interested in is open to hunters, visit the specific park or preserve's website. Even better, call a ranger to be sure.
Hunting Season Safety Tips
Hikers and hunters can share the trails, but for optimal safety, here are a few more tips and pieces of advice to keep in mind:
* Stay on Trail: Hunters don't typically follow the trails. That's where the hikers are and the hikers can scare off the animals.
Instead, hunters settle into more wooded areas off-trail where it's just them and unsuspecting animals, like deer, turkeys and rabbits.
* Make Noise: If you suspect a hunter is in the area, make noise, sing a song, chat up a friend, blow a whistle. Make your presence known to a hunter.
If you feel silly singing a song or talking to yourself, play music or rustle the leaves extra-loud, anything to scare off animals or hunters in the area.
* Read the Signs: I recently hiked at Cool Spring Battlefield in Bluemont. This borders the Rolling Ridge Conservancy, a 1,500-acre wilderness preserve.
I didn't know until I arrived that Rolling Ridge Conservancy closes its trails to hikers during fall hunting season.
Thankfully, I was there the day after the last day of fall hunting season, which was December 12.
The Blue Ridge Center for Environmental Stewardship in Purcellville also closes trails for managed hunts. They note the dates on-site and on the web.
Final Thoughts: Safe Hiking
It is possible to enjoy safe hiking in hunting season when you stay on-trail, make your presence known and wear blaze orange on hikes in the woods.
Hunting season is no time to go off-trail in search of geocaches or Pokémon. Be present and stick to well-trafficked trails where you'll see fellow hikers.
If you feel uneasy hiking trails where hiking is allowed, look to national parks, as well as nearly 30 state parks that prohibit hunting on park land.
A handful of state parks that do not allow hunting include Sky Meadows State Park, Seven Bends State Park and False Cape State Park.
Of course, many city and regional parks prohibit hunting, too. You have many hunter-free options in the fall, winter and spring months.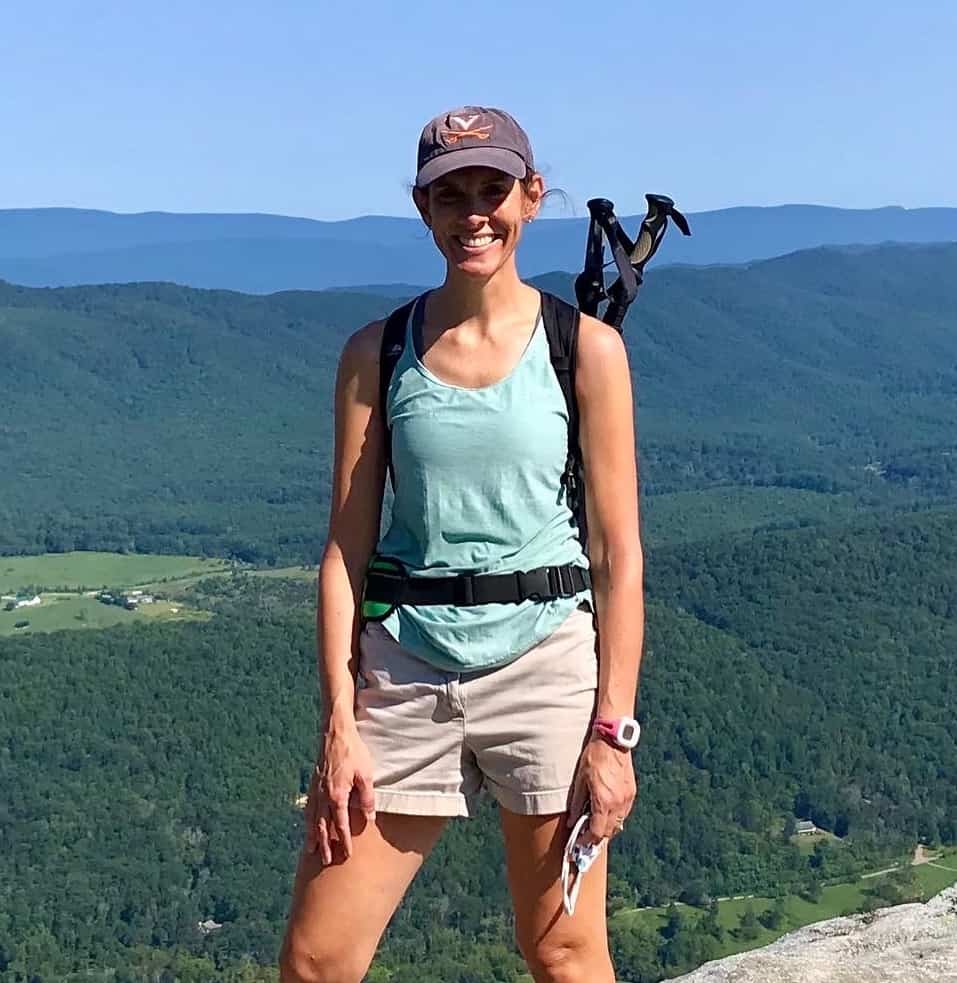 Erin Gifford is the editor of Go Hike Virginia. She has completed more than 300 hikes in Virginia. She is also the author of three hiking guidebooks from Falcon Guides. Need help finding a hike? Check out the Trail Finder feature or send Erin a message.