10 Ways to Get Outside in Wytheville, Virginia
If you've not yet spent time in Wytheville, let me tell you, you are missing out, especially if you love to spend time outside.
I've lived in Virginia nearly my entire life, but only visited Wytheville for the first time in late-2020 when I came to hike the High Rocks Trail.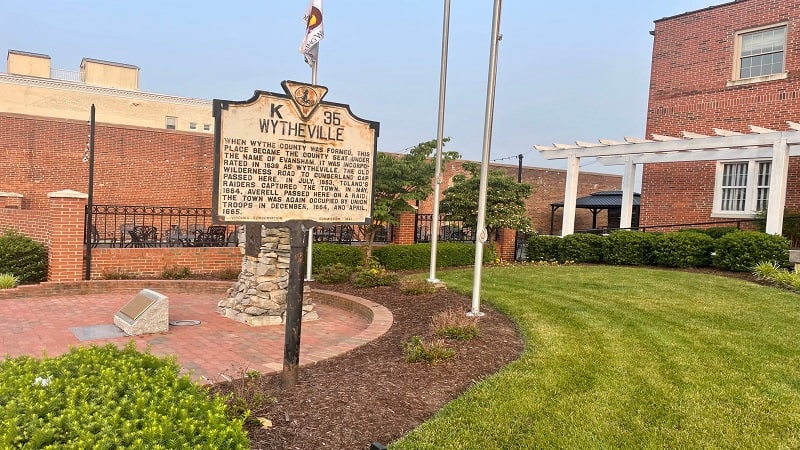 Situated at the intersection of two state routes – I-81 and I-77 – it's safe to say that the charming small town of Wytheville is at the center of it all.
Things to Do in Wytheville, Virginia
When you want to get outside in Wytheville, there are options for the whole family, including an animal park, hiking trails and a lookout tower.
Here are the must-do activities in this small town named for George Wythe, a mentor to Thomas Jefferson and signer of the Declaration of Independence.
#1: Go on a Safari at Fort Chiswell Animal Park.
Fort Chiswell Animal Park is a 15-minute drive east of downtown Wytheville. It's a lot of fun for children and adults. You absolutely must ride on the safari bus.
A visit begins at the petting zoo, which features fallow deer, pygmy goats, llamas and alpacas. Explore this area at your leisure.
The safari bus departs regularly for a guided tour of the animal park to see exotic animals, like zebras, bison and emus. You will love Puff the Camel.
#2: Climb to the Top of Big Walker Lookout.
Big Walker Lookout, a 100-foot-tall tower, affords mountain views for miles on a clear day from the top of the tower at Big Walker Mountain.
A swinging bridge leads from the country store to the base of the observation tower. Climb the stairs for beautiful views and scenic 360-degree panoramas.
In the general store, load up on souvenirs, artisan-made crafts, historical books, scented jar candles and hand-dipped ice cream.
#3: Hike to the Summit of High Rocks.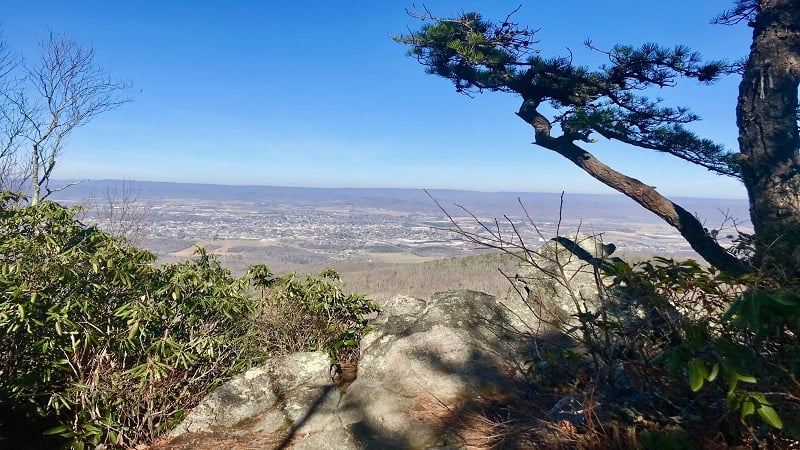 There are two ways to reach the top of High Rocks, which boasts north-facing views toward Wytheville's rainbow-painted hot air balloon water tower.
From the Big Survey Wildlife Management Area parking lot, it's a 2.9-mile out-and-back hike to the top for scenic 180-degree views across Southwest Virginia.
Alternatively, start at Crystal Springs Recreation Area for a 9.9-mile out-and-back summit hike by way of the Boundary Trail and High Rocks Spur Trail.
#4: Visit the Great Lakes to Florida Highway Museum.
U.S. Route 21 was once the major highway between Ohio and Florida. Over time, sections were abandoned. Wytheville is now the northern terminus.
Today, the Great Lakes to Florida Highway Museum celebrates this former route, which ends in South Carolina, with historic photos, exhibits and artifacts.
The most notable artifact, however, is the circa 1926 gas station. You won't want to miss the restored gas pumps at this one-room museum.
#5: Sip a Cocktail from a Rooftop Bar.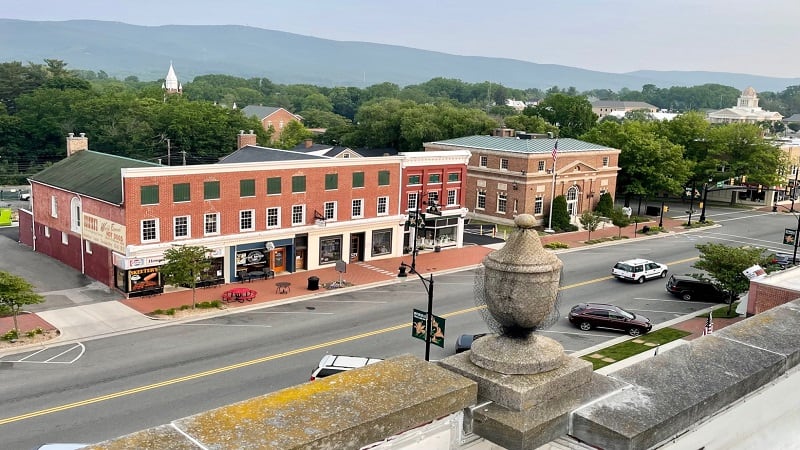 At the historic Bolling Wilson Hotel on Main Street, head up to the top floor to revel in scenic views from The Perch, the hotel's popular rooftop bar.
The Perch offers local brews and craft cocktails, with a side of vistas across the Blue Ridge Mountains. It's an ideal place to end your day in Wytheville.
The Bolling Wilson Hotel is also home to Graze and Main, a delicious restaurant known for Southern fare, like pimento cheese dip and fried green tomatoes.
#6: Bike the New River Trail.
It's an easy 20-minute drive to reach the 57-mile rail-trail made of crushed limestone that is the centerpiece of New River Trail State Park.
Bike the entire New River Trail at this linear park or hit the trail highlights, like Draper Mercantile, the Inn at Foster Falls and Shot Tower Historical State Park.
The full trail has 32 trestle bridges and two railroad tunnels. The rail-trail starts in Pulaski and has dual endpoints – one in Galax and one in Fries.
#7: Spend the Night in a Conestoga Wagon.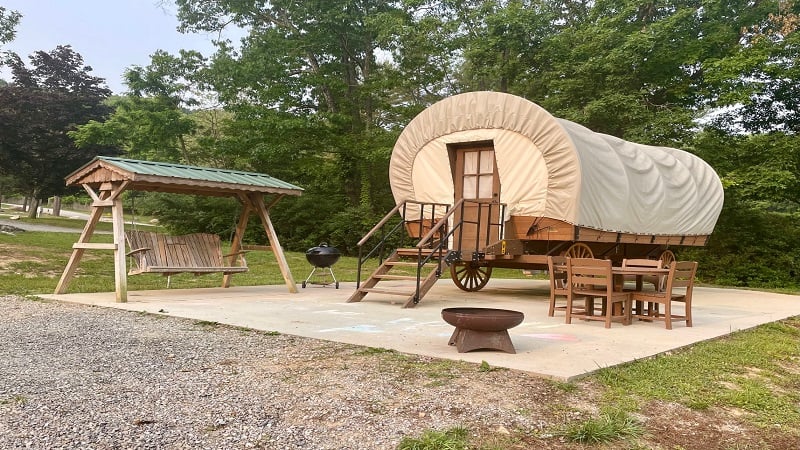 For those who really like to spend time outside, book a stay at the KOA in Wytheville, which has tent and RV sites, cabins, even conestoga wagons.
There's a lot to do at this family campground, too. You'll find a bowling alley, mini golf, a playground and a swimming pool with two water slides.
In-season, there are fun weekend activities, like making tie-dye shirts and wagon rides around the campground. Also, karaoke on Friday evenings.
#8: Have a Glass or a Pint on an Outdoor Patio.
Wytheville is home to several breweries and wineries, including West Wind Farm Vineyard & Winery, which enjoys mountain views from the outdoor patio.
This Southwest Virginia vineyard features reds and whites, including a crisp, fruity Galena Creek White and a bold, fruit-forward Cabernet Sauvignon.
Wytheville is also home to breweries with outdoor seating, including 7 Dogs Brew Pub and Seven Sisters Brewery. Both are in the historic downtown area.
#9: Explore Beagle Ridge Herb Farm.
Spend time at Beagle Ridge Herb Farm, which is known for its 16 varieties of lavender that are grown on the farm, in addition to various other herbs.
From late-March to early-October, this lavender farm hosts events, including cooking classes, pizza nights and make-and-take crafting sessions.
Using lavender, visitors can learn to make wreaths, herbal soaps, candles and macrame plant hangers. You can even learn to make your own herb garden.
#10: Stroll Historic Downtown Wytheville.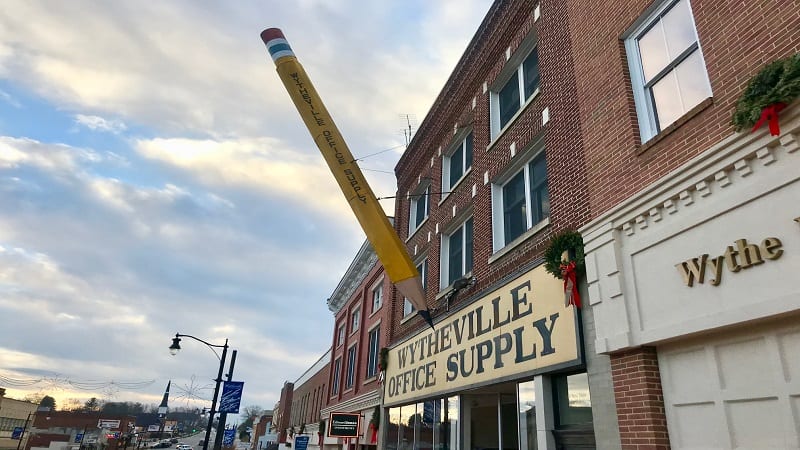 Take in all the small-town charm when you stroll Main Street in Wytheville, including Skeeter's World Famous Hot Dogs. It's definitely an institution.
You'll also want to snap a photo of the "Big Pencil" at Wytheville Office Supply. For a cuppa, pop in The Grind. They sell breakfast and lunch, too.
A few steps off Main Street is Petals, which is a florist and a wine bar. It's across from Ghetti's Café, which sells bagels shipped overnight from New York. Yum-o.
Disclosure: This post was sponsored by Visit Wytheville. However, all views and opinions expressed here are my own.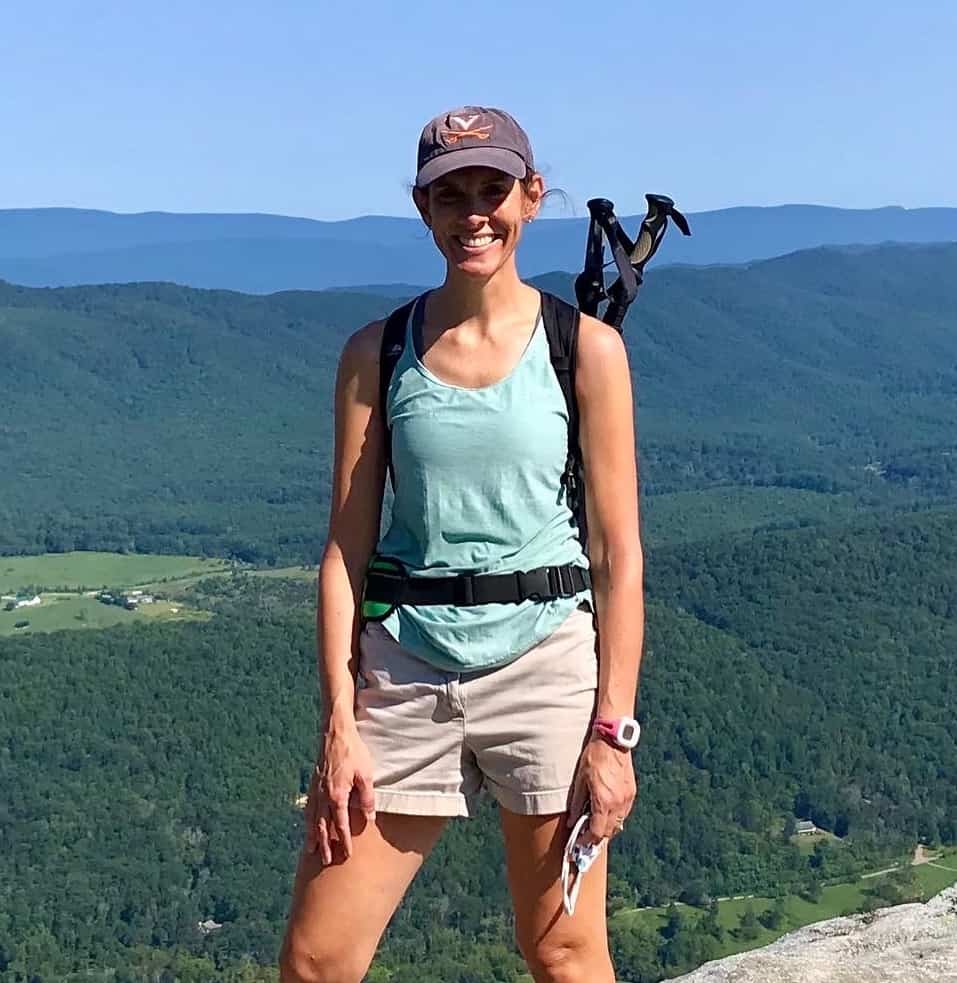 Erin Gifford is the editor of Go Hike Virginia. She has completed more than 300 hikes in Virginia. She is also the author of three hiking guidebooks from Falcon Guides. Need help finding a hike? Check out the Trail Finder feature or send Erin a message.