25+ Stocking Stuffers for Hikers & Backpackers
It's the holiday season, which means it's time to start jotting down gift and stocking stuffer ideas for every outdoor lover on your shopping list.
In terms of stocking stuffers for hikers, there are loads of small items and little things which, to be honest, are just the right size for daypacks and backpacks.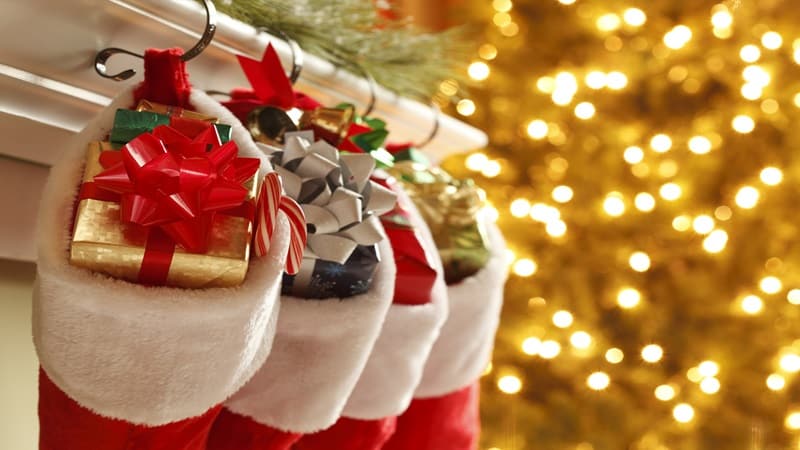 There may be affiliate links in this post. If you make a purchase, I earn a small commission at no extra cost to you. Thank you.
As a hiking expert, I took the time to think about my most valued items when on the trail for this gift guide. These are some awesome stocking stuffers, too.
So, let's go. If you need gift ideas for hikers, scroll down for my favorite stocking stuffers that will help ensure many fantastic outdoor adventures in the new year.
Hiking Stocking Stuffers
From gift cards to handy hiking and backpacking gear, these essential items make great gift ideas and stocking stuffers.
An REI gift card makes the perfect stocking stuffer for any and every outdoor enthusiast. Use REI gift cards in-store or online on outdoor gear purchases.
REI stands for Recreational Equipment, Inc. and they truly live up to their name. They carry top brand names for everything outdoors.
From hiking to backpacking, tent camping and more. Any outdoor enthusiast will be thrilled with an REI gift card. I know I would be.
A National Parks Pass, also called the America the Beautiful Pass, is a gift that keeps on giving. The pass is only $80 and grants entry to 21,000+ miles of trails.
The passholder is allowed free entry into any National Park Service-managed unit for a full year. This includes all national parks, lakeshores, historic sites and more.
Know a hiker who loves to travel? The America the Beautiful Pass is a great choice. It's hard to beat. Speaking of which, mine just expired. I'm ready for a new one!
If you're looking for unique and useful hiking stocking stuffers, a spork is a quick and easy option that has plenty of uses.
Hikers can't carry around the entire silverware drawer. They also don't want to pack single-use utensils. A reusable spork with a bottle opener is handy.
This spork is made out of titanium so it's durable and long-lasting, yet lightweight. I love that it includes a reusable and washable case to keep it clean, too.
For your favorite hiker or backpacker who wears glasses, consider an eyewear accessory pouch, like this one that looks like a sleeping bag.
When backpacking, in particular, there's always the question of where to safely stow your glasses or sunglasses. You don't want them to scratch or break.
This cozy, polyester pouch is perfect for storage. As a bonus, a paracord loop lets you attach the zip-close pouch to your daypack or belt loop.
A LifeStraw makes the perfect stocking stuffer for the hiking enthusiast. You need clean water on a hike, but you don't always have the room to carry it.
The LifeStraw is a personal water filter that removes 99.999999% of waterborne bacteria. This makes almost any water source on the trail drinkable!
One LifeStraw will filter up to 1,000 gallons of water — meaning it will last an incredibly long time. This device is perfect for hiking and backpacking.
Blisters can be a natural part of hiking, especially when you're a beginner hiker or are breaking in new hiking boots or trail runners.
Thankfully, HikeGoo to the rescue. This cream creates a friction-free layer between your skin and your sock to protect your feet from painful blisters.
As a bonus, HikeGoo works in both wet and dry conditions, so there's no need to worry if your favorite hiker will be splashing in creeks on a day hike.
These Combat Wipes make the perfect stocking stuffer for the active hiker. These biodegradable and extra thick cleansing wipes are like a shower in a package.
They are perfect for cleaning up after a hike, washing your hands before lunchtime or for an end-of-the-day wipe down before snuggling up in a sleeping bag.
These aren't your average wipes, either. At 7.1" by 8.3", one large wipe goes a long way. These aloe and Vitamin E wipes a good choice for sensitive skin, too.
What better way to mark a hike than with a hiking journal? This pocket-sized journal is a great stocking stuffer that will fit into any hiking backpack or day pack.
Each section of this hiking journal has an area to record details of the hike and a spot for notes (or photos) to bring the memory back to life.
This 48-page journal has 20 entry pages and 8 bonus pages of checklists, favorite hikes, and other fun information.
If you know a hiker who constantly has cold hands and fingers, this rechargeable hand warmer with three temperature levels is the perfect stocking stuffer.
This rechargeable hand warmer has a 5200mAh battery. It functions as a hand warmer and a portable charging station. Even better, it's small and lightweight.
It stays hot for 4-8 hours depending on heat level. Finally, it reaches a full charge in a quick three hours and can double as a phone charger while hiking on the trail.
A rechargeable all-in-one beanie and headlamp makes a great gift. It comes in 41 colors and the light lasts for up to eight hours of continuous use.
This beanie and headlamp combo is perfect for crisp evenings and early morning hours. Even better, it eliminates the need to fumble with a headlamp.
This lighted beanie is made from an ultra-soft acrylic blend that provides excellent insulation. The hat contains four bulbs with three adjustable brightness settings.
LED flashlight gloves are another great lighted gift idea. Built-in LED flashlights are perfect for hands-free illumination while on the trail.
Each glove has a light on the index finger and thumb to provide light right where you need it without having to fumble with a flashlight or aiming your headlamp.
The gloves come with button batteries that are easily replaceable. Batteries last up to 30 hours each to ensure many well-lit hiking adventures.
Emergency paracord bracelets are fashionable, functional and can really come in handy in an emergency. These make great stocking stuffers for any hiker.
They don't even have to be worn on the wrist. Paracord bracelets can easily be clipped onto any hiking backpack or stored away in a pocket.
These bracelets come in a set of two and each one has a compass, a whistle, a flint firestarter and a length of woven paracord to be used in emergencies.
A fun, colorful water bottle is essential hiking gear for anyone and this bottle is perfect to carry in a daypack or hiking backpack.
These bottles seal nicely. They are also BPA free and virtually unbreakable when dropped on the hiking trail.
A Hydro Flask stainless steel water bottle is also a great choice. It has a wide mouth and a flex straw, making hydration super-convenient when on the trail.
A first aid kit is a must-have item for any hiker. There are 85 supplies in this travel-size kit for treating cuts and scrapes, as well as minor aches and pains.
This first aid kit can be put into any backpack compartment or pocket. It has all the necessities for basic first aid when on the trail or at a camp site.
Some items in this travel-size kit include gauze, gloves, bandages in various sizes, tweezers, a whistle and antiseptic pads.
You cannot go wrong with winter hiking socks. Hiking socks are always needed, whether for long hikes or for short day hikes.
These Darn Tough socks are made from a blend of Merino wool, nylon and spandex. They can be worn with hiking boots or trail runners.
These wool socks are warm and comfortable on cold, blustery winter hiking days. The Smartwool brand is also tops when it comes to hiking socks.
A multitool is a must-have item to have in your daypack or backpack, if only because it has so many uses and does so many thing when on the trail.
Whether you need an axe, a screwdriver, a wire cutter, a pocket knife, or 10 other on-the-fly tools, you are covered with this portable multitool.
This multitool comes in red, black and green. It's reliable and sturdy. It even has a fire starter and a whistle.
It's a wise idea to tuck a small roll of gear repair tape, like Tenacious Tape, into your pack. Just in case, you know. It's similar to duct tape, only better.
Gear tape can fix holes and rips on the fly, so whether you need to repair a puffy jacket, a tent, a sleeping bag or a rain fly, this tape has you covered.
Tenacious Tape comes in several colors, including clear, black, off-white and sage green. It also has a waterproof coating so it won't peel off over time.
Hot Hands hand warmers and toe warmers are an essential part of any cold weather hiker or camper's gear arsenal. They are a must-have item for me.
The pocket-size hot packets heat up when exposed to air. They're perfect for holding in hands, even putting in pockets or gloves.
Place toe warmers in hiking boots to keep toes warm on the trail. The warmers heat up in 15 minutes and provide heat for up to 10 hours.
A power bank is one of the handiest accessories for hikers. This solar charger battery back-up can keep up to two phones charged while hiking and camping.
This power bank has a 20,000mAH battery. It can be charged at home before a hike. A solar panel lets the charger receive a charge from the sun's rays.
This portable charger comes with a carabiner to clip on the outside of a backpack or daypack for recharging. It love that it also has a handy flashlight.
I can honestly say that I don't go anywhere without lip balm. My brand of choice is ChapStick. I have lip balm tubes stashed all over the place.
I have one in my car, in my purse, in my daypack. I do not like dry lips and it can be very easy to dry out when on the hiking trails.
This ChapStick lip balm has SPF 15 to protect your lips from the sun. This stocking stuffer also comes in a pack of three tubes.
I'm no fan of mosquitos, or any kind of flying, biting bug, really. So I always make sure to have insect repellent with me, either in my car or in my pack.
My brand of choice is Sawyer for their picaridin insect repellent. It's a lotion and helps fight off insects for more than eight hours. It's also fragrance-free.
I like to pair the picaridin repellent for my body with Sawyer's permethrin repellent spray for gear like tents and backpacks. It's a must for a camp site.
Electrolyte tablets help your body rehydrate faster and more efficiently than drinking water alone. It's a good idea to bring electrolytes out on the trails.
Nuun Hydration Tablets come with 10 single-serve tablets per container. They also come in multiple flavors, like wild strawberry and lemon splash.
They take up hardly any space in your pack. They're great for on-the-go hydration when your energy levels are low.
A waterproof pouch for your favorite outdoor adventurer's cell phone is a fun stocking stuffer. It's a must have for hikes to waterfalls and swimming holes.
This pouch fits cell phones of various sizes and is sensitive to touch, making it easy to answer phone calls, take photos and respond to text messages.
This waterproof pouch also floats so it won't sink to the bottom of a lake or watering hole if it gets dropped while having fun. It's got a lanyard, too.
A stuff sack is a great idea for hikers who just have stuff they need to stuff in a sack, whether a sleeping bag, camp shoes or hiking food and snacks.
This stuff sack from REI comes in two colors and five sizes. A drawcord makes it easy to cinch closed when you need to put it away or hang it in a tree.
A stuff sack is also useful for storing your clothes and keeping them separate from the rest of your items in a backpack when on overnight adventures.
Anyone who hikes needs a quality headlamp with adjustable brightness and light color settings. This Black Diamond brand headlamp fits the bill perfectly.
This powerful hands-free LED headlamp has an extended runtime of light on a single set of three AAA alkaline batteries (included).
This headlamp has white-light and red-light settings, as well as variable brightness levels. An elastic band adjusts to fit any head size.
A Kula Cloth is a special reusable pee cloth to use when peeing outdoors. It's a great way for women to stay dry and for good hygiene.
This small antimicrobial pee cloth is essential for overnight backpacking and camping adventures. It's popular for its easy packability, too.
The silver-infused cloth is made from organic cotton. The sun's UV rays help sterilize the antimicrobial fabric after use. Plus, a Kula Cloth is quick drying.
A neck gaiter is a perfect winter hiking gift. These versatile gaiters can be worn over the neck, the neck and face, the ears or on the head.
These gaiters come in six or nine packs and have a variety of color options and designs. They are super stylish, too.
Neck gaiters make the perfect stocking stuffer to pair with any hiking outfit while keeping hikers warm. The material is stretchy and comfortable.
An emergency blanket is a good "just in case" item for any day hiker to toss into a daypack. It provides warmth by reflecting body heat back to you.
This durable blanket traps warm air and helps prevent heat loss. It's also a great item to have for sunrise and sunset hikes when temps can be lower.
This bright orange blanket is multi-functional, too. It can also be used as a tarp to toss on the ground, even as a tent when in a pinch.
Hot sauce may seem like an odd pick for a stocking stuffer, but for multi-day hikers who eat meals by a campfire, this is a flavorful favorite.
Travel size condiments, like hot sauce, olive oil and mustard, can help spice up meals when on the trail. Make sure that none require refrigeration.
Hot sauce, in particular, is fantastic when splashed into a dehydrated meal, like the Mountain House scrambled eggs meal. One of my faves. Delicious.
An inflatable pillow is for backpackers who want a pillow but don't have room or weight capacity to lug around a traditional pillow.
This inflatable pillow has an ergonomic design and anti-slip rubber dots on the back to keep it in place all night long.
It folds down to 5×2 inches and weighs only 3.9 ounces. The pillow inflates with just five to eight breaths. The inflated size is 16 x 12 x 4 inches.