Go Hands-Free: Best Fanny Packs for Hiking (2022)
Does hands-free hiking sound good to you? Honestly, it's the best way to go, so I highly recommend waist packs or fanny packs for hiking.
Wearing a pack around your waist frees up your hands on the trail for snapping photos, eating snacks, and of course, using your hiking poles.
Hiking fanny packs help keep your frequently-used essentials within easy reach all the time. With these, there's no need to stop to for access.
As an Amazon Associate I earn from qualifying purchases. If you click and purchase, I receive a commission at no cost to you.
When talking about fanny packs for hiking, you'll hear these terms used interchangeably: fanny packs, waist packs and lumbar packs or bags.
All these terms mean the same thing: waist bags that are worn while hiking. Sizes range from small to medium to large.
Some are worn on the front; others are worn on the back. Some have shoulder straps for more versatility.
In this article, I'm taking a closer look at wearing fanny packs for hiking. I'll also answer some FAQs and share my top three picks.
If you're looking for the perfect hiking waist pack or just want to learn more, dive in to this article.
Quick Picks: Hiking Fanny Packs
Are Waist Packs Good for Hiking?
Fanny packs and waist packs are a great addition to your arsenal of hiking gear. They're perfect for holding anything you want to be access quickly.
A hiking waist pack sits at your hips to carry your favorite easy-access items comfortably. Everything is kept right at hands reach!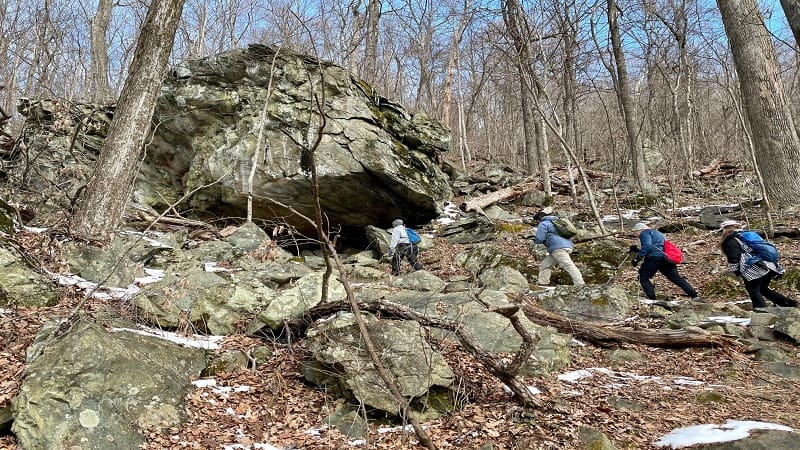 Basically, anything you don't want to dig through your backpack for is a great item to carry in a waist pack.
When you need an item in your waist pack, you don't have to stop and take it off to get to your items, as you would with a backpack or day pack.
With a backpack or day pack, you have to stop, take it off and dig through to find what you're looking for.
If it's an item you use frequently, this process quickly becomes annoying.
These bags are also great for hands-free hiking. This is especially helpful when you're hiking on a trail that requires the use of trekking poles.
Many hiking waist packs come with water bottle pockets too – perfect for hands-free water carrying without adding weight to your backpack.
You can use a hiking waist pack with a backpack or by itself, as long as it's big enough to carry all of your hiking essentials!
How Do You Wear a Hiking Fanny Pack?
How you wear a hiking fanny pack depends on the type, weight and size.
Wear medium to large sized waist packs with the main compartment on the back. This distributes the weight evenly on your lumbar area.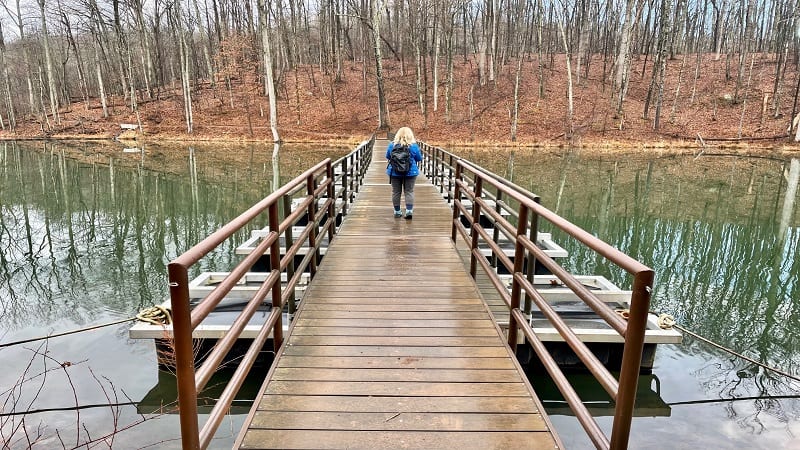 Wearing a heavier waist pack (or one with a water bottle) on your back helps you efficiently and safely carry the weight. It's also more comfortable.
Waist packs that are worn backwards are easy to access by sliding the waist pack around. Once you have what you need, you just slide it back.
If you have a small to medium sized waist pack without a water bottle, you can wear it facing forward.
This way of wearing a fanny pack is preferable for smaller packs that aren't very heavy or don't have a lot of stuff in them.
With this way of wearing, you have everything you need right at your fingertips. It's very helpful.
If it starts to feel heavy or uncomfortable, try turning it around and wearing it across your lumbar area.
What Do You Put in a Waist Pack for Hiking?
There are different sizes of hiking fanny packs from small to medium to large. You can carry many things in a fanny pack while hiking!
Some hiking fanny packs have multiple pockets and a water bottle holder. Others have only a pocket or two.
Things you can keep in your fanny pack while hiking include your snacks, your phone, your keys, debit card and ID, hand sanitizer and bug spray.
Other items to keep in your fanny pack include sunblock, lip balm and sunglasses.
You can easily carry water in medium to large sized waist packs – some even come with a water bottle holder on each side to carry extra H2O.
Honestly, the sky is the limit when it comes to what you can carry in your waist pack.
If you want to wear a waist pack without a backpack, get a large one to carry all of your hiking essentials! The 13 hiking essentials include:
● A first aid kit
● A headlamp
● A pocket knife or multi-tool
● Whistle
● Navigation aids (maps, compass, Garmin InReach Mini)
● Sunblock
● Fire starter
● Water and filtration device
● Nutritious trail food
● Extra layers
● Emergency shelter
● Identifying documents (ID, driver's license)
● Money
Large lumbar packs can easily carry all these items. Large packs are a perfect alternative to a backpack.
If you hate having weight on your shoulders or upper back, consider carrying a waist pack instead.
What is a Lumbar Pack?
A lumbar pack is a hiking waist pack that's specifically designed to be worn across the lumbar area of your lower back.
These are typically larger hiking fanny packs. Wearing them on your back is more comfortable and distributes weight more evenly than on the front.
Best Fanny Packs for Hiking
Here are our top three choices for the best fanny packs for hiking. The sizes range from small to large, and each is incredibly versatile.
WATERFLY makes hiking waist packs in a variety of styles and sizes. These packs have over 2,200 5-star ratings on Amazon and for good reason.
This particular waist pack is a large pack that has two water bottle holders. It has multiple compartments with several pockets, too.
You can carry everything you need to keep handy in this pack. You can also choose from 12 different colors and designs.
The WATERFLY hiking waist pack is made of nylon and has padded straps for comfort when carrying heavy items or water.
The waist belt adjusts to fit waist sizes from 22" to 52" quickly and easily for proper fit and comfort.
Each pack has reflective material for use at night. And, each pack has a hand and shoulder carrying strap, too.
Many hikers love the breathable mesh back pad. This material is vented and helps keep your back from sweating too much while carrying heavy loads.
Reviewers rave about this waist bag, loving the amount of room and pockets. Common praise relates to the packs' comfortability and versatility.
If you're looking for a large waist pack that can carry plenty of water, snacks, your cell phone and more, then this is a great choice.
Cotopaxi is a top brand for outdoor gear. This 3 liter fanny pack is on the small to medium side and doesn't have water bottle holders.
It's made from lightweight, remnant nylon fabric and comes with two internal mesh pockets for organizing.
This Cotopaxi Del Dia Bataan Fanny Pack is also a surprise – no two are made the same. Employees have full creative control over the colors chosen.
This fanny pack can be worn in the front or across your lower back depending on how much weight you carry in it.
You can also use this pack as a daily carrying bag and wear it as a cross-body bag for hands-free shopping and traveling.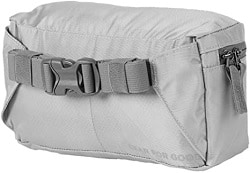 Each Cotopaxi waist pack has an adjustable webbing strap belt and a side-release buckle belt closure.
Cotopaxi donates a percentage of revenue to nonprofits that "improve the human condition." This brand also uses ethically and sustainably sourced materials.
Customers love how durable and lightweight this bag is, with plenty of room for snacks, your phone, keys, and even a drink.
Although this fanny pack is considered on the smaller side, it has plenty of room to stuff it full if that's what you want to do.
It doesn't come with a dedicated water bottle holder, but the interior compartments are plenty big enough to carry a water bottle.
The Mountainsmith Tour Lumbar Pack is a high-quality large hiking waist pack to be worn across your back.
This hiking fanny pack has multiple pockets. The webbing on the straps of this pack are 1.5" wide to comfortably carry a variety of items and weights.
The zippered front pocket includes a key clip for keeping your keys handy and this bag also has side pockets for water bottles.
You can choose from five different color designs for this pack, and it comes with handy carrying handles in addition to the waist straps.
The Tour lumbar pack from Mountainsmith is the quintessential (and most popular) hiking waist pack from this brand.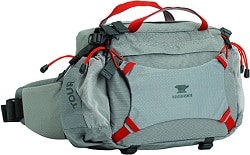 In addition to hiking, customers love using this bag for disc golf, as a messenger bag, an office briefcase, carry-on bag, diaper bag, and more.
Reviewers rave about the design of this bag with well-placed pockets for carrying anything you could ever need on the trail.
It's great for hiking with kids and dogs and carrying everything you need for yourself and your family, all on your hips.
The shock-corded area on the front is perfect for stashing other things you need to keep handy, like a lightweight rain jacket.
Final Notes: Hiking Waist Packs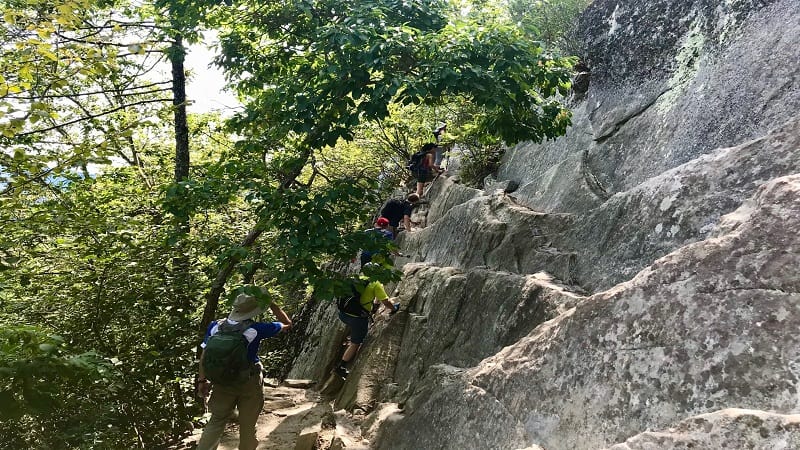 Hiking waist packs are a great piece of gear to add to your hiking gear arsenal.
These bags are versatile and once you have one, you'll wonder how you ever got along without it!
The ability to keep all your frequently-used items, snacks, and water within hands reach is a total game changer on the trail.
No longer will you have to take off your backpack and dig around for your sunblock, phone, or snacks. It's all right on your hips!
With larger hiking fanny packs you can even store things like a hat, a light rain jacket, and stuff for your kids or dogs.
You can even use a large hiking waist pack in lieu of a backpack for day hikes, as long as you get your hiking essentials all packed inside.
For more winter gear picks (which by the way, make great gifts for hikers), check out my Gear Guides.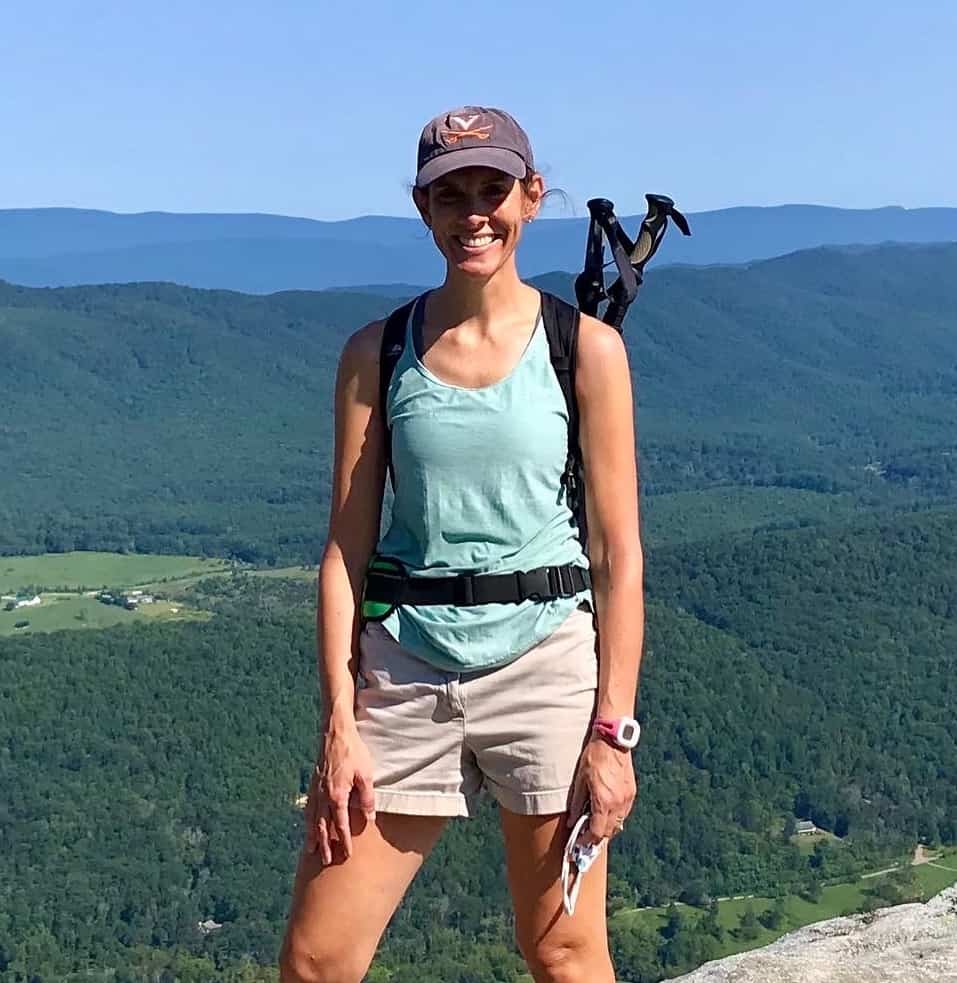 Erin Gifford is the editor of Go Hike Virginia. She has completed more than 300 hikes in Virginia. She is also the author of three hiking guidebooks from Falcon Guides. Need help finding a hike? Check out the Trail Finder feature or send Erin a message.