Summer Hiking: What Should I Wear to Hike in Hot Weather?
Staying cool while hiking in summer requires planning, and a lot of it is knowing what to wear hiking in hot weather.
In addition to proper hydration and other tactics to stay cool on the trails, your wardrobe plays an essential part in helping your body regulate temperature.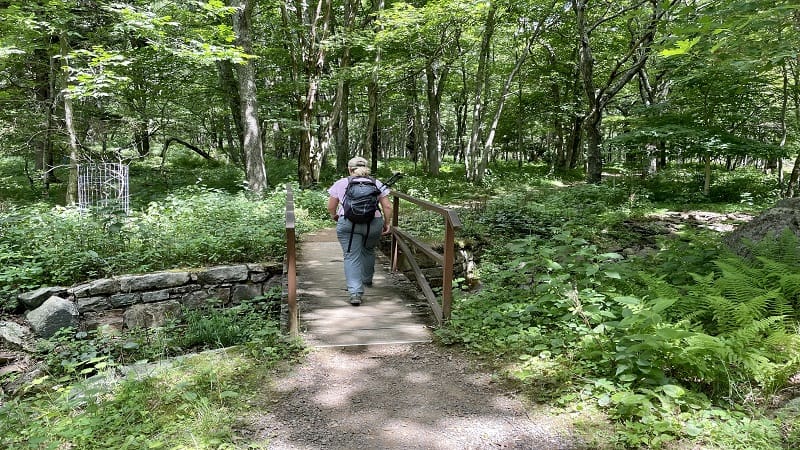 As an Amazon Associate I earn from qualifying purchases. If you click and purchase, I receive a commission at no cost to you.
The style, fit, and materials all matter when choosing what to wear for hiking on steamy summer days.
In this article, we're covering tips to stay cool for hiking in hot weather. You'll also find must-have hot weather hiking clothes for summer. Let's dive in.
How Do I Stay Cool on Summer Hikes?
Staying cool while hiking in the summer requires a multi-faceted approach. There will be some days when it's simply too hot to hike, and that's okay.
The first way to stay cool on a summer hike is to start as early in the morning as possible. Maybe even look for trails that are good as sunrise hikes.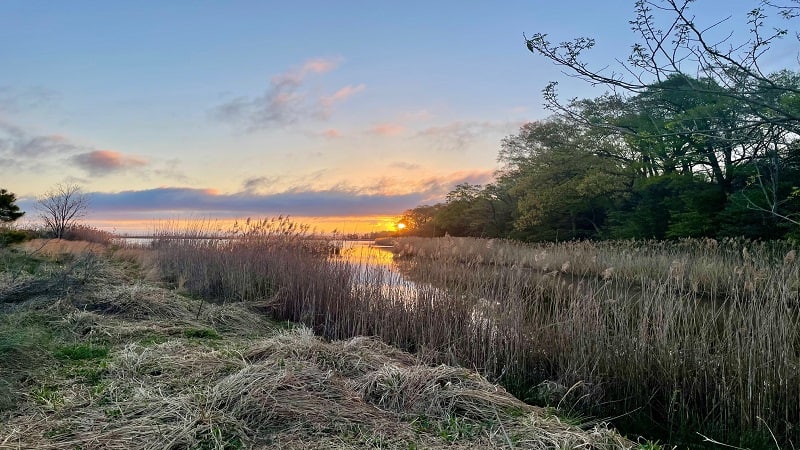 This helps you avoid hiking during the hottest part of the day. The earlier you go, the more likely you will be to miss the crowds, too.
Even when hiking early in the morning, it's essential to stay hydrated. You sweat more when properly hydrated. The purpose of sweat is to cool you down.
Choose a forested trail to keep you out of direct sunlight in the hot summer months. Shade can makes a huge difference.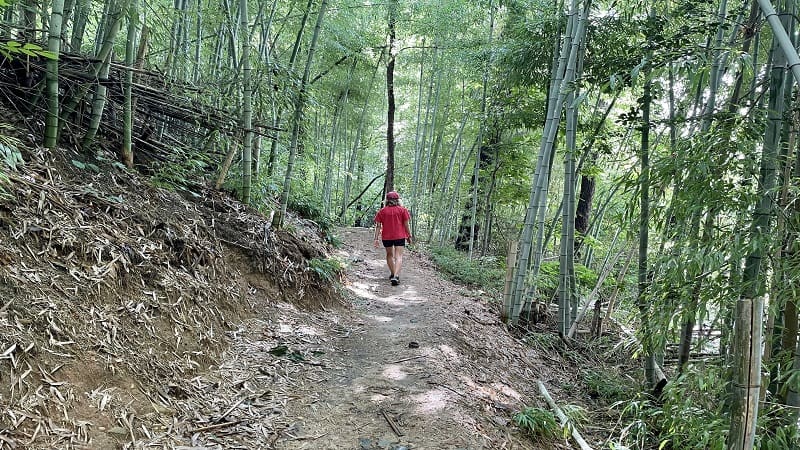 Another way to keep cool is by using a cooling towel on your face and neck. You can also bring along a water misting fan to keep you cool.
Take plenty of breaks and don't hike too quickly. Eat small salty snacks along the way, too. It's critical that you replace the salt you lose through sweat.
What Should I Wear Hiking in Summer?
Hiking clothes for hot weather can range from tanks and shorts to full coverage outfits that protect against ticks, UV rays, thorns, branches and biting insects.
What you choose will depend on your own comfort level. Some people prefer full coverage, but others can't stand it on hot weather hikes.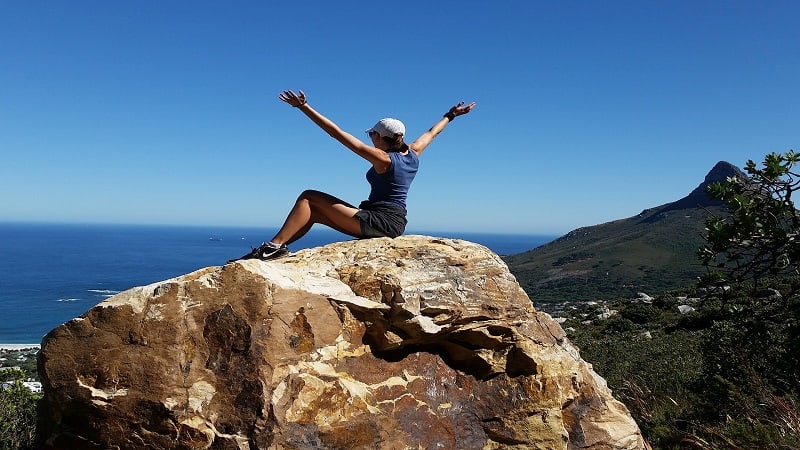 The most important thing when selecting an outfit for hiking in hot weather is what kind of fabrics you choose. You should never wear cotton or denim.
Choose synthetic fabrics that are both breathable and moisture wicking to help keep you cool, dry, and allow a breeze to flow through.
Light colors are better than dark colors for two reasons. First, they reflect the sun's rays. Second, you can see ticks more easily. Light colors are a win-win.
Your clothes should fit loosely, but not be so loose that they catch on flora. Loose clothes allow more air to flow through and sweat to evaporate.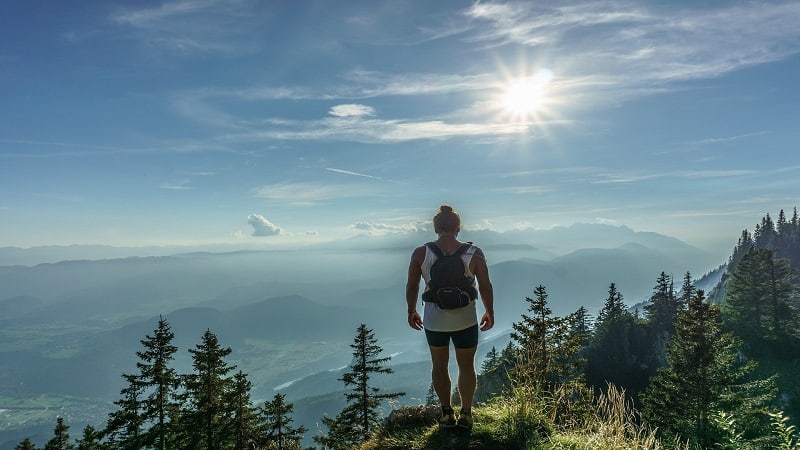 Clothing weight is also important. Opt for fabrics that are thin and lightweight to allow for better ventilation and overall comfort.
Finally, a sunhat and sunglasses are always wise choices. A sunhat with a wide brim will keep you cool and provide sun protection, as will sunglasses.
Should I Wear Pants on Summer Hikes?
Pants or hiking leggings do have benefits for hot weather hiking, but not everyone wants to be fully covered in the heat.
So, the answer to this question is really: it depends. Shorts and hiking skirts are both great for hiking in the summer to help you stay cool.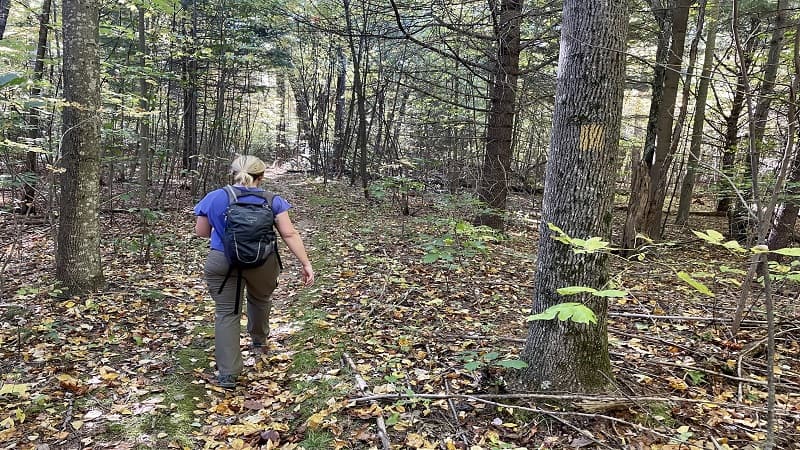 However, pants or leggings protect you from UV rays, bumps and scrapes, and they also protect you from ticks and other biting bugs.
If you decide to wear pants or leggings, choose a light colored and breathable material. Zip-off pants are great, too.
What Should I Avoid on Hot Hikes?
Hiking in hot weather can go from uncomfortable to dangerous – even deadly – without proper preparation and accommodation.
If it's mid-summer, avoid full-sun trails entirely. This type of hike won't be enjoyable and it can easily turn into a dangerous situation.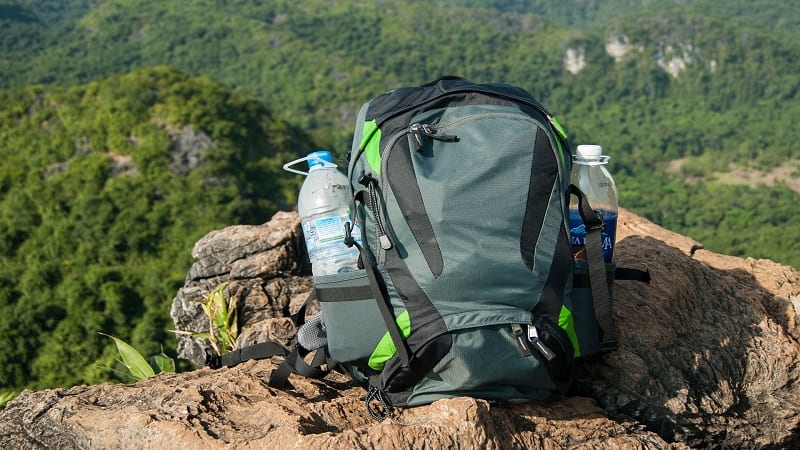 In addition to avoiding full-sun trails, avoid strenuous hikes or hikes at high elevation. Your body will already be working hard enough to cool you down.
When you add strenuous physical activity to the mix of hot weather hiking, you risk heat stroke or other heat-related injury or illness.
Bring enough water to drink 1 liter (4 cups) per hour of hiking. Normal conditions call for ½ liter, but in hot weather you need more.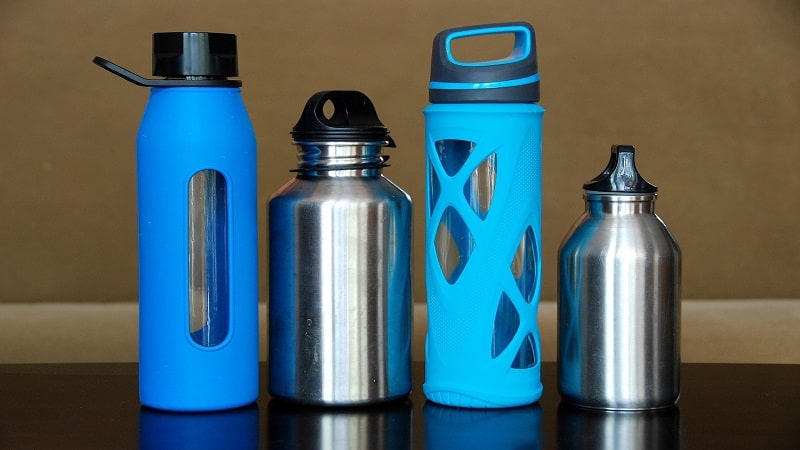 Ideally, you should carry more water than you think you'll need. But since water is heavy, a water purifying system works if there's water on the trail.
Lastly, avoid over-hydrating without taking in electrolytes and salty snacks. A sodium deficiency is dangerous, and you lose a lot of it through sweating.
What Exactly Should I Wear in Summer?
Whether you opt for a full-coverage outfit like long sleeves and pants, or a shorts and tanks hiking outfit, materials are of utmost importance.
Here we've compiled our top picks. If you don't know what to wear for hiking in hot weather, check out the following top-rated items.
If you want to wear pants for hiking in hot weather, you can't go wrong with these. The BALEAF hiking pants are breezy, lightweight, and so comfortable.
These lightweight pants have drawstrings at the ankles to protect against ticks. They also have a drawstring waist for a custom fit.
These pants have four zippered pockets for carrying essentials. They come in 11 colors, though we suggest light colors for summer hiking for ticks and heat.
The material is a breathable, made of a stretchy polyester fabric and spandex blend. Articulated knees allow for easy movement on the trails.
Are shorts more your thing? If so, these hiking shorts are perfect. They're mid-length, lightweight, and moisture wicking.
The Marmot shorts have UPF 50 fabric to protect against UV rays. They also have a water-resistant finish, and they're made with abrasion-resistant nylon.
They're stretchy to allow for total range of movement, and they're breathable and quick drying to cool you down.
Lastly, these shorts have a zippered pocket to keep all your essential items safe while hiking. They also have regular open hand pockets, too.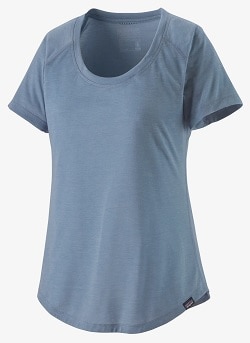 This Capilene Cool Trail Shirt from Patagonia is a great shirt for hiking in hot weather. It's loose fitting, flowy, and made of breathable materials.
The moisture-wicking fabric dries quickly. It pulls sweat from your skin to evaporate and cool you down.
This short sleeve shirt also has built-in odor control, which is great if you plan to be sweating a lot on the trail.
You can get this shirt in sizes from XS to XXL. It comes in 3 colors, too, which all range on the lighter side.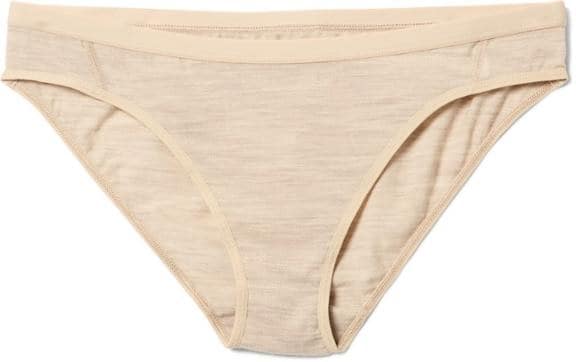 Knowing what to wear for hiking in hot weather is important all the way down to your undergarments. The moisture-wicking underwear from REI are perfect.
Icebreaker underwear are made from itch-free merino wool. They're naturally odor resistant, breathable, wicking, and they dry fast.
These underwear might look like everyday underwear for women, but they're technical and great for hot days on the trail or even for working out.
You can get them in many colors and sizes. We're pretty confident that once you have one pair, you'll want several more pairs of this underwear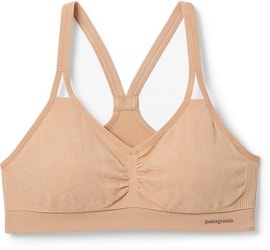 The Patagonia Barely Bra is a comfortable, everyday active racerback bra. This bra is made with a nylon and spandex blend that's perfect for hot days.
The Barely Bra material is woven with HeiQ odor control, which is an antimicrobial silver-based textile treatment to combat odor from sweat.
This bra is stretchy, lightweight, and super comfortable. It doesn't have adjustable straps, but it comes in many sizes and colors.
This bra provides medium support for moderate physical activity, like hitting the trails in the summertime.
Darn Tough makes hiking socks perfect for hiking in any temps: summer included. These cushioned midweight socks are great for hot weather.
They provide plenty of cushion to stay comfortable in your shoes and just enough fabric to wick away sweat. You'll love these socks.
Some features we love include the odor and bacteria resistant merino wool, the seamless toe, and the no-slip fit to prevent bunching.
Plus, we love that Darn Tough socks come with a lifetime guarantee. These won't be the cheapest socks you own, but they'll last the longest.
Last but not least: a wide brimmed hiking hat. A hat is important for hiking in hot weather, but not just any hat will do.
This sun hat is perfect because it has everything you should look for in a hat for summer hiking, including a well-ventilated crown, full coverage, and a chin strap.
Not only do hats help you stay cool while hiking in the summer, but they also protect your head from ticks.
This hat comes in four colors. We suggest going with khaki or white to stay cool and for easy tick-spotting for even the tiniest ticks.
Wrap-Up Notes
Staying cool while hiking in the heat of summer truly requires a multi-step approach that you will need to plan and prepare for.
You need the right clothes, the right trail, the right conditions, and the right time of day, to stay cool, hydrated, and safe.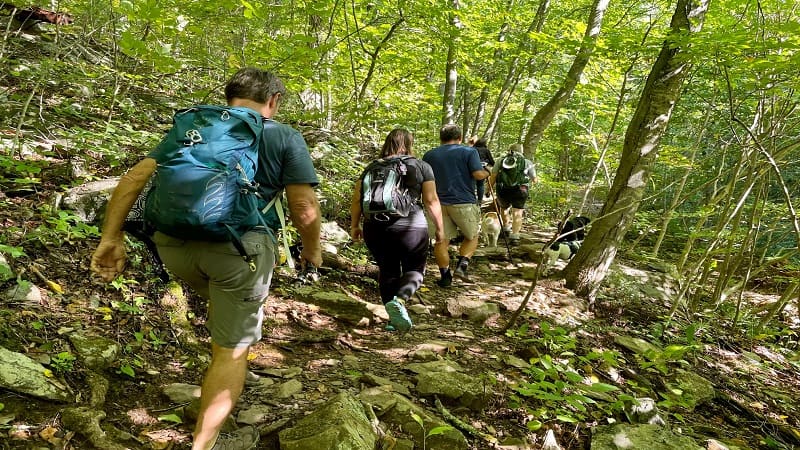 Early morning hikes are better than late afternoon hikes because you'll stay cooler and won't risk running out of daylight.
The right fabrics, fit, and style are also important when it comes to what to wear hiking in hot weather.
Look for easy to moderate trails that are partially or fully shaded the entire route. Full sun or strenuous hikes are a bad idea in very hot weather.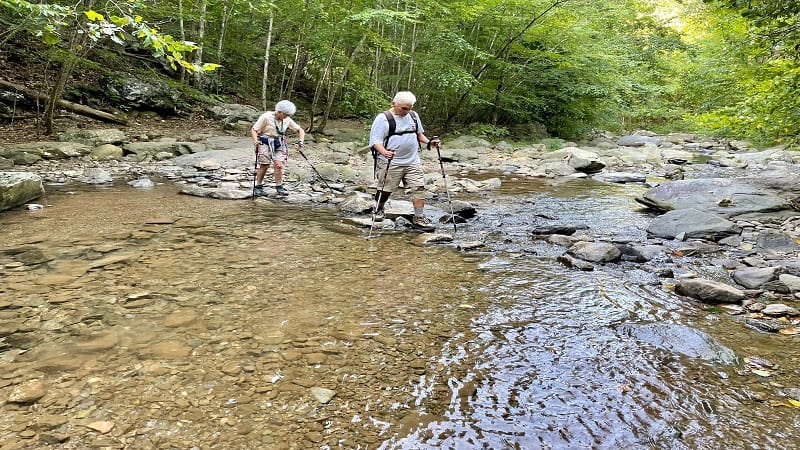 Finally: hydration. Remember to drink plenty of water (1 liter/hr) and bring along electrolyte drink packs and salty snacks to replace lost sodium.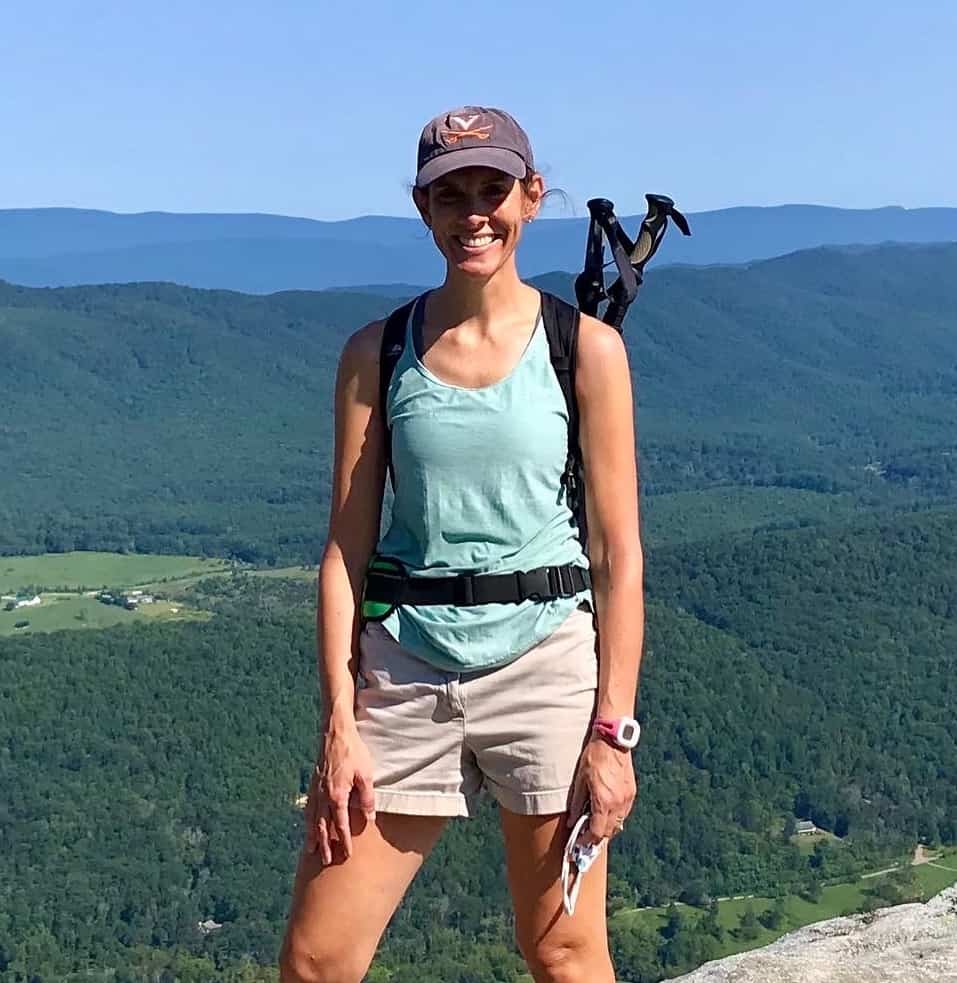 Erin Gifford is the editor of Go Hike Virginia. She has completed more than 300 hikes in Virginia. She is also the author of three hiking guidebooks from Falcon Guides. Need help finding a hike? Check out the Trail Finder feature or send Erin a message.