Forest Hill Park Trail: A Family-Friendly Lake Hike in Richmond, Virginia
Not long ago, I found myself at Forest Hill Park in Richmond, Virginia. I wanted to hike the Forest Hill Park Trail, but I soon learned there was so much more.
For one, there is a lot of history to this 105-acre city park. This park land has been home to a quarry, an amusement park and a trolley line.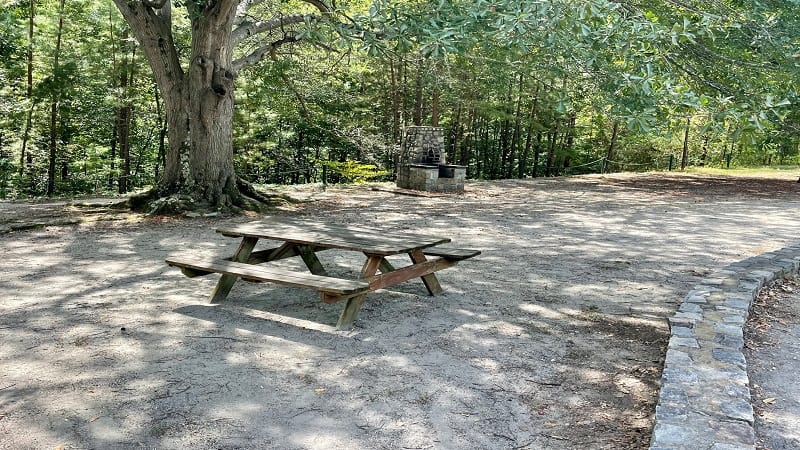 Today, Forest Hill Park is known for its "Stone House," a one-time mansion built between 1836 and 1843 from rock quarried from the property.
It's also known for hiking and biking trails, picnic areas, a children's playground, a weekly farmer's market, and a small lake and gazebo.
Forest Hill Park Trail
The Forest Hill Park Trail is a 3.2-mile dirt trail that generally creates a large loop around this urban park. It's also easy to create your own park loop.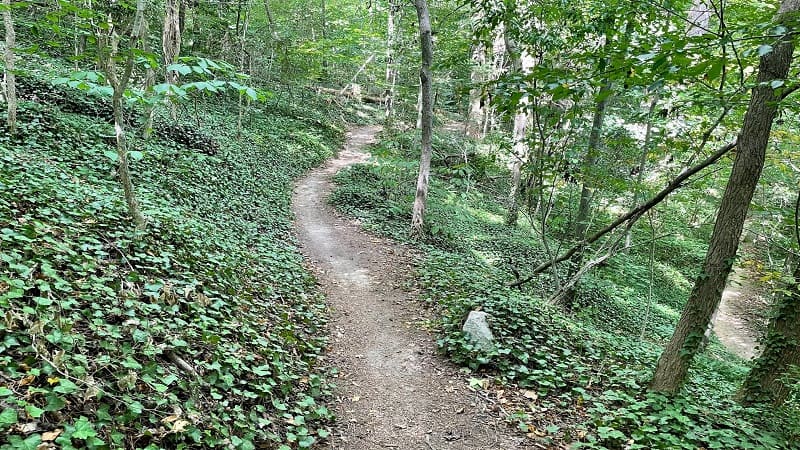 From the trail, there is easy access to a paved path around the lake that's popular with families, parents with strollers and dog walkers.
I almost never hike on weekends and not long into this hike, I realized that this was not a great idea. As in, mountain bikes.
You can hike here, but really this trail is meant to be a single-track trail for mountain bikes. On fair weather weekends, there are lots of mountain bikes.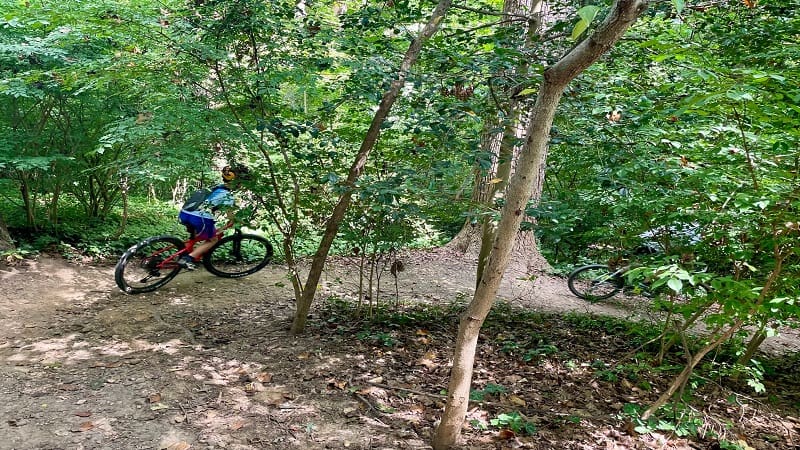 In the first .3 miles, I passed three mountain bikers while I was on foot. I didn't want to see them, and they didn't want to see me.
Forest Hill Park Lake
Thankfully, I was able to exit out to a paved path that crossed over Reedy Creek and circumnavigated the small lily pad-strewn lake.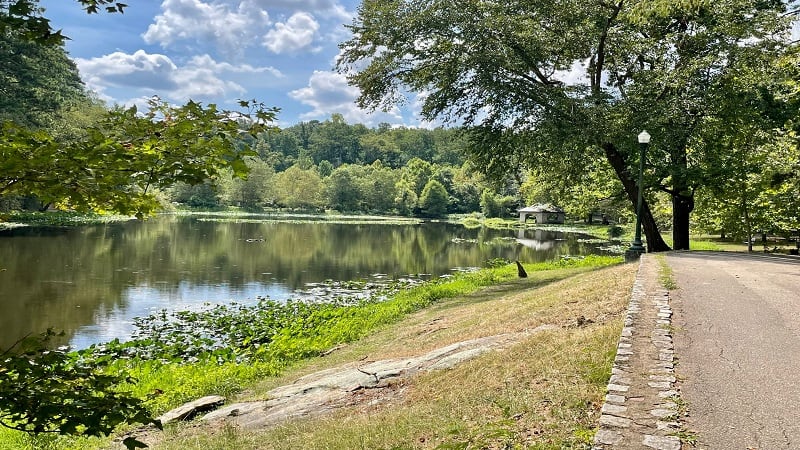 My hike was only 1.4 miles and by the .8-mile mark, I was back on the narrow dirt trail with climbs here and there. I was eager to return to my car.
At the .9-mile mark, I knew I was done when I had to cross Reedy Creek on a two-foot-wide concrete "bridge," then saw a mountain biker approaching me.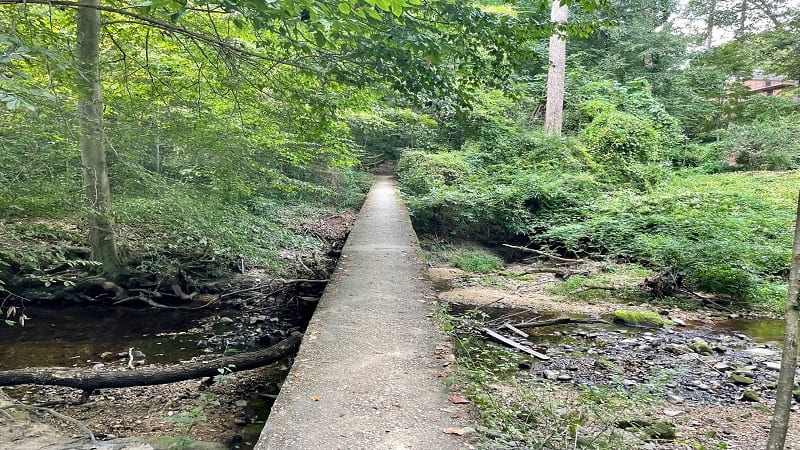 From here, I picked up the pace to exit the trail at the back of the main parking lot. The trailhead is not well-marked. You really need to know where it is.
I sought out this trail on the day of the weekly farmer's market, so at the very least I could hear where I picked up the dirt trail.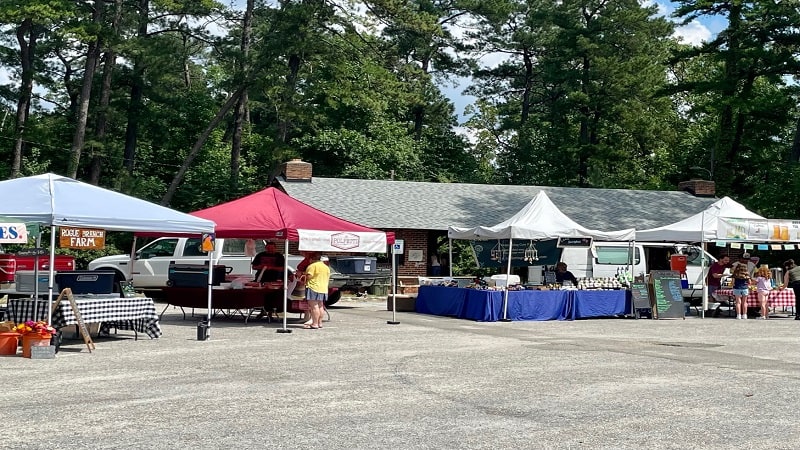 Honestly, it's a lovely park and a very nice trail. I would come back for a hike, but only on a weekday, and even then, early in the morning.
It's worth noting, however, that you can largely avoid mountain bikes by taking the pedestrian-only paved road, which is a direct route to the path around the lake.
Forest Hill Park: Before You Go
The main park entrance is located at 4021 Forest Hill Avenue in Richmond, Virginia. This will lead you in by way of the 42nd Street entrance.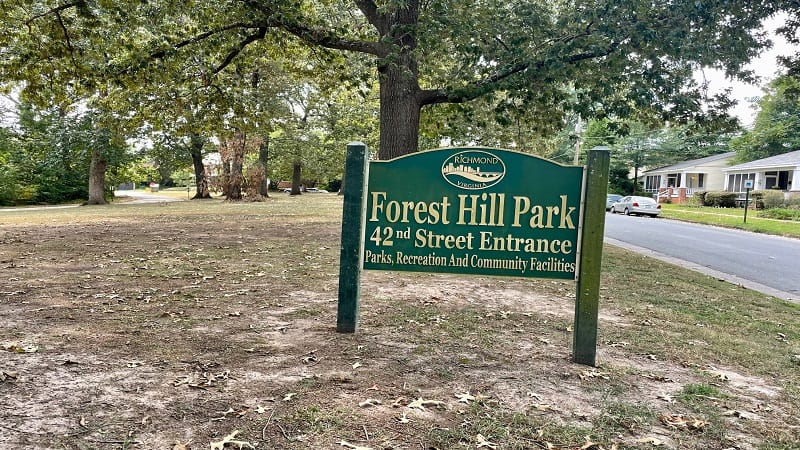 This entrance is where to go for the weekly farmer's market and picnic areas. Here you can also access the lake by way of a pedestrian-only paved road.
For the historic Stone House and the children's playground, your best bet is to enter through the 41st Street entrance at Stonewall Avenue.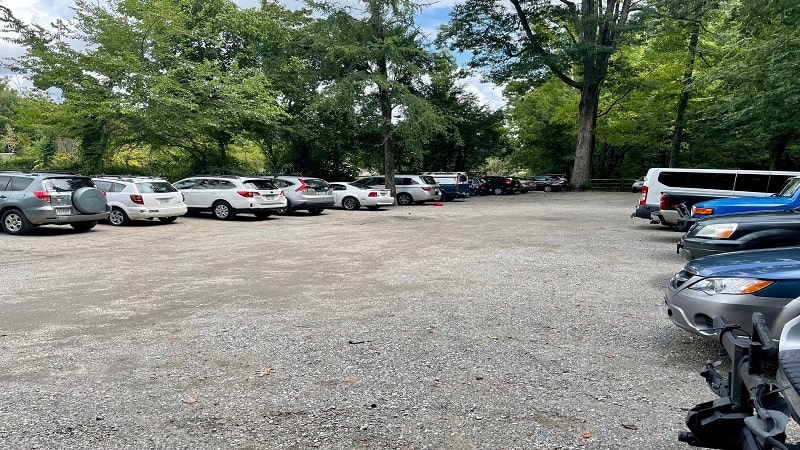 You can also access Forest Hill Park by way of the Reedy Creek parking area on Riverside Drive. However, parking is a challenge, especially on weekends.
This park is free to visit and is open from sunrise to sunset. The park is also dog-friendly, so feel free to bring your pup along for a stroll.
From Forest Hill Park, you can also connect with hiking and biking trails in the James River Park System, including the Buttermilk Trail.
If you'd like to get involved with the park, consider making a donation to or serving as a volunteer with Friends of Forest Hill Park.
Eager for more Central Virginia day hikes? Check out my favorite hikes near Richmond, Virginia.