Tuscarora Trail: Enjoy Scenic Views Across the South Fork Shenandoah River
I hate to say this, but I am not a huge fan of the Tuscarora Trail. I wish I knew why. This 252-mile trail cuts through Virginia, West Virginia, Maryland and Pennsylvania.
This long-distance trail was created in the 1960's as an alternate route for the Appalachian Trail. It stretches from Mathews Arm in Virginia to Sterretts Gap in Pennsylvania.
I've hiked a few short stretches of this trail, like en route to Eagle Rock and Signal Knob. I recently found myself back on this trail again, somewhere along Section 21.
It was a relatively steep hike, especially as the trail closed in on the Massanutten Trail, but scenic vistas were exceptionally plentiful the higher I climbed on this trail.
| Trail Stats | |
| --- | --- |
| Length | 3.3 miles |
| Difficulty | Moderate |
| Trail Type | Out-and-Back |
| Elevation Gain | 951 feet |
| Duration | 2-2.5 hours |
| Terrain | Mostly dirt, sand & gravel trails |
| Dog-Friendly | Yes |
| Fee | Free |
| Driving Directions | Click Here |
Arriving at the Trailhead
This hike begins from the back of a small parking lot on Panhandle Road (State Route 613) in Bentonville. There is room for only five or six cars.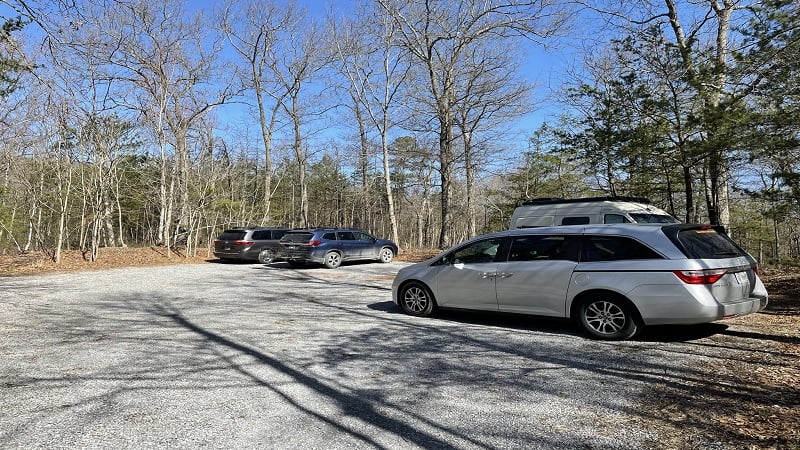 This section of the Tuscarora Trail is on the other side of the South Fork Shenandoah River from Shenandoah River State Park. It's literally just west of the state park.
I know this is not the start of the Tuscarora Trail, yet interestingly, I could not seem to figure out the section of trail that leads east from this parking area. Hmmm…
The First Steps
This wooded hike begins at a metal barrier. As in, Road Closed. Simply walk around the barrier to the mostly gravel trail on the other side. In a few steps, a trail sign.
You are now entering George Washington National Forest on the blue-blazed Tuscarora Trail, which is maintained by the Potomac Appalachian Trail Club (PATC).
In a few more steps, at the .1-mile mark, you will arrive at a primitive camp site. It's quite large too, with a stone fire ring. An older man was all set up with his tent.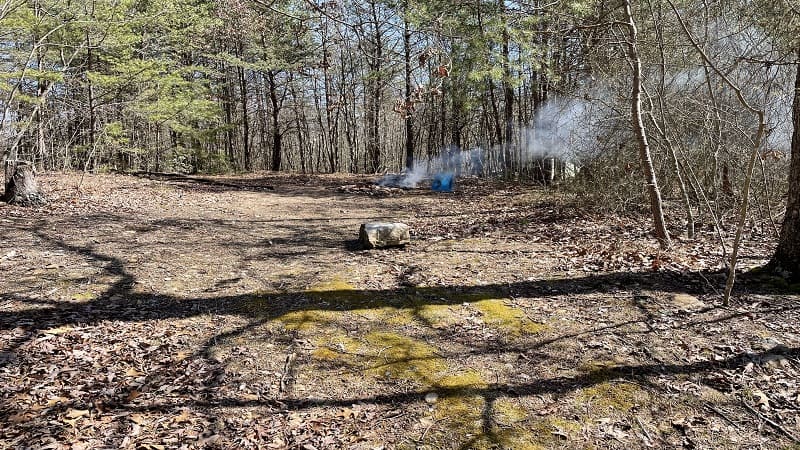 Press on, friends. In another few steps, you will reach a worn wooden sign for Morgan's Road. This trail / road was ordered to be created by George Washington.
Yes, George Washington. As in, during Revolutionary War times. He called on General Daniel Morgan to build a military road – Morgan's Road – to nearby Fort Valley.
As George Washington prepared for a possible "last stand," he ordered this road to be built. Thankfully, he and his troops did not need this road through the mountains.
Continue on along a mostly dirt hiking trail with far-reaching mountain views through the trees on either side of the path. You will soon reach a quick switchback section.
From here, the trail becomes more steep until the Tuscarora Trail bisects the Massanutten Trail at the 1.6-mile mark. Savor the south-facing river views on the ascent.
At the top, you will reach a wooden trail sign. You can turn right for the orange-blazed Massanutten Trail to Little Crease Shelter and Elizabeth Furnace.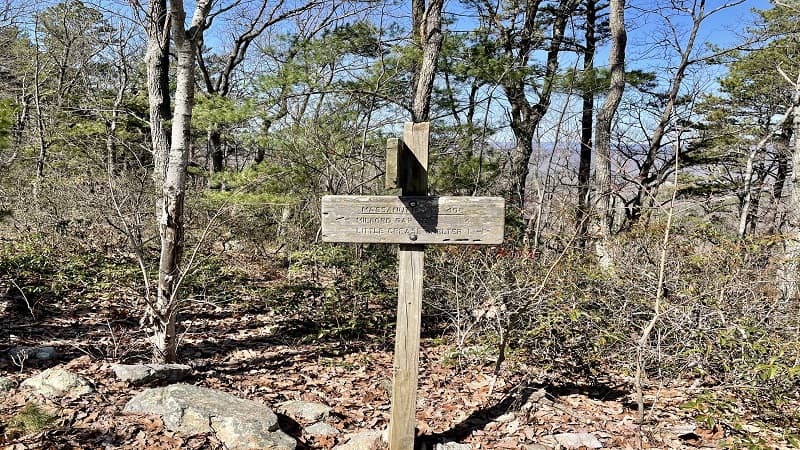 If you turn left, you would take the Massanutten Trail to Milford Gap ("Massanutten Tr 408"). "408" is the same trail that leads to Kennedy Peak, so honestly, I'm confused.
From the trail sign, simply re-trace your steps to return to the parking area on Panhandle Road. Your hike is complete.
Wrap-Up Notes
From the parking area, this hike took me nearly 90 minutes, including time spent taking in the views across George Washington National Forest.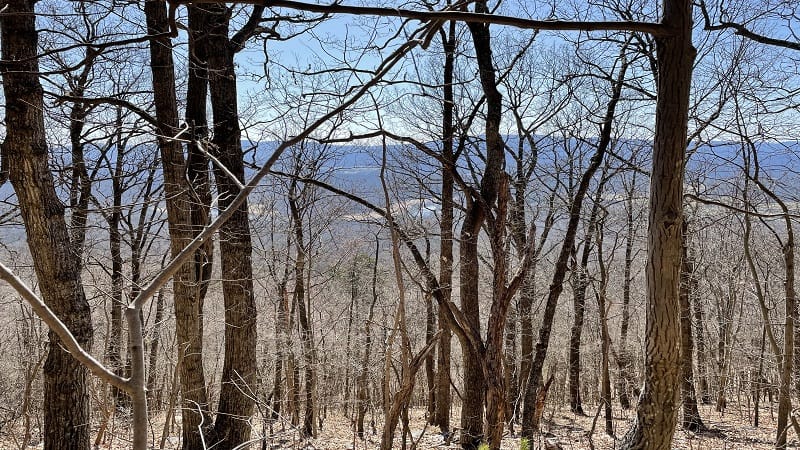 It's a 20-minute drive to historic downtown Front Royal. Enjoy a stroll and re-fuel at a number of restaurants, like Front Royal Brewing Co. and L'Dees Pancake House.
Sit awhile in the gazebo in the town square or let the kids run around on the green space.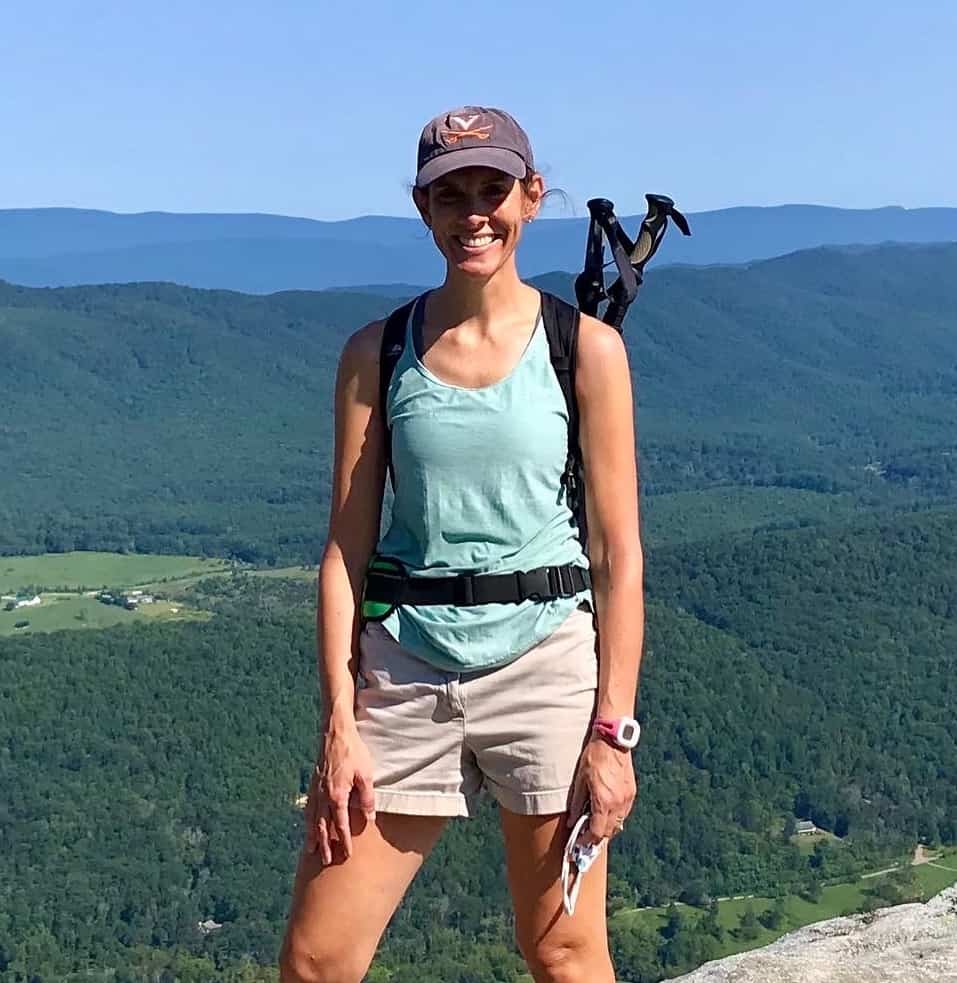 Erin Gifford is the editor of Go Hike Virginia. She has completed more than 300 hikes in Virginia. She is also the author of three hiking guidebooks from Falcon Guides. Need help finding a hike? Check out the Trail Finder feature or send Erin a message.