Need to Know: Are Neoprene Socks Good to Wear Hiking?
Cold, wet feet on a hike is no fun. What's even less fun is getting blisters, too. Thankfully, these problems can be avoided with neoprene hiking socks.
Yes, waterproof and neoprene hiking socks do exist. What's more, they do what they claim. They're a must-have for hiking in the rain or across streams.
It's not always safe or sensible to take off your shoes or boots on a hike to cross a flowing water source. It can be very cold and slippery, as well as dangerous.
In this article, we're talking about waterproof and neoprene hiking socks. You'll learn the benefits, how to wear them and our top waterproof sock picks. Let's go.
What Exactly is Neoprene?
Neoprene is a synthetic, water-resistant rubber. As a fabric, neoprene can be used to create such products as laptop sleeves, wetsuits and wearables.
This waterproof material helps keep the body warm when exposed to cold water. Neoprene is not only waterproof, but it's extremely insulating, too.
There are two types of neoprene: closed cell and open cell. Closed cell neoprene is commonly found in items like wetsuits that require insulating properties.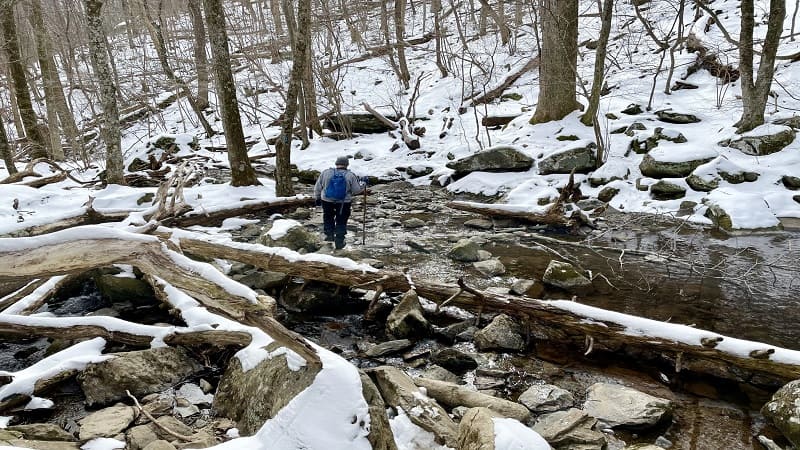 The closed cells trap air to act as a radiant barrier, trapping body heat inside and blocking cold temperatures from entering a wetsuit, for example.
However, it's not just wetsuits that can be made from neoprene. You can also find water booties and hiking socks made from this super-power material.
It's important to note that not all neoprene is completely waterproof. Open cell neoprene is water resistant, while closed cell neoprene is typically waterproof.
However, water can still get inside if your neoprene socks don't fit properly or if you get your shoes totally and completely waterlogged.
What Are the Benefits of Neoprene Socks?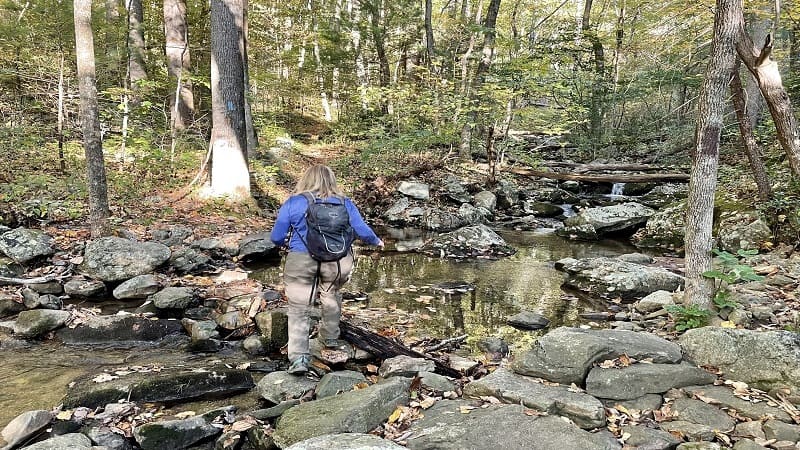 The main benefit of neoprene socks is that they keep your feet dry when hiking in wet places. However, they do a lot more than just keep out moisture.
Neoprene hiking socks keep your feet warm because of superior insulation. They also help reduce friction and rubbing between your skin and shoes.
They also provide more cushion than regular socks. They are ideal for hiking through creeks, on super wet trails or when you have a lot of water crossings.
You may also want to consider wearing neoprene socks in cold weather to help keep your feet as warm as possible.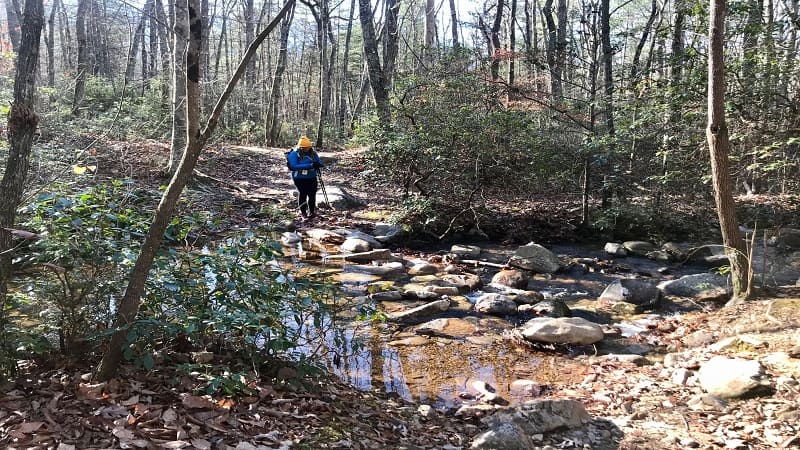 Since neoprene is a thick material, you can even wear them without shoes around the campsite.
There are many different kinds of neoprene socks. Some are super thin and fit and feel more like regular socks, while others feel more like thin shoes.
In general, all neoprene socks for hiking are a bit bulkier than regular socks. Because of this, they might make your shoes feel too tight.
Keep your sock thickness in mind when purchasing socks or your next pair of hiking boots.
Do I Wear Socks Under Neoprene Socks?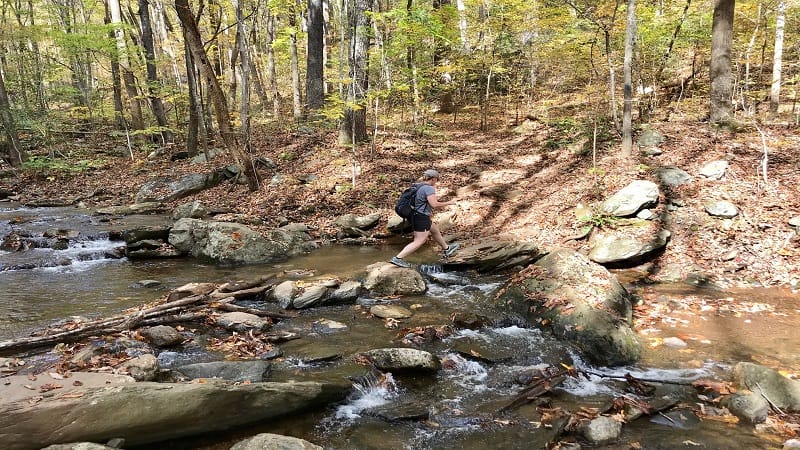 You can wear regular socks with neoprene socks. Whether you decide to wear them over or under is up to you. There's no one answer as to which way is best.
If using neoprene socks for warmth, wearing a pair of wool hiking socks underneath can help keep your feet as warm as possible.
However, if you are wearing neoprene to help keep your feet dry, try wearing your regular hiking socks over them.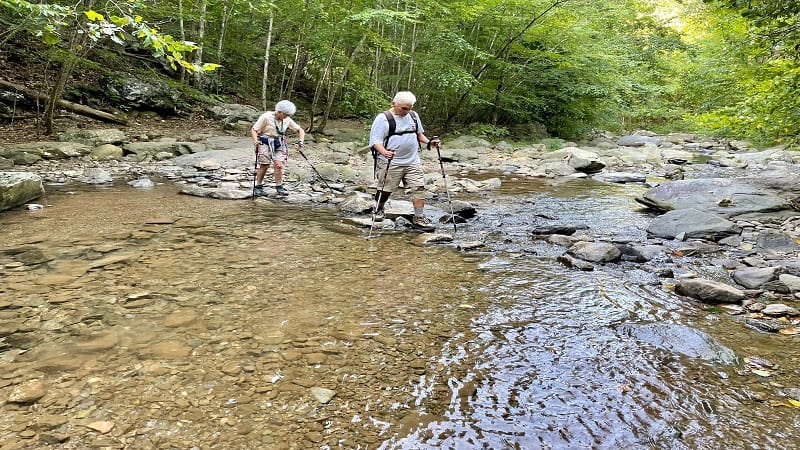 This will help the neoprene hiking socks make a tight seal against your skin to keep out as much moisture as possible.
It's important to note that wool hiking socks still help your body retain heat, even when they're wet.
If cold feet are the issue, always remember to bring along wool hiking socks, too.
Best Neoprene Socks for Hiking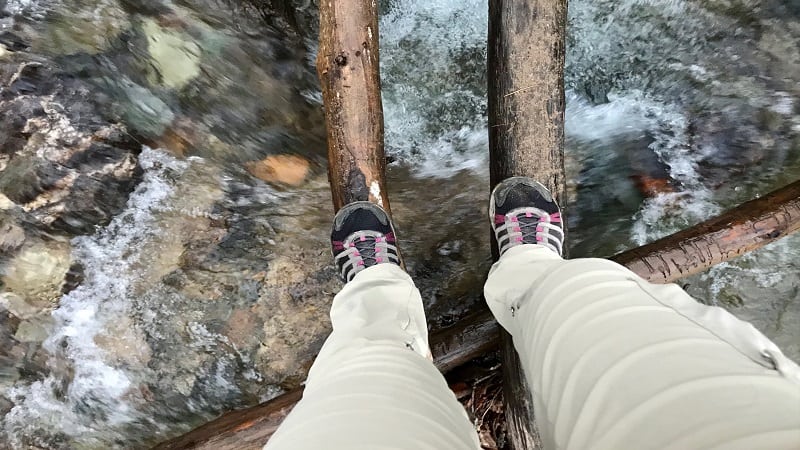 If neoprene socks are on your mind, we're sharing the top-rated picks. The best pair for you may depend on budget, size, sock style and personal preferences.
Some are made from 100% neoprene, while others are made from water-resistant materials and a waterproof membrane.
Waterproof hiking socks are more comfortable, in some instances, and they're almost always more affordable than 100% neoprene.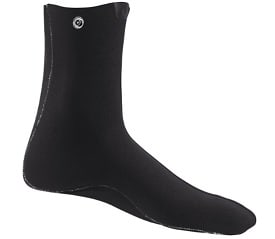 These neoprene socks from REI are a great waterproof sock option. They are higher than ankle socks, but lower than knee-height or mid-length.
Made of 100% neoprene, these hiking socks have well-placed seams and should fit without the bulk of soggy regular socks.
These socks are best for hikes with low water crossings or hikes where your shoes may get wet. The NRS HydroSkin socks have 4-way stretch for range of motion.
They also have a plush inner lining to help keep your feet as warm as can be. These neoprene hiking socks also have snaps so you'll never lose a sock.
These socks also have a durable, water repellent coating that forces water to bead up and roll off the material and help keep your skin warm.
The Sealskinz waterproof all-weather mid-length socks are perfect for hiking through various water crossings in any kind of weather.
They're also great for hitting the river in a kayak or canoe if the water doesn't go over mid-calf. These socks are waterproof, windproof and breathable.
Sealskinz is a British company that has been perfecting waterproof sock technology for over 25 years. They even trademarked their Hydrostop technology.
They prove that with a lifetime guarantee. They will replace your gear with the same or similar item if it ever stops being waterproof.
These socks are made with water-resistant nylon and spandex and coated with a hydrophilic membrane, meaning it literally repels water to keep it out.
These mid-length waterproof hiking socks on Amazon come in many colors and sizes. They are 100% waterproof and breathable.
These socks are perfect for hiking wet trails and water crossings. They help wick sweat away from your skin, too.
Made from waterproof nylon, spandex, and lycra, these socks are made of 3 layers. These socks also have over 1,100 5-star ratings on Amazon.
There's a comfortable and soft inner layer, a waterproof membrane in the middle, and a wear and water-resistant outer layer to keep your socks dry.
Customers confirm that these socks are 100% waterproof and are perfect for all wet outdoor activities.
These knee-high waterproof socks are perfect for hiking, biking and kayaking. These socks are made from water-resistant materials, like nylon and polyester.
These waterproof hiking socks have a medium cushion and three layers of technical materials to keep your feet comfortable, warm and dry.
In addition to keeping your feet warm and dry, these socks provide compression to enhance blood flow in your legs to prevent cramping, fatigue, and swelling.
With waterproof and neoprene socks, the only way to make sure water stays out is to prevent getting the sock swamped.
Since these socks are knee high, you'll stay dry in deeper water crossings than some of the others on this list.
Wrap-Up: Neoprene Socks for Hiking
Neoprene socks are a great addition to your gear arsenal. When choosing the best neoprene socks for hiking for yourself, always read reviews.
These socks can be worn to keep your feet warm in cold weather, to keep your feet dry on wet trails, and they're extremely versatile.
Buying waterproof socks instead of 100% neoprene socks can be a more affordable alternative, and they can still be totally waterproof.
If you're unsure, read the materials, find out what waterproofing technology they use, and again, read reviews.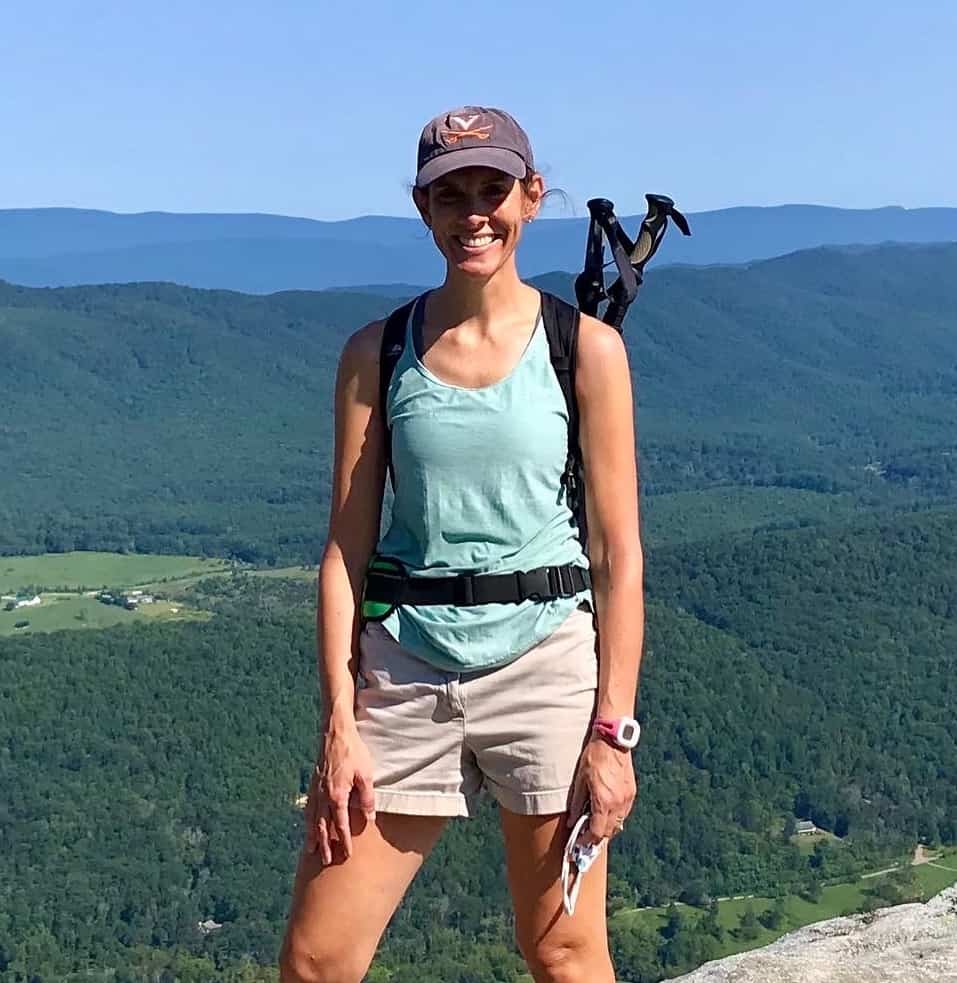 Erin Gifford is the editor of Go Hike Virginia. She has completed more than 300 hikes in Virginia. She is also the author of three hiking guidebooks from Falcon Guides. Need help finding a hike? Check out the Trail Finder feature or send Erin a message.