10 Must-Dos When Visiting New River Trail State Park in Southwest Virginia
Not long ago, I biked the New River Trail in Southwest Virginia, then I wrote all about it in a gigantic, super-size blog post. It was more than 4,000 words.
It was a lot to take in, but there is a lot to know about this 57-mile rail-trail that's the centerpiece of New River Trail State Park.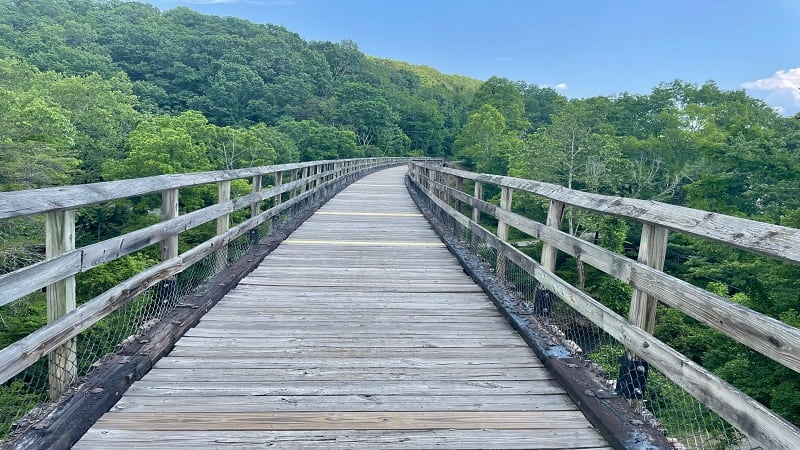 The New River Trail touches or is a stone's throw from such notable towns as Wytheville, Draper, Pulaski, Max Meadows, Fries and Galax.
It's an amazing rail-trail – the longest rail-trail in Virginia – but for those who want the highlights, I'm here for you.
#1: Draper Mercantile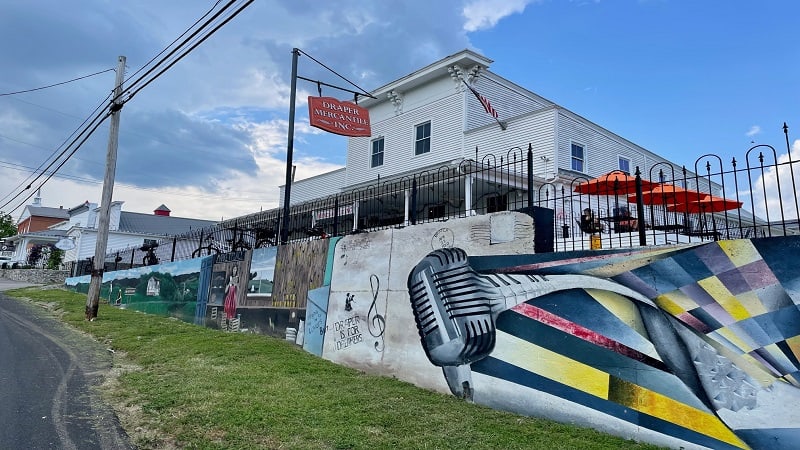 One of your first stops on the New River Trail, when traveling from north to south, is Draper Mercantile. It's steps from the rail-trail near milepost 6.
Draper Mercantile is open from 8 am to 3 pm Tuesday through Sunday. There's a restaurant, a coffee shop, a candy case and plenty of charming gifts.
The Merc serves breakfast and lunch, and let me tell you, the food is ah-mazing. I ordered the Merc's Chicken Salad Croissant for lunch. Delicious.
If you want to start here, there are bike rentals. Next door, pop in the Draper Blooms Tea Garden, which has formal tea service Wednesday through Sunday.
#2: Hiwasee Bridge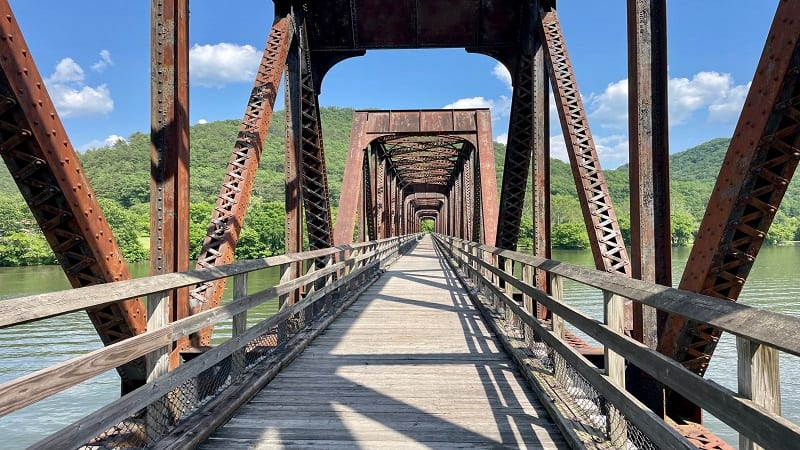 The Hiwasee Bridge is not to be missed on the New River Trail. This is one of 32 trestle bridges that turn up every now and again on this popular rail-trail.
This 951-foot-long wood and steel bridge is one of three major bridges you will cross as you traverse the New River Trail. It's a stunner, too.
The Hiwasee Bridge turns up near milepost 10. It's also the second longest bridge in New River Trail State Park.
#3: The Inn at Foster Falls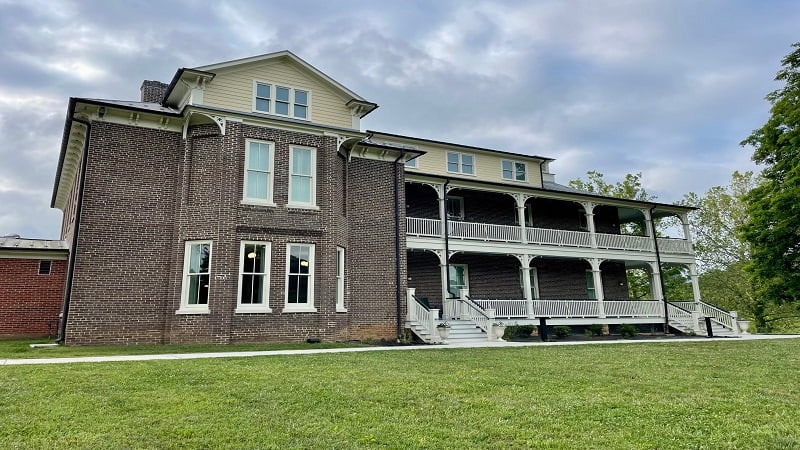 At milepost 24, Foster Falls is home to the historic Inn at Foster Falls. This 10-room inn opened in March 2023. It's the first inn within Virginia State Parks.
The inn is steps from the New River and the New River Trail, as well as boat and bike rentals, an old iron furnace, a historic rail car and a park gift shop.
The Inn at Foster Falls offers overnight guests a continental breakfast, as well as an afternoon dessert social with special treats like sticky toffee pudding.
At Foster Falls, you'll also find Millrace Campground, one of three primitive campgrounds at New River Trail State Park.
#4: Shot Tower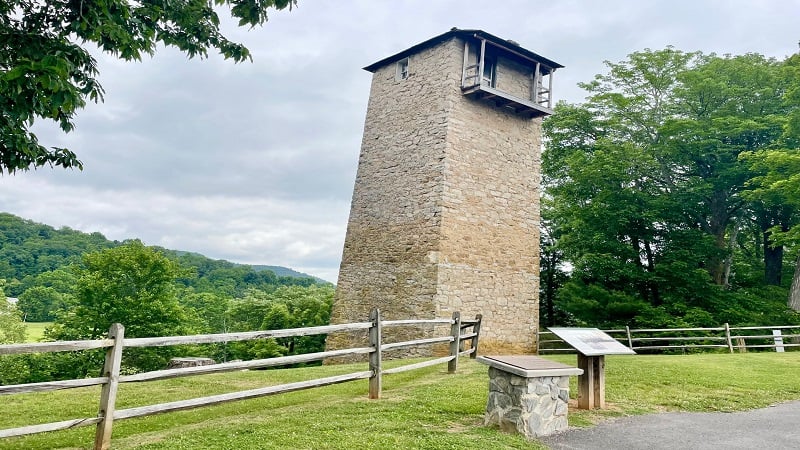 From Foster Falls, it's less than 1.5 miles to Shot Tower Historical State Park, which features the 75-foot-tall Shot Tower. It's near milepost 25.
The Shot Tower once produced shots (small pellets) for shotguns. The Shot Tower is one of only three that remain standing in the United States.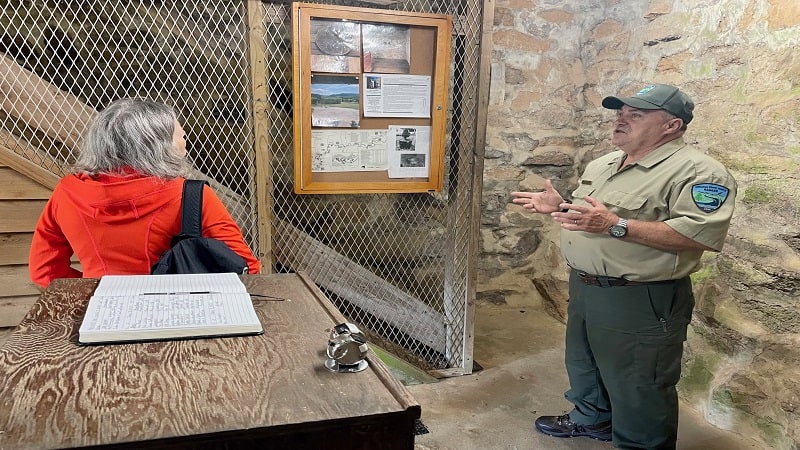 In 1981, the tower became a historic landmark. It is now protected and managed by Virginia State Parks.
Often an on-site park ranger gives a short overview of the Shot Tower (less than 10 mins). You can also climb the stairs to the top of the historic tower.
#5: Railroad Tunnels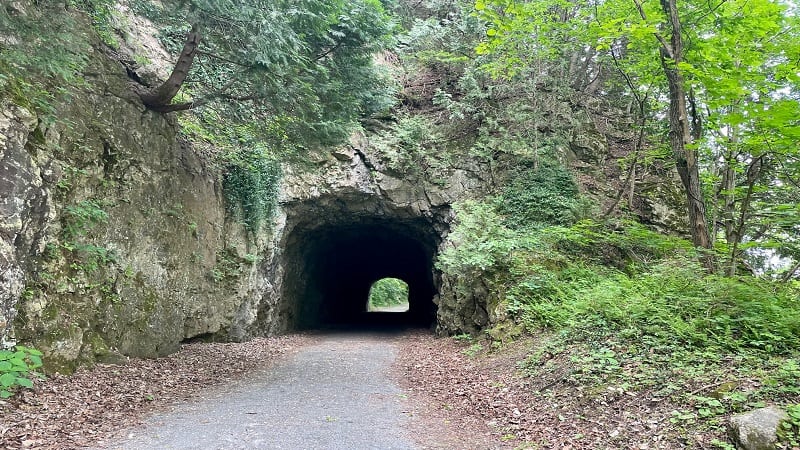 When traveling the length of the New River Trail – from Pulaski to Galax – you'll pass through two historic railroad tunnels.
The first tunnel is near milepost 28, in Austinville. As you exit the tunnel, look up to see yellow chains hanging from a post.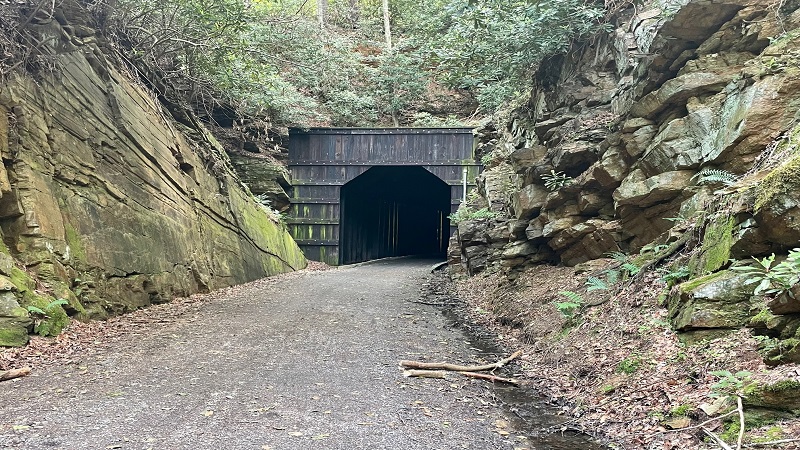 Back in the day, these would have been leather straps, not chains. They were a warning system to workers working on top of the train car while in motion.
The second tunnel turns up near milepost 41. It's very dark and there are no lights, so turn on your bike light. You may even want to walk your bike.
#6: Buck Dam & Byllesby Dam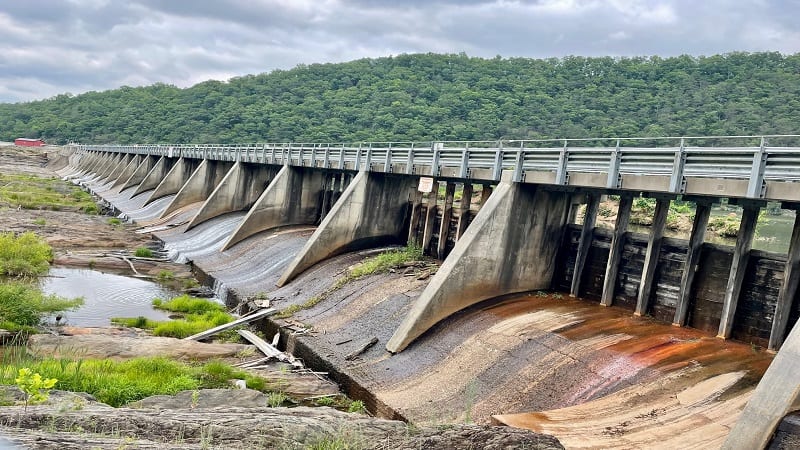 There are two hydroelectric dams that sit alongside the New River Trail. The first is called Buck Dam and is located near milepost 34.
Buck Dam is a 42-foot-tall concrete dam with a 1,005-foot-long spillway. This dam was built in the early-1900s by the Appalachian Power Company.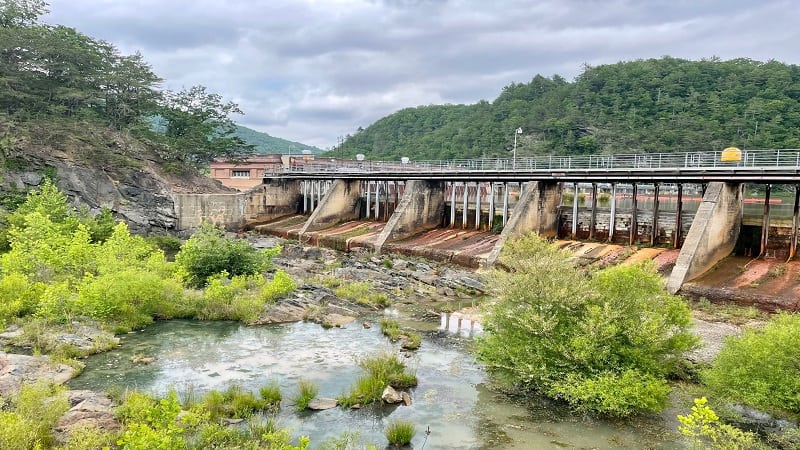 The second dam, Byllesby Dam, is 2.6 miles further upriver, near milepost 37. This 64-foot-tall concrete dam, as well as Buck Dam, both create hydroelectric power.
Both dams are historic landmarks that date back more than 100 years. You can't get close to either dam, but they are still worth a look.
#7: Fries Junction Bridge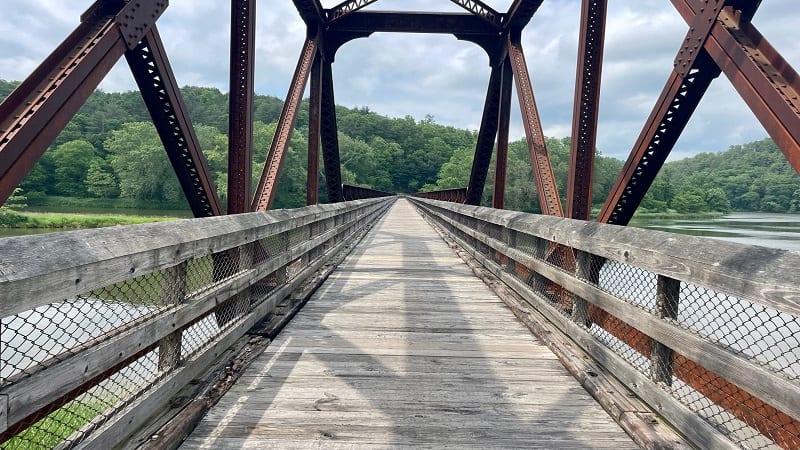 The Fries Junction Bridge is a scenic 1,089-foot-long trestle bridge. It's also the longest bridge on the New River Trail.
This trestle bridge is located at Fries Junction, at milepost 40. It's steps past a picnic table at the fork in the rail-trail.
The Fries Junction Bridge is on the left side, on the route that leads to Galax. Don't worry, this bridge over the New River is impossible to miss.
#8: Chestnut Creek Falls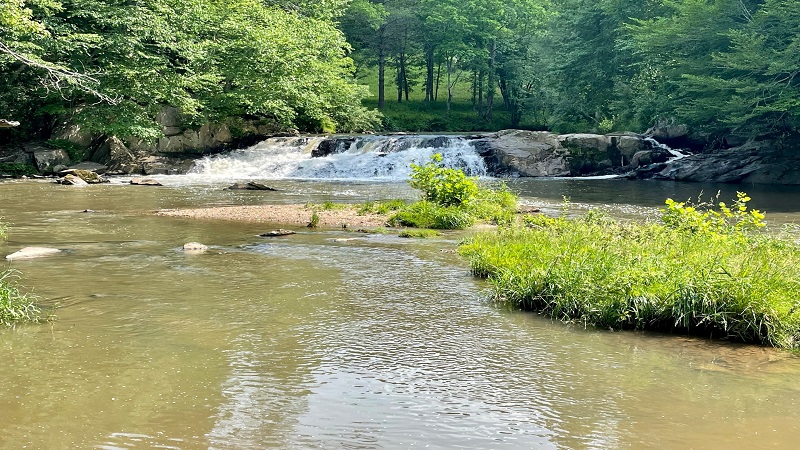 Near milepost 47, cascading Chestnut Creek Falls turns up on the left side of the trail. There is a shaded picnic table with a bench. Sit and stay awhile.
Flowing Chestnut Creek was one of my favorite parts of this ride. I stopped many times to savor the views of the rushing waters.
You'll also cross over Chestnut Creek several times on trestle bridges. From here, it's a short ride to the Cliffview Campground.
#9: Galax Caboose
Galax marks one of two endpoints on the New River Trail, which splits in two at Fries Junction near milepost 40.
From Fries Junction, it's 12 miles to Galax. At the terminus, you'll want to snap photos of the red caboose, as well as the bass fiddle.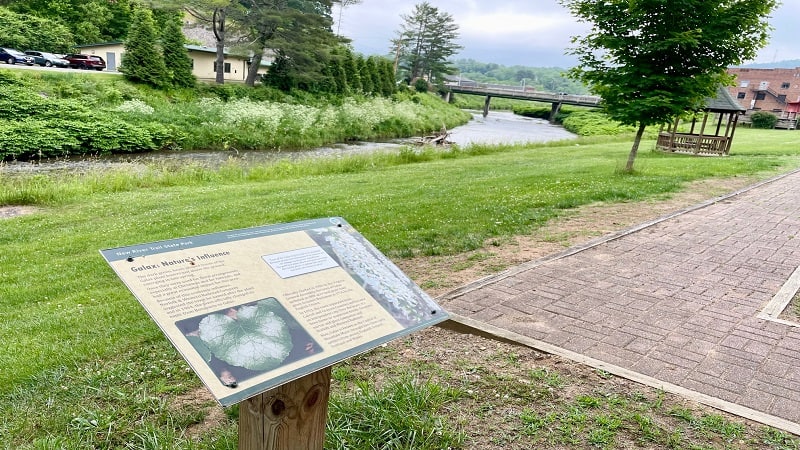 The artistic bass fiddle celebrates Galax and is one of several fiddles on display around town, which showcase the town's mountain music heritage.
Note that the state park is in the midst of repairing and replacing the park's trestles, so check the park website for closures before you set out for the trail.
#10: Fries Park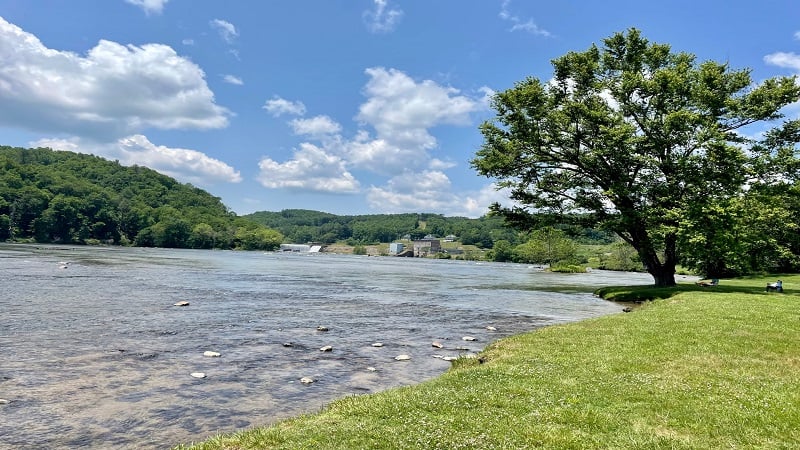 Fries is the second endpoint and is located 5.5 miles from Fries Junction. The crown jewel of Fries is Fries Park.
Fries Park sits on the New River. There are picnic tables, playgrounds and plenty of green space if you just want to laze away the day.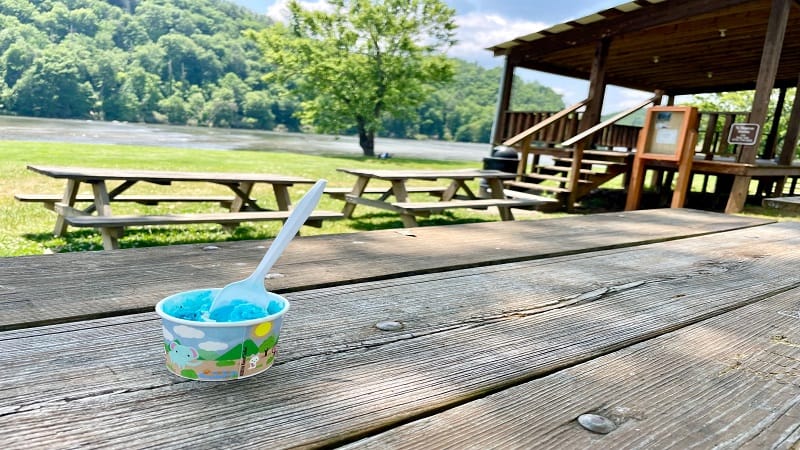 At Fries Park, you'll also find The Frosty Monkey for ice cream and snow cones, as well as Windy River Café.
Disclosure: This post was sponsored by Visit Wytheville. However, all views and opinions expressed here are my own.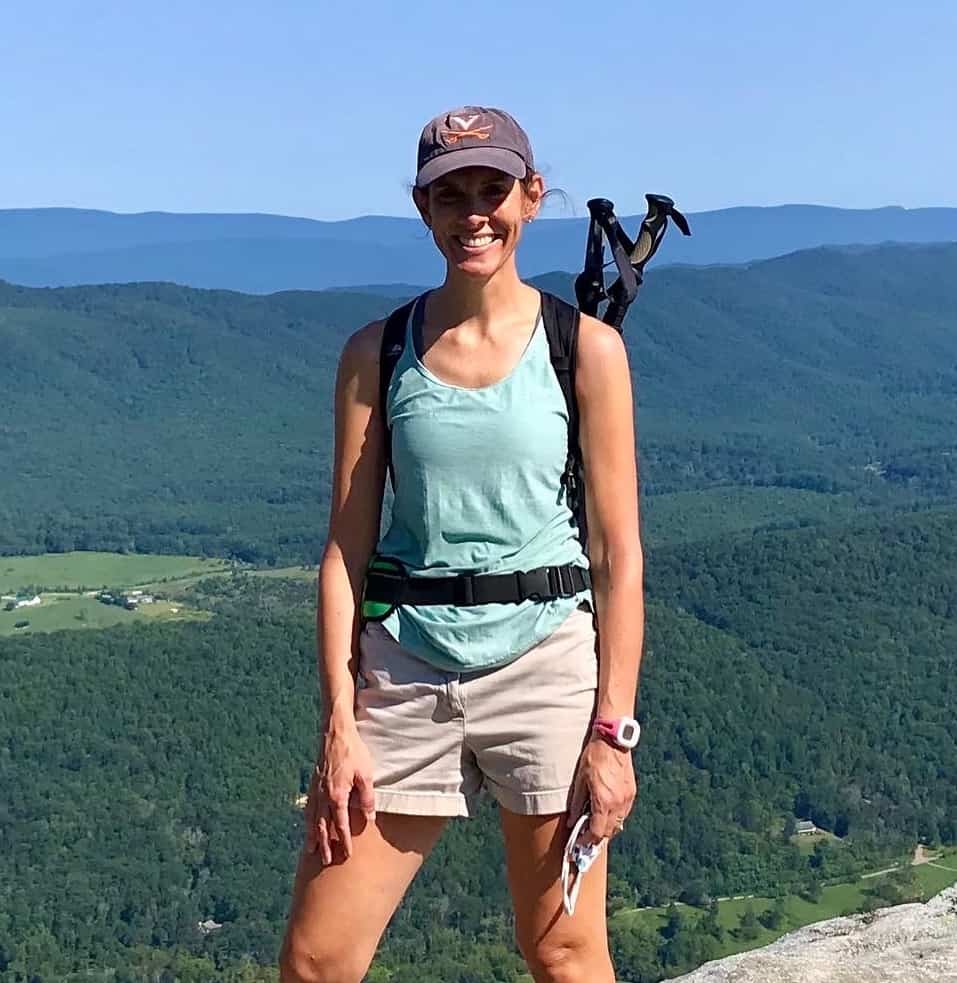 Erin Gifford is the editor of Go Hike Virginia. She has completed more than 300 hikes in Virginia. She is also the author of three hiking guidebooks from Falcon Guides. Need help finding a hike? Check out the Trail Finder feature or send Erin a message.