TransAmerica Bike Trail: Cycling Christiansburg to Catawba, Virginia
The TransAmerica Bike Trail is a 4,200+ mile bicycling route that runs from Astoria, Oregon to Yorktown, Virginia. There are 555 miles in Virginia.
This cross-country trail began to take shape in 1973 and was ready to share with fellow cyclists in 1976. For many, this cycling journey takes three months.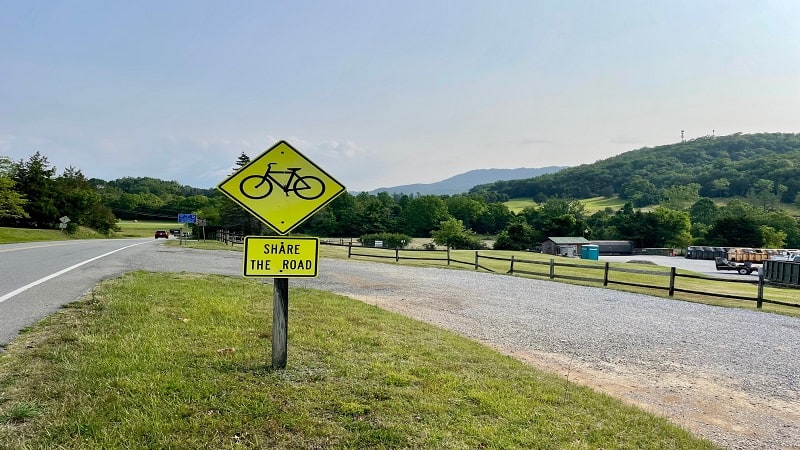 The TransAmerica Bike Trail is broken up into 12 sections that range in length from 224 miles to 411 miles.
Note that I call this a "bicycling route." It's neither a bike trail nor a bike path. However, this route does traverse mostly lightly-traveled country roads.
TransAmerica: Christiansburg to Catawba
In Montgomery County, a 19-mile section of the TransAmerica Bike Trail runs from Christiansburg to Catawba, ending at the Roanoke County border.
This route has its ups and downs, as well as bucolic farm views, quaint general stores and gas stations that are just right for a stop for a snack and a sip.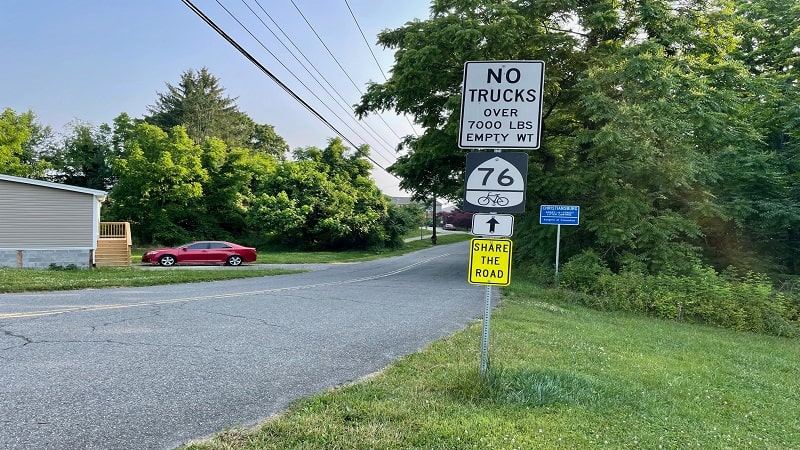 As you cycle, you will follow the signs marked "76" with a bicycle drawing under the number. This is for U.S. Bicycle Route 76.
The signs are fairly easy to spot next to the road. However, I would suggest that you purchase a paper route map from the Adventure Cycling Association.
For this route, you will need to purchase two paper maps because Christiansburg is split between Section 11 and Section 12.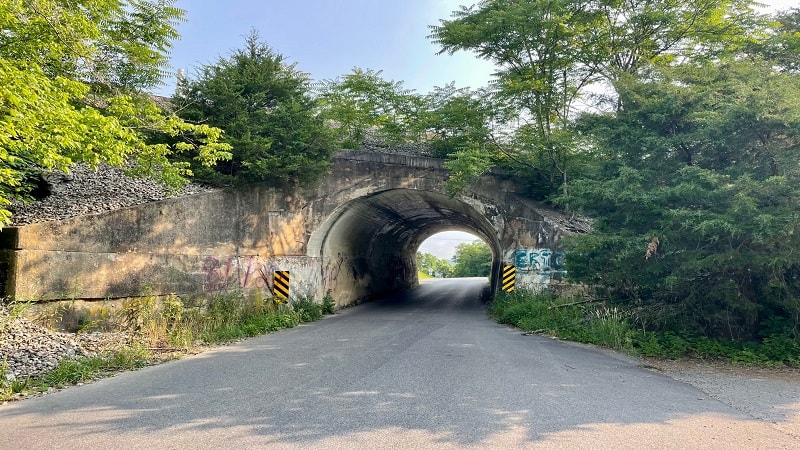 Since the route can frequently zig and zag, it's wise to have a paper map as a backup, especially when you don't see a 76 road sign.
What Not to Miss
This two-wheeled human-powered adventure begins in Christiansburg, just before the corner of Mud Pike and Moose Drive.
There appears to be a small lot on Mud Pike that you may be able to park a car in if you wish to bike this section of the TransAmerica Bike Trail.
Here's what you won't want to miss either along the way or before or after your two-wheeled adventure.
#1: Resources for Cyclists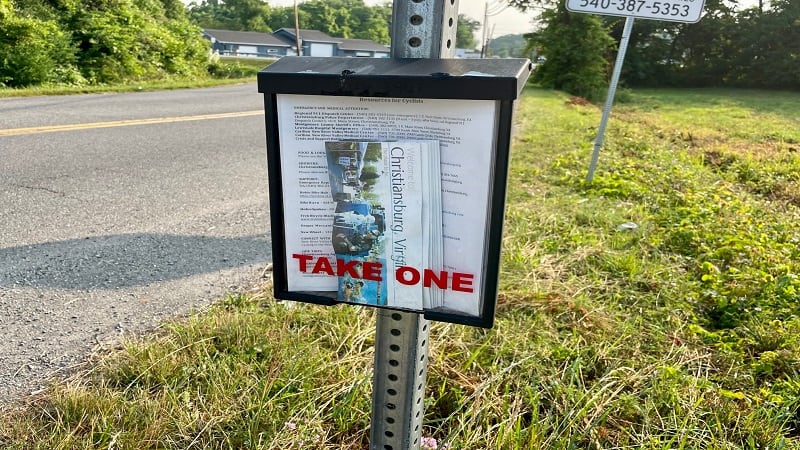 First things first, as you prepare your bike ride, you'll note that Christiansburg is a bike-friendly community. They even provide resource materials.
In a box on the 76 sign on Mud Pike, you'll see tourism brochures for Christiansburg, as well as a "Resources for Cyclists" one-sheet to take with you.
On the one-sheet you'll see places to go for bike support, for a warm shower and for side trips, as well as resources for connecting with local area riders.
#2: Depot Park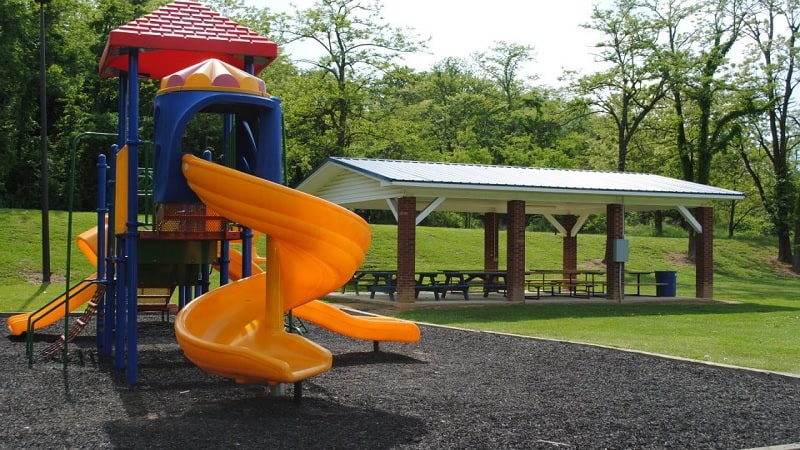 Depot Park will turn up on your left as you are cycling along Depot Street in Christiansburg. There is a playground, restrooms, a stream and ball fields.
A short walking trail connects the park to the Christiansburg Aquatic Center, which can provide warm showers. Depot Park is also adjacent to a Kroger.
#3: Cottage Farms General Store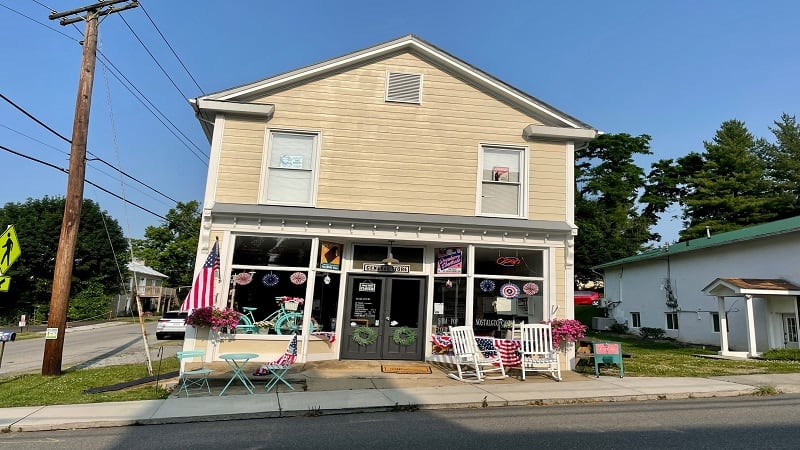 On Cambria Street in Christiansburg, you will pass Cottage Farms General Store. It's a quaint shop that was once called Palmer's Market.
Today, it's a charming general store that sells local honey, artisan-made jewelry, fresh produce, salt water taffy, even sweet potato butter.
#4: Wilson Creek Bridge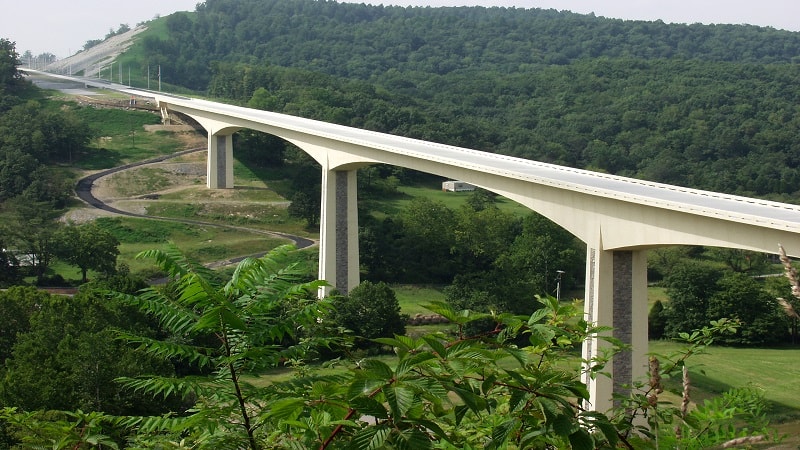 At the 5.5-mile mark on this route, you'll go under a very modern looking bridge called the Wilson Creek Bridge (also known as Smart Road Bridge).
At 175 feet tall, it's the second tallest bridge in Virginia. This engineering marvel spans 1,985 feet across and is the highest span bridge in Virginia.
You cannot cross this bridge in a car, on a bike or on foot. This is Virginia's Smart Road, a research facility used to evaluate transportation-related technology.
#5: Deli Mart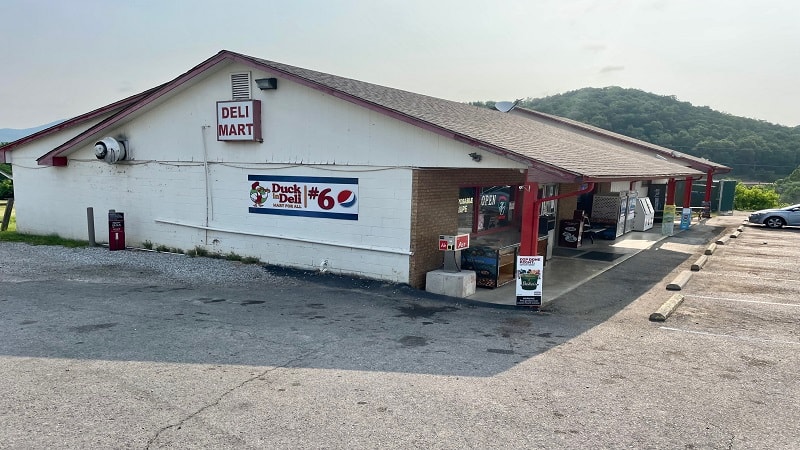 Ordinarily, I wouldn't call out a Deli Mart as a must-stop, but the Deli Mart is literally right on this bicycling route on Lusters Gate Road.
There are no busy streets to cross. It's the perfect spot to stop for a snack or a drink. Picnic tables out front allow you to sit and revel in mountain views.
#6: Bucolic Farms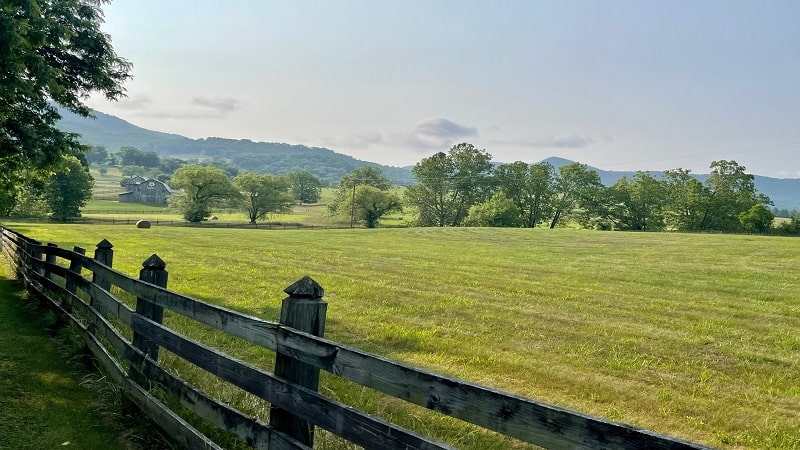 Continue on and you'll bike through a tunnel, then adjacent to pastoral farms with wildly scenic views, including Hickory Hill Farm and Berakah Farm.
The views of the rising mountains behind the farmland are equally stunning. Plan to stop a few times on the way to snap photos for the memories.
#7: McDonalds Mill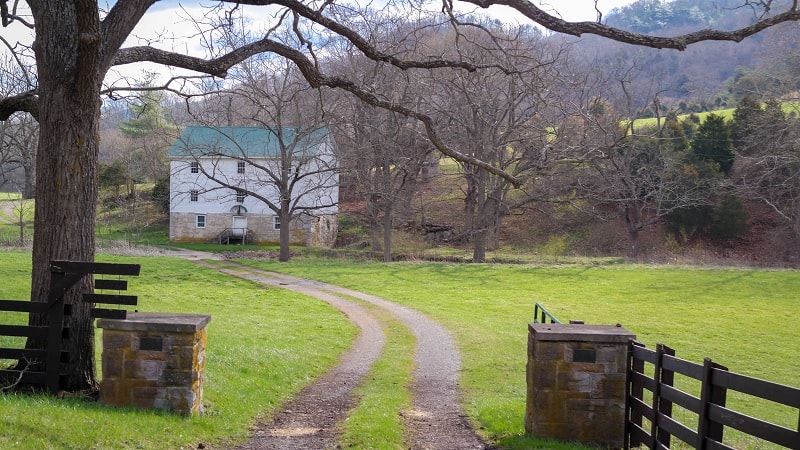 Near the end of this stretch of bicycle route is McDonalds Mill, a historic mill that sits in the Catawba Valley.
It's said to have been the first water powered mill approved for operation in Montgomery County. It is easy to miss, so keep your eyes open as you cycle.
#8: Montgomery Museum of Art & History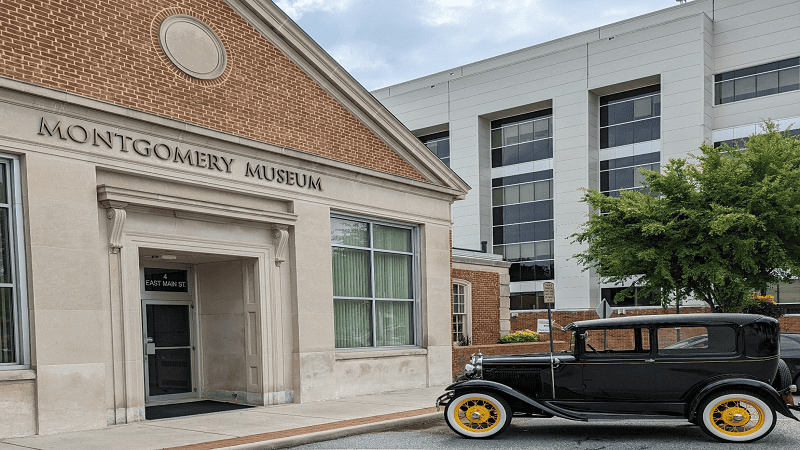 The Montgomery Museum of Art & History is less than 1.5 miles from U.S. Bicycle Route 76 in Christiansburg. Be forewarned, however, it's a hilly ride.
This cultural history museum on Main Street features rotating art exhibits by regional artists. The former location on Pepper Street also has lovely gardens.
#9: Christiansburg Recreation Center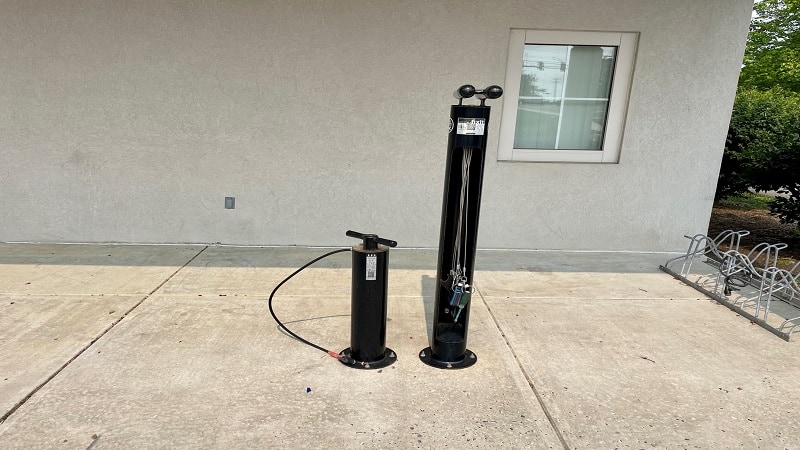 The Christiansburg Recreation Center has what the town calls an "emergency repair station" for your bike.
This tool in front of the recreation center features a bike pump, tools to repair your bike, like a multi-use tool, and a rack to place your bike on as you work.
#10: Huckleberry Trail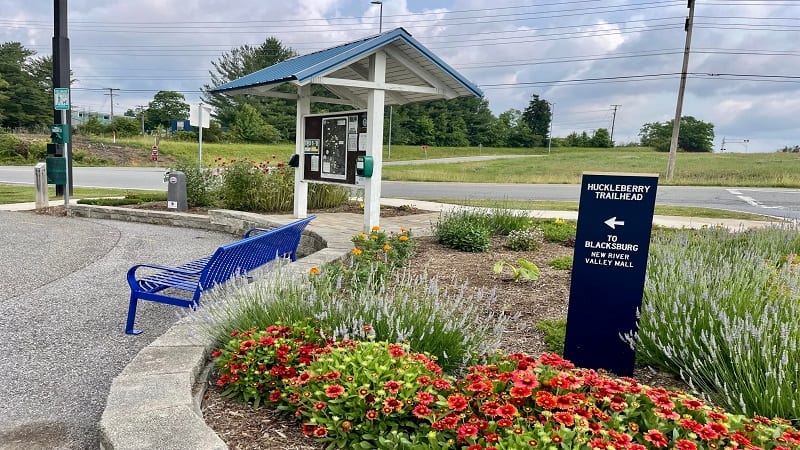 Adjacent to the Christiansburg Recreation Center is an access point to the Huckleberry Trail, a 15-mile paved biking and walking trail in Christiansburg.
If you're looking for a car-free path to ride your bike, this is the place. This rail-trail also connects with other trails, like those at Coal Mining Heritage Park.
Wrap-Up Notes
This 19-mile stretch of the TransAmerica Bike Trail is quiet and scenic, but stay alert as the roads are windy and there are a few blind corners.
You would also be wise to wear bright colors, ditch the AirPods and have a flashing light on the front and back of your bicycle.
There are some areas of this route – though on back roads – that are very narrow and that have guard rails on either side.
If you need to get your bike checked out ahead of you ride, there are several bike shops in nearby Blacksburg, including Hokie Bike Hub and HokieSpokes.
Disclosure: This post was sponsored by Blacksburg-Christiansburg-Montgomery County Regional Tourism. However, all views and opinions expressed here are my own.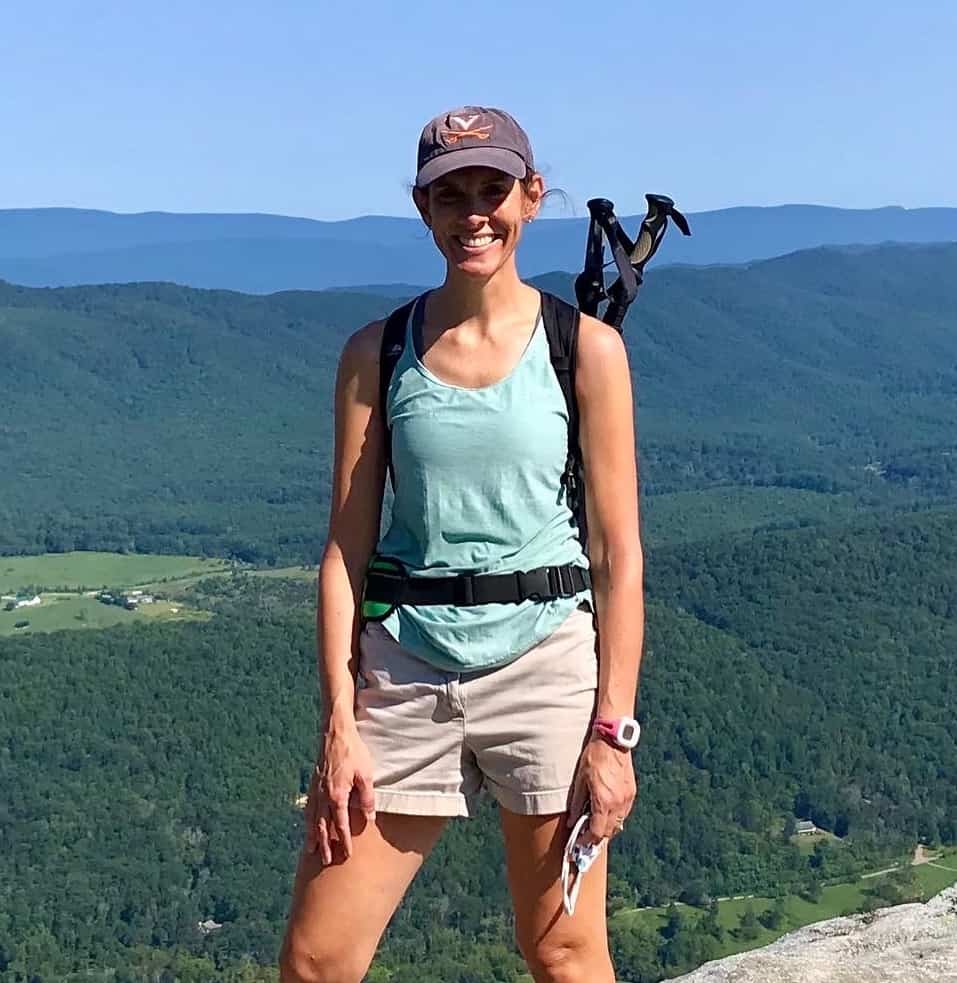 Erin Gifford is the editor of Go Hike Virginia. She has completed more than 300 hikes in Virginia. She is also the author of three hiking guidebooks from Falcon Guides. Need help finding a hike? Check out the Trail Finder feature or send Erin a message.