Need to Know: Is it Okay to Go Hiking in Jeans?
Hiking in jeans: is it okay to do? Why is it so controversial? We've all done it at least once… haven't we? Let's talk about it.
Wearing jeans or denim on hiking trails is hotly contested and debated and for pretty good reasons. Denim just isn't a great outdoor material.
As an Amazon Associate I earn from qualifying purchases. If you click and purchase, I receive a commission at no cost to you.
But will it kill you to wear jeans while hiking? Probably not, but that doesn't mean it's a good idea.
Let's talk about wearing denim jeans while hiking. We'll share when it's okay, when it's not okay, and some great denim alternatives.
Can I Hike in Jeans?
Technically, yes, you can hike in jeans. But, just because you can doesn't always mean that you should, especially on longer hikes.
Hiking in jeans is tempting. Many of us wear jeans or denim almost every single day, so it's easy to see why. They seem versatile enough.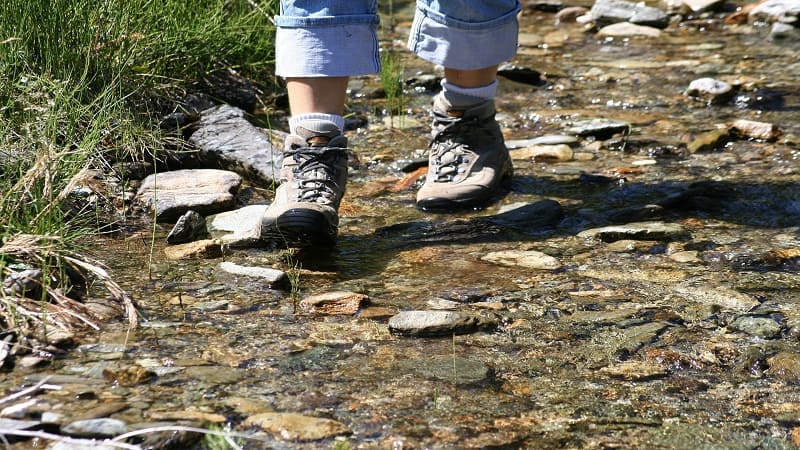 However, hiking in a pair of denim jeans isn't a wise choice. It's not just uncomfortable, it can be dangerous in certain weather and trail conditions.
There is no "jeans police." No one is waiting for you on the trails to confront you for your pants faux-pas, but you'll learn here why you might want to avoid them.
What are the Pros to Hiking in Jeans?
Hiking in jeans isn't always bad or dangerous or wrong. There will be some situations where you may choose to hike in jeans and it will be totally fine.
Cool and dry weather conditions are okay for hiking in jeans, especially if the hike is short and simple. Jeans are fine for neutral weather conditions.
If you feel most comfortable in jeans, then they're fine for hiking. But, you'll want to first check the weather. Rain leads to wet jeans and that's no fun.
Other reasons for hiking in jeans include the fact that jeans are cheap and jeans are durable. They also just look good on many people.
New hikers, you might not want to shell out money on hiking pants or hiking leggings up front and that's totally understandable.
In this situation, jeans can be a suitable pants choice if you choose simple trails during fair, dry weather.
What are the Cons to Hiking in Jeans?
There are more reasons to not hike in jeans than there are to hike in jeans, no matter the weather conditions.
When denim gets wet, it becomes incredibly heavy, rough, and it pulls heat away from your body. This can be dangerous in the wilderness.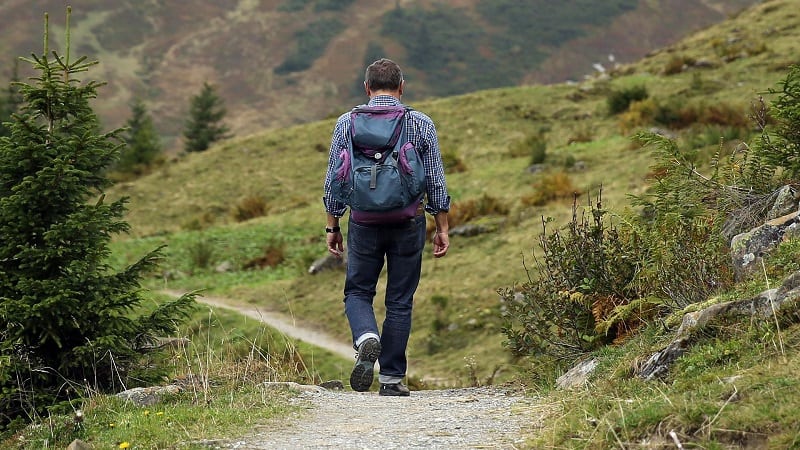 Jeans also aren't a good insulator to begin with, which makes them a bad choice for the cold. They don't breathe very well on hot days, either.
Unlike hiking pants that pull sweat and moisture away from your body, jeans will absorb moisture from the environment and your sweat.
So, even if it's not a wet day, your jeans can become damp. This can make you cold and create a breeding ground for bacteria. This is uncomfortable.
Denim can also cause chafing on hikes, whether they're wet or dry. In all honesty, they're great for fashion, but not great for hiking at all.
Is it Ever Okay to Hike in Jeans?
It is okay to hike in jeans on occasion. As noted above, if the weather isn't too hot or wet, hiking in jeans is fine.
If you choose to hike in jeans, choose a trail that isn't difficult or long, and always check the weather before you leave the house for a hike.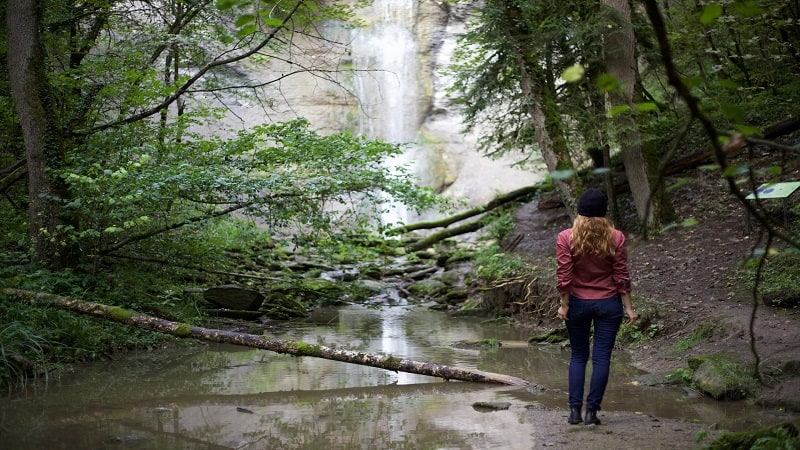 Be aware that you may experience some chafing while hiking long distances in jeans, and be mindful of getting snagged on foliage.
Don't rely on your jeans to keep you warm in extremely cold weather and never wear them while hiking in wet or humid conditions or water crossings.
What's a Denim Alternative to Jeans?
If you just love the look and feel of jeans or denim, there are plenty of options available for you from performance materials to denim alternatives.
In terms of materials, look for nylon, wool, or polyester in technical pants. Never cotton. As they say, cotton kills.
Pants made from these materials are breathable, don't retain moisture and dry quickly. They also pull moisture from your body.
The following options give off a denim vibe but they perform better than jeans or denim in outdoor conditions.
The prAna Bridger Jeans are made from a denim material called performance denim. This material is blended with polyester and elastane.
This fabric blend allows the pants to stretch, breathe, and have more durability on the trails than traditional jeans.
These pants look great dressed up or down, and you can be sure they'll look good on the trails. too. They are also the closest to hiking jeans.
They come in 54 different size options and have a slim fit through the thigh with a 5-pocket jeans styling.
The Columbia Men's Flex ROC pants are a cotton and elastane blend material that are specially made for wearing outdoors.
These pants are very similar to jeans, yet they're designed specifically for the outdoors by one of the top outdoor clothing brands in the country.
The addition of elastane allows these pants to stretch and move with you, no matter what kind of trail you're on.
Since they're mostly cotton, it's best to avoid wet hikes with these pants. But if it's the denim look you want, these are a fantastic pick.
These Dickies carpenter jeans are made for rugged conditions, including outdoor work and hiking. They're not a leading brand for nothing.
These particular pants are made from 100% cotton. So, while they're not great for wet conditions, they're still good for rugged trails.
These carpenter jeans are made to withstand the toughest working conditions, which means they can hold up on the trail, too. No need to worry about snags.
These pants have a straight-leg fit and reinforced seams for the toughest jobs and trails. Plus, they look really great, too.
What Kind of Pants Should I Wear Hiking?
So if you shouldn't wear jeans or denim or cotton materials, what kind of pants should you wear while hiking?
The alternatives above are good, rugged options for hiking in denim and denim like materials. However, they're not great for all hikes.
Cotton should be avoided when possible, especially in anything but fair weather conditions. Cotton is not a great technical material.
Instead, look for materials like polyester, nylon, and wool. These materials are moisture wicking and dry fast. They can be super insulating, too.
These are a great hiking pant from prAna, made from 95% nylon and 5% elastane. They're both technical and comfortable.
These pants come in 7 different colors, have plenty of pockets, and seam reinforcements where you need them for durability and stretch.
The material is moisture wicking and quick drying, making them great for any weather conditions. Wet, dry, hot, or cold, these pants are great.
Lastly, they look great, too. These pants don't look too different from jeans and perform much better.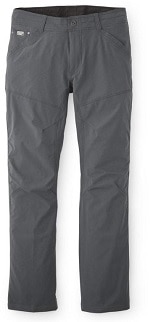 The KUHL Silencr pants are yet another great hiking pant option that really doesn't look a lot different than denim.
These pants are made from a polyester material, which is great for outdoor clothing. Polyester is lightweight, breathable, and it dries quickly.
These pants are great for wet days – they have a durable water repellent finish that will cause water to bead up and roll right off.
They're available in 5 different colors and 18 sizes, so there's something for everyone with these pants.
Last but not least, the REI Sahara Path pants might just be the most comfortable hiking pants on this list. Drawstring closure: need I say more?
These pants are available in three colors and come in 9 different men's sizes. They're budget friendly too. These hiking pants won't break the bank.
If you're looking for water resistant, durable hiking pants that are also super comfy, look no further than these nylon and spandex blend pants.
They're coated with a durable water resistant finish, and they have fabric reinforcements on the crotch and knees to hold up to anything.
Wrap-Up Notes
By now, you know that yes, you can hike in jeans. But should you hike in jeans? Not really… and not often, if at all.
Jeans are tempting to hike in for many reasons. They dominate our wardrobes, they're comfortable, and they'll always be in style.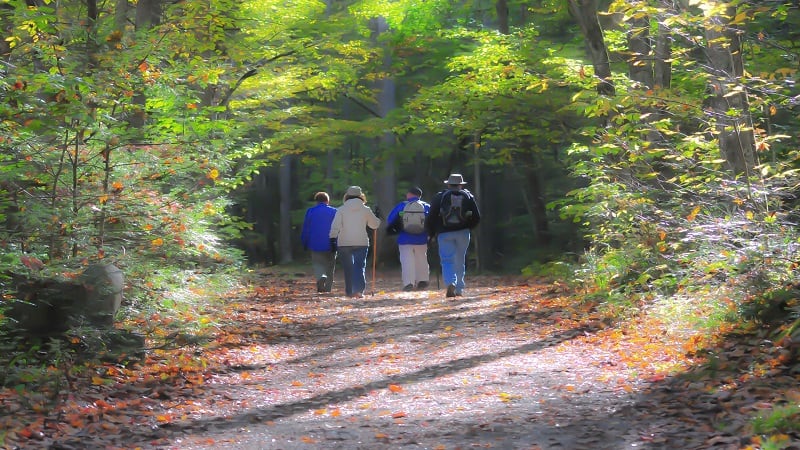 However, jeans and denim are made from cotton – which isn't good on the trails. While cotton is a great, natural material, it's not great for hiking.
When cotton becomes wet, it gets heavy. It breeds bacteria, causes chafing, and it will smother you in the heat or pull heat away from you in the cold.
You don't want to experience any of these things in either hot or cold weather, so it's best to avoid cotton.
When picking out hiking pants, always look for synthetic fabrics like polyester or nylon, or go with wool if you prefer natural materials.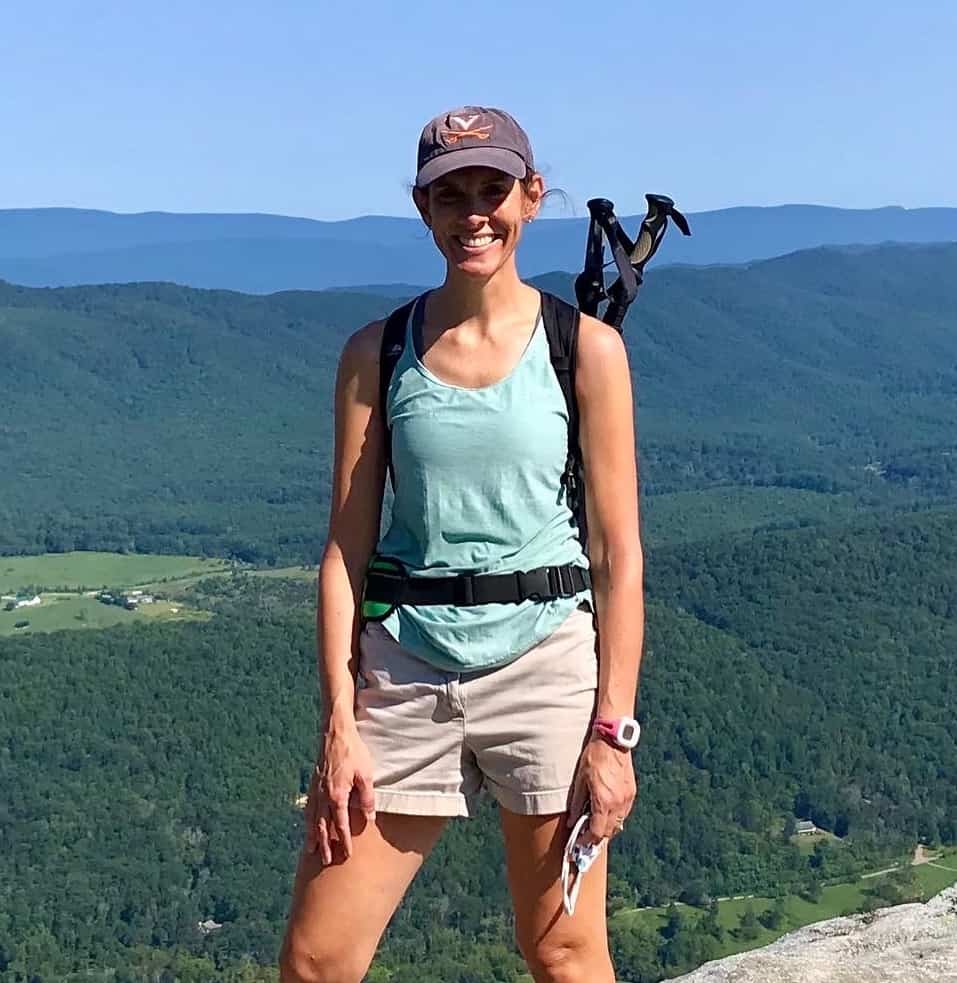 Erin Gifford is the editor of Go Hike Virginia. She has completed more than 300 hikes in Virginia. She is also the author of three hiking guidebooks from Falcon Guides. Need help finding a hike? Check out the Trail Finder feature or send Erin a message.