Family Getaway: Get Outside in Spotsylvania County, Virginia
Summer is here, and if you're eager to get outside, then I have a family getaway in Virginia for you. Even better, it's not far away, in Spotsylvania County, Virginia.
For many, military history and battlefield tours come to mind when thinking about things to do in Spotsylvania County, the "Crossroads of the Civil War."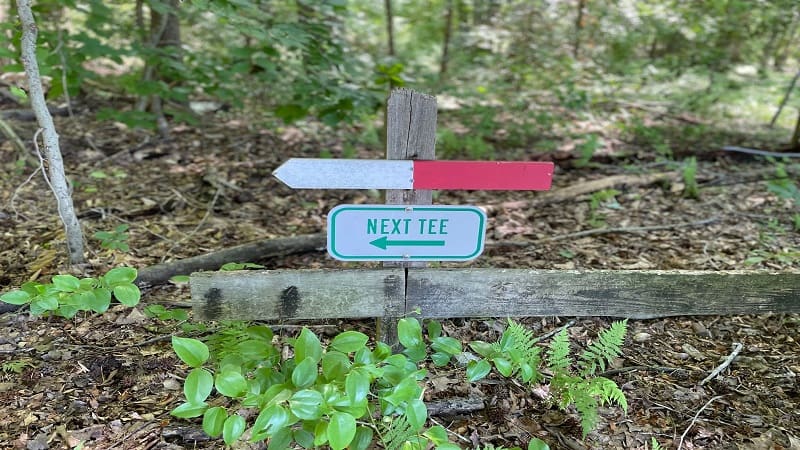 Yet, there's so much more, from hiking and disc golf to paddling and splashing around on the sandy beach at Lake Anna State Park.
My kids and I recently spent a few days in Spotsylvania County, and let me tell you, it's tops among Virginia family vacations, especially for outdoor lovers.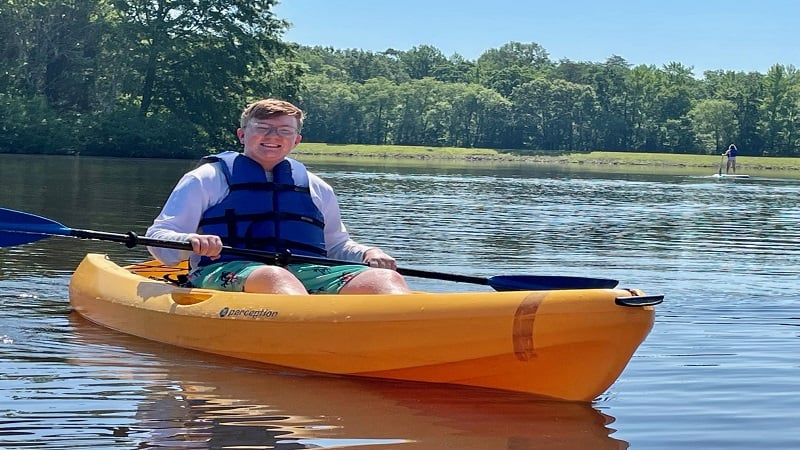 It's also a top destination for those eager for a weekend trip from Northern Virginia or Richmond. It's less than 1.5 hours from both major state hubs.
If you're looking for a new summer adventure in Virginia with lots of outdoor activities, here are the top things to do in Spotsylvania County.
Get Wet: Things to Do at Lake Anna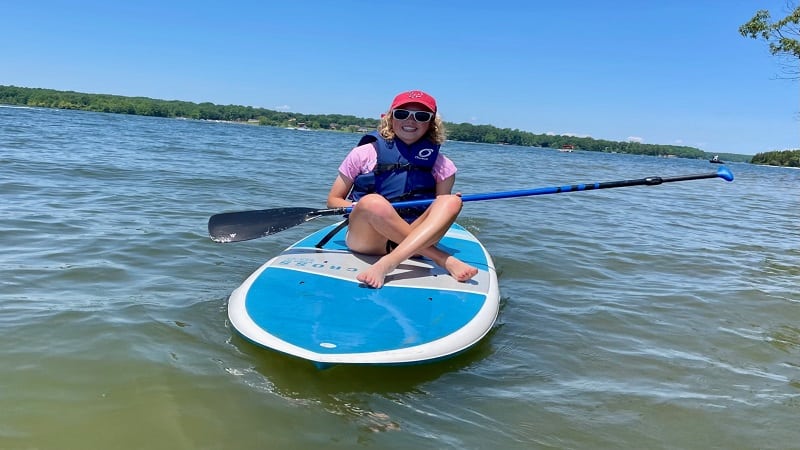 At 13,000 acres, Lake Anna is one of the largest freshwater lakes in Virginia, reaching depths that top 80 feet. The crystal clear water is magical.
There are many things to do at Lake Anna, which is popular among water enthusiasts, attracting kayaks, stand-up paddleboards, jet skis and pontoon boats.
No boat? No problem. You can rent water crafts all around the lake, including at Lake Anna Outfitters. They rent single and double kayaks, as well as SUPs.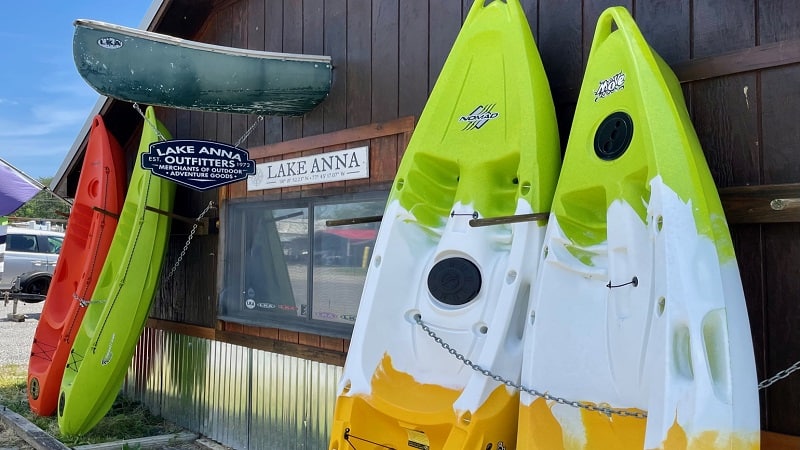 There are plenty of no-wake sections of Lake Anna, so you won't topple over from the big waves generated by the high-speed power boats on the lake.
For pontoon boats, try Shipwreck Boat Rental, which is located next to Hunters Landing at the Cove. There's a convenience store for snacks and supplies.
You'll also find The Cove at Lake Anna, a full-service restaurant with salads and sandwiches. Eat outside – upstairs or downstairs – to gaze out at the boats.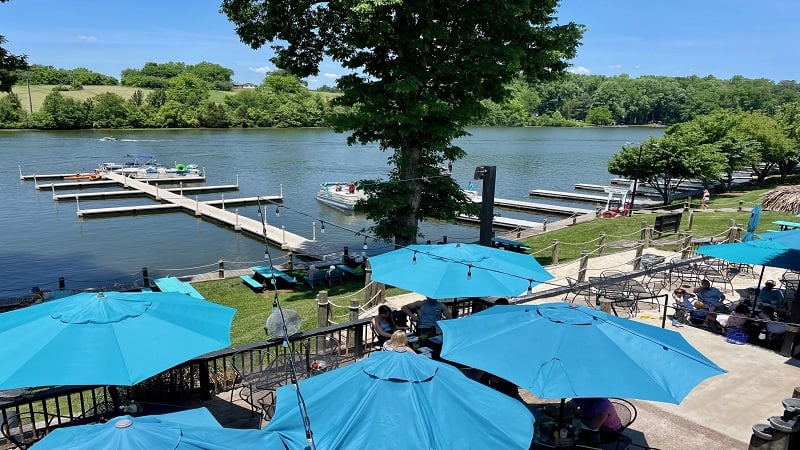 We ate on the outdoor deck upstairs, under an umbrella, with our pink lemonades and ogled all the boats cruising along the waterway to Lake Anna.
On the lower level, a grassy lawn area boasts shaded Adirondack chairs for those who want to settle in for an afternoon of boat-watching on the water.
Beach Time at Lake Anna State Park
There is Lake Anna, but there is also Lake Anna State Park, which has a sandy beach area for swimming and more than 15 miles of hiking and biking trails.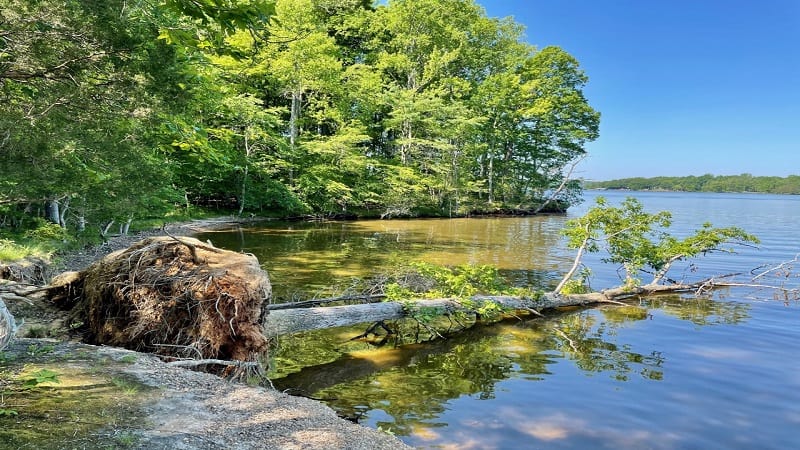 One of the most popular Lake Anna attractions is the 2.0-mile Railroad Ford Trail, which begins in front of the Visitor Center. It's steps from the swimming beach.
This easy loop trail guides those visiting Lake Anna along a peninsula that juts out southeast of the main beach. You'll cross footbridges and pass a fishing pond.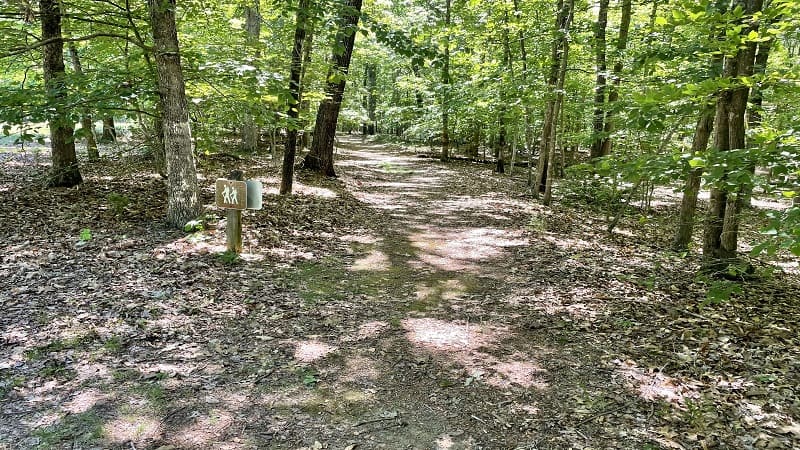 The 1.0-mile Fisherman's Trail is another easy-going loop trail at the state park. This well-shaded walk begins just west of the swimming beach.
Beach-goers, note that there are concessions, picnic tables and restrooms steps from the beach. It's best to call ahead for open hours of concessions.
There is no shade on the beach, so it's best to bring an umbrella, cold drinks and snacks, beach chairs and towels. There are no chair or umbrella rentals.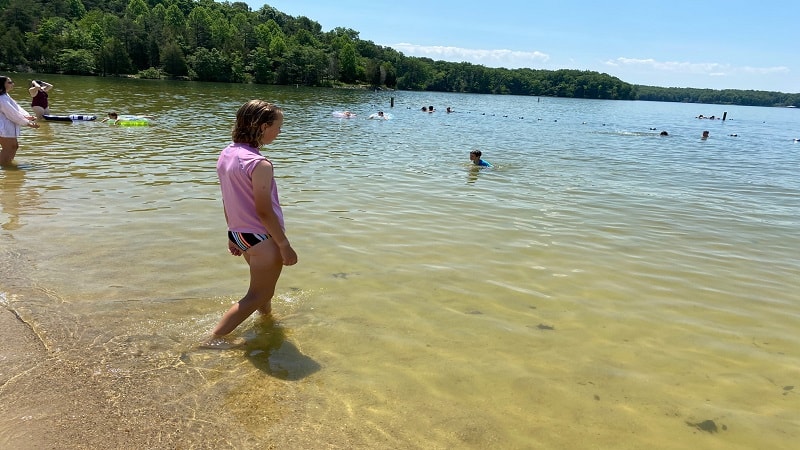 The beach at Lake Anna State Park can get very busy, especially on summer weekends, so plan to arrive early. The park entrance closes when at capacity.
Play Disc Golf at Loriella Park
In recent years, disc golf has become a popular outdoor sport. The game is kid-friendly and as long as you can throw a frisbee, you can play the game.
When you are looking for things to do near Lake Anna, look to Loriella Park, a 208-acre multi-use park with disc golf, a pool and a playground.
You need to bring your own frisbees, but then you're all set. The 18-hole disc golf course begins just to the left of the playground, adjacent to the woods.
You'll find narrow holes, wide holes, full-sun holes and shady, wooded holes. Uphill, downhill, this disc golf course has all kind of holes for all levels.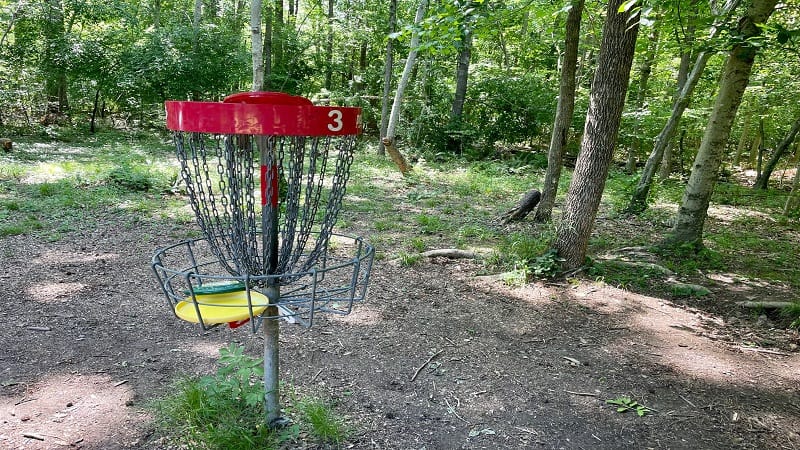 We tested our skills on this disc golf course and while we can't say we're ready for the pro circuit, we did have a lot of fun. We will definitely be back.
For more disc golf action, check out the courses at Wilderness Presidential Resort, Pratt Park and Curtis Memorial Park.
Watch Planes at Shannon Airport
Yes, you can watch small planes take off and land at Shannon Airport, which is home to the Shannon Air Museum, but there's more to do here.
But first, lunch. When we arrived at the Shannon Airport in Fredericksburg, we were hungry. Naturally, we settled in at the Robin's Nest Café.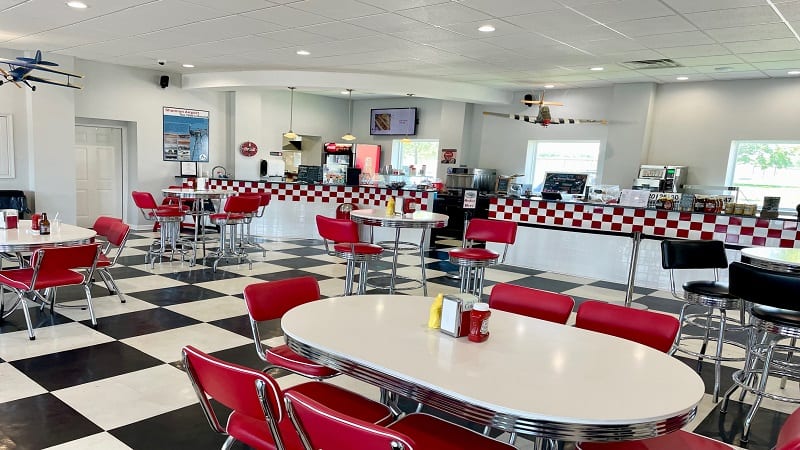 The Robin's Nest Café is an adorable retro-style diner that shares a building with the Shannon Air Museum. In fact, the restaurant is built in a former hangar.
The runway is literally steps away. Several outdoor tables allow for the closest access to small planes landing and taking off from this small airport.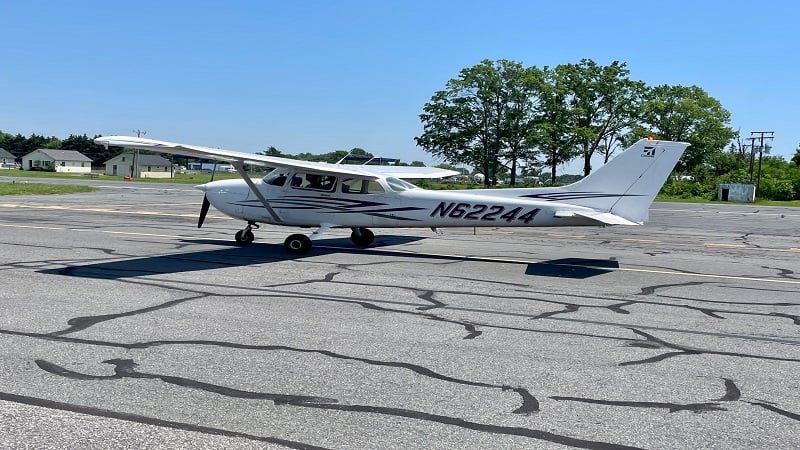 It was quite warm on the day of our visit, so we opted to eat inside, but we still enjoyed great views of planes while eating our burgers and fries. Yum-o.
After lunch, we signed on a for a one-hour guided tour (no self-guided tours) of the Shannon Air Museum, which is home to rare aircraft and memorabilia.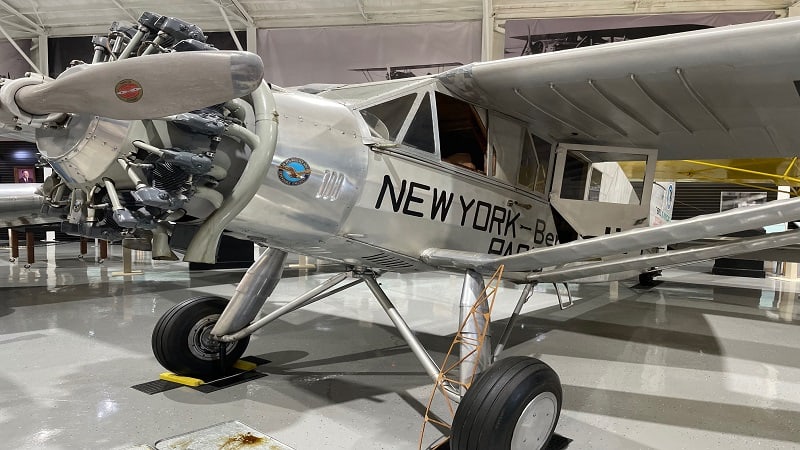 Our guide was extremely knowledgeable and fantastic at telling the stories behind the planes in a way that was engaging to visitors of all ages.
Stay at Wilderness Presidential Resort
We stayed two nights in a cabin at Wilderness Presidential Resort, a massive outdoor resort with cabins, camping, a lake beach, a pool, mini golf and more.
Honestly, there is so much to do at Wilderness Presidential Resort that you don't need to leave the property. Unless you want milkshakes (more on that below).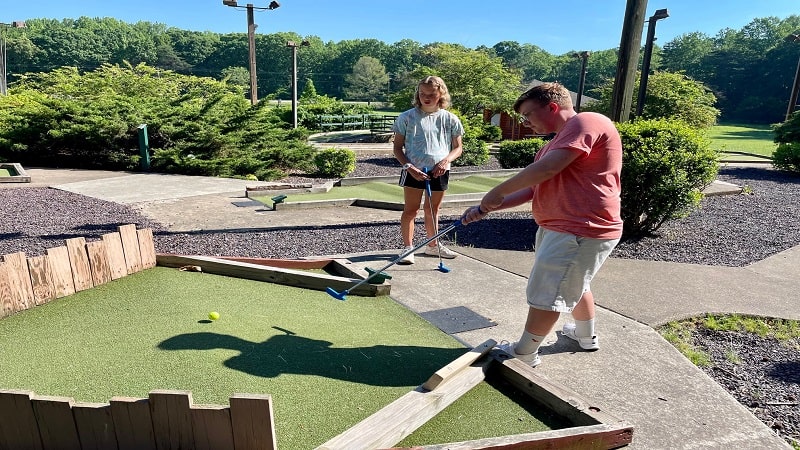 We began our stay with a round of mini golf, which let me tell you, is among the best deals in town. It's just $1 per round (cash only).
Even better, mini golf is open to locals, too. You don't need to be a resort guest. So, if you live nearby, this is the perfect after-dinner family activity.
We made the ropes course our next stop. It's located at the Adventure Center, which is adjacent to the check-in building at the front of the resort.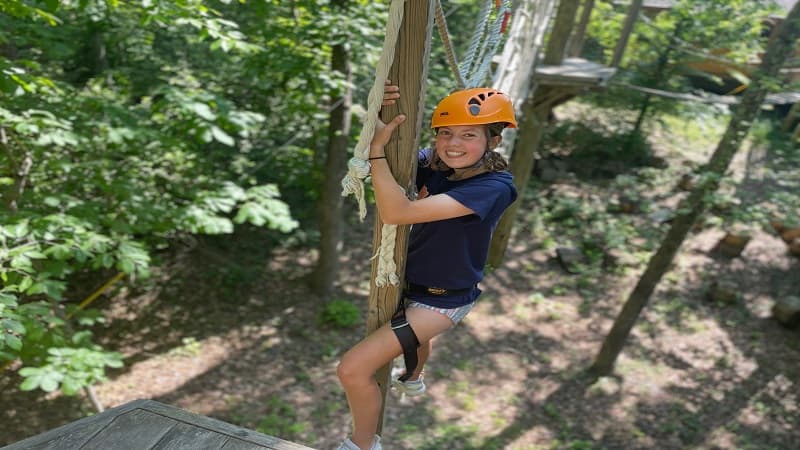 We had a great time on this tree top course, challenging ourselves with obstacles, then flying down a zipline at the end to complete the course.
Our last stop was the beach at Cool Spring Lake. You can laze on the sandy beach, splash in the water or check out kayaks, SUPs and Corcl boats.
I had never seen or heard of a Corcl boat before, and my son and I were eager to give these a go. It kind of feels like you're paddling on a snow saucer.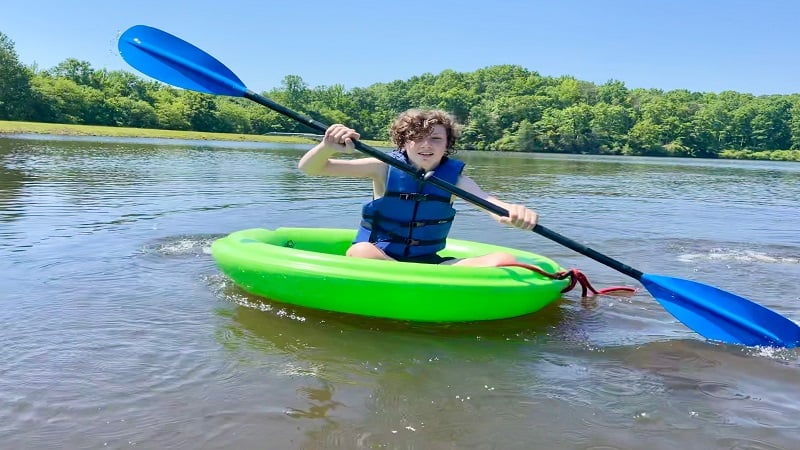 You can also rent Aqua-Cycles, which is like biking on the water. This looked pretty challenging, so we called it a day after our paddle on the calm lake.
Our stay was in a two-bedroom cabin at Wilderness Presidential Resort. We did not cook during our stay, but it did have a full-service kitchen.
Beyond what we did, there is much more to do at Wilderness Presidential Resort, like archery, arts and crafts, a climbing wall and disc golf.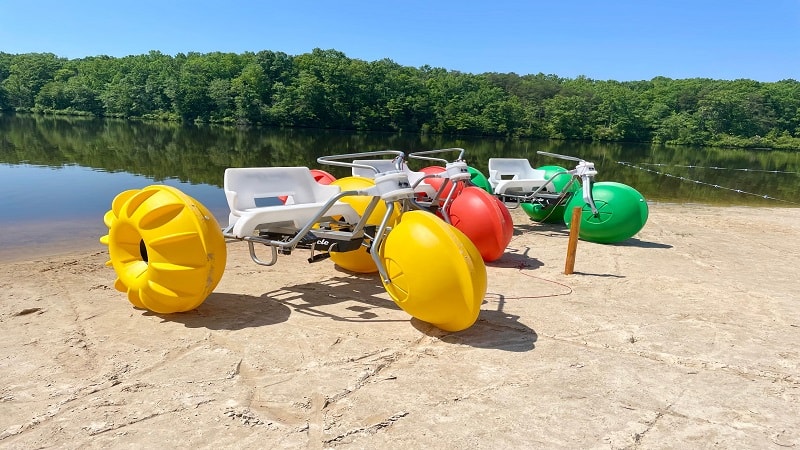 There is also an activity schedule, which includes loads of activities, mostly on weekends, including magic shows, bonfires, pool parties and live bands.
Eat & Drink in Spotsylvania County
You may be wondering, where else do we eat and drink in Spotsylvania County? No worries, I've got you covered. There are so many great options.
The Cove at Lake Anna
I mentioned this restaurant above, but it's delicious. On the menu, you'll find wraps, salads, burgers, wings, and plenty of appetizers and desserts.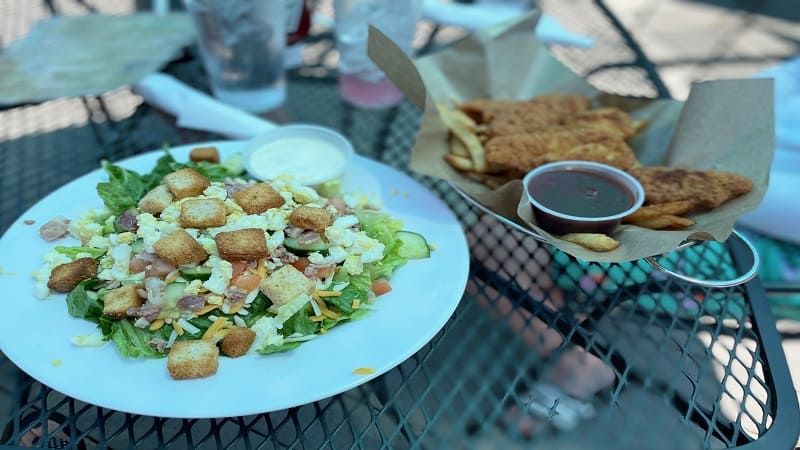 Sit outside to watch the boats come and go. There's also live music on the downstairs patio, as well as the Adirondack chairs out back on the grass.
The Robin's Nest Café
I know, I mentioned this one, too. It's a fun spot though that kids will absolutely love thanks to old-fashioned milkshakes and onion ring towers.
Yes, we ordered the control tower of onion rings and it was awesome. They also have fantastic sandwiches and salads. We even got DIY paper airplanes.
Harry's Alehouse
Harry's Alehouse is known for its Burger of the Week. Even if you don't order this burger, they have eight other delicious burgers, like the Guac Burger.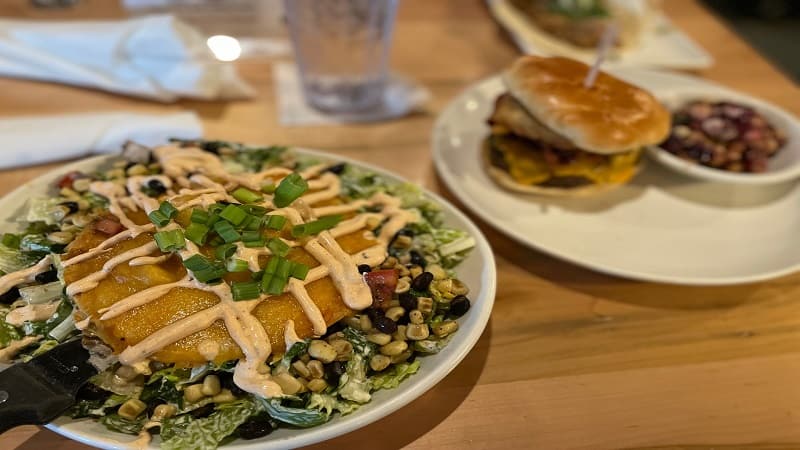 They also have flatbreads, salads, pastas, even chicken & waffles. They've got five different kids meal choices too. So much deliciousness at Harry's.
Durango Grill
Durango Grill is an unassuming restaurant. It's located in a strip mall and is attached to a pool hall, but the food was just what my hungry crew needed.
They've got loads of comfort food items, including chicken fingers, beef stew and sirloin steaks, but also crab cakes and Caesar salads. Yum-o.
Battlefield Country Store
You don't really go to Battlefield Country Store for a meal, but you do go for a monumental milkshake. It may set you back, but it's totally worth it.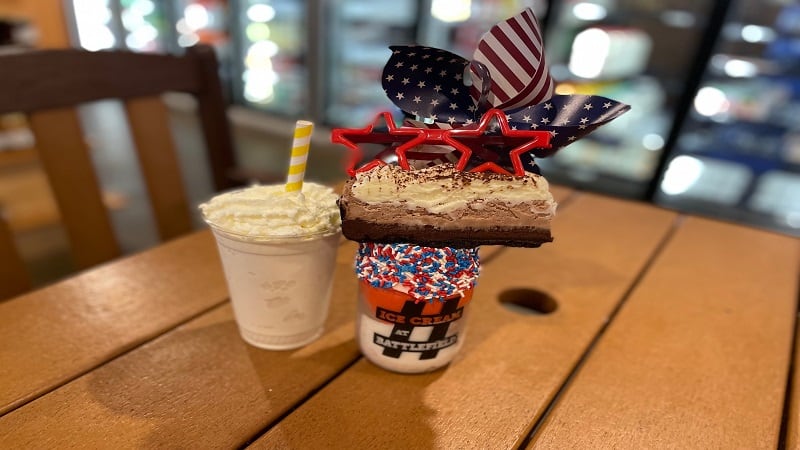 We ordered a couple of milkshakes, including a patriotic-themed milkshake with what looked like an entire piece of chocolate mousse cake on top. OMG.
Spotsylvania Wineries & Breweries
Spotsylvania County also has wineries and breweries for lazing away an afternoon, like 1781 Brewing Company.
If it's still on tap, order the Blackberry & White Peach Seltzer. It was the perfect cold beverage for a warm, humid afternoon.
As you pull into the parking area, note the dozen or so goats fenced in near the silo. Kids love goats. Adorable. I love a family-friendly brewery.
At the same location is Wilderness Run Vineyards. So whether you're looking for a sweet rosé, a lager, a pale ale or a merlot, you are covered.
There are plenty of picnic tables out back, and lots of green space for kids to run around, making this winery/brewery a must while in Spotsylvania County.
Virginia Family Vacation: Spotsylvania County
From disc golf to paddling to swimming at lake beaches, you're covered in Spotsylvania County. Bring the kids for a family getaway in Virginia.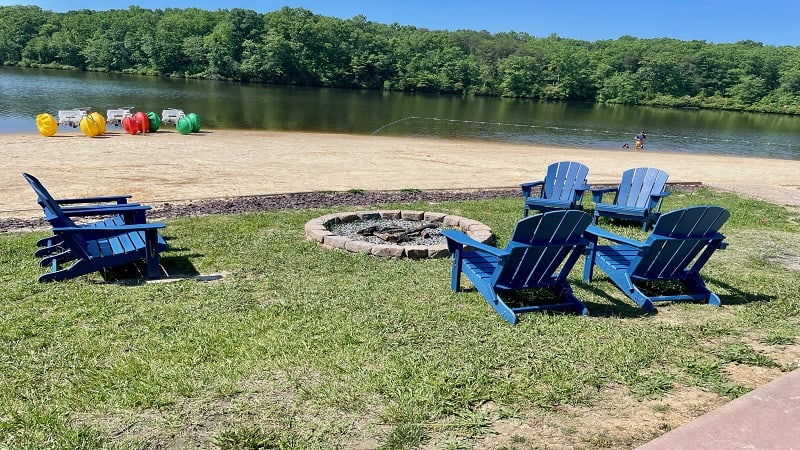 There are so many things to do in Spotsylvania. Even better, it's hardly a drive at all, making it easy to make the most of a weekend family getaway in Virginia.
To kick off your family vacation in Spotsylvania County, visit VisitSpotsy.com for all the scoop on where to eat, what to do and where to stay while in the area.
Disclosure: This post was sponsored by Spotsylvania County, Virginia. All views and opinions expressed here are my own.