Need to Know: Can You Wear Crocs for Hiking?
I'd never thought of wearing Crocs for hiking, but some Reddit users were curious about whether it was possible. So, we dug into the topic for ourselves.
Crocs have a huge following and fan base due to the comfort and versatility of their shoes. More than 1.8 million people keep up with them on Instagram.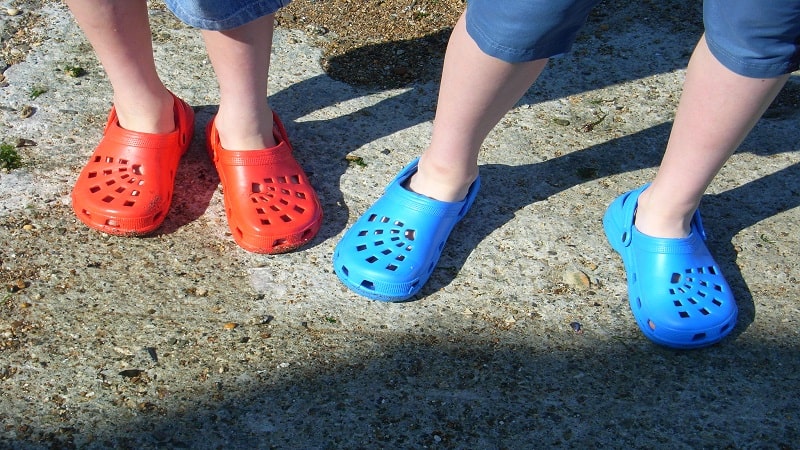 As an Amazon Associate I earn from qualifying purchases. If you click and purchase, I receive a commission at no cost to you.
Crocs shoes are waterproof, easy to slip on and off, and oh-so-comfortable. But honestly, are Crocs a good option for hiking, especially on longer hikes?
In this article, we'll answer the top questions about hiking in Crocs. We're also sharing our top picks among Crocs hiking clogs. Let's go.
Are Crocs Good for Hiking?
From Reddit to TikTok, some are hiking in Crocs and going online to share their experiences. Seriously though, why are so many people hiking in Crocs clogs?
Generally speaking, these classic clogs are really only a good choice for hikes under five miles in length, and not on challenging, technical or rocky terrain.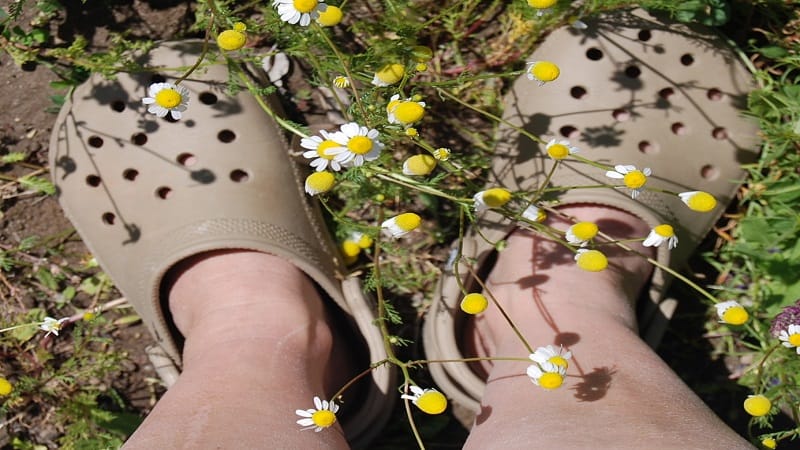 It may come as no surprise to learn that hikers have widely varying opinions about hiking in Crocs. Some like it, some don't. Here's why and why not.
Pros
First, comfort. Crocs are arguably among the most comfortable shoes on the market. For many, their comfort almost makes up for their looks.
Crocs are also lightweight, they dry very quickly, and they cost significantly less than other hiking-specific shoes and shoe brands.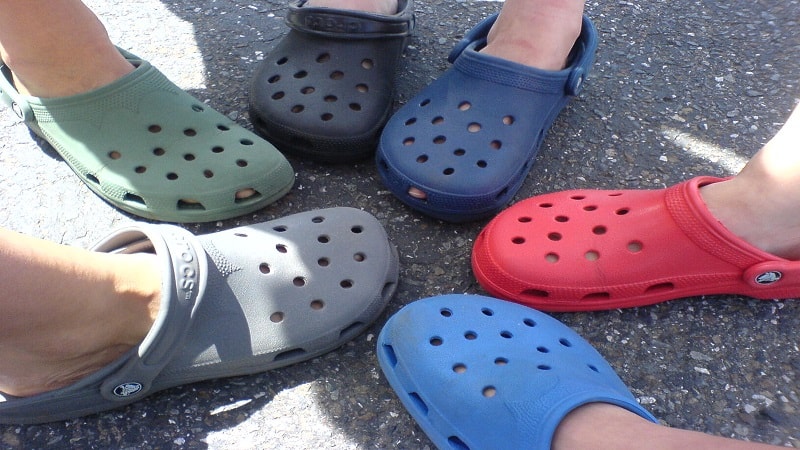 Cons
Crocs can lack good traction on the exterior. The interior can also become slippery when wet, especially if you don't have socks on.
These clogs also aren't great for rough terrain. Even "All-Terrain" Crocs are only a good idea for well-maintained hiking trails and short hikes.
Are Crocs Good for Walking All Day?
Crocs can be good for walking all day depending on they style. Crocs makes more than clogs. You'll find platforms, sandals, even boots and work shoes.
However, Chicago-based podiatrist Megan Leahy told HuffPost, "Unfortunately Crocs are not suitable for all day use." Well, there you go.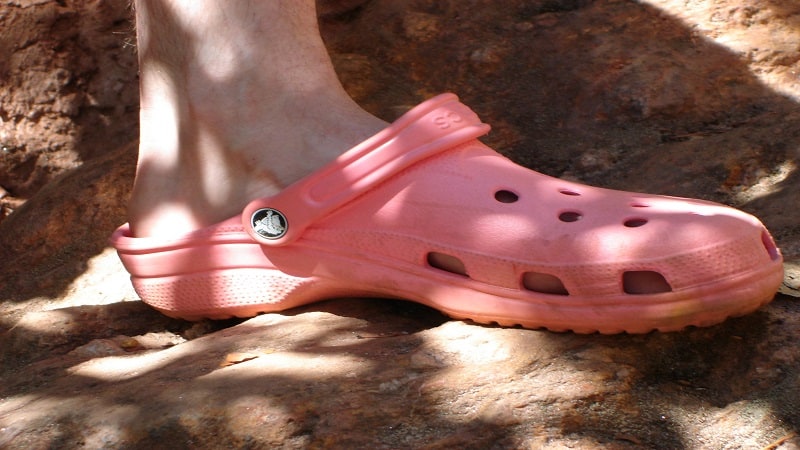 Leahy noted that Crocs shoes don't properly secure your heel. However, her statement only refers to the clogs style of Crocs shoes.
Crocs makes slip-ons and tennis shoes, like legitimate tennis shoes that you lace up and secure. They have a classic soft, thin sole found on most Crocs styles.
If you want to walk all day in Crocs, the sneaker style will be your best bet. Your feet will be as comfortable as possible all day long.
Plus, even Croc sneakers, like the LiteRide 360 Pacer, are easier to put on and take off than traditional hiking boots. They're more breathable, too.
Are Crocs Good for Your Feet?
Many podiatrists believe that Crocs provide excellent arch support and cushioning. This is great for people who want to take care of their feet.
However, podiatrists also agree that Crocs clogs don't provide enough heel stability for long-term walking.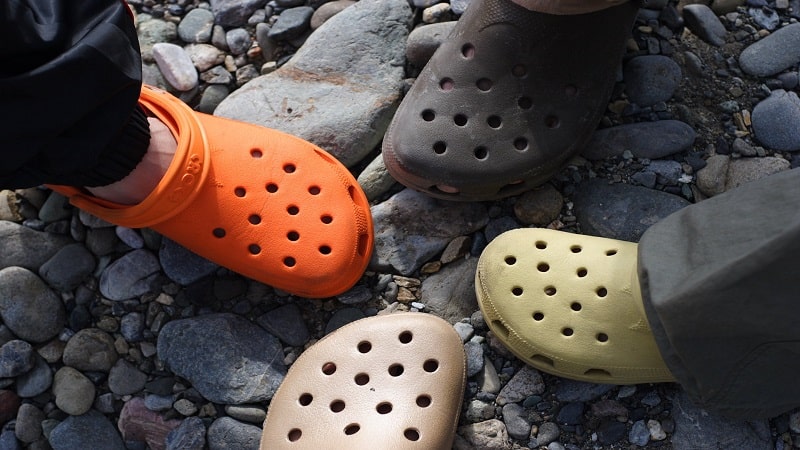 The lack of heel stability can lead to excessive toe-gripping, which causes issues like tendonitis, nail problems, corns, calluses, and more.
However, that doesn't stop some people from opting to wear Crocs all the time. Additionally, this advice is just for Crocs clogs, not other styles of shoes.
Another thing podiatrists seem to agree on is that Crocs clogs are great for your feet for short term use because of the arch support and wide bed.
Are Crocs Good for Plantar Fasciitis?
Crocs can help individuals who suffer from plantar fasciitis. In fact, they were originally designed for people who had plantar fascia pain.
These shoes and clogs have excellent arch support and a comfortable, soft, and supportive footbed. This is great for people who have plantar fasciitis.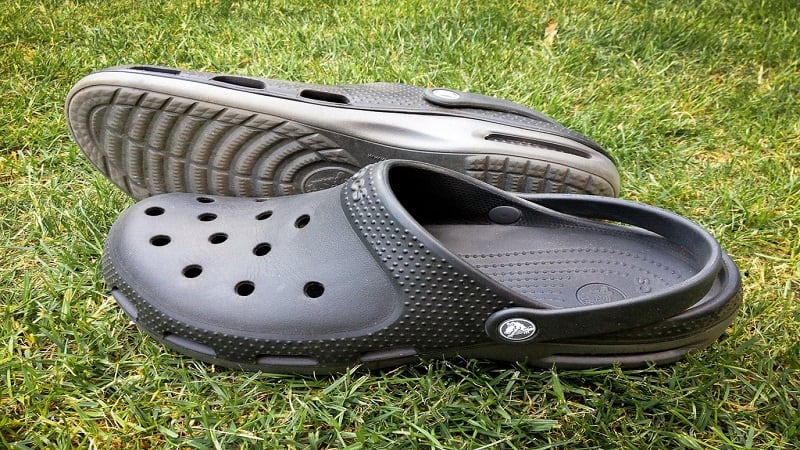 The great arch support provides plenty of comfortable and sufficient all-day support for the area of the foot prone to causing plantar fascia pain.
Although walking in them long-term may cause corns, calluses, or nail problems, this can be a trade-off when looking for shoes with good arch support.
In addition to supporting the arch, they're breathable (thanks to ventilation holes), roomy, and provide plenty of shock absorption while walking.
Nowadays, those who have plantar fasciitis can choose from much more than just clogs from the Crocs brand, all with great arch support.
Are Crocs Good for Water Crossings?
Crocs float, they're waterproof, and they dry really fast. So you'd think they would make great shoes for river crossings, right?
In some cases, Crocs are okay in wet conditions. If you're crossing a shallow, slow moving stream and have trekking poles, you're fine.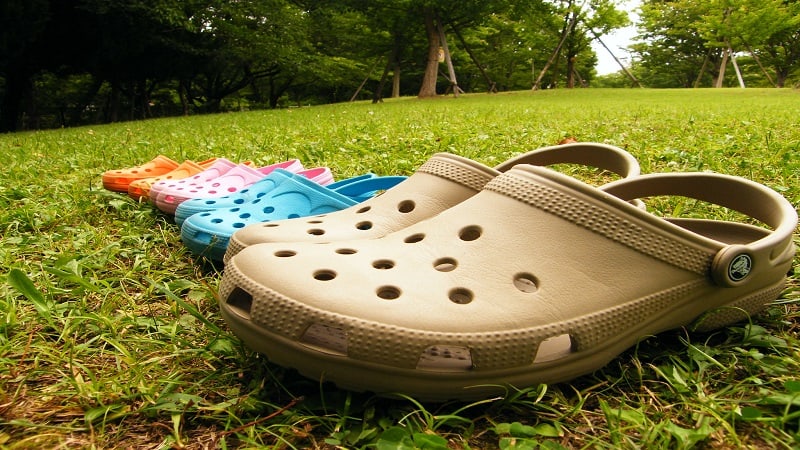 However, most Crocs lack the gripping soles that other water shoes or water sandals have. Crocs can be prone to slipping on slick rocks.
Sometimes, small floating rocks can become wedged in your Crocs, which can be a pain to remove.
In addition to having a slippery sole, Crocs can also become slippery on the inside against your foot when wet. With this in mind, it's best to wear socks.
Crocs are okay for the occasional water crossing. But if you're hiking through a wet slot canyon or long stream, opt for specially-made water shoes.
Are Crocs Good as Camp Shoes?
One thing Crocs shoes excel at is being great camp shoes. They're lightweight, super comfortable, quick drying and easily attach to your backpack.
There's just nothing quite like slipping into Crocs after wearing your hiking shoes all day long. They do bring a lot of relief to weary feet on a camping trip.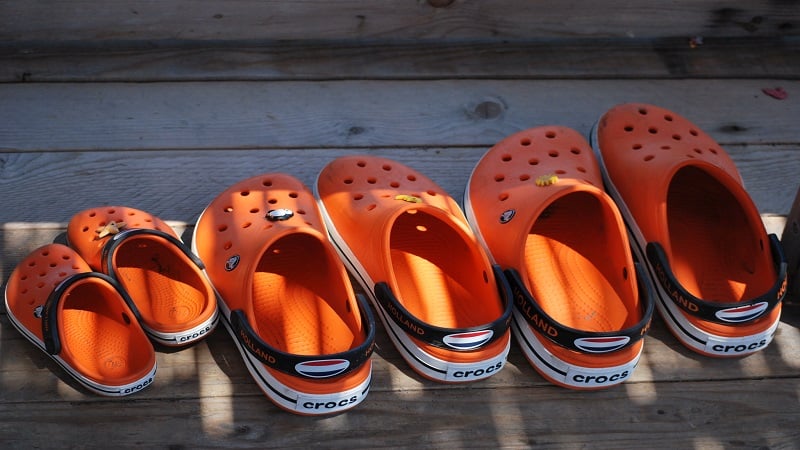 They don't add a lot of weight to your pack and can be easily attached with a carabiner or small strap when backpacking or camping.
Because they are so easy to slip on and off at camp, they make the perfect shoe to put on for middle-of-the-night bathroom trips.
What are the Best Crocs for Hiking?
The Crocs brand has a wide range of different types of shoes, including outdoor adventure shoes. They're not just limited to clogs.
Here are the best Crocs clog-style shoes for hiking. These hiking Crocs have unique soles, straps, and other features that benefit hikers.
First, we have the Classic Hiker Clog from Crocs with adjustable foot and ankle straps. The adjustable straps help prevent heel slippage.
Preventing heel slippage is important while hiking because it prevents your foot from gripping with your toes, which can lead to foot pain and issues.
Additionally, these shoes have a unique sole that helps with grip on loose dirt, rocks, and roots. They also have a slightly different heel angle.
The heel angle helps with your stride while hiking to prevent foot and leg pain. These clogs are best worn on a maintained hiking trail.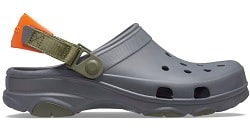 Up next is the Classic All-Terrain Clog. What makes the all-terrain clog different from the other clogs is the slightly rugged sole and adjustable heel strap.
Although this sole is a bit more rugged, it doesn't provide as much grip or traction as a good hiking shoe.
However, this clog is still great for maintained hiking trails. The adjustable heel strap allows you to secure your foot in the clog to prevent slipping.
Finally, the all-terrain clog lacks the signature holes on the front. This is great for hiking because dirt and sharp rocks can't get in as easily.
The Offroad Sport Clog differs from the all-terrain clog with a more rugged sole and a reinforced toe kick area.
This clog will do well on dirt trails due to the more rugged sole, but it still is less capable than rubber hiking shoe soles.
This Crocs shoe also comes with an adjustable heel strap to prevent slippage while hiking. This is especially helpful when going uphill and downhill.
The sole on this shoe has a gritty texture which may make it a better bet on slippery surfaces, but due to the nature of the foam, this may wear down quickly.
Wrap-Up: Crocs for Hiking
So, are Crocs good for hiking? They can be, depending on the terrain, your feet, and the type of Crocs you choose.
Crocs clogs can provide good arch support and are helpful for hiking for those with plantar fasciitis or those just wanting a comfy pair of shoes.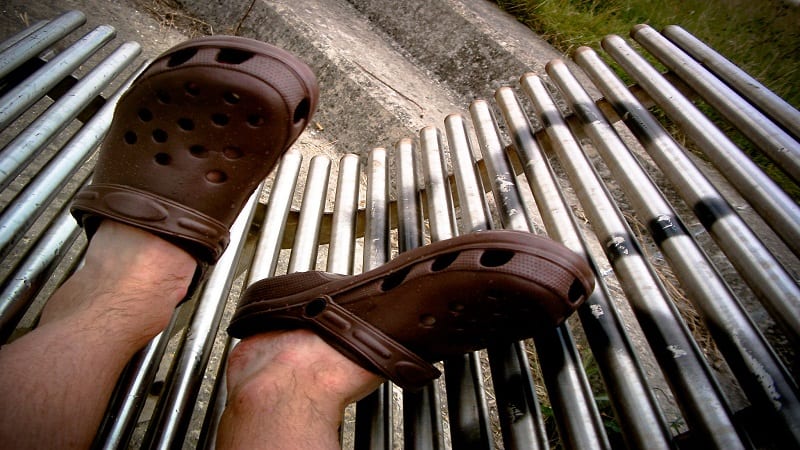 However, for long hikes, over technical terrain or on less-maintained trails, you'll be better suited with regular hiking shoes or trail runners.
If you would like to wear a pair of Crocs for your next hike, purchase Crocs with an adjustable heel strap and more rugged sole.
If your hike has a lot of water crossings, be sure to use trekking poles for balance. This is important no matter what kind of shoes you wear.
Disclaimer: The words in this blog, and in any linked materials, are not intended as medical advice. Always seek the guidance of your doctor with any questions regarding your health or a medical condition.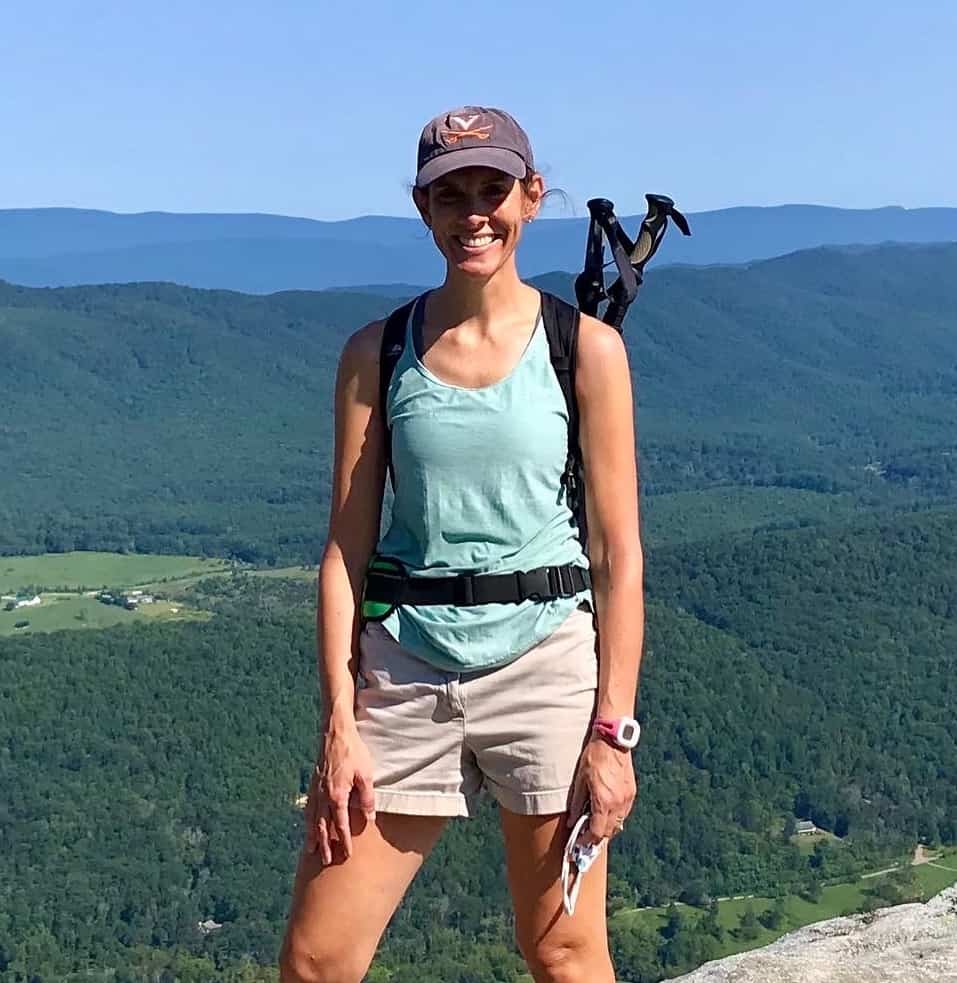 Erin Gifford is the editor of Go Hike Virginia. She has completed more than 300 hikes in Virginia. She is also the author of three hiking guidebooks from Falcon Guides. Need help finding a hike? Check out the Trail Finder feature or send Erin a message.