Got Old Rag on your mind? Then it only makes sense to pair this rugged hike with a post-hike celebration at DuCard Vineyards in Etlan.
To be honest, DuCard Vineyards pairs well with several hikes at Shenandoah National Park, including Robertson Mountain and the Corbin Cabin hike.
All three hikes start from the Old Rag parking lot on Nethers Road in Etlan. Keep in mind that if you want to hike Old Rag, you'll need a day-use ticket.
Day-use tickets cost $1 and can be purchased online at www.recreation.gov or on the mobile app. A ticket is required from March 1 through November 30.
Wine Pairings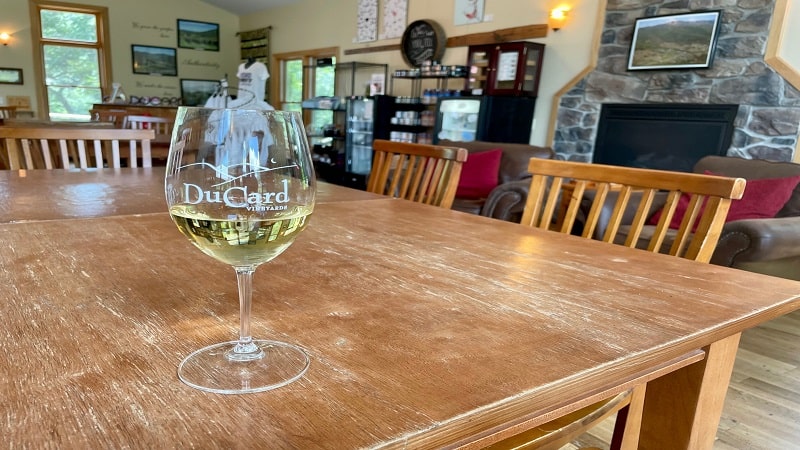 DuCard Vineyards is an easy 15-minute drive from the start of the Old Rag Trail. Can you already hear the outdoor patio calling your name?
Pair the Old Rag hike with Triskele, DuCard's top Bordeaux-style blend. It's a wine to choose when you want to reward yourself for a job well done.
After climbing to the top of Old Rag, you deserve a wine worthy of celebration. Another top pick for merrymaking is XOXO, the winery's sparkling wine.
XOXO is ideal for any celebration or just because. There's no need to climb Old Rag to reward yourself with XOXO.
Before You Go
DuCard Vineyards opens daily at 12 pm, year-round. So when you're ready to tackle a hike at Shenandoah National Park, DuCard will be ready for you.
The winery is located at 40 Gibson Hollow Lane in Etlan. It's a short drive from Old Rag, but also from White Oak Canyon.
There is an indoor tasting room, as well as a tented outdoor patio and a large grassy area that's just right for a post-hike picnic.
It's okay to bring your dogs, your kids or a picnic lunch. DuCard Vineyards is also ADA accessible. Look for the LOVE sign out front made out of wine bottles.
Often, you can just show up and settle in for a glass of wine, but if you'd like to make a reservation, especially for Saturdays, you can do so here.
Flights & Food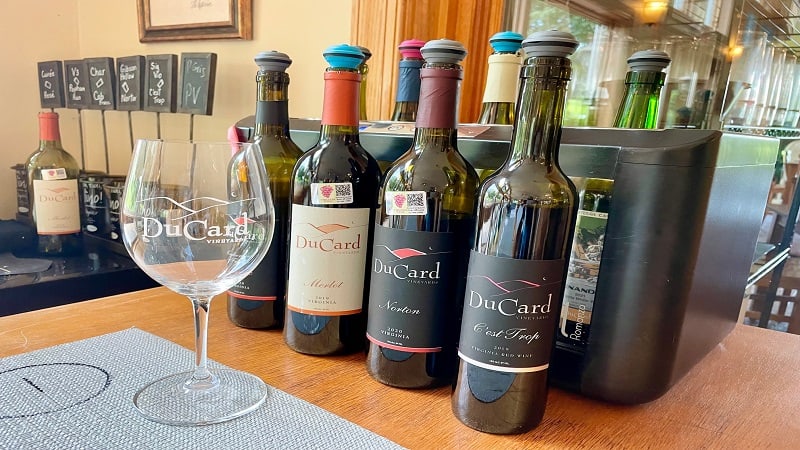 DuCard Vineyards offers full service wine flights. Each flight features four half glasses of DuCard wines, which can be reds, whites or a mix.
Flights are typically a rotating selection of favorite wines and new releases, as well as premium and library selections at times.
The winery also sells light bites, such as baguettes, pretzels, charcuterie, cheeses, chocolates, peanuts and chutney.
On select Saturdays, DuCard Vineyards has food trucks, as well as live music.
Live music is a staple at DuCard Vineyards on weekends thanks to its Music in the Mountains and Friday Night Out series'. See the calendar for upcoming events.
Award-Winning Winery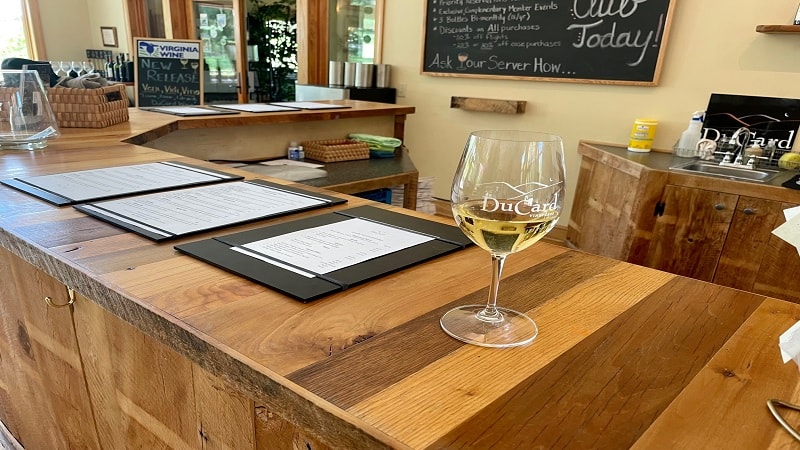 Like award-winning wines? You'll find them at DuCard. Recently, DuCard took home an armful of silver medals (seven, to be exact) at the Virginia Governor's Cup.
Among the medal-winning wines were the 2019 Triskele, the 2021 Whetstone Run Chardonnay and the 2021 Cabernet Franc Vinters Reserve.
In addition, DuCard was bestowed a bronze medal for its 2021 Signature Viognier. Ducard's wines have also been feted at several other wine competitions.
The winery has been honored for commitment to sustainability too, being recognized as the Greenest Winery in Virginia on several occasions.
Use of solar panels to create green energy, free EV charging stations and limited use of chemical sprays are just a few of the wineries green efforts.
Final Notes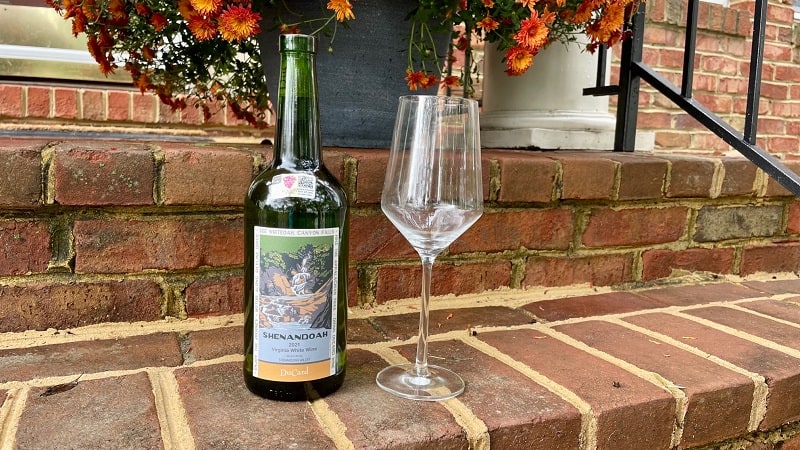 The winery is closed on Thanksgiving, Christmas and New Years Day, so you may need to bring your own wine on those days.
Thankfully, if you plan ahead, you can get a bottle of wine or two delivered to your door from DuCard, in time for your hike.
You can choose from well over a dozen different bottles of wine, including whites and reds. As a bonus, shipping is free when you buy at least six bottles.
For those who really, really want to plan ahead, DuCard has a wine club. Six times a year, you'll receive three bottles of pre-selected wines.