Thinking about a day trip to Chippokes State Park? Be sure to build in time for a post-park wine-down at Hampton Roads Winery in Elberon.
Whether you plan to splash at the beach, hike or bike on the park's trails, hunt for fossils or enjoy a ranger-led paddle, a stop at this tasting room is a must.
Set on White Oak Farm in Elberon, Hampton Roads Winery is located south of Surry and across the James River from historic Jamestown.
It's a scenic 15-minute drive from the park, so you'll be at the winery in no time after you leave the coastal state park.
Wine Pairings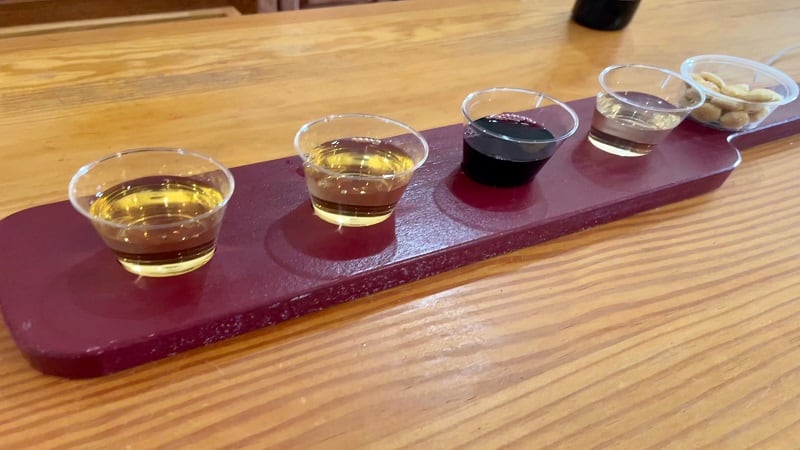 Pair a refreshing splash at the beach at Chippokes State Park with an equally refreshing white wine, namely the White Oak White.
This easy-going white blend of Chardonnay, Seyval Blanc and Viognier goes with most anything, so it's no wonder the winery calls this their "House Wine."
Another fave is the Hog Island Sweet Red, a red blend that gets its name from Hog Island Wildlife Management Area. There's a Hog Island Sweet White, too.
While most wines can be purchased on-site and online, note that the Hog Island Sweet Red is only available for sale at the winery.
Before You Go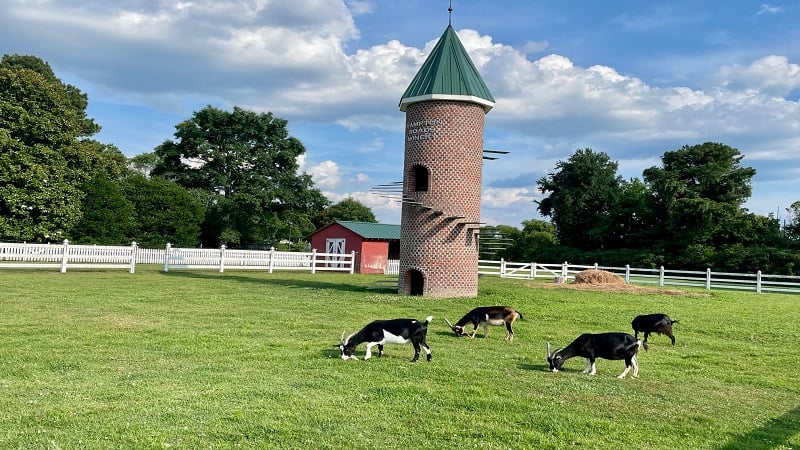 Hampton Roads Winery is open Thursday through Monday. The tasting bar is open from 11:30 am to 6 pm.
The winery is located at 6047 New Design Road in Elberon. It's a short drive from Surry County attractions. It's also an easy ferry ride from Jamestown.
There is an indoor tasting room, as well as an outdoor patio. Of note, Hampton Roads Winery is a Harvest Hosts location for RVers.
It's okay to bring your dogs and your kids. Take a self-guided tour across the property and snap a few photos of the world's tallest goat tower.
When you're ready to sample wines, just stop on by and settle in for a glass of wine. There's no need to make a reservation.
Flights & Food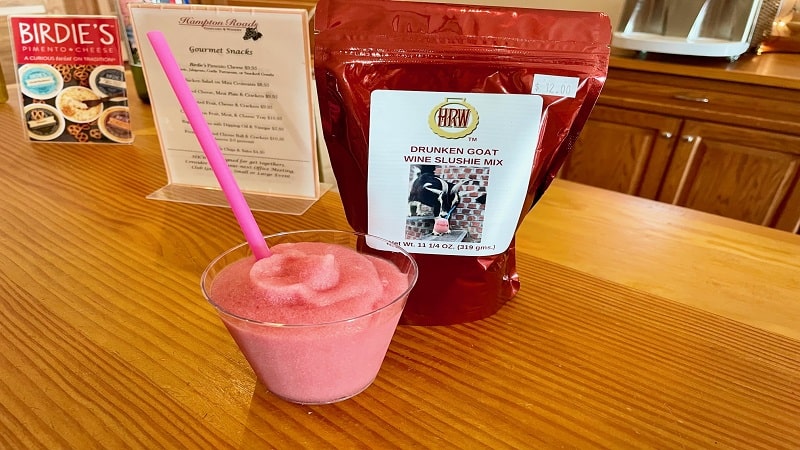 Hampton Roads Winery offers create-your-own wine flights with four glasses of wine, each with a 1.5 ounce pour. A souvenir glass is available for an upcharge.
There are wines on the menu for all tastes, including sweet wines and dry wines, even meads and a dessert wine. Light snacks are available, too.
Seasonally, the winery sells a delicious Drunken Goat Wine Slushie. It's available by the glass or the pitcher. They also sell non-alcoholic slushies.
You can also buy the Drunken Goat Wine Slushie Mix if you want to make your own slushies at home, at any time of the year.
Hampton Roads Winery hosts events from time to time, including arts festivals, sip and paint events, artisan fairs, even an annual birthday party.
On Thursday nights, stop in the winery for Cornhole Nights. Look for wine, mead, cider and light snacks.
Final Notes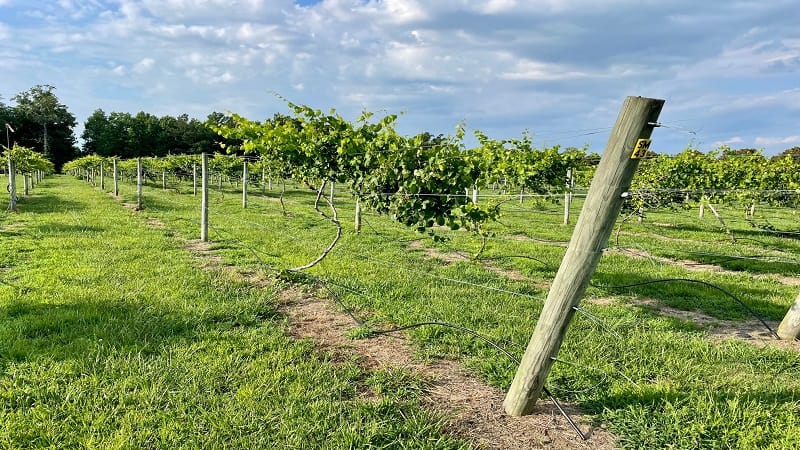 The winery is closed on Tuesdays and Wednesdays, so you may need to bring your own wine to the park or your favorite picnic spot on those days.
Thankfully, if you plan ahead, you can get a bottle of wine or two delivered to your door from Hampton Roads Winery in time for your outdoor adventures.
You can choose from more than a half dozen bottles of wine, including whites and reds, even a 2021 Santa Chardonnay. There is a 10% case discount.
For those who really, really want to plan ahead, Hampton Roads Winery has a wine club. Four times a year, wine club members receive three bottles of wine.