Widewater State Park: What to Know Before You Go
I recently visited our 38th state park, Widewater State Park in Stafford. This recreation area on the Widewater Peninsula is lovely, but it's also a work in progress.
Located in Stafford County, this 1,089-acre day-use park opened to much fanfare in late-2018. Even Governor Ralph Northam was there to introduce the new state park.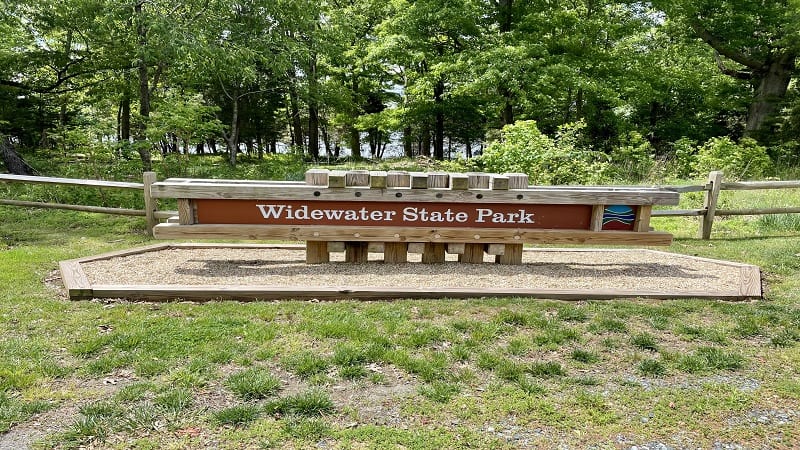 With more than 1,000 acres, Widewater State Park is not small. In fact, more than a dozen state parks in Virginia are smaller, including Belle Isle and Seven Bends.
However, only a small chunk of the overall park acreage has been made over into visitor-ready park land. The rest appears to be entirely undeveloped.
What's There Now
There's not a lot to Widewater State Park, which has a $7/car parking fee ($10/car on weekends, April-October). At least not quite yet. This is one reason I buy an annual pass.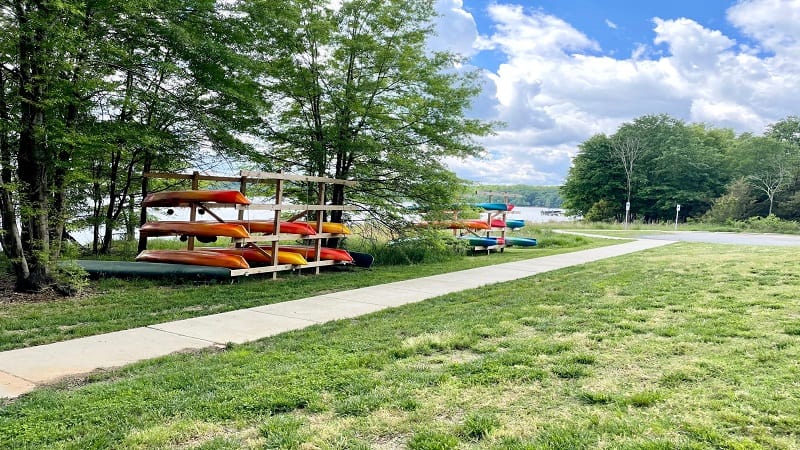 I will tell you, however, that since the park's opening, a new section has opened up with a playground, boat launch, hiking trail, restrooms and picnic shelters.
There are also four primitive paddle-in camp sites for those who opt to canoe or kayak in from boat launch sites along the Potomac River.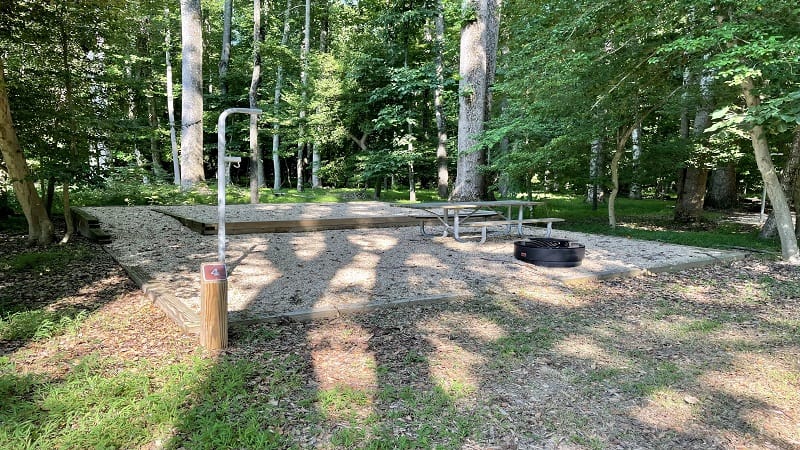 The new section is just past the main entrance on Brent Point Road. Unless you reviewed the trail guide ahead of time, you'd have no clue about this new section.
Hiking Trails
There are two Virginia hiking trails at Widewater State Park, including the .8-mile Long Pond Trail (loop) and the 1.7-mile Holly Marsh Trail (out-and-back).
Interestingly, the trail map lists the Long Pond Trail as 1.75-miles on the trail chart and .9-mile on the map. For the Holly Marsh Trail, it's listed as .05-mile and .9-mile.
Both are shady, kid-friendly trails and worth exploring while at this state park. Both are also steps away from flush toilets (even more kid-friendly).
Long Pond Trail
I hiked this easy loop on my first visit in May. The hike begins at the red marker just east of the visitor center toward the front of this state park.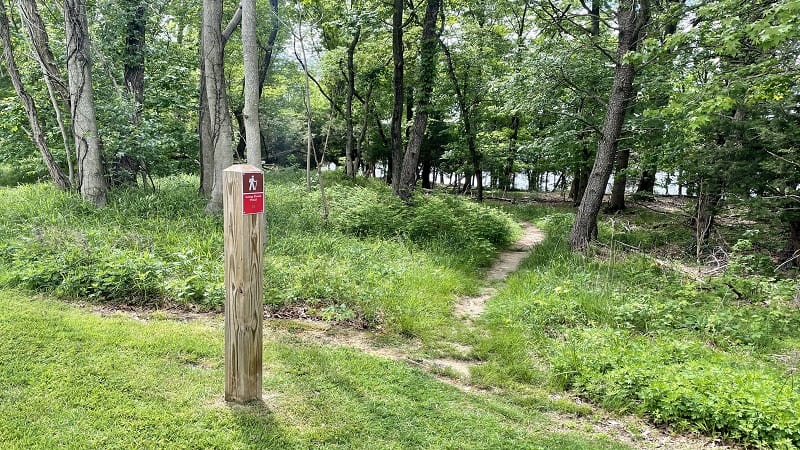 From here, you walk along a dirt path toward Aquia Creek. At the .1-mile mark, you will arrive at a wooden bench with far-reaching views across the water.
As you continue on, you will be steps from Aquia Creek. You will also notice that water's edge is lined with bricks that have washed ashore. It's so very curious.
The chief ranger at Widewater State Park let me know that the bricks have been on the property for some time, likely left behind by a previous landowner.
I was hoping for a more juicy story, like one dating back to the American Revolution, but I was pleased to learn that the bricks help with shoreline protection and erosion control.
Continue on and you will reach another relaxing wooden bench overlooking Aquia Creek at the .2-mile mark. Then, another bench, a small beach and a canoe launch.
The trail now goes inland and the trail becomes mowed grass. Cross over the park road at the .3-mile mark, then another bench turns up in a few more steps.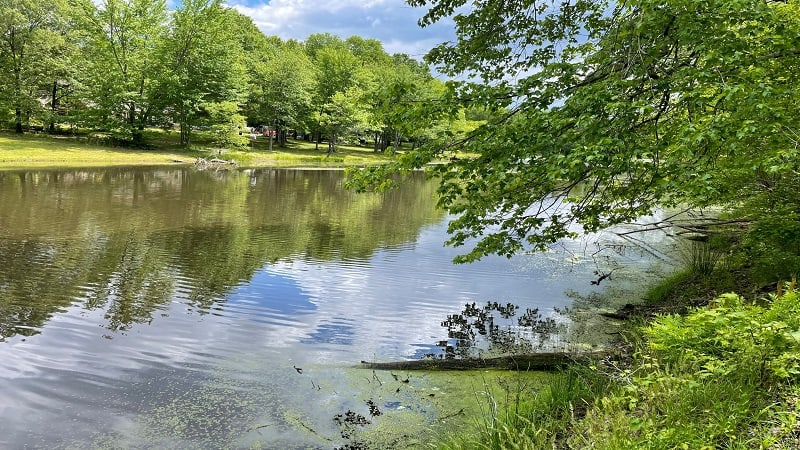 At the .5-mile mark, the trail sidles up alongside Long Pond. You'll spy another wooden bench, too. From here, the forested trail continues until you close the loop.
The hike clocks in at .8-mile. This took me just under 30 minutes to complete, including time spent testing out the relaxing wooden benches.
Holly Marsh Trail
I hiked the orange-blazed Holly Marsh Trail on my recent visit over the weekend. This trail is located within the Potomac Picnic Area, which is past the main entrance.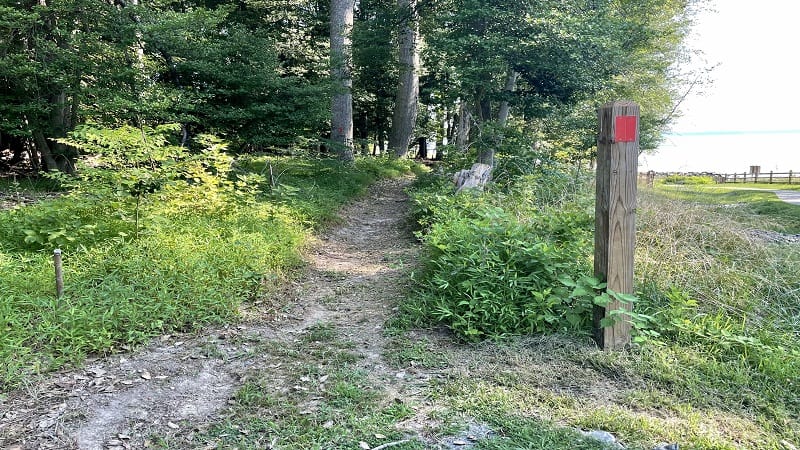 To access this area, there is a ranger-staffed fee collection station (under construction). For now, visitors pay on the honor system with the fee envelope.
The trailhead is located on the north side of the parking area. It's just between the primitive camp sites and the ramp to the canoe launch. There is an orange trail marker.
Begin walking on this trail and you will quickly reach a wooden bench with views across the Potomac River at the .1-mile mark.
In a few more steps, you will see what looks like a large bird nest on a wooden over-water platform. Be sure to stop at the "Warning" sign. Proceed no further.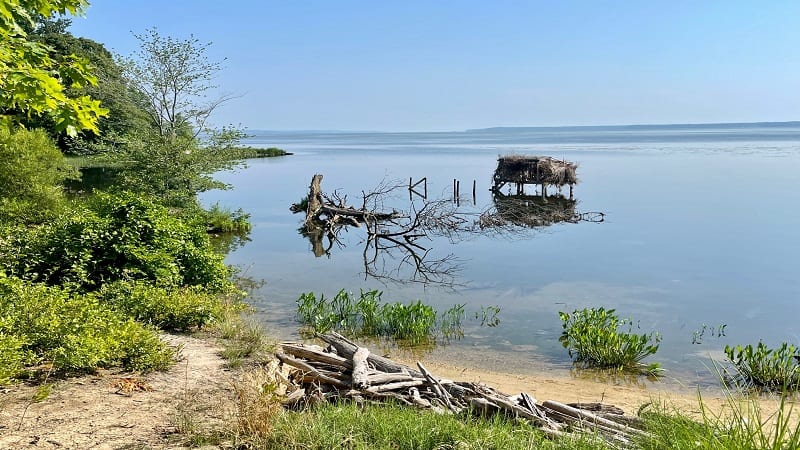 From this point, this well-maintained trail goes inland, meandering alongside Holly Marsh. You'll catch glimpses of the marsh here and there but your best view is at the .8-mile mark.
The trail ends a few steps later at an orange cone to stop visitors from stepping into vehicular traffic on Brent Point Road.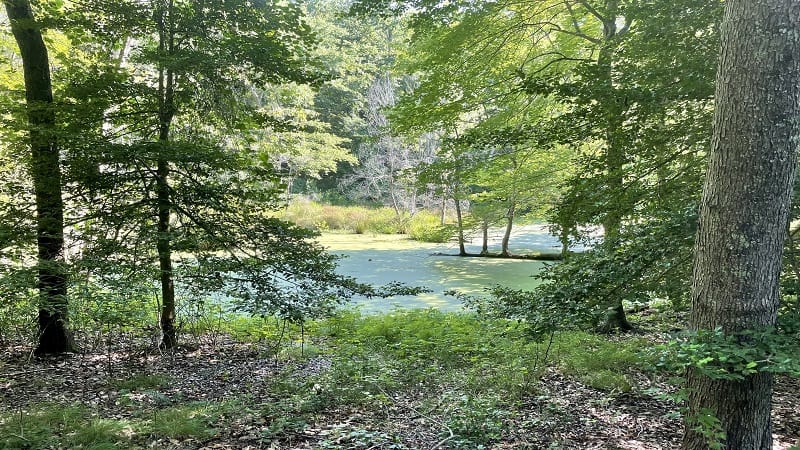 From here, you can turn left and the main park entrance is less than 100 feet away on the right. If you continue on, you can pick up the Long Pond Trail for more steps.
Otherwise, re-trace your steps to the trailhead for a 1.7-mile out-and-back hike at one of the newest state parks in Virginia.
Wrap-Up Notes
I'm eager to see this park evolve as Virginia State Parks adds more trails and amenities to this delightful waterfront park in Stafford County.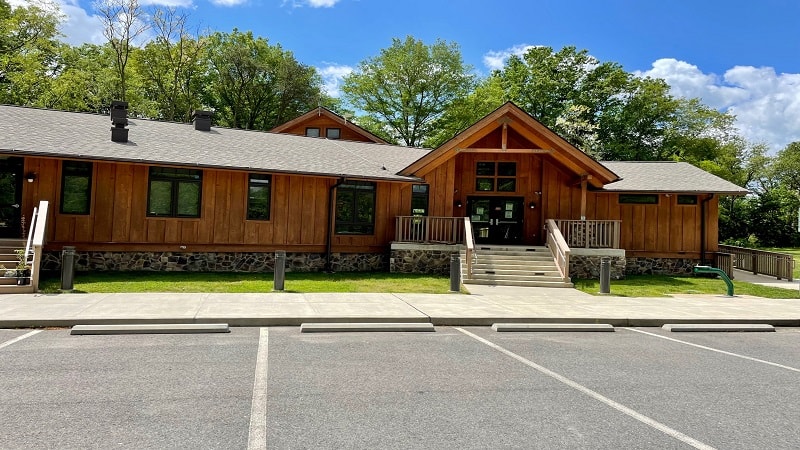 While at Widewater State Park, stop in the visitor center for souvenirs, cold drinks and restrooms. They also sell iron-on park patches (not every park does).
Check out the events schedule for this state park as they are offering yoga and a ranger-led paddling program. Also, a monthly kids fishing clinic in summer.