7 Top-Rated Compression Socks for Hiking (2023)
Compression socks for hiking are special socks that are designed to provide a gentle massaging pressure to help your legs and feet while hiking.
If you've ever experienced leg or foot fatigue, aching, or swelling after a day on your feet or a long hike, these socks might be just what you need.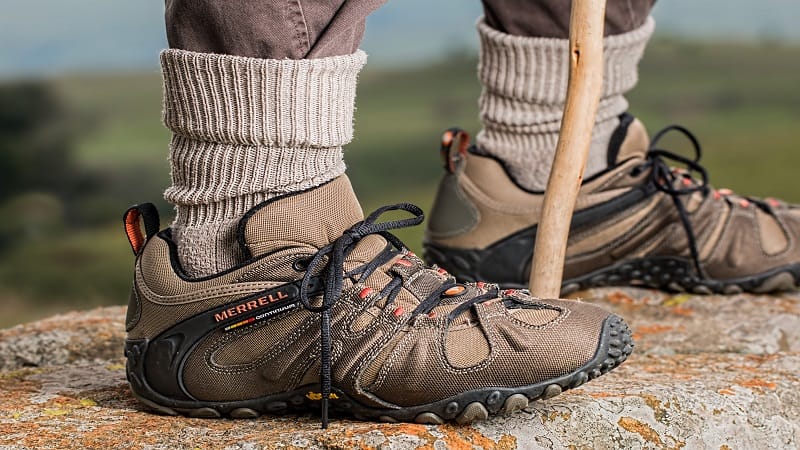 There may be affiliate links in this post. If you make a purchase, I earn a small commission at no extra cost to you. Thank you.
Are Compression Socks Good for Hiking?
Many hikers swear by wearing compression socks when they hike. These socks can help improve circulation and can prevent leg pain and swelling on long hikes.
Everyone can benefit from these socks, but they're especially helpful for individuals with varicose veins or other circulation problems.
Compression socks help prevent leg fatigue and pain while hiking. Since they improve circulation, you should not end the day with swollen ankles or legs.
These tight socks also help force lactic acid buildup out of your legs after hiking and can help increase your muscle recovery rate. They are a win-win.
What Do Compression Socks Do?
Compression socks apply pressure to your lower legs to help maintain blood flow and reduce swelling. They prevent fluid buildup and inflammation, too.
Contrary to popular belief, these socks aren't just for people with illness or circulation issues. They have benefits for everyone, including hikers.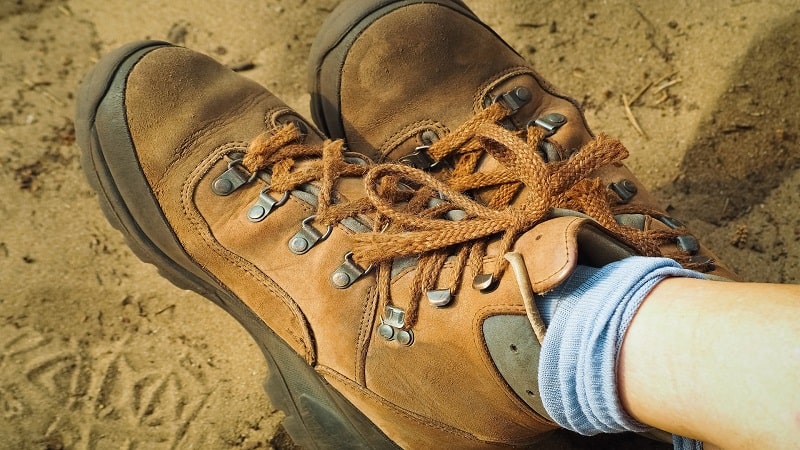 A long day of hiking or being on your feet can cause swelling in your feet and legs which can be painful, but these socks can help.
Wearing compression socks on the hiking trails helps circulation all day long, not just at the end of your hike.
How Long Do I Wear Compression Socks?
You can wear compression socks as long as you need or want to wear them, but it's not a good idea to sleep with them on.
You can wear them all day long if needed, or just wear them during your hike. It's all dependent on your needs and comfort.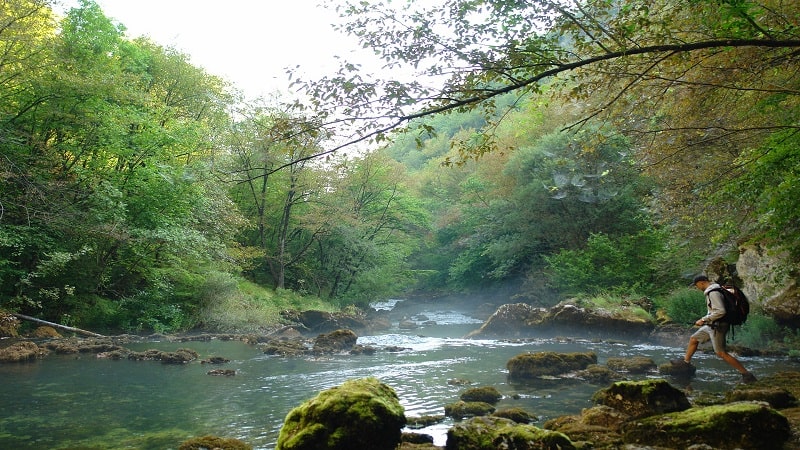 Compression socks should fit snug or tight, but not so tight that they cause discomfort. They should be comfortable enough to wear all day long.
If your compression socks feel uncomfortable, you may need to consider getting a different size. They're meant to compress, not constrict.
Can I Sleep in Compression Socks?
That's a great question. Generally, no. You should not sleep in compression socks unless this is specifically recommended by your doctor.
When you sleep, compression socks can restrict blood flow to your lower extremities. This can potentially cause numbness and tingling in your legs.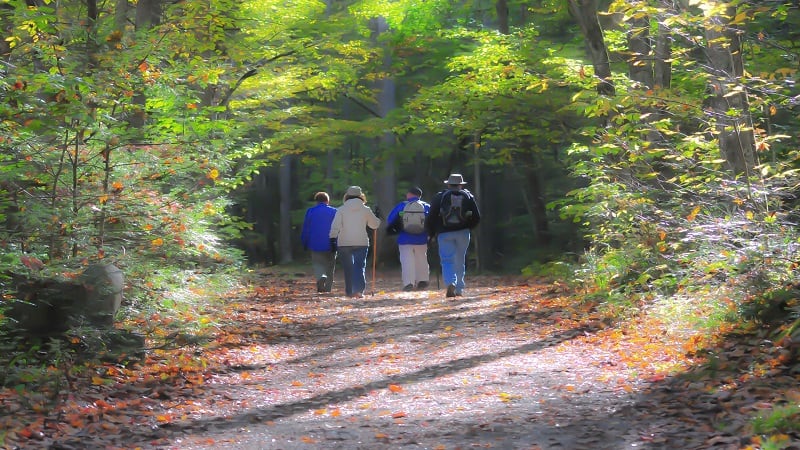 When you lay down, your feet and legs no longer have to fight gravity to pump blood and remove fluid.
Wearing compression socks during the day can help improve circulation, but it's not something you typically have to worry about while sleeping.
What Do I Look for in Compression Socks?
Look for socks with 15-20 mmHg, the compression range typically recommended to prevent blood clots and conditions such as deep vein thrombosis.
This range is what you will find in most widely-available compression socks. It's essentially how tight the socks are.
If you're wearing them for hiking, knee-high socks are great for foot, ankle, and calf comfort and circulation.
Finally, material matters, especially for hiking. Look for a material like wool or synthetic materials for moisture-wicking and quick-drying technology.
Best Compression Socks for Hiking
In this section, we've compiled seven top-rated compression socks for hiking. It's hard to go wrong with any of these socks when on the hiking trails.
Injinji is one of the most popular brands of hiking socks out there. In particular, Injinji's ultra compression sock is a fantastic pick.
This is a lightweight toe sock that can be worn alone or as a hiking liner sock. It has graduated compression from the ankle to the shin.
The toe-sock design helps prevent blisters and hot spots. Meanwhile, the compression helps aid in circulation.
As a result, these socks shorten recovery time and help prevent muscle soreness from hiking, running, or walking.
These socks are made of nylon fibers that are soft to the touch. A mesh on the top of the foot and back of the leg helps with breathability.
The MudGear compression socks are highly rated on Amazon with 4.6 stars and over 1,500 happy customer reviews.
These socks are knee length and come in S, M, and L sizes with 5 colors to choose from. They're designed for both men and women.
These socks are made of a nylon/polyester/spandex blend for premium performance on the trail.
Compression is rated at 15-20 mmHG. Pressure is highest at the ankle on these graduated compression socks, but decreases toward the knees for circulation.
These socks help improve circulation, prevent lactic acid buildup, and improve muscle performance while hiking.
If you want a little more compression, check out the Physix Gear Sport compression socks. These are for both men and women.
These socks have a compression rating of 20-30 mmHg, which is considered medical-grade compression, and is often seen in athletic compression socks.
The quality is tops, too. These socks have over 46,000 5-star ratings on Amazon. Customers love these socks for good reason.
These knee-high compression socks are perfect for hiking, walking, running, or being on your feet all day long.
They're moisture-wicking, quick-drying, and have a no-slip grip so they'll stay in place while hiking, running, biking, and more.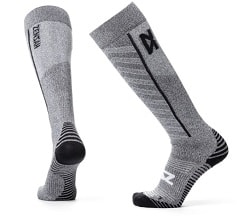 The Zensah Featherweight compression socks are perfect if you're looking for anti-odor, moisture-wicking and quick-drying socks for the hiking trails.
These compression socks are made with a special fabric that is a synthetic blend of polypropylene, polyamide and elastane.
A seamless toe helps to reduce the friction that can cause blisters. Nonslip cuffs offer extra protection and cushioning.
These knee-hike socks are lightweight and keep legs cool even when temperatures rise. They also provide needed arch and calf support as you move.
Zensah likes to keep it simple with these socks. They come in one color, heather gray. They also come in two sizes, including medium and large.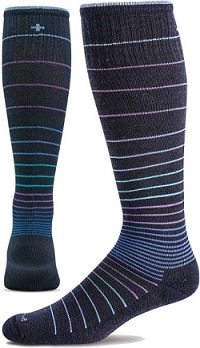 These women's Sockwell Circulator compression socks from REI come in S/M and L/XL sizes. They are also perfect for hiking.
These ultra-light socks are just under knee-high and have a reinforced heel, arch support, and a seamless toe closure to reduce friction.
With 4 zones of graduated compression from ankle to knee, these socks help minimize swelling, improve circulation, and reduce fatigue.
The Sockwell socks are made from a blend of merino wool and rayon for the ultimate in moisture-wicking and quick drying.
These adorable socks are great for hiking, walking, running, flying, or being on your feet all day long with moderate compression of 15-20 mmHG.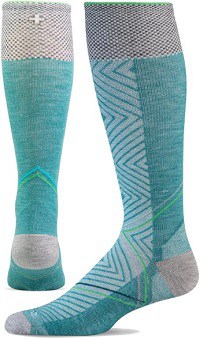 Another great pair of compression socks from Sockwell is the Pulse Firm compression socks, which offer more compression at 20-30 mmHg.
Made of the same merino wool and rayon blend, these socks from REI are great for hiking, as well as athletic activities, like walking and running.
They're durable, technical, comfortable and soft. These socks are great for preventing swelling and reducing fatigue after being on your feet all day.
Plus, these socks have all-natural moisture management, odor control, and temperature regulation. You'll be comfortable all day long in these.
You can get these socks in sizes S/M and L/XL. They're knee-high and come in fun colors and patterns, too.
Last but not least, we have CHARMKING crew-length compression socks. These shorter compression socks still provide plenty of benefit.
These socks are made of a nylon and spandex blend and are perfect for those who are looking for just a little bit of compression.
In addition to the shorter crew length, these socks offer more cushion on the footbed as well.
These socks can be great for hiking recovery, active hiking, or wearing when you have to be on your feet all day.
These socks come in a couple of fun color combinations. You can also purchase knee-high compression socks from this same brand.
Wrap-Up: Best Hiking Compression Socks
Wearing compression socks for hiking is not just reserved for those with leg circulation issues.
Compression socks can help all kinds of hikers. We can all benefit from less soreness, fatigue, and swelling in our legs after a long hike.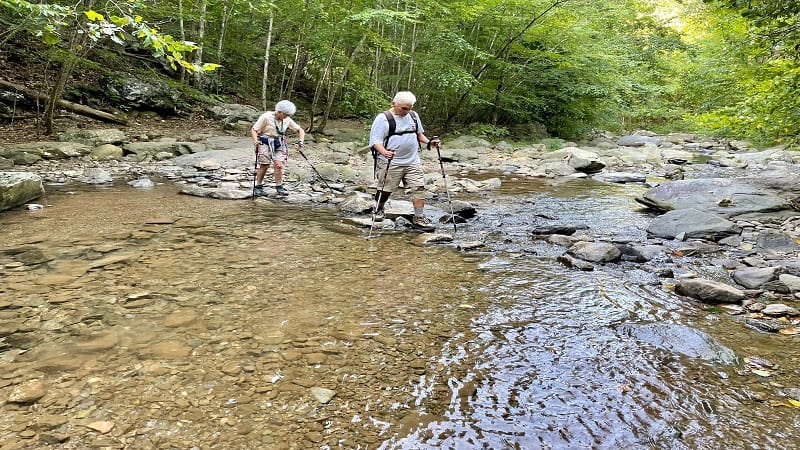 The best compression hiking socks help improve blood circulation while on the trails. They can also make recovery so much faster and easier.
Once you find a pair that you like, you'll probably order a few more to keep on hand. You know, just in case.
Disclaimer: The words in this blog, and in any linked materials, are not intended as medical advice. Always seek the guidance of your doctor with any questions regarding your health or a medical condition.