Need to Know: Are Tent Heaters Safe to Use When Camping in Winter?
If you think camping is only for spring, summer and fall, think again. Winter camping can be a lot of fun, especially when you know how to stay warm.
The warmth factor keeps a lot of campers at home in the winter months, but it may be because they don't know about tent heaters. It's a total game changer.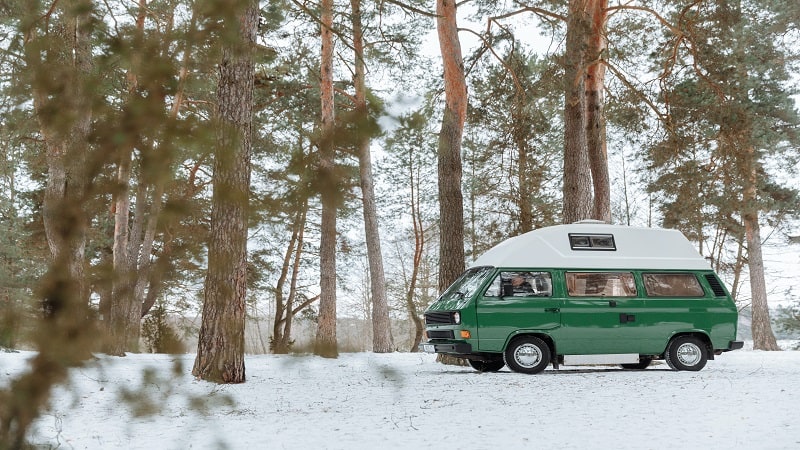 As an Amazon Associate I earn from qualifying purchases. If you click and purchase, I receive a commission at no cost to you.
My husband bought me the Little Buddy portable heater last Christmas. I had no idea tent heaters existed. I also had to ask, are tent heaters safe?
Yes, they are. In fact, many portable heaters are indoor-safe (and safe in tents) so I could stay warm and enjoy the outdoors nearly all to myself.
Get ready to break out the camping gear – if you've packed it away. In this article, you'll learn all about proper and safe tent heating methods.
I'm also going to provide my top picks for tent heaters to keep you warm and cozy while out in the wild on a cold weather camping adventure. Let's go.
How Do You Stay Warm in a Tent?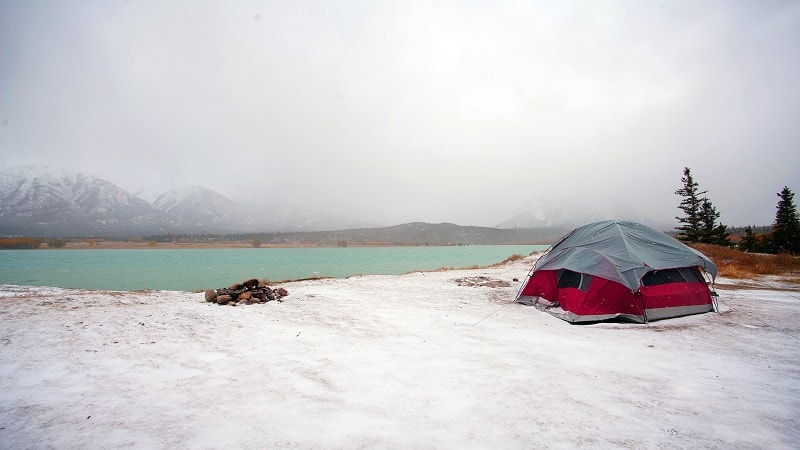 There are many ways to stay warm in a tent, from insulation to clothing layers to portable heaters and more, including a small or smaller tent for camping.
Smaller tents are better for winter camping because there is less interior space that needs to be warmed. So, as a first step, start with a smaller tent.
You can help insulate your tent by setting it up in a dry location behind a windbreak, like shrubs or a boulder. Also, place a tarp below your tent.
It's also a good idea to insulate your floor by placing extra layers, like blankets, beach towels or foam mats on the floor inside your tent.
Cover your tent exterior with an additional tarp to help lock in heat. For extra warmth, have a sleeping bag rated for cold and wear warm sleeping clothes.
Generating Heat in a Tent
Once you've insulated your tent to keep heat from escaping, you'll want to generate heat, where possible.
Use an electric blanket plugged into a portable power station, like the Jackery Explorer, for consistent, stable heat while inside your tent.
You can also bring along HotHands hand and toe warmers and tuck them into your sleeping bag before going to sleep for the night.
If you want to heat your tent without electricity, you can bring a butane or propane powered tent heater, like the Little Buddy from Mr. Heater.
Is it Safe to Have a Heater in a Tent?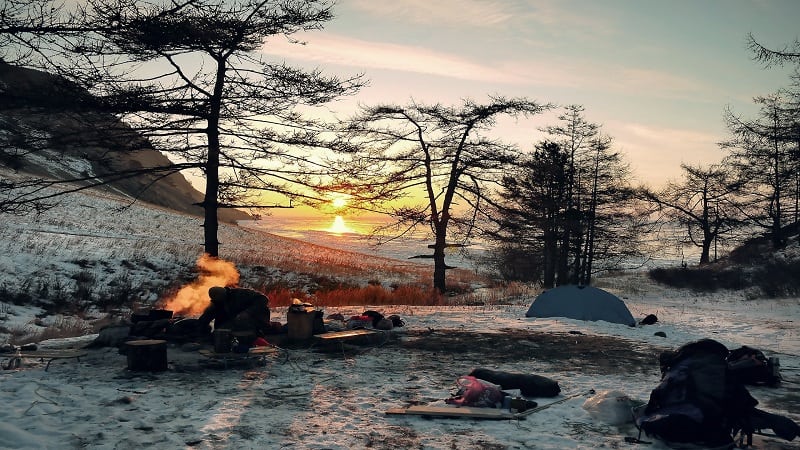 Are tent heaters safe? The truth is that there are inherent risks to using any heat source in a tent.
Fuel powered heaters have a fire and carbon monoxide risk. There is also a risk of burning yourself with an electric blanket, if used improperly.
However, if you follow proper safety precautions, you can safely use electric or fuel-powered heat sources inside a tent on a winter camping adventure.
Modern and safe tent heaters have automatic shut-off features for tipping over and low oxygen to help ensure your safety if you fall asleep.
There are risks, but if you're vigilant and follow safety guidelines you can safely stay warm by using a heater inside your camping or backpacking tent.
Do Tent Heaters Give Off Carbon Monoxide?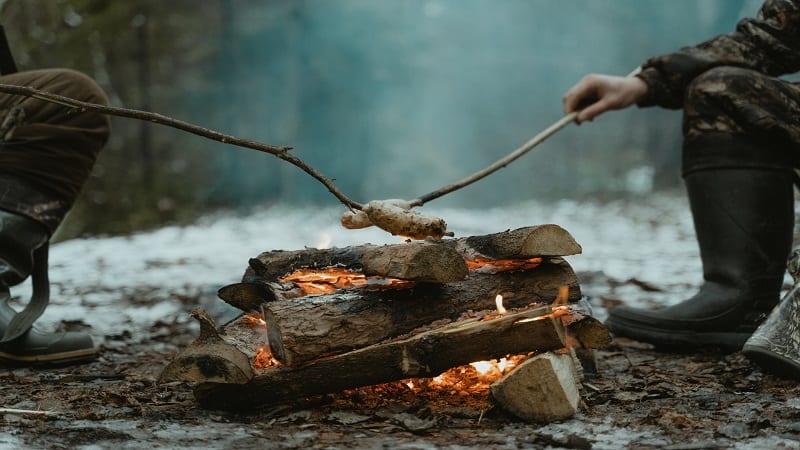 Carbon monoxide is a colorless, odorless and tasteless gas produced by burning wood, charcoal, propane, gas and other fuels.
Non-electric tent heaters run on propane or butane, but they are built to efficiently burn fuel so that they are indoor-safe.
However, you should always bring and use a handheld carbon monoxide detector when you use any kind of fuel-powered heater.
Even if a heater is labeled "indoor safe" and has an automatic low-oxygen shut-off feature, all it takes is one malfunction to have tragic consequences.
Although it's very rare, indoor-safe combustion heaters can glitch. This includes portable propane gas heaters.
This is why it's so important to ventilate your tent while using a heater and always make sure you have a working carbon monoxide detector with you.
Is it Safe to Use a Propane Heater in a Tent?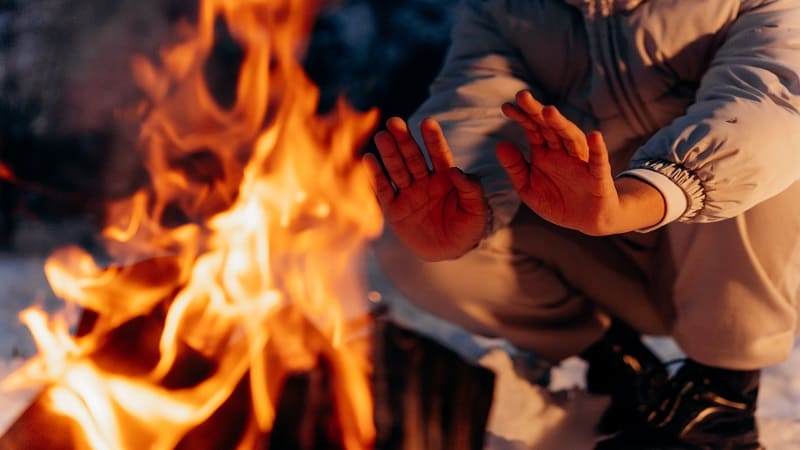 Yes, it's safe to use a propane heater in a tent as long as your heater is labeled as "indoor-safe." This is very important.
There are many indoor-safe propane heaters that you can safely use inside a tent when camping in cold weather.
However, there needs to be proper ventilation in order for "indoor-safe" propane tent heaters to function properly indoors, including inside a tent.
This means always vent your tent when using a propane heater! Crack one or several window flaps for proper ventilation.
Some propane heaters, including the ones listed below come with an oxygen depletion sensor and automatic tip-over shut-off feature.
These safety features help reduce fire and carbon monoxide risk. Even with these safety features, you should always bring a carbon monoxide detector.
Can You Leave a Tent Heater on All Night?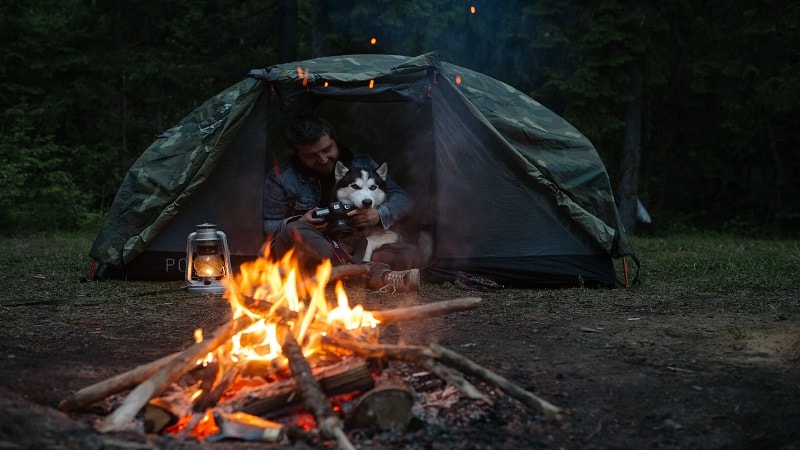 It is never recommended that you use a tent heater while you are sleeping.
Just like you wouldn't leave a portable heater or heat source on while you're away, you also should not use one while you're sleeping.
In fact, right in the Mr. Heater Propane Heater user manual it states in all caps: "NEVER OPERATE THE HEATER WHILE SLEEPING!"
Tent heater safety is dependent on many things like venting, using a carbon monoxide detector and staying aware while the unit is in operation.
Carbon monoxide levels aren't the only reason to not operate a tent heater while sleeping. There is also a risk of fire with any fuel powered heat source.
For all of these reasons, we strongly advise against using a tent heater while sleeping inside your tent.
Tips to Safely Use a Tent Heater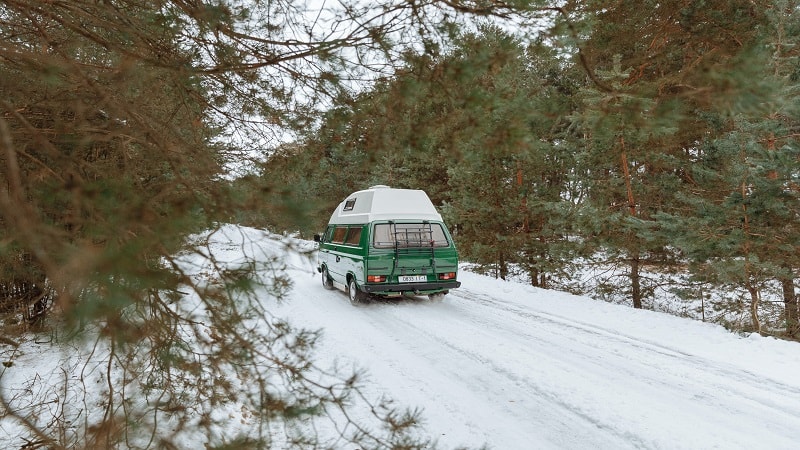 Using a tent heater can take cold-weather camping to the next level. Here are some tips for safely using a heater in a tent.
#1: Look for an "Indoor-Safe" Tent Heater
When you purchase a tent heater, look for an indoor-safe heater.
There are many camping heaters on the market that are only meant to be used outdoors. Look for the "indoor-safe" label for use inside a tent.
#2: Seek Out Low-Oxygen and Tip-Over Shut Off
Key safety features to look for when selecting a tent heater include a tip-over shut off mechanism that can help prevent a fire.
Also, you should get a safe tent heater with a low-oxygen sensor and shut-off feature. This will help prevent carbon monoxide poisoning.
#3: Properly Vent your Tent
Indoor-safe heaters for tent camping are safe to operate with proper ventilation.
Combustion heaters need adequate fresh-air flow to operate properly. This means you need to create fresh air flow in your tent.
While opening the tent window flaps in the winter might seem counter-intuitive, venting is the only way to safely operate small tent heaters.
Crack a couple of windows on opposite sides of your tent to maintain a constant flow of fresh air.
#4: Know Where to Place Your Heater
Read your heater manual for instructions on where to place your heater.
A heater should be placed on a flat, sturdy surface and several feet away from any items that could melt or catch fire.
#5: Use a Carbon Monoxide Detector
Always have and use a carbon monoxide detector when operating a heater in your tent – no exceptions.
Be sure that your carbon monoxide detector has fresh batteries and test the batteries before each use (as in, before you leave for your camping trip).
#6: Never Operate a Heater While Sleeping
You should never operate a tent heater unattended or while you are asleep.
If you want a heat source that you can use all night long, consider using heat packs in your sleeping bag or an electric blanket.
Safe Tent Heaters for Camping in Winter
Now that you know how to safely use a heater in a tent, here are our top picks for the best tent heaters for winter camping.
If you need a powerful heater for your tent, look no further than the Little Buddy propane heater.
This heater is great for tent campers who don't want to lug around a lot of heavy gear. When not in use, it packs up easily with the rest of your gear.
The Mr. Heater brand is a leading manufacturer of portable propane heaters that are popular for outdoor use, tiny houses, garages, camping and more.
The Little Buddy heater is a ceramic propane radiant heater that operates with 1 lb camping propane bottles.
The head of the heater screws onto the small 1 lb propane bottles and it comes with a stabilizer base for the bottom.
This is a great option for a tent heater. The Little Buddy heater is indoor-safe and has a low oxygen shut off sensor.
You ignite the Little Buddy with the push of a button, and it has a simple shut off switch on the side when you're done.
This heater can run for up to 5.6 hours on one 1 lb propane cylinder and requires a vent area of four square inches.
The Mr. Heater Portable Buddy heater is a step up from the Little Buddy heater. This heater is the same concept, but puts out more heat.
The Mr. Heater Portable Buddy can operate with a 1 lb propane cylinder. Alternatively, you can connect it to a larger external tank for longer use.
This propane tent heater has both high and low heat settings and has a built-in low-oxygen and tip-over shut off safety features.
It will also automatically shut off the flow of propane if the pilot light goes out or is blown out by wind.
This heater can run up to 5.4 hours on a 1 lb tank on the low settings, and 2.4 hours on a 1 lb tank on the high setting.
If you want to use a larger propane tank with this heater, you can purchase a Mr. Heater brand extension hose and regulator.
The hose and regulator enable you to connect to a larger propane tank for a longer run time, which is highly recommended for longer camping trips.
The Portable Buddy heater has a convenient carrying handle and packs well with regular camping gear due to its square shape.
The Campy Gear Chubby is a portable propane heater and a cooking stove all-in-one. What could be better.
This heater is compatible with 1 lb propane bottles or can be used with canisters of propane/butane mixed fuel.
This heater is not specifically labeled as indoor-safe, so if you use it in a tent, be sure to properly ventilate and use a carbon monoxide detector.
We chose this heater for its versatility and portability.
When not in use, the Campy Gear chubby heater nests in on itself and packs into a convenient mesh carrying bag.
And it's perfect for heat on the go! This makes a great tabletop heater and cook stove all-in-one.
The 360-degree design allows for radiant heat on all sides of the heater, unlike some other camping heaters that only point in one direction.
The Kavolet Outdoor Heater Stove is a portable radiant heater that can be used with IsoPro propane/butane fuel mixes.
This is a great outdoor heater for directional heat while camping, fishing, hiking or picnicking.
The Kavolet Outdoor heater comes with a stand and the heater itself screws onto the top of the fuel canister.
Although this heater is not rated for indoor-use, you will love it while camping and hanging out outdoors.
There are two options for this heater: electronic or manual ignition.
When not in use, the Kavolet Outdoor Heater packs up easily into a small carrying bag that stows away with your other camping gear.
Last, but not least, the Metkiio space heater is a small electric space heater that's great for use in your tent.
You can plug this heater into a portable power bank or into a power pedestal if you have a campsite with electricity.
If you're looking for a tent heater that you can safely run all night long, the Metkiio space heater is a great option.
Because there is no flame or combustion, you don't have to worry about carbon monoxide with this heater!
There is still a fire risk, but not as much as with a combustion space heater.
This heater is small and packs away easily. In fact, it's not much larger than the average smart phone!
Wrap-Up: Tent Heater Camping Safety
When it comes to staying warm in a tent, you have plenty of options. Just be sure to always be safe when using a tent heater!
Always keep a working carbon monoxide detector handy and follow all the proper instructions for venting your tent and proper heater placement.
Finally, never leave a heater unattended and never sleep with a heater running in your tent. The same applies to a simple electric heaters or space heaters.
For more winter hiking and gear picks, check out my Gear Guides for top fleece-lined hiking pants and fanny packs for hiking.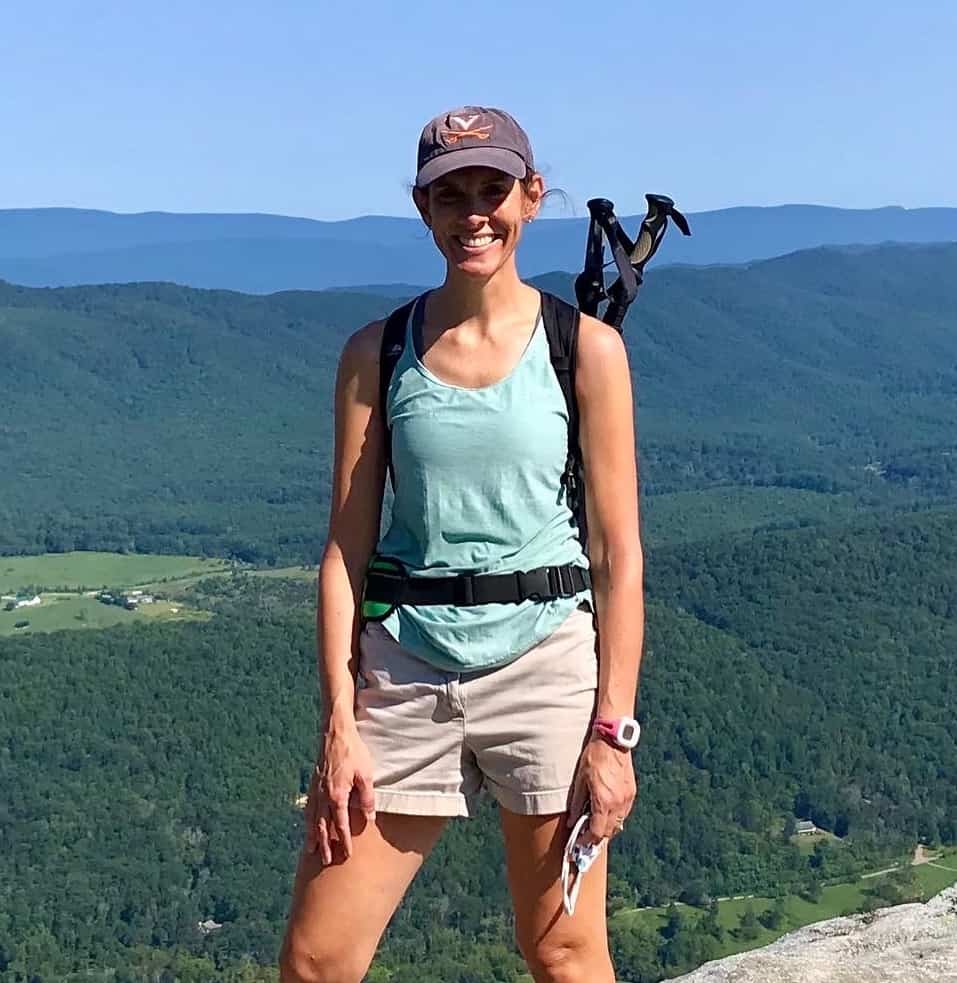 Erin Gifford is the editor of Go Hike Virginia. She has completed more than 300 hikes in Virginia. She is also the author of three hiking guidebooks from Falcon Guides. Need help finding a hike? Check out the Trail Finder feature or send Erin a message.